This page is part of © FOTW Flags Of The World website
Plano, Texas (U.S.)
Collin County
Last modified: 2023-03-11 by rick wyatt
Keywords: plano | texas | collin county | police department |
Links: FOTW homepage | search | disclaimer and copyright | write us | mirrors

---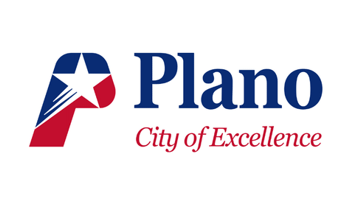 image by Masao Okazaki, 3 February 2023
Photo located by Dave Fowler, 31 August 2022
---
---
See also:
---
This flag was approved in April 2013, by the City Council, together with a tagline, as follows: "The "P" logo is one of the most important and frequently recognized graphic representations of the City of Plano. The "P" was updated (June 2013) to reflect a modern design and color palette and the tagline City of Excellence was adopted to reflect the commitment to quality of life and delivery of services by the City of Plano to its stakeholders.

The "P" and City of Excellence wordmarks may be used only for official purposes of the City of Plano in the exact manner, font and color specifications noted in these guidelines. The logo and wordmarks are to be reproduced without modification or addition. Graphic filters such as drop shadows, bevels, 3-D effects, embosses or glows should not be applied. The "P" logo cannot be integrated into other marks and must be represented independently. Any alteration or manipulation is strictly prohibited. For use within City of Plano department communications, an approved variation of the brand will be provided those departments.

Brand standards and logo usage guide official document labeled "City of Plano Graphic Standards": http://www.plano.gov/DocumentCenter/View/3997. An enhanced and improved document is currently available online as "City of Plano Brand Architecture Guide" (https://www.plano.gov/199/City-of-Plano-Logos and https://content.civicplus.com/api/assets/59b31b62-b76d-43d9-96f6-5caa0dd174af).

The logos and wordmarks are the intellectual property of the City of Plano and are offered as a convenience for lawful use with proper permission from the City of Plano Marketing & Community Engagement department.
Source: http://www.plano.gov/1766/City-of-Plano-Logos

As for the slogan, "The "City of Excellence" (seen here in big format: http://www.plano.gov/DocumentCenter/View/3848) is Plano's official tagline. It may be used with the logo or separately. When used separately it may be reproduced in the colors below.
- (Red) PMS 200 16C, 100M, 87Y, 6K
- (Blue) PMS 288 100C, 88M, 27Y, 19K
- Black
- White

The preferred color usage is PMS 200 and PMS 288 (or the CMYK equivalents). One color applications may use PMS 200, PMS 288, Black or White. In certain situations it may be acceptable to use different colors than those specified here but we encourage seeking approval from the Marketing and Community Engagement Department.

Regarding the type font when used on Departments, it is Arial Bold and 70% Black.

Regarding the rather "simple" (i.e. corporate) design, the previous logo was "modernized" (rebranded) using a different font type and adding the tagline (slogan). On the City's Facebook page (https://www.facebook.com/cityofplanotx), a picture of the flag is seen, with the "P" in the middle and no slogan, and a reply by the administrator/webmaster to a previous comment, in which the reply indicates that the logo was simply designed for online and web use, which derived into the respective flag, as well as different applications (i.e. "business cards, all the stationary, all the water bills", source:
https://starlocalmedia.com/planocourier/new-year-new-flag-local-resident-propose-plan-to-revamp-plano-s-city-flag/article_2fe833f6-df6e-11e6-8540-7721b99f691c.html). The image described here is also found on the official document "City of Plano Graphic Standards" (http://www.plano.gov/DocumentCenter/View/3997).

It is also important to notice that at some point, the original approved new design (2013) without slogan and centered P, morphed into the flag submitted by Dave, which is the P towards the canton, followed by the city's name and slogan below. Here's a recent picture showing this graphic arrangement, supporting Dave's findings: image: https://media.nbcdfw.com/2021/11/Plano-flag.jpg (source: https://www.nbcdfw.com/news/local/city-of-plano-asking-residents-to-conserve-water) (notice that the file image for the flag is dated 2021 and the online article is published in 2022).
Esteban Rivera, 31 August 2022
The City of Plano Logos page of the city website is dated September 23, 2022, and shows the current version of the logo: https://www.plano.gov/199/City-of-Plano-Logos

Page 20 of the Brand Standards and Logo Usage Guide shows the current version of the official city flag. Since July 2022 the flag can be ordered either at 3 x 5 feet or at 5 x 8 feet from Betsy Ross Flag Girl, Inc.
https://content.civicplus.com/api/assets/59b31b62-b76d-43d9-96f6-5caa0dd174af
Masao Okazaki, 3 February 2023
---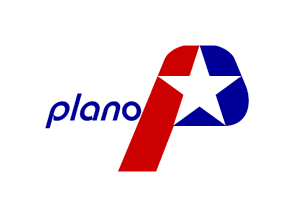 7:10 image by António Martins-Tuválkin, 8 May 2008

Text and image(s) from American City Flags, Raven 9-10 (2002-2003), courtesy of the North American Vexillological Association, which retains copyright. Image(s) from American City Flags by permission of David B. Martucci.

Plano's flag features a large P occupying the fly half of the flag, slanting to the right. A star shape forms the center of its loop. This star extends throughout the "P", to the top, side, and bottom edges of the loop of the "P". The stem of the "P" is red, and the loop of the "P" (the three sections segmented by the star) is blue. Centered in the hoist half is plano in a slanted, sans-serif font. Its baseline aligns with the bottom edge of the "P"'s loop and its height reaches the star's midpoint. The field of the flag and the star are white.

A formal resolution of the city council on 25 August 1980 enacted: "The logo approved by the City Council of the City of Plano on January 14, 1980 is hereby further approved and adopted as the official Logo of the City of Plano. This official logo shall be used on all City of Plano equipment, materials, and flags from this day forward …" (Ordinance No. 80-8-17).br> Richard Monahan, American City Flags, Raven 9-10, 2002-2003

The star, as well as the red, white, and blue colors, perhaps recalls the Lone Star State of Texas. The large P seems to say "Plano" with a large capital "P", reflecting the pride of its citizens.
Richard Monahan, American City Flags, Raven 9-10, 2002-2003

Plano's flag was selected through a flag design contest sponsored by the Plano Jaycees and the Plano Star Courier in September 1979.
Flag adopted: 25 August 1980 (official).
Richard Monahan, American City Flags, Raven 9-10, 2002-2003

Jim Wainner's design, over three others, won the contest and $50.
Richard Monahan, American City Flags, Raven 9-10, 2002-2003

Regarding the former flag, notice that the "P" doesn't have the three white stripes of the current logo and the colors are arranged a bit differently. Additionally, there was an initiative back in 2017 to again change the flag.

Here's some background information (dated 2016) on the city, taken from the official website "City of Plano History" (source: http://www.plano.gov/1797/City-of-Plano-History and https://www.plano.gov/DocumentCenter/Home/View/7498)

Esteban Rivera, 31 August 2022
---
Plano Police Department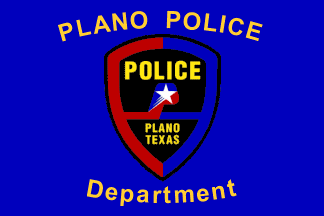 image by Randy Young, 2 August 2016
The Plano Police Department is the primary law enforcement agency serving the city of Plano, Texas. Plano is a major city in northeastern Texas and is considered a suburb of Dallas.

The flag of the Plano Police Department can be seen in photographs online, particularly here and here. The flag features the Department's shoulder patch centered on a blue field. The patch is shaped like a black shield, the outline of which is divided red on the left and blue on the right. The "P"-shaped city logo is in the center of the shield, with the word "POLICE" in yellow across the upper part of the black shield, and "PLANO" and "TEXAS" in smaller similar lettering in the bottom of the shield. Arched over the shield in gold capital letters are the words "PLANO POLICE," with the word "Department" in sentence-case gold letters beneath the shield.

Randy Young, 2 August 2016