This page is part of © FOTW Flags Of The World website
Orem, Utah (U.S.)
Utah County
Last modified: 2023-08-26 by rick wyatt
Keywords: orem | utah | utah county |
Links: FOTW homepage | search | disclaimer and copyright | write us | mirrors

---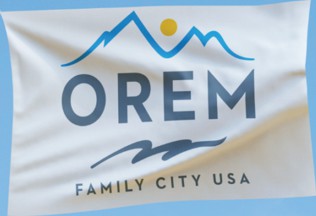 image located by Dave Fowler, 13 July 2023
---
---
See also:
---
Description of the Flag
The city has adopted a new flag:

https://www.heraldextra.com/news/local/2023/jul/12/orem-approves-new-city-flag-design-as-rebranding-continues/
Orem approves new city flag design as rebranding continues:
On Tuesday, after months of discussion, the Orem City Council moved approved the final design for a new flag. The vote was unanimous in favor of the new design with council members Terry Peterson and Tom Macdonald excused. The new city flag includes three elements — mountains, the word "Orem" and the phrase "Family City USA."

"The City Council has discussed the new flag in several work sessions and have all agreed on this new design," said Pete Wolfley, city communications manager. "The main objective in redesigning the flag was to include the city's official slogan: Family City USA."

The final design was supported heavily by council member LaNae Millett, who stepped up to voice her desire to have a white background. "The new flag design features the full city logo in all of its symbolism. The yellow circle represents the sun and energy. The blue line represents the mountains and life. The gray line represents water and stability," Wolfley said. The flags will be made by Colonial Flag in Salt Lake and should be ready to put on all city flag poles with in the next month.
Dave Fowler, 13 July 2023
---
Flag in 2021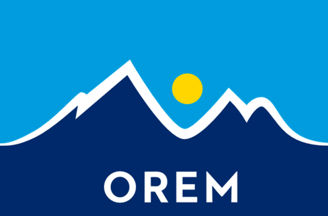 image by Masao Okazaki, 27 March 2021
In September 2017 the Orem UT government Facebook page asked which of 4 designs residents preferred for a new flag.
https://www.facebook.com/oremcity/posts/1440174799392205

The designs were based on the version of a new logo that appeared in May 2015: https://www.facebook.com/oremcity/photos/a.151157991627232/826158214127203

The flag has been used since at least May 2018, which is the earliest photo I've found of it on Google maps.

Other photos:
Newspaper article: https://www.heraldextra.com/
Library builder: https://www.kier.org/
Reddit: https://i.redd.it/a9nj08pyvgp61.jpg

Attached is my drawing, with the color of the lower background changed from the proposed design to better match photos.
Masao Okazaki, 27 March 2021
Flag in 2016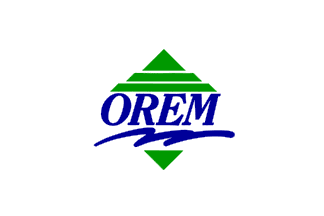 image by Jens Pattke and António Martins-Tuválkin, 4 February 2016
Orem is the sixth largest city in the state of Utah. The municipality is located in the heart of the Mormon Corridor. Special thanks to Dawnie Larsen for flag description and logo info.

Flag Inquiry Response: I am responding to your email regarding the Orem City flag. Although I don't have a picture of the flag, I can describe it for you...Orem City's flag is a simple design consisting of a white background with the Orem City logo in the middle. You can see our logo on our website at www.orem.org.

In explanation of our logo: On May 3, 1988, the City Council of Orem adopted the official logo of the City of Orem. R & R Advertising was the firm that was commissioned to develop the new logo - a professional, modern logo that would properly represent Orem.

Although perhaps unintentionally, the Orem logo contains symbolism that accurately represents the Community. The green tri-level triangle at the top of the logo represents Mount Timpanogos or perhaps all the mountains that make up the Wasatch Front as it passes through Orem. The word "Orem", done in a deep blue, represents the City of Orem itself. The deep blue brush stroke below the word "Orem" represents the Provo River as it runs adjacent to and through Orem. And the inverted green triangle at the bottom of the logo represents Utah Lake as it reflects the majesty of the mountains that border Orem.
Dawnie Larsen
Executive Assistant

http://www.orem.org/
en.wikipedia.org/wiki/Orem,_Utah

John S. Johnson, 23 October 2011
At commons.widimedia.org, the city flag is visible, hoisted on one of three poles in front of the City Center (40° 17' 53? N, 111° 41' 42.75?), the other two bearing the U.S. national flag (tallest, central pole), and the state flag of Utah (right side as seen from the building, same height as the city's).
António Martins-Tuválkin, 24 October 2011
A slightly different version of the logo with slender lettering and cyan/teal for green, on white background is at bloximages.chicago2.vip.townnews.com. A variant of the logo, without lettering (yay!) and with red for green, also on white background, as the logo of the 2016 Orem Summerfest is at orem.org/images/stories/logo.jpg.
António Martins-Tuválkin, 4 February 2016
---
Published in the Orem-Geneva Times, 29 July, 1976: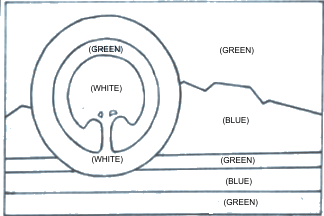 image located by Paul Bassinson, 23 January 2021
The flag is heraldically [sic] described as follows:
The Flag of Orem City shall be a rectangular flag, proportioned two to three, divided horizontally into five stripes alternating green and blue. First stripe, green, occupies over half of the width, the bottom edge being raggy to affix the second stripe blue, which is just more than one-sixth of the width and represents the mountain tops. The third stripe green, being one-eighteenth of the width. The fourth stripe blue, being just less than one-tenth of the width. The fifth and last stripe, green, being one-ninth of the width.
Charged on the hoist, center, with a complete circle, while one-ninth total width of which, a tree with round bole, its base affixed to bottom of circle, the whole occupying four and six-tenths of total width of the flag. Physically, the flag shall be described as shown in the diagram.
Colors for the flag are taken from the Handschy Color System B-15-2. The blue is Trans-Blue No. C 5-2240 and green is Trans-Green No. C 5-2516.
The foregoing described flag is hereby established and declared to be the only officially recognized flag of Orem City, Utah. The proportional dimensions of the flag and its various parts shall be according to the official design thereof on file the City Recorder's Office.
Paul Bassinson, 23 January 2021
---
The logo
image located by Paul Bassinson, 22 January 2020
Source: https://bloximages.chicago2.vip.townnews.com/heraldextra.com
Paul Bassinson, 22 January 2020