This page is part of © FOTW Flags Of The World website
Older Weather Signal Flags (U.S.)
Last modified: 2016-03-19 by rick wyatt
Keywords: weather flags |
Links: FOTW homepage | search | disclaimer and copyright | write us | mirrors

---
---
See also:
---
Wind, Direction and Visibility (?) Signals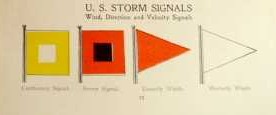 image located by Jan Mertens, 10 November 2006
This must have been a Google find (detail of Ink Frog page, normally inaccessible, saved on 4 Feb. 2006) showing - enlarged - some additional "US Storm Signals".

Captions almost unreadable. Subtitle: Wind, Direction (?) and Visibility (?) Signals.

First flag is square, yellow pierced white. Meaning?
Second is now (or still) known as Storm/Full Gale Warning: red square flag, pierced black.
Third, an orange pennant. Meaning?
Fourth could be related to the white pennant indicating wind direction.
Jan Mertens, 10 November 2006
---
Great Lakes wind flags

image located by Jan Mertens, 12 November 2006
An old book is present on the 'net "The Sciences" by Edward Holden, cop. 1902: mywebpages.comcast.net/rlaurio/TheSciences00.html, mywebpages.comcast.net/rlaurio/TheSciences04.html.

The second url leads to a chapter on meteorology, and illustrates a few flags:
"FIG. 157. INFORMATION SIGNALS
On the Great Lakes a red pennant denotes easterly, a white pennant westerly, winds. A red pennant at seacoast stations indicates a storm."

I suppose these pennants have been abolished a long time ago.

Jan Mertens, 12 November 2006
The red pennant is still in use. The National Weather Service no longer hoists them, but some US Coast Guard stations do, as well as some private marinas. A single red pennant indicates a small craft warning (predicted winds up to 33 knots or 61 km/h), two red pennants one above the other a gale warning (predicted winds up to 47 knots or 87 km/h).
Higher forecast windspeeds are signaled by one or two red flags with black squares on the center.
See:Storm Signals
Joe McMillan, 12 November 2006
---
United States Signal Service information signals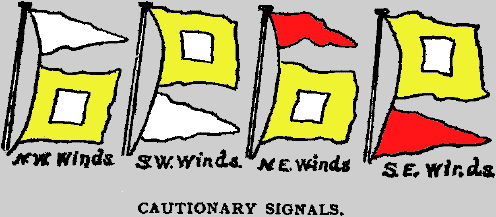 image located by Jan Mertens, 12 November 2006
From Captain A.J. Kenealy's book 'Boat Sailing in Fair Weather and Foul' on the 'net (8th edition, The Outing Publishing Co., New York, 108) (freepages.genealogy.rootsweb.com/~fassitt/kenealy/kenealy0.html).

See the end of Chapter XIX: Weather "Wrinkles" for cautionary signals, storm signals, and weather signals: freepages.genealogy.rootsweb.com/~fassitt/kenealy/kenealy5.html

Relevant quote:
"The United States Signal Service has a local observer stationed at each of the principal ports. When the "information signal," which consists of a red pennant, is displayed, it indicates that information has been received from the central office of a storm covering a limited area, dangerous only for vessels about to sail to certain points. Ship masters and others interested will be supplied with the necessary information on application.

A cautionary signal, which is a Yellow Flag with a white center, indicates that the winds expected are not so violent that well found and seaworthy vessels cannot encounter them without great danger. A cautionary flag hoisted alone signifies that the direction of the expected wind is doubtful."

This is followed by a table of 'Cautionary Signals' attached as <us_cautsig.gif> , plus storm and weather signals we already know (one remark: the 'local rain or snow flag' was really blue rather than purple). Descriptions and captions of these cautionary signals:

White pennant above square flag, yellow pierced white: N.W. winds.
The reverse: S.W. winds.
Red pennant above square flag, yellow pierced white: N.E. winds.
The reverse: S.E. winds.

Jan Mertens, 16 November 2006
---
Weather Doctor's Weather Almanac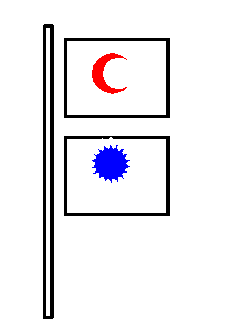 image located by Jan Mertens, 22 November 2006
From www.islandnet.com/~see/weather/almanac/arc_1999/alm99oct.htm, 'Two Flags Flying' from The Weather Doctor's Weather Almanac. ©1999, Keith C. Heidorn, Ph.D.
By 1878, two official flags had been adopted by the US Signal Service to "broadcast" two specific weather warnings: a high-wind warning flag and a cold-wave warning flag. Each measured 6 by 8 feet and were visible for great distances. The high-wind warning flag, a plain red flag, indicated winds were expected to exceed 25 mph. The first flew on 26 October 1871. The cold-wave warning flag was white with a 2-foot square black centre. By the end of 1886, these flags were available at 290 cities and towns. By 1891, official weather warning flags could be flown at over 1200 locations across the US.

Forecast information was also broadcast across a region by local authorities using a variety of other signal flags. Flag patterns and colors varied across the country. For example, in the South two coloured flags were used. For local rains and steady temperatures, a yellow flag perched above a blue flag. For fair weather and warmer temperatures, a white flag flew above a yellow one.

In Pennsylvania and Ohio, white weather flags sported a coloured symbol with red colouring indicating temperature tendency and blue, the weather condition. On them a star, sun, or crescent indicated tendency. For temperature, a red sun forecast higher temperatures; the crescent moon, lower temperatures, and the star, steady temperatures. A blue sun on the flag indicated general rain or snow; a blue crescent, clear or fair weather, and a blue star, localized rain or snow. Similar flags were used in New England with coloured numbers instead of symbols used to indicate weather conditions."
(…)
"With the formation of the US Weather Bureau in 1891, the number of flags to indicate changing weather conditions was further expanded." These flags were especially designed for the display of information to the general public where they will benefit agricultural and commercial interests. The flags were displayed upon railroad trains, river steamers, at railroad stations and at other locations having telegraphic communication."
(…)
"The United States replaced its single marine warning flag with a pennant and flag combination and a lantern arrangement at night to indicate the direction from which the storm winds would blow."
(…)
"In 1912, a single red pennant was introduced to indicate moderate to strong winds, a warning to small watercraft."
(…)
"In 1958, the US replaced that system with pennant/flag and light signals that indicated the strength of the impending wind condition rather than the wind's direction"

The picture above is an example of Pennsylvania and Ohio weather flags ("lower temperatures and general rain/snow").
Jan Mertens, 22 November 2006