This page is part of © FOTW Flags Of The World website
Washington Nationals (U.S.)
Major League Baseball, MLB, National League East, NL-East
Last modified: 2020-07-04 by rick wyatt
Keywords: mlb | national league | united states | baseball | washington nationals | nationals |
Links: FOTW homepage | search | disclaimer and copyright | write us | mirrors

---
| | | |
| --- | --- | --- |
| | | |
| image by Randy Young, 3 April 2019 | | image by Randy Young, 26 April 2019 |
---
See also:

---
The Washington Nationals compete in Major League Baseball as a member club of the National League (NL) East division. The franchise was created in 1969 as an expansion team of the National League as the Montreal Expos. In 2002, the team was purchased by Major League Baseball as part of a failed plan to reduce the number of teams in the league, and by 2004 the league had agreed to sell the team to a new franchise owner. Prior to the 2005 season, the team left Montreal and moved to Washington, DC, taking a new name as the Washington Nationals. The Expos/Nationals became the first MLB team to relocate since the Washington Senators moved to Arlington, Texas, in 1971 to become the Texas Rangers.

The team currently plays their home games at Nationals Park (2008-present), along the Anacostia River in southeast Washington. Before that, they played at Washington's RFK Stadium as the Nationals (2005-2007) and as the Montreal Expos at Olympic Stadium (1977-2004) and Jarry Park Stadium (1969-1976).

The Nationals, including their time as the Expos, are the only National League team to never win the league pennant and never play in a World Series, a distinction shared by the Seattle Mariners in the American League.

Note: Be aware that in the early years baseball teams used pennants rather than flags, and a host of manufacturer's variants of these pennants and later fan flags were marketed for the Nationals and their fans. They include flags, banners, and pennants too numerous to all be shown here.
Randy Young, 26 April 2019

---
The official flag of the Washington Nationals features their current "curly W" cap logo in white fimbriated dark blue, centered on a red field.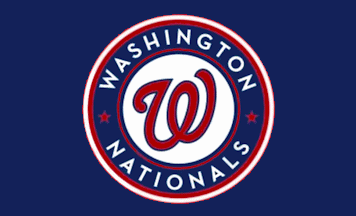 image by Randy Young, 26 April 2019

The Nationals also have a flag featuring the official team logo. This logo shows the "curly W" in red, fimbriated dark blue, on a white circle, all enclosed within a dark blue ring bearing the name of the team in white capital letters. This logo is typically seen on a red field, though it is also occassionally sold to fans on a dark blue (as above) or white field.
Randy Young, 27 April 2019

---
| | | |
| --- | --- | --- |
| | | |
| image by Randy Young, 26 April 2019 | | image by Randy Young, 26 April 2019 |

Previous flags of the Washington Nationals used the team's old logo, as pictured above, which features the previous logo centered on a dark blue field. The logo itself features the name "NATIONALS" in white and metallic gold capital letters, outlined in red, below a red banner bearing the name "WASHINGTON" in white capital letters. Below the word "NATIONALS" is the lower-half of a baseball, surrounded by a semi-circle of nine white stars on a blue ring. Another variant shows the previous logo centered on a triband field of red-dark blue-red, with the bands fimbriated white.
Randy Young, 27 April 2019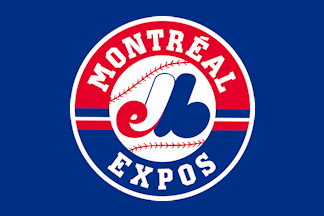 image by Randy Young, 27 April 2019

The official flag of the Montreal Expos baseball team featured the team's logo centered on a blue field.
Randy Young, 27 April 2019

---
| | | |
| --- | --- | --- |
| | | |
| image by Randy Young, 26 April 2019 | | image by Randy Young, 26 April 2019 |

These popular variants of the American national flag have been produced for all the MLB teams and displayed by their enthusiastic fans. In the canton of the first illustrated here, the white stars of the national flag have been replaced by the current Naitonals official logo. The 13 red and white stripes in the fly have been replaced with the dark blue and red colors of Washington Nationals. The second variant shown here features the Nationals' "curly W" cap logo as well as less stripes and less stars: 11 red and dark blue stripes and nine stars to be exact. Both of these designs can be found incorporating any of the team's logos in the canton.
Randy Young, 27 April 2019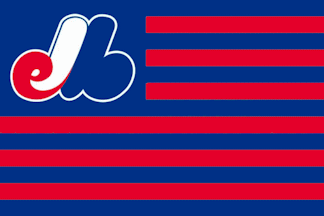 image by Randy Young, 27 April 2019

Ironically, there are also stars and stripes variants for the Montreal Expos, featuring the logo of the Canada-based Expos in the canton of the US national flag.
Randy Young, 27 April 2019

---
| | | |
| --- | --- | --- |
| | | |
| image by Randy Young, 26 April 2019 | | image by Randy Young, 26 April 2019 |

A second group of fan flags uses the team's previous or current official flags, adding stripes either at the top and bottom or the fly and hoist sides.
Randy Young, 12 March 2019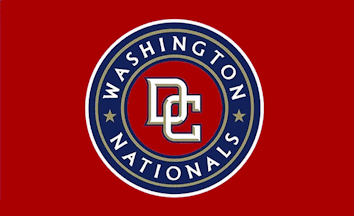 image by Randy Young, 27 April 2019

Some Washington Nationals fan flags use alternative logos, usually centering them on a red or dark blue field. The example above replaces the "curly W" logo with a "DC" for the District of Columbia. The substituting of "DC" for "W" is the most common form of alternative logo among Nationals' flags.
Randy Young, 27 April 2019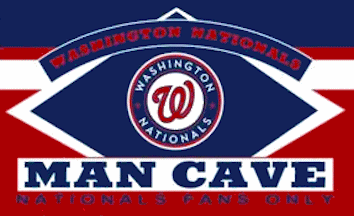 image by Randy Young, 27 April 2019

These flags tend to be more popular among NFL football fans, but can also be found for baseball fans. These flags feature the team's colors and logo and declare the area to be part of the "Man Cave" for fans of that team.
Randy Young, 12 March 2019

---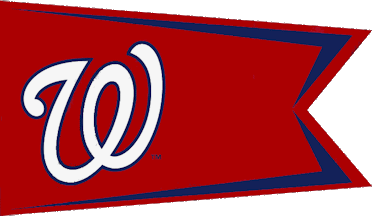 image by Randy Young, 27 April 2019

For those Washington Nationals fans who own yachts or sailboats and want to display their team loyalty, a separate flag is sold for them. The flag takes the form of a red and dark blue burgee with the Nationals' "curly W" logo.
Randy Young, 27 April 2019

---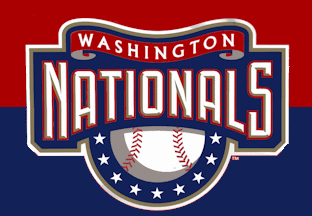 image by Randy Young & Pete Loeser, 20 May 2019

Smaller flags, usually 12 inches by 18 inches, have become popular as golf cart or small boat flags, and there is a flag for Washington Nationals fans who want to show their team loyalty while driving on the links. This flag is a horizontal bicolor of red and blue with the original Washington Nationals logo centered.
Randy Young, 20 May 2019

---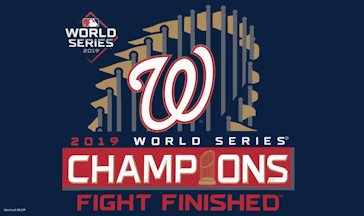 image by Randy Young, 31 October 2019
Two nights ago, the Washington Nationals baseball team won the Major League Baseball World Series, becoming the 2019 champions. Living in the Washington, DC, area, there's been nearly constant news coverage of the team and the planned celebration for their championship victory. On the news tonight was footage of the team's return to Washington, showing the players stepping off the airplane at the airport amidst a crowd of fans and waving flags.

While the team members waved one of the Stars and Stripes variant flags; the variant with the curly "W", a World Series champions flag was shown flying in the crowd. The champions flag features a dark blue field with the team's white curly "W" logo in the center, overlaid on a representation of the World Series trophy. Below the logo and trophy is the year "2019" in small red letters next to the words "WORLD SERIES" in white capital letters. Below that is the word "CHAMPIONS" in white capital letters on a red rectangle, with the "I" in the word replaced by a graphic of the championship trophy. Along the bottom of the flag in red capital letters are the words "FIGHT FINISHED," while the MLB World Series diamond logo appears in the flag's canton. The flag has been confirmed for sale online.
Randy Young, 31 October 2019