This page is part of © FOTW Flags Of The World website
American University (U.S.)
District of Columbia
Last modified: 2022-10-08 by rick wyatt
Keywords: american university | university | district of columbia | united states |
Links: FOTW homepage | search | disclaimer and copyright | write us | mirrors

---
image by Joe McMillan
---
---
See also:
---
Description of the flag
Chartered as a Methodist institution in 1893 (but not opened for classes until 1914), AU is still supported financially by the United Methodist Church but is for all practical purposes a fully secular institution. It now has an enrolment of some 12,000 students. The flag is divided vertically, blue and red, with a white AU monogram on the center reaching from the upper edge to the lower.
Source: personal observation; it can also be seen in a number of photographs on the web.
Joe McMillan, 8 January 2004
I have a small flag which I purchased from the American University bookstore back about the fall of 1989. I assumed at the time it was official, but perhaps not. It is white, with a broad blue horizontal band, a thin white one, and a thin red one running across the top and bottom. In the center, facing the fly, is a blue eagle with white tail feathers and a white head, looking much like something the U.S. Post Office would use as a logo. There is no other lettering or logo. I don't recall ever seeing this flag anywhere other than in that bookstore, but I never spent much time in that section of the District of Columbia.
Andrew S. Rogers, 12 January 2004
A page on the AU website says:
1943 - First university flag introduced; featuring the Lodestar, the flag was designed by art department chair Charles Watkins. University celebrates 50th anniversary.

1985 - AU's flag is redesigned.
Joe McMillan, 12 January 2004

The AU monogram logo as shown was introduced in late 1994, shortly after Dr. Benjamin Ladner became university president. The flag described by Andrew S. Rogers, featuring the eagle, was the university flag before the monogram was introduced.
M.D. Raney, 7 June 2005

As another American University alumnus (BA 1962, MA 1964) I was particularly interested in the above e-mail. My own recollections of the AU flag are that one morning in 1960 or 1961 a flag suddenly appeared over the McKinley Building (a unique structure whose interior structure is so convoluted that it was used for testing mustard gas during WWI). This consisted of a dark blue flag with the university seal centered in white (the seal being a central image of the U.S. Capitol outlined in a similar shade of blue and set at an angle, with an outer circle containing the words 'THE AMERICAN UNIVERSITY' in dark blue block letters at the top. At the bottom of this circle were written the words 'WASHINGTON, D. C.'. Beneath the Capitol was the date of the University's founding, 1893, in Roman numerals, while around the top of the central image in small block lettering was the school motto 'PRO DEO ET PATRIA' (For God and Country). Around the seal itself was a red border. As a reporter for the American University Eagle, the campus newspaper, I was sent out to discover what this was all about. The University PR Director stated that this was the university flag. When I asked why it had never been seen before and when it had been designed, adopted, etc, he told me to 'get lost;.' this was in the days when university administrators were unconcerned with the opinion of their students. I had never heard that this flag had been modified and/or replaced in any way before reading Alum Raney's comments. The only flags which I can recall flying at AU prior to the sudden and mysterious appearance of the flag described above were the U.S. and DC flags, each flown on separate masts in front of Hayes Hall, which was at that time the university administrative building.
Ron Lahav, 7 June 2005

Branding: https://www.american.edu/ucm/creative-style-guide.cfm
Dave Fowler, 13 September 2022
---
Seal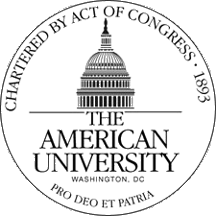 image located by Paul Bassinson, 26 February 2017
Source: dclawstudents.org
---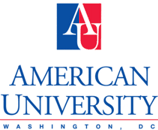 image located by Dave Fowler, 13 September 2022