This page is part of © FOTW Flags Of The World website
Russian Centre of Vexillology and Heraldry
Last modified: 2018-06-20 by rob raeside
Keywords: vexillological association | russian centre of vexillology and heraldry |
Links: FOTW homepage | search | disclaimer and copyright | write us | mirrors

---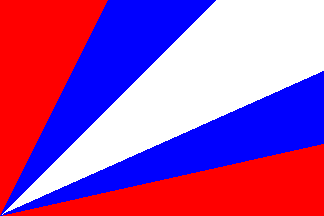 image by Russian Centre of Vexillology and Heraldry
---
See also
---
Association Name:
Russian Centre of Vexillology and Heraldry
Officers:
Yu. Karasov, Mikhail Revnivtsev, Victor Lomantsov, co-chairmen
Type:
Association
Territory:
Russia
Established:
Established: 1975 as Volgo Vexillologigy Club
Changed name in 1991 from Volga Vexillology Club (VVC)
FIAV Member since:
28 July 2003 (Full Member)
Flag:
Five rays radiating from the lower hoist in the colors or red, blue, white, blue, red.
Publications
Links to journals lists articles from this source (if present) by bibliographic code, not by title or content.

| Name | Language | Frequency | Period | ISSN |
| --- | --- | --- | --- | --- |
| Флаг/Flag | Russian | | 1976-1977 | |
---
On September 11, 1975 by initiative of some students from the Saratov Medical Institute (Саратовского медицинского института) and the Saratov State University (Саратовского государственного Университета) the Privolzhsky Vexillology Club, PVC (Приволжский Клуб вексиллологии, ПКВ) located in Privolzhsky, Saratov was established. It was located first at the Club of International Friendship (Клубе интернациональной дружбы), and later at the Department of History of the Saratov Medical Institute.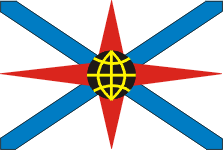 image by Russian Centre of Vexillology and Heraldry

On June 11, 1976, the club's flag was approved. It was a white cloth with a blue St. Andrews cross; over the cross was depicted a red stylized compass needle, and above all a black globe with golden parallels and meridians (as seen here: http://www.vexillographia.ru/images/rcfg1.gif). The authors of the flag being Mikhail Vladimirovich Revnivtsev (Михаил Владимирович Ревнивцев) and English: A. Kuznetsov (А.Кузнецов).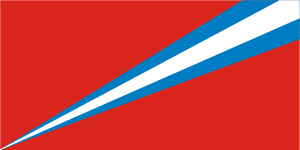 image by Russian Centre of Vexillology and Heraldry

In 1984, the PVC was reorganized as the Vexillology and Heraldry Club (VHC) (Клуб вексиллологии и геральдики (КВГ). The VHC had its own flag: it was a red cloth with a narrow blue wedge, located on the diagonal of the flag; The top of the wedge was in the lower pole of the panel. On top of the blue wedge was an even narrower white wedge. The length of the panel is twice that of its width., as seen here: http://www.vexillographia.ru/images/rcfg2.gif

In 1991 the VHC evolved into the Russian Center of Vexillology and Heraldry (RCFH) (Русский Центр флаговедения и геральдики, РЦФГ) and a new flag was adopted which is the one still used. The flag is a rectangular panel consisting of 5 rays radiating from the lower corner of the flag as wedges of the colors of the Russian national flag - white, two blue and two red. The length of the flag is 1.5 greater times its width. The flag is seen here: http://www.vexillographia.ru/images/rcfg.gif.The Latin letter "V" formed by the blue wedges of the flag is the international symbol of Vexillology. The author of the flag is Mikhail Vladimirovich Revnivtsev."
Source: http://www.vexillographia.ru/rcfg.htm

Esteban Rivera, May 22, 2018