This page is part of © FOTW Flags Of The World website
Kampuchea Krom - Viet Nam
Last modified: 2023-03-06 by randy young
Keywords: vietnam | kampuchea krom | stars | chakra | viet nam |
Links: FOTW homepage | search | disclaimer and copyright | write us | mirrors

---
See also:
External links:
---


by Ivan Sache

The members list of UNPO includes Khmer Kampuchea Krom.

According to UNPO website:

Kampuchea-Krom means "Cambodia Below" or "South Cambodia." Kampuchea-Krom was the southernmost territory of the Khmer Empire, and it was once known as (French) Cochinchina. It is the southwestern part of Vietnam. It covers an area of some 89,000 km² with Cambodia to the north, the Gulf of Thailand to the west, the South China Sea to the southeast and the Champa's territory to the northeast. [...] It is estimated that there are about 8 million Khmers living in Kampuchea-Krom. Approximately 80 percent of them live in the Mekong delta, and a small number is in other provinces throughout the southern part of Vietnam. Besides the Vietnamese, there are other people living in Kampuchea-Krom, including the Chinese, the Chams, the Montagnards, and many other small ethnic groups. [...] The Khmer Krom are represented in UNPO by the Khmer Kampuchea Krom Federation. The three branches of the federation have been elected from the representatives of Khmer Krom constituencies around the world.

The official Khmer Krom website also shows a logo with these colours.
Ivan Sache, 10 March 2002

---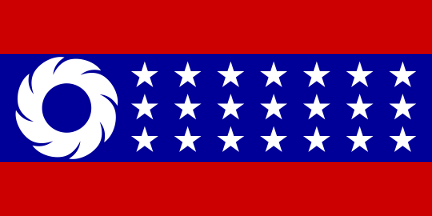 image by Mello Luchtenberg and Tomislav Todorović, 6 February 2023

From the Kampuchea Krom National Liberation Front website:

RED: Symbolizes the blood sacrificed by the courageous Khmer Kampuchea Krom who endeavor to liberate and stand as vigilant guardiansof the Motherland.
BLUE: Embodies the pristine beauty of Kampuchea Krom's freedom and Her dedication to the tenets of democracy.
21 STARS: Represent the 21 Provinces of Kampuchea Krom.
CHAKRA: The symbol of the strength and dominance of the Khmer Kampuchea Krom over all Her enemies. The Chakra (disc-like weapon) as depicted on the national flag of India. The Sudharshana Chakra is associated with Lord Vishnu, the preserver, and was used to subdue evil, ... And with the Lord Buddha, the Dharma Chakra is seen as the use of philosophical and metaphysical powers against the forces of evil.

Size of the flag: In accordance with commonly accepted International Standards of proportion. (2 measures of length for each 1 measure of width)

---
This seems to be a post-1975 organization [1], which might have no connections with the original Front for the Liberation of Kampuchea Krom, whose members mostly withdrew to Cambodia after the fall of Saigon, only to be massacred by the Khmer Rouge. [2] The fact that two movements used different flags also speaks in favor of this assumption. The KKNLF website was last saved by the Internet Archive in May 2008 [3]; in September same year, it was no longer online [4], so the movement probably did not outlive that year. The use of its flag, however, is confirmed by the photos found at the website [5, 6].
Tomislav Todorović, 25 December 2016
Sources:
[1] TTXVA website - Flags of Vietnam: New Discoveries (saved at the Internet Archive): http://web.archive.org/web/20140719230846/http://www.ttxva.net/bieu-trung-viet-nam/
[2] Khmer Krom separatists movements at Wikipedia: https://en.wikipedia.org/wiki/Khmer_Krom#Separatist_movements
[3] Kampuchea Krom National Liberation Front website (saved at the Internet Archive on 2 May 2008): http://web.archive.org/web/20080502054759/http://www.kknlf.com/
[4] Kampuchea Krom National Liberation Front website (saved at the Internet Archive on 14 September 2008): http://web.archive.org/web/20080914184015/http://www.kknlf.com/
[5] Kampuchea Krom National Liberation Front website - photo album, page 2 (saved at the Internet Archive on 4 November 2006): http://web.archive.org/web/20061104082429/http://www.kknlf.com/album2.html
[6] Kampuchea Krom National Liberation Front website - photo album, page 3 (saved at the Internet Archive on on 4 November 2006): http://web.archive.org/web/20061104082649/http://www.kknlf.com/album3.html

The photos from reported sources reveal that the flag ratio is 1:2 as described and the shades of blue and red match those from the flag of Cambodia. Also, the chakra and stars occupy most of the blue field, the diameter of chakra being just a bit smaller than the field width, and are centered upon it as a whole.
Tomislav Todorović, 6 February 2023


---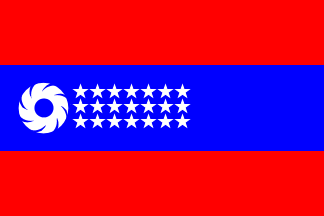 image by Valentin Poposki, 2 October 2006

On the other hand, the group's website page header displays an animated image of the flag which differs from both the description and the photos: less oblong shape (ratio of about 2:3), lighter shades of blue and red, and smaller chakra and stars, set much closer to the hoist than on the real flags. Curiously, the flag description page was originally displaying an even less oblong static image of the flag (ratio of about 3:4) until April 2005, when said animated image was introduced. The static image was added to the page header in August 2004, to be replaced with the animation in April 2005 as well. The animation remained at both places until the end of the site life.
Tomislav Todorović, 6 February 2023
Sources:
[1] Kampuchea Krom National Liberation Front website - Flag presentation (saved at the Internet Archive on 6 May 2004): http://web.archive.org/web/20040506120110/http://www.kknlf.com/flag.html
[2] Kampuchea Krom National Liberation Front website - Flag presentation (saved at the Internet Archive on 11 June 2004): http://web.archive.org/web/20040611172046/http://www.kknlf.com/flag.html
[3] Kampuchea Krom National Liberation Front website - Flag presentation (saved at the Internet Archive on 26 August 2004): http://web.archive.org/web/20040826021421/http://www.kknlf.com/flag.html
[4] Kampuchea Krom National Liberation Front website - Flag presentation (saved at the Internet Archive on 5 February 2005): http://web.archive.org/web/20050205183147/http://www.kknlf.com/flag.html
[5] Kampuchea Krom National Liberation Front website - Flag presentation (saved at the Internet Archive on 11 April 2005): http://web.archive.org/web/20050411124200/http://www.kknlf.com/flag.html
[6] Kampuchea Krom National Liberation Front website - Flag presentation (saved at the Internet Archive on 6 August 2008): http://web.archive.org/web/20080806191020/http://www.kknlf.com/flag.html

---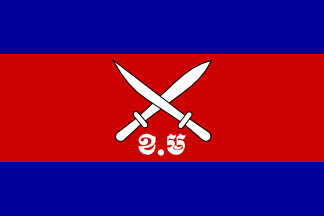 image by Tomislav Todorović, 25 December 2016

Front for the Liberation of Kampuchea Krom (Front de Libération du Kampuchea Krom; FLKK), also called Front for the Liberation of Khmer Krom (Front de Libération des Khmers Krom; FLKK) was founded in South Vietnam in late 1950s. [1, 2] In 1964, it joined [1] the Unified Front for the Liberation of Oppressed Races (FULRO) together with Front for the Liberation of the Highlands and Front for the Liberation of Champa. Its flag [3] was derived from that of Cambodia by replacing the depiction of Angkor Wat with the FLKK emblem, which consists of two crossed sword-like weapons, one single-bladed and the other double-bladed, and Khmer letters Kha and Mo, separated with a dot, inscribed below; the meaning of this inscription is yet to be discovered, but it must have been an abbreviation. The text [3] described the weapons as machetes, not mentioning the differences in their form, and the color of emblem as green, although it must have originally been white, as was used in the flag of Cambodia, but was darkened by age on the illustration which was copied for the text - the color actually looks greenish-gray, not clear green as in other reproduced flags. Another source which depicts this flag [4] shows the color as greenish-gray, but it is clearly meant to represent silver color, since the flag image looks as if copied from a pin or badge: there are fimbriations in this color around the whole flag, as well as between the blue and red fields, and the outlines around the red swords/machetes, and all these lines look as if casting the shadow on the painted areas, mimicking the metallic ridges which separate enamelled areas of a pin. Also, some parts of the lines look white, contributing to the light and shadow effects. All this speaks in favor of white as the emblem color. The swords also seem to have had black fimbriations, which also visually separated their parts, while the letters seem not to have had any of these. The letters might have had a more expanded form than shown here, but it is difficult to tell, since their forms look rather distorted in the source images [3, 4], making the very recognition of the glyphs difficult, although not impossible.
Tomislav Todorović, 25 December 2016
Sources:
[1] Front for the Liberation of Oppressed Races at Wikipedia: https://en.wikipedia.org/wiki/United_Front_for_the_Liberation_of_Oppressed_Races#FULRO
[2] Khmer Krom separatists movements at Wikipedia: https://en.wikipedia.org/wiki/Khmer_Krom#Separatist_movements
[3] TTXVA website - Flags of Vietnam: New Discoveries (saved at the Internet Archive): http://web.archive.org/web/20140719230846/http://www.ttxva.net/bieu-trung-viet-nam/
[4] KI-Media website: http://ki-media.blogspot.com/2010/09/study-on-cambodian-identity.html (image)

---