This page is part of © FOTW Flags Of The World website
Kingdom of Araucania and Patagonia (1860-1862)
Royaume de Araucanie et Patagonie, Nouvelle France
Last modified: 2021-12-31 by rob raeside
Keywords: araucania | patagonia | new france | nouvelle france | adventurer | touneins (antoine-orllie de) | ptg | star: 5 points (white on green) | star: 5 points (white on blue) |
Links: FOTW homepage | search | disclaimer and copyright | write us | mirrors

---

image by António Martins, 28 Jan 1999
---
See also:
---
History of the "kingdom"
Araucania is in Southern Chile. Patagonia is in Southern Argentina. In the XIX century these lands were not inhabited by Europeans and only native people lived there. After 1861, Chile occupied the South, and around 1880 Argentina too.
Jaume Ollé, 26 May 1998
In November 17, 1860, a French adventurer named Antoine-Orllie de Touneins (where "Antoine-Orllie" is a composite first name and "Touneins" the family name, changed to "de Touneins" after Antoine obtained it by trial) proclaimed, with the support of the local chiefs, the foundation of a constitutional hereditary monarchy in Araucania (to the which later was added Patagonia). The Kingdom of Araucania (later on Kingdom of Araucania and Patagonia, November 20, 1860) had a real existence of a year and a half. The king took the name of Orllie-Antoine I (modifying Oréllie to Orllie). Chile arrested de Tounens on January 5, 1862 and expelled him to France.
A new attempt of the king permitted the reappearance of the kingdom between 1869 and 1871. The monarch attempted to return to his kingdom in 1874 and 1876 (then, the kingdom is named Nouvelle France, = New France), without success, returning to France in 1867, where he died in September 19, 1878. His successor maintained the title in exile.
The colours of the flag of the kingdom were nominated by Orllie-Antoine already before his self-proclamation, and it was later on used by the Araucanian tribes that recognized it in Assemblies. Each monarch had their own coat of arms, but only that of Orllie-Antoine can be considered as coat of arms of the kingdom, since only he exercised an effective government.
Sources: El Reino de Araucania y Patagonia by Armando Braun Menández (Editorial Francisco de Aguirre, Buenos Aires and Santiago de Chile). Includes various stamps, seals, decorations and shields of the monarchy.
Jaume Ollé, 12 June 1996
---
New flag in exile

image by António Martins, 12 November 1998
The flag is, according The Flag Bulletin [tfb], Braun Menendez, and other sources, blue, green and white, but is also published in several bulletins blue, white and green.
Jaume Ollé, 23 May 1998
I believe that the green - blue - white flag was only hoisted by Oreille in Araucania for some weeks. Later the flag was changed in the exile of France and continues currently in use. I believe that the current arrangement was adopted later (in Europe) to make the flag heraldically correct. The info about the original flag can be found in articles by Lucien Philippe in The Flag Bulletin [tfb] and in the book El Reino de Araucania y Patagonia by Armando Braun Menéndez.
Jaume Ollé, 19 May 1999 and 05 September 1998
Tounens and Patagonia have been popularized in France by the writer Jean Raspail: his books on Tounens and Patagonia are fairly impressive and Raspail created a kind of cult of Tounens and his Patagonian dreams. It is said that Tounens' tomb, located in a small village in the south-west of France, is always decorated with blue, white and green flowers and ribbons. Patagonian car stickers are common.
Ivan Sache, 2003 June 16
Variant design with stars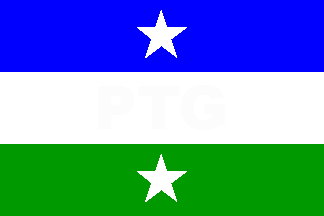 image by Ivan Sache, 2003 June 16
Drawn after a sticker seen on a French car this afternoon in Versailles (France). The flag is horizontally divided blue-white-green with a white star in the middle of the blue and green stripes and the letters "PTG" in black. The colours are those of Touneins' Kingdom of Patagonia; PTG is the "proposed" car code for Patagonia. Patagonian car stickers are common (in France), but it is the first time that I see such a sticker with stars.
Ivan Sache, 2003 June 16
---
Vertical stripes variation

image by António Martins, 12 November 1998

In the decorations that ran in the "reign" of the second king (Achilles I), the colours are shown in vertical position and with five stripes (from the shaft: blue, white, green, white, blue). This is in fact a medal ribbon, and not a flag.
Jaume Ollé, 23 May 1998 and 12 June 1996
---
Coats of arms
The Strange Maps 321st blogpost shows a map of Kingdom of Araucania and Patagonia (1860-1862), as does also this Araucania.ORG webpage (large image); neither page gives detailed info about the map itself (date, etc.). At the top of the map two coats of arms can be seen, both visually unrelated to the flag; these probably the arms mentioned in Braun Menéndez's book.
The coat of arms at the right consists of an iberian shield with two scrolls, above and below: Quartered
the I Gules two things Or set in fess
and II Azure a book Argent and overall a sword Argent hilted Or per pale
and III Vert three garbs Or set in chevron
and IV Gules three flagons proper set in chevron
and on a bordure engrailed Gules eight things Or.
Warcry on scroll above the shield reading "Independencia y Libertad" (sic!) and Motto on scroll below the shield reading a Latin sentence.

The coat of arms at the left consists of an ogival shield and a baron's coronet: Azure a chevron Or between three five-pointed estoiles Or. These arms at the Araucanie.COM website show as on inescutcheon, but in red instead of yellow, over two battle axes set in saltire within four spears set in lozenge; the main shield being red.

António Martins, 20 October 2008