This page is part of © FOTW Flags Of The World website
GBI/SIB/SEI (trade union, Switzerland)
Last modified: 2022-12-27 by martin karner
Keywords: gbi/sib/sei | trade union |
Links: FOTW homepage | search | disclaimer and copyright | write us | mirrors

---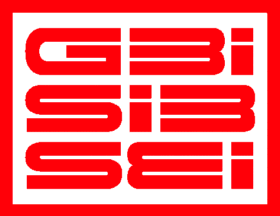 image by M. Schmöger, 18 January 2016
---
See also:
---
GBI (Gewerkschaft Bau und Industrie)
SIB (Syndicat industrie et bâtiment)
SEI (Sindacato edilizia e industria)
(= Trade Union Construction and Industry)

The GBI/SIB/SEI was founded in 1993 as a merger of GBH/SBB/SEL and GTCP/FTCP/FTCC. In 2004, it merged with SMUV/FTMH/FMLO, unia, VHTL/FCTA and "actions" to form the new trade union "Unia". It was active in construction, textile and chemical industries.

The logo was designed by Anne Iten in 1992. It shows the abbreviations in three languages in a very stylized manner, in red on a white field with a red border [1].

The general flag, frequently flown, was this logo [1,2,3,4,5,6,7,8,9,10,11,12,13].
M. Schmöger, 18 January 2016
---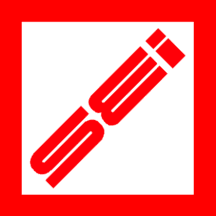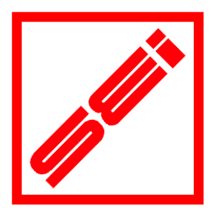 images by M. Schmöger, 17 January 2016

The cantonal section of Ticino used two variants of a different flag as well: only the Italian abbreviation (SEI), placed diagonally on a white field with a red border [14,15,16,17,18,19] or a white-red border [14,15,16,17,18,19,20,21].
M. Schmöger, 18 January 2016

Sources:
[1] Auderset, P & Enckell, M (2014) Sous le drapeau syndical 1845-2014: les syndicats vaudois et leurs emblèmes. Lausanne (Musée Cantonal d'Archéologie et d'Histoire), p. 139.
[2] Auderset, P & Enckell, M (2014) Sous le drapeau syndical 1845-2014: les syndicats vaudois et leurs emblèmes. Lausanne (Musée Cantonal d'Archéologie et d'Histoire), p. 62.
[3] http://www.bild-video-ton.ch/bestand/objekt/Sozarch_F_Oa-5076
[4] http://www.bild-video-ton.ch/bestand/objekt/Sozarch_F_Oa-5075
[5] http://www.bild-video-ton.ch/bestand/objekt/Sozarch_F_5031-Fc-0072
[6] http://www.bild-video-ton.ch/bestand/objekt/Sozarch_F_5031-Fc-0071
[7] http://www.bild-video-ton.ch/bestand/objekt/Sozarch_F_5031-Fc-1236
[8] http://www.bild-video-ton.ch/bestand/objekt/Sozarch_F_5003-Fx-014
[9] http://www.bild-video-ton.ch/bestand/objekt/Sozarch_F_5031-Fb-0628
[10] http://www.bild-video-ton.ch/bestand/objekt/Sozarch_F_5031-Fc-0523
[11] http://www.bild-video-ton.ch/bestand/objekt/Sozarch_F_5031-Fc-0591
[12] http://www.bild-video-ton.ch/bestand/objekt/Sozarch_F_5031-Fc-0865
[13] http://www.bild-video-ton.ch/bestand/objekt/Sozarch_F_5031-Fb-0309
[14] http://www.bild-video-ton.ch/bestand/objekt/Sozarch_F_5031-Fb-0376
[15] http://www.bild-video-ton.ch/bestand/objekt/Sozarch_F_5031-Fb-0377
[16] http://www.bild-video-ton.ch/bestand/objekt/Sozarch_F_5031-Fb-0375
[17] http://www.bild-video-ton.ch/bestand/objekt/Sozarch_F_5031-Fc-0518
[18] http://www.bild-video-ton.ch/bestand/objekt/Sozarch_F_5031-Fb-0374
[19] http://www.bild-video-ton.ch/bestand/objekt/Sozarch_F_5031-Fb-0250
[20] http://www.bild-video-ton.ch/bestand/objekt/Sozarch_F_5031-Fc-0517
[21] http://www.bild-video-ton.ch/bestand/objekt/Sozarch_F_5031-Fb-0254

M. Schmöger, 18 January 2016