This page is part of © FOTW Flags Of The World website
Easter Island historical flags (Chile)
Last modified: 2018-09-29 by randy young
Keywords: te pito o te henua | te reva | paoa | tangata manu | manu tara | bird man | bird (orange) | ioane 1 (jean-onésime dutrou-bornie | easter island) | moai |
Links: FOTW homepage | search | disclaimer and copyright | write us | mirrors

---
See also:
---
The first flag-like object we have knowledge to be used by the natives was "the Te-reva, which means 'to hang' in Polynesian," writes Grant McCall. «Te-reva is the name used for such standards in Tahiti. One of such Te-reva is preserved on the Museum of Valparaiso in Chile. The banner has on it many devices of Polynesian origins, like the paoa (warriors paddle or club) on each side two facing Tangata Manu, or bird men, and two Reimiro."
Gustav Tracchia, 20 August 2003
quoted and resumed by António Martins-Tuválkin

The bird on the Easter Island Flag is the legendary Manu Tara Bird, the source of the Bird Man Cult on the island. It is still the most sacred animal and symbol on the island. The original colors may have been the same as those of today's flag.
Volker Keith, 16 January 2001

---
Reconstruction!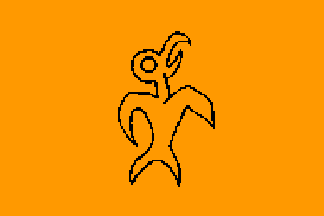 image by Olivier Touzeau, 26 December 2000

Jean-Onésime Dutrou-Bornier was the king of Easter Island between 1869 and 1876. He was born in Montmorillon, France, in 1834. He left school at the age of 14, and entered the Navy. He took part in the conquest of Sebastopol, and became "master mariner" after the peace was signed. He arrived in Tahiti in 1866, where the Governor of the French Settlements of Oceania, Mr. de la Roncière, asked him to work for the mail office. He went for the service to Valparaiso, and stopped in Easter Island, where two missionaries he had taken on board wanted to go. The island impressed him very much.

He came back in 1867, bought lands on Easter Island, in Mataveri, near Rano Kao crater. He became a "blackbirder" (id est workforce dealer). Jean-Onséime Dutrou-Bornier married with a woman of Easter Island, named Koreto, who was the last heiress of the kings of Easter Island.

Dutrou-Bornier is recognized as a king by a part of the islanders, and hoisted his flag: orange, with an outline of a man-bird. But the missionaries and the Christianized population of Easter Island did not accept his authority. There was a war from April to July 1870. Dutrou-Bornier even bombarded the mission's buildings. The "christian party" left the island, and Ioane I became the main chief of the island.

He imposed a feudal life to Pascuans (with "corvées"), put up a communitary fishery, and dispensed justice with Koreto before his palace, a colonial house imported from the USA. Koreto gave birth to a girl. In 1876, August 6th, while riding (drunk) on a horse, he falls and dies. Koreto asks for France to make a Protectorate of the Island, but gets no answer, and the island was anexed by Chile in 1888.
Olivier Touzeau, translating and summarizing from [ful97], 26 December 2000

---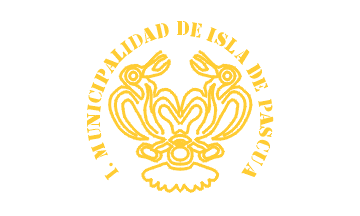 image by António Martins-Tuválkin, 18 April 2004

To which level of the administrative divisions of Chile does this flag correspond to? Easter Island is a province within Region V, but this province has only one commune. Are these two separate entities (whith distinct flags?), or are they collapsed?
António Martins-Tuválkin, 18 April 2004

It was hoisted in front of the townhall in Hanga Roa (the only town on the island) when I was there a couple of months ago. The bird on the Easter Island Flag is the legendary Manu Tara Bird, the source of the Bird Man Cult on the island. It is still the most sacred animal and symbol on the island. The original colors may have been the same as those of today's flag.
Volker Keith, 16 January 2001

Ratio seems to be 3:5.
António Martins-Tuválkin, 18 April 2004

Words are "I. Municipalidad de Isla de Pascua." Jaume Ollé, 16 January 2001

"I." stands most probably for "Ilustrísima," "Most Illustrious."
Santiago Dotor, 17 January 2001

According to the images on the website of the Chilean TV channel "Canal 13" the municipal flag, white with golden emblem, was also reported in local use (along with the national flag and the reimiro flag).
António Martins-Tuválkin, 11 May 2006

---
However the most striking symbol of the island, the famous Moai — monolithic statues carved from the island rock — is absent on the flags: Ron Fisher in his work Easter Island Brooding Sentinels of Stone says that "two classes of people, the-so-called Long Ears and Short Ears, lived on the island. The Short Ears were enslaved by the Long Ears, who forced the Short Ears to carve the Moai." This writer believes this to be the reason as to why the Moai were not chosen as a symbol of Rapanui, since the Moai are a representation of oppression and slavery.
Gustav Tracchia, 20 August 2003, quoted and summarized by António Martins-Tuválkin

---