This page is part of © FOTW Flags Of The World website
Chinese Republic National Flag, 1912-1929
Last modified: 2020-07-31 by ian macdonald
Keywords: china | chinese republic | sun | war flag |
Links: FOTW homepage | search | disclaimer and copyright | write us | mirrors

---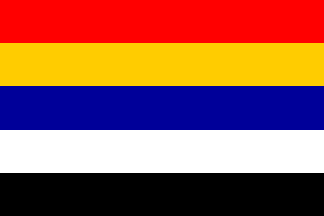 image by Miles Li, 22 March 2014
---
See also:
---
Overview
In 1912 China was a single republic with two different governments. North China, with capital Beijing, was governed by General Yuan Shih-k'ai, while the South was governed by Sun Yat-Sen and the Kuo-min-tang. The only common flag between them was the national flag (with five colours), which was also used as the merchant (civil) ensign. All other flags were different.
Mario Fabretto, 20 October 1997
The Manchu [Ch'ing] dynasty, which ruled China for more than three and a half centuries was over thrown. So, the days of the "dragon" flags were ended, replaced by the Sun Yat-sen Republic.
This brought about the establishment of some new flags, both national and rank flags.
The empire (dragon) flag was replaced by the quinta-color horizontal stripe flag. The Quinta-color flag of the Sun Yat-sen Republic became the National Flag.
The quinta-color national flag was adopted as the Jack. This is supported by the National Geographic, 1917, page 347, item #566. I have no further documentation to draw from but, I am of the opinion that this flag remained the Jack until Chiang Kai-shek of the Chinese Nationalist assumed the head of Government in 1928. The jack being replaced at that time.
C. Eugene Baldwin, 10 December 1998
When the Republic of China was founded in 1912, groups with differing political viewpoints had different proposals for a new national flag. Eventually they were forced into making a compromise, which saw the five-striped flag becoming the national flag (and naval jack), the "Blue Sky, White Sun, Whole Field Red" flag (the current Taiwanese flag) becoming the naval ensign, and the "18-Stars Flag" becoming the war flag.
Miles Li, 19 September 2007
---
The Flag
The 1912 Chinese flag had five horizontal stripes; each color representing a people but there are at least two different assignments:
red = Manchurians
yellow = Han Chinese
blue = Mongolians
white = Muslims
black = Tibetans
from "Outlines of Chinese Symbolism and Art Motives" by C.A.S. Williams (Shanghai: Kelly & Walsh, 1941, reprinted by Dover, 1976)
Bruce Tindall, 05 December 1995
---
red = Han Chinese
yellow = Manchuria
blue = Mongolians
white = Tibet
black = Muslims
from a book by Whitney Smith
Nathan Augustine, 07 December 1995
---
The five-color flag was superseded by the Nationalist Government/Kuomintang flag when they finally succeeded in winning the north in the late 20's. I understand the five-color flag was revived by the Japanese and used by their puppet government in China between 1937/8 through 1945. I have seen old postcards showing this use.
My National Geographic of Oct. 1914 shows the national flag to have five (5) horizontal stripes, from top down red, yellow, blue, white and black. The naval flag was the same as the current flag of Taiwan. The army flag was red with a eight pointed blue star. The points of the star were tipped with yellow balls, fimbrated blue. Eight (8) yellow circles were arranged in a circle in the middle of the star around a central yellow ball.
Kent McKeever, 16 October 1996
---