This page is part of © FOTW Flags Of The World website
Harburg District of Hamburg (Germany)
Bezirk Harburg, Hamburg
Last modified: 2020-04-28 by

klaus-michael schneider
Keywords: harburg | wilhelmsburg | castle | lion(blue) | fleur-de-lis | heartlets(9) |
Links: FOTW homepage | search | disclaimer and copyright | write us | mirrors

---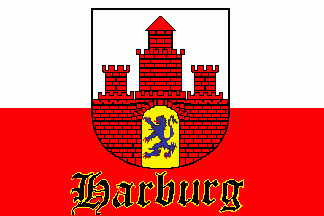 2:3 image by Klaus-Michael Schneider, 19 May 2011 See also:
Former City of Harburg (until 1931)
until 1931, today a borough and Bezirk of Hamburg
I saw Bergedorf's flag and by pride cannot survive to not have my home borough be included: Harburg. It is one of Hamburg's boroughs (Bezirk). Until 1937 it was an independent town in belonging to the Prussian province of Hannover. Harburg's flag is somewhat similar to the one of Hamburg. The lion in the door of the fortress represents Heinrich the Lion, Duke of Saxony and Bavaria, a main antagonist of Friedrich I. Barbarossa (=red bearded).
Niels Rump, 18 Sep 2002
Description of flag:
It is a white over red horizontal bicolour. In the middle of the red stripe at the bottom edge is a black Gothic (Fraktur Schrift) inscription (often) fimbriated yellow "Harburg". The coat of arms is placed above the inscription.
Description of coat of arms:
In a silver (=white) shield is a red gate masoned black. The gate has three towers. The central tower has a triangular roof, it is flanked by two minor embattled towers. The door is open and enlightened yellow containing a blue rampant lion armed and tongued red. The lion can be found in the coats of arms of many nowadays municipalities in Harburg county. It is the lion of the Welfen kin.
Source: based upon a photo located by Pascal Gross on 21 Jan 2002
Klaus-Michael Schneider; 19 May 2011
Former City of Wilhelmsburg (until 1931)
until 1931, today a borough of Hamburg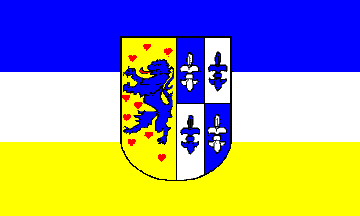 3:5 image by Klaus-Michael Schneider, 17 Nov 2007

Description of flag:
The flags ratio is . It is a blue over white over yellow horizontal tricolour with the coat of arms in its centre.


Description of coat of arms:
The shield is divided per pale. The dexter side shows a blue rampant lion, red tongued, in a golden (=yellow) field surrounded by nine red hearts. The sinister side is quarterly divided. In the first and fourth quarter are white (=silver) fleurs de lys in a blue field, in the other quarters it's the same but in inverted colours. (I believe, that the objects are lilies though they look like strangely knotted handkerchiefs)
Meaning:
The dexter side turns out, that the city belonged to Harburg county. Many cities of nowadays Harburg county have similar lions intheir coats of arms. The sinister side probably shows the coat of arms of a local gentry kin, but I don't know any details.

Historical notes:
Wilhelmsburg was an own city next to Harburg city, the former capital of the county with the same name. In 1937 Wilhelmsburg was incorporated into the City of Hamburg, together with Harburg, Wandsbek, Altona and smaller municipalities around Hamburg. But Hamburg ceded e.g. Geesthacht and Großhansdorf to Prussia. All in all Hamburg was the "winner" by implementing the "Groß-Hamburg-Gesetz"). Since 1931, when Wilhelmsburg was merged with Harburg city, this flag was abolished, but some locals are still using it today.
Source: I spotted this flag on 28 October 2007 in front of the "Wilhelmsburger Hof"-inn.
Klaus-Michael Schneider, 17 Nov 2007

See following page (in German) by Dr. H. H. Kohlhaus, describing the various arms of Wilhelmsburg: The fleur-de-lis appear on the arms of Eleonore [Desmier] d'Olbreuse (a family from Poitou, France), wife of the Duke of Brunswick [-Celle], founder of Harburg.

See the couple on this page, second picture (combined arms).
Desmier arms, top of page.
Regarding the town colours (as they appear in the flag) Dr. Kohlhaus says that the red (derived from the hearts) is lacking.
Jan Mertens, 18 Nov 2007
Former City of Harburg-Wilhelmsburg (1931 - 1937)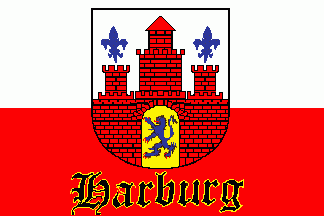 image by Klaus-Michael Schneider, 19 May 2011

Description of flag:
After Harburg and Wilhelmsburg had merged in 1931, the new city of Harburg-Wilhelmsburg got a new flag, which was nearly the same as the flag of Harburg. Just two blue fleur de lis taken from the Desmier arms in the coat of arms of Wilhelmsburg were added, one fleur upon each embattled tower.
The new city was incorporated to Hamburg in 1937.
Source: Wilhelmsburger Zeitung (local newspaper), 30 August 1968, article by Dr. H.H. Kohlhaus
Klaus-Michael Schneider, 19 May 2011
City of Harburg plain Flag (reported 1891)

1:2 image by Klaus-Michael Schneider, 21 Nov 2011

It was a white over red horizontal bicolour.
Source: H.Ahrens "Hannoversche Landschafts-und Städtewappen", 1891, plate XX
Klaus-Michael Schneider, 21 Nov 2011
City of Harburg-Wilhelmsburg white Flag (reported 2017)
2:3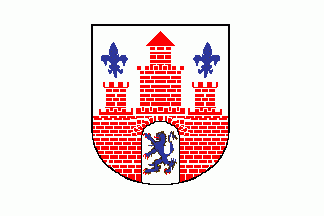 image by Klaus-Michael Schneider, 27 Apr 2020

It is a white flag with centred arms and modified arms as follows: The background and port tincture is changed from yellow to white. The castle is masoned white instead of black.
Source: photo in "Besser im Blick", a local online newspaper, edition 14 December 2017
Klaus-Michael Schneider, 27 Apr 2020
---
back to Index of all Hamburg pages click here