This page is part of © FOTW Flags Of The World website
Fictitious Flags (Germany)
Last modified: 2023-05-06 by martin karner
Keywords: germany | fictitious flags | wirmer | resistance | federal state | bundesland |
Links: FOTW homepage | search | disclaimer and copyright | write us | mirrors

---
See also:
---
Introduction: What Are Fictitious Flags?
"A fictitious flag is a flag – or the illustration of a flag – that purports to represent an actual entity or person, but for which no evidence of any such use by that entity or person exists – a pseudo, spurious or surrogate flag" (Dictionary of Vexillology).
These flags are not to be confused with "fictional flags" or "unidentified flags" (UFE). They aren't mere illustrations; they do exist in the real world, they give the appearance of being historical, and their creators are quite clear aobut their intentions.

---
False War Ensign 1990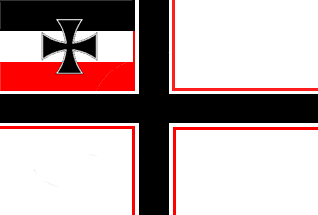 image by Pete Loeser, 14 March 2010
In Germany in particular there exist a great number of "fictitious flags" that have been manufactured to look similar to real historical German flags but did not in fact exist historically. Their designs are fictional, but the flags exist in the real world. They are usually manufactured for profit in hopes they will fit a need or become widely used. They reside in tourist stores, are sold on the streets, in flag shops, flea markets or on the internet. They are also very popular with extremist groups in Germany because the German government has made it illegal to display actual historical National Socialist flags and ensigns, so look-a-like flags are used. A great example of this would be the False Imperial War Ensign that was originally displayed at the German reunification celebrations in 1990, but never existed before that. Find out more about this at False War Ensign 1990 where it was first reported on FOTW.
Pete Loeser, 23 January 2023
---
Resistance War Flag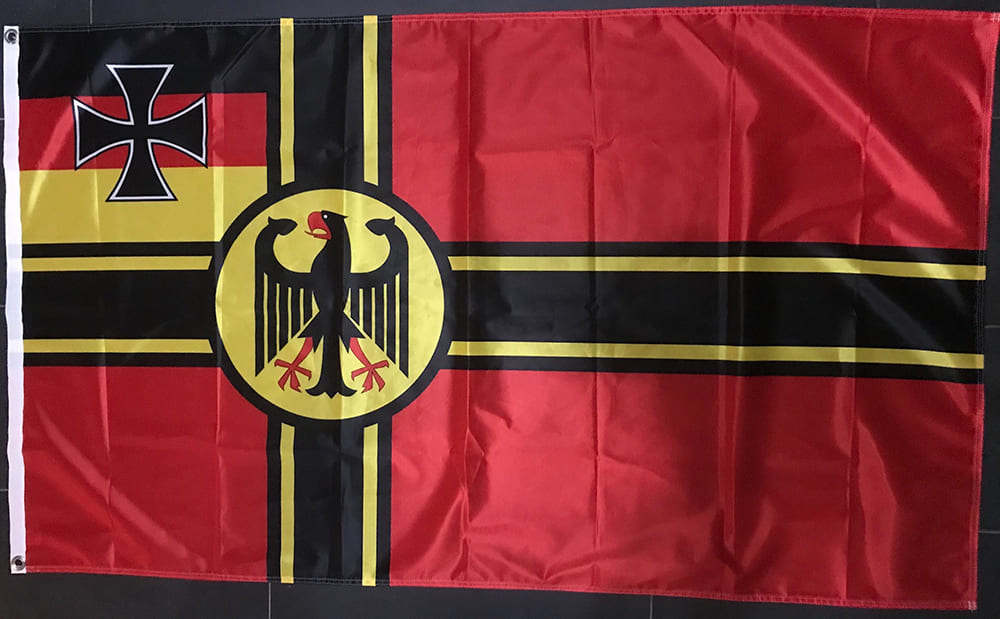 image by Martin Karner
A German flag seller created this fictitious German Resistance War Flag and offers it on his webshop. It has been derived from Josef Wirmer's "Resistance Flag" from 1944. If the German resistance movement in World War II would have created an state of its own, its war ensign probably would have looked like this. On a red field a black cross offset to the hoist, fimbriated yellow and black with in its middle a yellow disc with the black eagle, and a black-red-gold flag with a black Iron cross in the canton. This version has the federal eagle with its heraldic clear and unfussy design. The flag is also available with three other versions of eagles (same colours): Prussia, the Kaiserreich and the Weimar Republic.
Martin Karner, 21 January 2023
See also: Proposals 1944–1949 (Germany)
---
National Flag with Federal Coat-of-Arms and Coats-of-Arms of the 16 states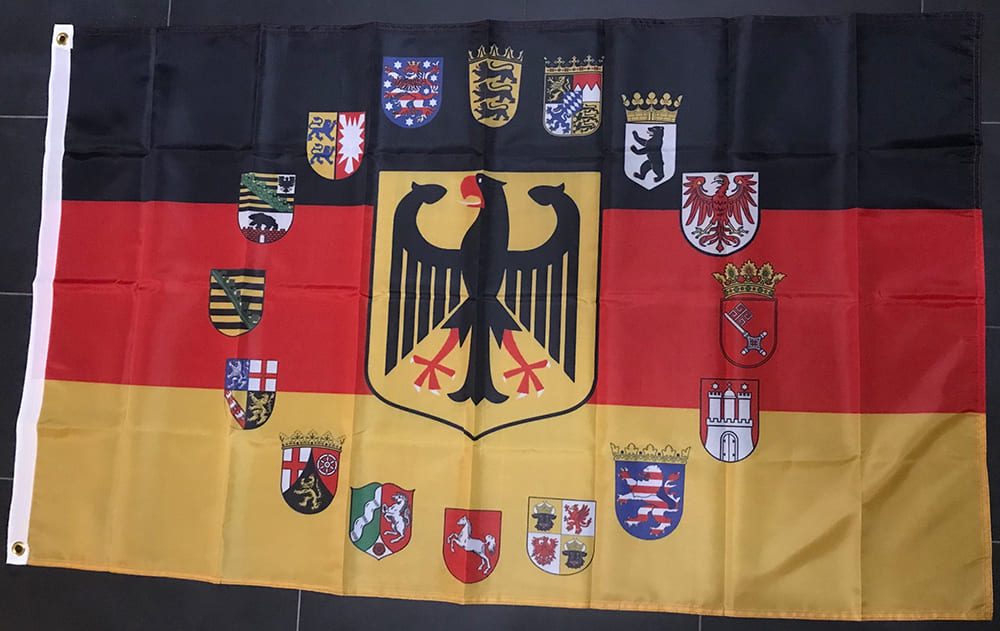 image by Martin Karner
A German flag seller created this fictitious (or decorative) German flag and offers it on his webshop. On the black-red-gold background with the Federal Coat-of-Arms in the center the smaller 16 coats-of-arms of the states are arranged in a circle around it which expands almost to the upper and lower edge of the flag. The 16 coats-of-arms are arranged in this order (clockwise, beginning on the top): Baden-Württemberg, Bavaria, Berlin, Brandenburg, Bremen, Hamburg, Hesse, Mecklenburg-Westpomerania, Lower Saxony, Northrine-Westphalia, Rhineland-Palatinate, Saar, Saxony, Saxony-Anhalt, Schleswig-Holstein, Thuringia.
Martin Karner, 21 January 2023
See also: German states (Bundesländer)
---
Federal War Flag (Bundeskriegsflagge) 1946–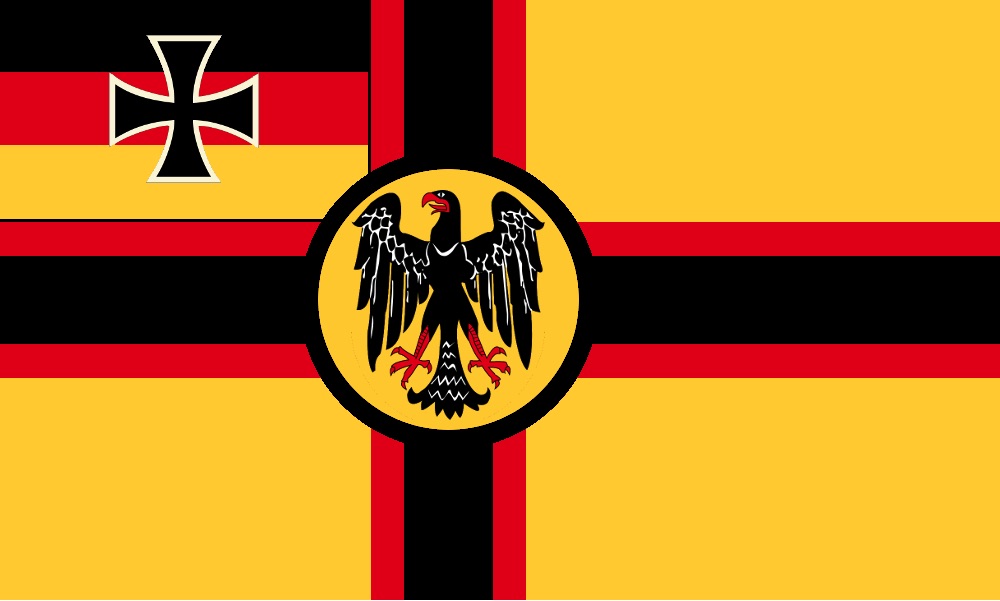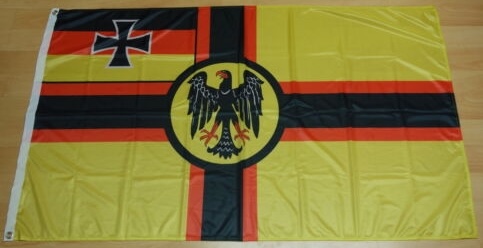 images located by Martin Karner
On ebay a fictitious German war flag ("Kriegsflagge") is offered (right picture above). Beside "Kriegsflagge" it is also labeled falsely as flag of the "Deutsche Legion". It is derived from the adopted but not used War Ensign of 1919, with a yellow instead of a white field.

The alternative history site Alternativgeschichte-Wiki (based on fantasy) describes this flag as a derivation of the flag of the likewise fictional Deutsche Legion (Neunorwegen) (German Legion (New Norway)), a German troop unit of German emigrants in "Neunorwegen" (New Norway) and "New Norwegians" of German origin during WW2 (picture Deutsche Legion flag). The Federal War Flag (Bundeskriegsflagge) is said to have been adopted on 23 May 1946.

Martin Karner, 24 April 2023
Actually, those German emigrants were not in Norway (Norwegen), but in New Norway (Neunorwegen), a fictional country which was founded in Patagonia by immigrants from Norway in 1835: https://althistory.fandom.com/de/wiki/Neunorwegen_(Neunorwegen).
The unit in question is said to have been under command of a German government (Weimar Republic) in exile, residing in New York.
Tomislav Todorovic, 26 April 2023
See also: Colour for Armed Forces Units (Germany)