This page is part of © FOTW Flags Of The World website
Duisburg Port Facilities (German Harbour Service)
Duisburger Hafengesellschaften
Last modified: 2017-11-11 by klaus-michael schneider
Keywords: duisport | duisburger hafen ag | duisburg-ruhrorter hafen ag | hafen schwelgern | gemeinschaftsbetrieb eisenbahn und haefen(duisburg) |
Links: FOTW homepage | search | disclaimer and copyright | write us | mirrors

---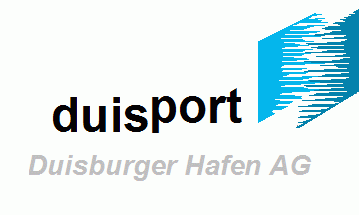 image by Klaus-Michael Schneider, based on a photo located by Jan Mertens, 25 Dec 2006 See also:
---
duisport
For some time now I have been going on about how important an inland harbour Duisburg is, so why not present this German port especially since it uses a flag of its own? See Website of "duisport" (spelled in a modern way: no capital letter…), English version:
Representative quote from first page, to put us all on the right footing: "duisport is the commercial and transportation center of the Rhine/Ruhr region which is Europe's largest industrial conurbation. 30 million inhabitants live and work within 150 kilometers from Duisburg. Over 300,000 companies from an extremely wide range of industries operate in the area. Waterways (…), railroad tracks (…) and highways link duisport with most parts of central and eastern Europe. duisport is at the same time a strategic hinterland hub of major North Sea ports including Rotterdam and Antwerp. Some 250 companies mainly specialized in transportation and logistics offer their services. Four intermodal terminals and 1.1 Mio. sq.m. of storage area provide the necessary infrastructure."
2005 cargo details and list of facilities here.
Some highlights from the 'History' section: 1716, Ruhrort basin opened to receive barges transporting coal to the Rhine, put under Prussian government control forty years later. Nearby port development in Duisburg which town will eventually own both harbours. Iron and steel industry plus railroads stimulate activity. Joint venture between Ruhrort and Duisburg in 1905 in a way paralleled by merger of these towns plus nearby Meiderich. Further development including links to important inland canals. After WW1, port becomes a joint-stock company, process finalized in 1926. Extensive damage to infrastructure and fleets caused by WW2: resuming transportation focuses on nourishing the population. Economic upswing in West Germany relaunches Duisburg ports e.g. growing importance of mineral oil but coal will remain important for some time. Continued expansion and transformation, backfilling basins where necessary. Modern trends such as push navigation and container traffic influence infrastructure e.g. by building terminals for roll-on/roll-off traffic, and intermodal transportation. Economic slump in the 'eighties is fought by government help and the establishment of a free port area operational from 1991 on while the decade sees urban development on land no longer used by the ports. At the end of the century local industry has been transformed if not disappeared and the main idea is now to become a transportation hub of the first rank but simultaneously to cooperate with other ports not limited to Europe. New name since 1 March 2000, 'Duisburger Hafen AG' (meaning port - singular - of Duisburg) of which 'duisport' is the marketing brand. Building of terminals and establishments of logistics firms continue.
As stated, many companies are located in Duisburg the house flags of which (including the hazy Walrhein!) may be seen here.
In fact the list of firms is not only impressive but instructive as they are often presented with their symbols - this merits further study!
Promotional video clip on this page
A duisport flag was put up on German eBay this year (item no. 6630115269, end 22 May 2006), measuring about 76 cm by 115 cm. The logo encountered on the duisport pages is put in the upper fly of a white flag whereas the name, in black, is put in the centre: 'duisport' of which the 'port' part is raised. Below name and logo is put, in grey , the official name 'Duisburger Hafen AG'. The logo itself consists of two blue parallelograms standing side by side, the one on the right darker than the other, and a pattern of thin white stripes connecting the two.
The following page shows this logo in different colours: Just click the various 'Corporations' - these entities with different but complementary roles in the Duisburg logistic activities may well have flags of their own with appropriate names. But let us stick to duisport for the moment…
Jan Mertens, 25 Dec 2006
---
Duisburg- Ruhrorter- Hafen AG
Duisburg- Ruhrorter- Hafen AG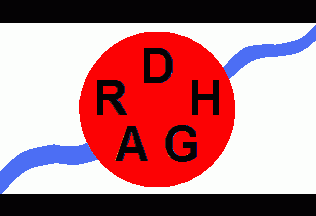 image by Klaus-Michael Schneider, based on a photo located by Jan Mertens, 25 Dec 2006

Quoting myself, information derived from the duisport site, history section: "After WW1, port becomes a joint-stock company, process finalized in 1926."
German eBay, happily spouting house (if only table) flags as usual, has this duisport precursor on offer, Just enter 'hafenverwaltung' (harbour authority) which leads to item 200068158526 (end 22 Jan. 2007): a table flag of 'Duisburg-Ruhrorter-Hafen AG' (note the singular "port").
Largely white with narrow horizontal edges, the flag has a large red disk bearing black initials, 'D' (top), 'R' and 'H' (second line, wide apart), and 'AG' (third line, next to each other). Behind the black disk, on the white field, appears a blue, wavy, ascending diagonal.
For the moment I interpret some design elements as Prussia (white edged black) and the Rhine (diagonal). Well, black initials on red make for low visibility whatever the reason for the choice.
Jan Mertens, 14 Jan 2007
---
Hafen Schwelgern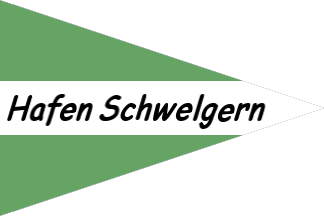 image by Eugene Ipavec, based on a scan located by Jan Mertens, 16 Jun 2009

'Flaggen auf dem Rhein' (1952 ed.) shows a mainly green-and-white pennant for 'Gemeinschaftsbetrieb Eisenbahn und Häfen' (i.e. Communal Enterprise Rail and Ports) at Duisburg-Hamborn, founded in 1949. Horizontally divided green-white-green, black italic letters on the white stripe proclaiming "Hafen Schwelgern". Probably adopted in 1949, the pennant is perhaps no longer in use.
Schwelgern on the right bank of the Rhine, just North of Duisburg, is one of two private ports owned by ThyssenKrupp Steel - digging started 1903; the other is Walsum Süd - where bulk goods such as coal, ore, sand, etc. arrive from overseas and are stocked or redirected towards road or (owned) rail transportation; there is also an important coking plant.
Take a look at a few sources:
here,
here,
here and
here
Jan Mertens, 15 Jun 2009
---
back to D-companies main page click here