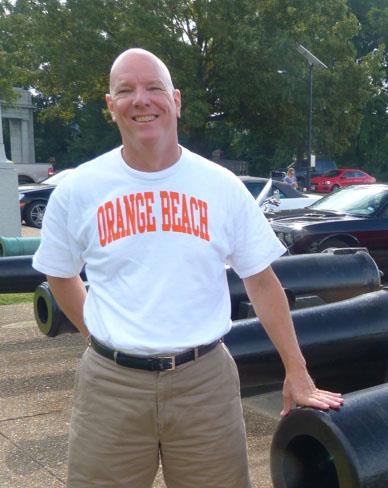 Clay Moss 2014
Vicksburg Battle Field
Clay Moss 2014
Old Vicksburg Courthouse
It was reported that Clay was escorted out of the museum soon after grabbing the flag claiming
"Pete made me do it..."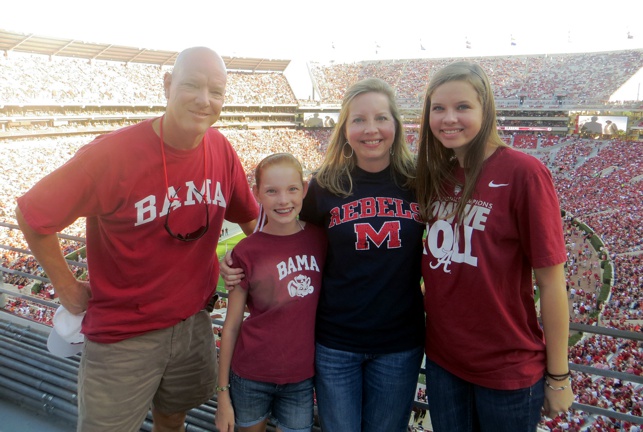 Moss Family 2013
"Ole Miss/Bama" Game
Like many southern families, the Moss family loves college football. Clay played football at the University of Alabama in the late 1970's and early 1980's.
"Here we are at the Ole Miss/Alabama football game played in Tuscaloosa, Alabama, in 2013. Vicky is an "Ole Miss" graduate, so she cheered for the Rebels, while the rest of us rooted for Alabama," Clay commented.
Clay Moss - Jackson, Mississippi - USA
Clay´s Family Flag
(blue version)

Clay´s Family Flag
(red version)

FOTW Giffer Flag
There are two version of Clay's Family flags. Clay explained "We could not ever decide on red or blue stripes, so ultimately opted to go with both. They are in essence the same flag. The stripes simply change colors with the seasons. The red striped flag flies over the house from October through May, while the blue striped flag flies from June through September. The inspiration for our flag was the flags of Texas, the US Customs Service ensign, and the US Power Squadron ensign. There was originally a 2 starred version, then a 3 starred version when Marianna was born, and now the 4 starred version since 2001 when Margaret was born."
Clay was born in Coral Gables, Florida. He has lived in 14 states the USA, and additionally has lived in Malawi, Romania, Malaysia, and Indonesia. As a Christian missionary, he has been involved in sports ministries, disaster and humanitarian relief, and teaching middle school and high school history. He is currently teaching at Park Place Christian Academy, in Pearl, Mississippi.
When Clay was five years old, his paternal grand mother gave him Valley Forge Flag Company US flag kit which included a 3x5 foot US flag and a 12x18 inch Tennessee flag, as his family was living in Tennessee at the time. Then once a month or so, "grandma" would send a new state flag. This started the initial flag collection.
Two years later when Clay and his family were stationed in Hawaii. He spotted what turned out to be a British Fijian colonial red ensign fluttering astern from a large multi-masted yacht. His ability to identify Fiji's badge via the September, 1934 edition of National Geographic magazine permanently spurred a greater interest in flags and ensigns; particularly British colonial ensigns.
In 1995, Clay was asked by the Mississippi State Governor to prepare a specifications sheet for the old Mississippi State flag (1894-2020). There followed a Governor's executive order, and the specification sheet being sent to every US flag manufacturer, attempting to begin the process of bringing more uniformity to Mississippi flags purchased by state government. Since the flag referendum of 2001, Clay's specification and construction sheet has officially been included in the description of Mississippi's flag. Clay is careful to point out that he did not design the flag, only helped with the specifications of its design. He personally thinks the state should use the traditional Bonnie Blue flag if they decide to change the current controversial one. "For the record, I am indifferent as to whether or not the flag changes. I am perfectly happy with the current design," he commented. As it turns out, not only would he do the specs sheet for the old State of Mississippi flag used from 1894 to 2019, but he was also asked to do the official technical specifications and design sheet for the new 2020 "Magnolia" State flag that replaced it.
Clay felt that the most technically challenging drawing he did was his Transvaal set. It was also the most time consuming. He said from a drawing standpoint, it gave him confidence that he might be able to tackle most anything. The set he has received the most compliments for, however, was the Kenya colonial set and New Zealand Governor General set.
"I really don't have a favorite flag or a favorite set, but have been most gratified that my Nyasaland images, along with my Union Jack, have appeared on FOTW. With those images posted, I thought that I had 'arrived.' I could have quit FOTW right there and been happy, "he said.
Clay, well known for his sense of humor, began the British Arctic Territory flag hoax as an April Fool's joke in 1995, and much to his dismay saw it take on a life of it's own that continues to this very day. He was even contacted by the Canadian government asking for more information about the creation of the territory.
"I was hard pressed to convince the caller that it was only an April Fools joke," he remembers. "It was kinda´ humorous and embarrassing at the same time, although I wasn't quite sure who to be embarrassed for. How could Canada, and the UK for that matter, not know whether or not they had transferred a territory? According to several sources, it took the British government four days to confirm that the story was a hoax."
Since that time more BAT flags and stories keep showing up each April 1st, including a story of the "Accidental purchase of Australia"" by the BAT, and even connecting it to a fictitious neighboring Russian Arctic Territory, yet another set of non-existent fictional flags.
Pete Loeser, 24 October 2014