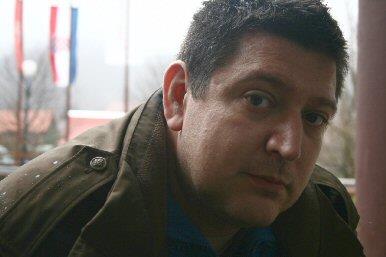 Željko Heimer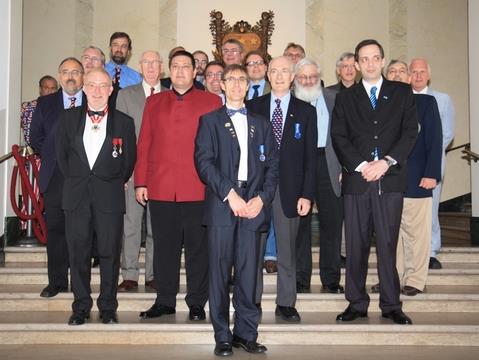 Željko (in red) with those receiving special recognition for their work at the IVC 24 in Washington DC (2011)
Željko has authored two books: "Grb i zastava Republike Hrvatske" (2008) and "Grbovi i zastave Grada Zagreba" (2009). Since 2001, he has regularly attended the International Congresses of Vexillology and the International Congresses of Heraldic and Genealogic Studies, presenting papers on various flags from both Croatian history and the present. He has also written a number of articles for various scientific and popular journals and magazine in Croatia and abroad. In 2005, he prepared an exhibition of Norwegian flags in Zagreb that was subsequently hosted in dozens of cities and towns in Croatia and Norway since then.
Željko Heimer - - Zagreb, Croatia
Željko´s
Personal Flag

FOTW
Vice-Director

FOTW
Editors Flag

FOTW
Giffers Flag
I was born in Zagreb, Croatia in 1971. After I graduated from the University of Zagreb in electronic engineering, and after doing the compulsory military service I was commissioned as an officer in the Croatian Armed Forces, where I work as a communications (signals) IT officer, currently holding the rank of a major. After postgraduate Master of Sciences degree in electronics in 2004, I started a flag related doctoral course in sociology at the University of Zagreb.
Soon after joining the FOTW in 1995 I started 'pressing' Guiseppe Bottasini into updating the web site from the mailing list discussions more frequently and took on part of editing myself, becoming the first (and so far only) FOTW Vice-Director. When I was conscripted into the military service in 1998, I temporarily gave up my editorial position, but returned as one of the editors upon completion of the tour of duty. I have continued to be an editor in various FOTW realms through the years, decreased my editorial responsibilities lately, but remaining active in various other FOTW projects. I have provided numerous flag images for FOTW, based systematically on various crucial flag books, such as the French Album de Pavillions and the German Flaggenbuch. I received the FOTW Vexillologist of the Year award in 2001" "for...scholarly and graphical contributions to provide accurate national flags based on the Album de Pavillions". Today I research primarily the vexillology of Croatia and surrounding nations, with special interest in municipal flags.
In 2006, with some colleagues, I established the Croatian heraldic and Vexillologic Association, and have been its president ever since, editing its web site and its semiannual journal "Grb i zastava". I also have maintain the web site "The Flags and Arms of the Modern Era" since 1996.

Željko Heimer, 8 October 2011
Editors Note: For his activities related to and for the promotion of Croatian national heritage abroad through his work in heraldry and vexillology, in 2010 the President of the Republic of Croatia awarded Željko Heimer the "Order of Croatian Triple-Wattle," a high Croatian civilian decoration for merit.