This page is part of © FOTW Flags Of The World website
Ace Combat (series of fighter-sim video games)
Last modified: 2017-10-31 by peter hans van den muijzenberg
Keywords: s |
Links: FOTW homepage | search | disclaimer and copyright | write us | mirrors

---
See also:
External:
---
Ace Combat is a series of fighter-sim video games.
Eugene Ipavec, 1 April 2006
The flags in this series are perhaps interesting in that they are apparently reverse-engineered from the one item the games actually have a use for, air force roundels. This seems to have produced nicer fictional flags than usually.
Eugene Ipavec, 1 April 2006 & 21 September 2010
The setting of the games is an unusual sort of alternate world – the map of the planet all of this takes place on is shown at Acepedia, and it is obviously not the map of our Earth at all, though it does include numerous references to real Earth locales – the southernmost continent is called "Antarctica," for example, and there are Atlantic and Pacific oceans. Some of the states in series are thinly disguised analogues of real-world nations – the Osean Federation is the US, the Union of Yuktobanian Republics the USSR, and Belka is Germany. Also the games' timeline employs the Gregorian calendar; you might say it is a less an alternate setting than a scrambled and renamed one, as well as heavily-simplified – there are no analogues of Asia or Africa, for example, and the world contains only about two dozen states in total.
Not all the games in the series have taken place in this fictional milieu – a 2011 game is set in "our" real world, for example. The entries that are set in the fictional geography are (so far):
Ace Combat 2
Ace Combat 3: Electrosphere
Ace Combat Advance
Ace Combat Xi: Skies of Incursion
Eugene Ipavec, 21 September 2010
---
Two flags from the "Ace Combat" series of fighter-sim video games are shown on the publishers' website. These are from the game Ace Combat 04: Shattered Skies.
Eugene Ipavec, 19 May 2006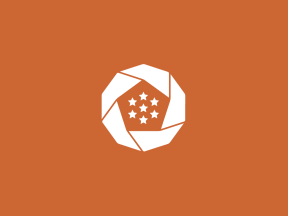 image by Eugene Ipavec, 19 May 2006
Erusea is a state situated on the western side of the Usean continent. Its flag is orange, with a white decagon in the center, which contains an orange pentagon, which in turn contains seven white stars. The flag is 3:4.
Eugene Ipavec, 19 May 2006
---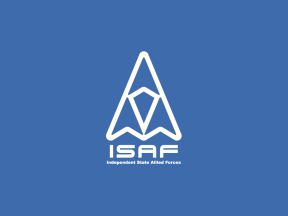 image by Eugene Ipavec, 19 May 2006
The Independent States Allied Force is a coalition of neighboring countries banded together in response to Erusean agression. Its flag is blue, with a white triangular emblem in center and "ISAF" below it. The flag is 3:4.
Eugene Ipavec, 19 May 2006
---
Ace Combat 5 is a Playstation 2 video game. In this game, you fly as a fighter pilot of the Osean Federation against their enemies, the Yuktobanian Republics.
Randy Young, 17 May 2005,
The source images these flags were redrawn from, are displayed at Acepedia. The graphics seem to have come from an official source – the manual or some sort of promotional material – as they have the development team name and the studio's trademark on them.
Eugene Ipavec, 1 April 2006 & 21 September 2010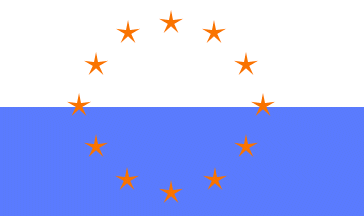 image by Randy Young, 17 May 2005
I caught a glimpse of the Osean Federation flag as a shoulder patch on the flight suit of one of the pilots in the game. The flag is rather plain, and rather reminiscent of the EU flag. It's a horizontal bicolor of white on top and light blue on the bottom. In the center is a ring or circle of twelve orange-ish stars. I haven't been able to determine yet if the stars are actually orange or gold, since you only catch short glimpses of the flag in the game.
Randy Young, 17 May 2005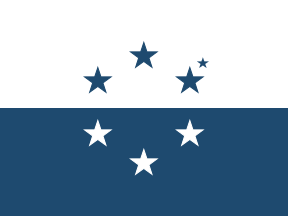 image by Eugene Ipavec, 1 April 2006
Despite its name, the Osean Federation seems to be a state. This is apparently the game's stand-in for the US. The flag shown at Acepedia differs from the image after a shoulder patch: It is 3:4, it has only 6 (large) stars, they aren't orange but countercharged, the blue is much darker, and there is a 7th small star to the upper left of the ring.
Eugene Ipavec, 1 April 2006
---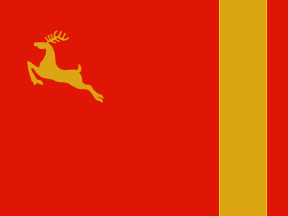 image, except for the deer, by Eugene Ipavec, 1 April 2006
The Union of Yuktobanian Republics is highly reminiscent of the Soviet Union; the flag is as well — red with a gold vertical stripe in fly and a leaping buck in canton. The flag is 3:4. It is shown as Acepedia.
Eugene Ipavec, 1 April 2006
---
The source images these flags were redrawn from are displayed at Acepedia. The graphics seem to have come from an official source – the manual or some sort of promotional material – as they have the project name title and the studio's trademark on them.
Eugene Ipavec, 1 April 2006 & 21 September 2010


image by Eugene Ipavec, 1 April 2006
This country seems to be a clone of WWII-era Germany. Its flag is 3:4, horizontally-divided black-black-white-gold, the two black bands divided by a thin gold one. Points for not resorting to a cheap Nazi knockoff. The flag is shown at A9VG and at Acepedia, and could be seen at Wikipedia.
Eugene Ipavec, 1 April 2006
---

image by Eugene Ipavec, 1 April 2006
This is a breakaway part of Belka, otherwise modeled after Spain. Its flag is 3:4, white over red with black triangle overall. Acepedia.
Eugene Ipavec, 1 April 2006
---
Two more fictional nations appear in what is yet another entry in the Ace Combat series of console flight-sims: Ace Combat X: Skies of Deception.
Eugene Ipavec, 16 November 2006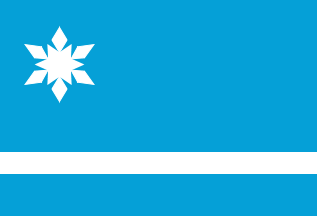 image by Eugene Ipavec, 16 November 2006
The Federal Republic of Aurelia is a nation located on the southern edge of the Osean continent. Its flag is light blue with a white stripe and a white snowflake in the upper hoist. Acepedia also shows a roundel.
Eugene Ipavec, 16 November 2006
---


image by Eugene Ipavec, 16 November 2006
The Democratic Republic of Leasath is a country neighboring Aurelia, which launches an invasion of Aurelia in 2020. Its flag is dark green with a centered horizontal red stripe. Acepedia also shows a roundel.
Eugene Ipavec, 16 November 2006
---
The 2007 entry of this long-running series of fighter-sim videogames, Ace Combat 6: Fires of Liberation, followed a fictional war between the nations of Emmeria and Estovakia.
Eugene Ipavec, 21 September 2010
Both of the source images are wallpapers originally provided by the publisher, and appear to be 3:4, as were preceding flags in the series.
Eugene Ipavec, 21 September 2010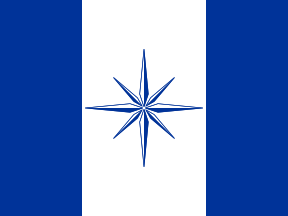 image by Eugene Ipavec, 21 September 2010
The Republic of Emmeria is the central nation of the Anean continent Its flag can be seen at Acepedia; a vertical triband of blue-white-blue, the central panel charged with a blue-white compass rose. Likely modelled after NATO.
Eugene Ipavec, 21 September 2010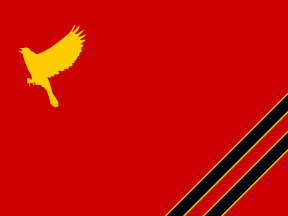 image by Eugene Ipavec, 21 September 2010
The Federal Republic of Estovakia is a nation located on the peninsula of eastern Anea. Its flag is shown at Acepedia; red with a naturalistic silhouetted golden raven in flight in the upper hoist, and two gold-edged black diagonal bars in the lower fly. The obviously Soviet-influenced flag is mentioned as newly adopted, after a military coup between 2007-2015.
Eugene Ipavec, 21 September 2010