This page is part of © FOTW Flags Of The World website
United Kingdom: Royal National Lifeboat Institution
Last modified: 2017-10-25 by rob raeside
Keywords: united kingdom | ireland | lifeboats | cross | anchor |
Links: FOTW homepage | search | disclaimer and copyright | write us | mirrors

---
RNLI House Flag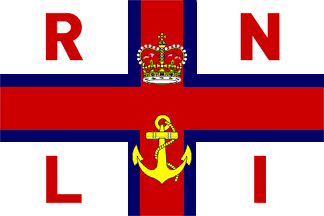 2:3 image by Martin Grieve, 18 July 2009
---
See also:
---
Royal National Lifeboat Institution
The Royal National Lifeboat Institution (RNLI), founded over 150 years ago, is a voluntary organization that provides Britain's main offshore rescue service, backed up by helicopters from the Royal Air Force and the Royal Navy. When a distress signal is received from a ship in British waters (or nearby) the nearest suitable lifeboat is launched, manned by volunteer lifeboatmen.
Graham Bartram, 7 July 1997
The house flag of the Royal National Lifeboat Institution was introduced in 1884. The Royal National Lifeboat Institution itself was founded in 1824 as the National Institution for the Preservation of Life from Shipwreck and changed to its present name in 1854.
Christopher Southworth, 16 January 2008
From "The Colours of the Fleet" by Capt. Malcolm Farrow, page 2.14 (2008 ed.):
"The familiar RNLI house flag is based on St George's cross. It was designed by Miss Leonora Preston in 1884, formally adopted in 1908, and has been painted on lifeboats since 1920. The RNLI currently operates about 280 named lifeboats in the UK and Ireland."
Martin Grieve, 18 July 2009
The flag has a white field, whose proportions are three by two, bears the red cross of St George with a narrow dark blue border; the letters R.N.L.I. in red, are positioned one in the centre of each of the four white cantons. Centred upon the St George's Cross is the Royal Crown and a foul anchor in yellow.
Martin Grieve, 18 July 2009
---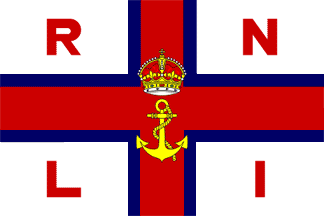 image by Martin Grieve, 18 July 2009
The first version in 1908 would have contained a Tudor-style crown as opposed to the present-day St. Edwards one, and I wrote to Graham Bartram to ask if he had any information on this version. Graham supplied me with a black and white photograph of an old lifeboat flying the house flag, and it is clear that it has indeed a Tudor-style crown. The "Observer's book of flags 1966" by IO Evans retains this version and so from that particular illustration I was able to replicate the style of lettering.
The Tudor version may in practice have still been in use after 1953 which would make IO Evans perfectly correct, but it most certainly should have been replaced. I suppose it is a big job to re-paint the flag on the hull of all RNLI vessels though!
Martin Grieve, 18 July 2009
---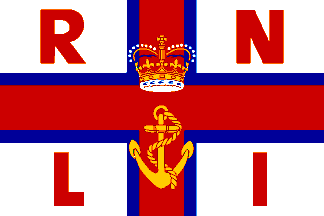 by Graham Bartram, 7 July 1997
---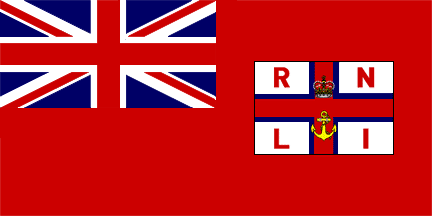 image by Martin Grieve, 18 July 2009
The Royal National Lifeboat Institution's house flag is painted on the sides of lifeboats (the search and rescue vessels) and flies from the lifeboat houses (their bases). The ensign is flown either at the ensign mast (most lifeboats don't have one) or the main mast. It features the house flag as a badge in the centre of the fly half.
Graham Bartram, 9 March 1999
The ensign was authorised in 1964 according to Capt. Malcolm Farrow on page 17 of "The Colours of the Fleet". The anchor and crown detail on the house flag was altered in 2006, and so obviously this alters the Red Ensign too.
Martin Grieve, 18 January 2008
In 1923 the RNLI had asked the Admiralty for a Blue Ensign, when a new 60 foot motor-lifeboat was put into service at New Brighton, (across the Mersey from Liverpool) but this was refused. [National Archives (PRO) ADM 1/8643/157]
David Prothero, 18 July 2009
This refusal was probably because the RNLI is completely independent of government in terms of its governance and its financial arrangements and funded entirely from voluntary contributions and, of course, already had its own flag.
Colin Dobson, 19 July 2009
As to why the Admiralty refused the application, unless they recorded their objections in a minute or letter to the RNLI, it is impossible to know at this late stage, none the less, it is perhaps worth remembering that a number of yacht clubs - with no Governmental connections at all - did receive Warrants for a defaced ensign, but they had to have achieved a specified tonnage before being considered, and that the RNLI at that point had only one vessel suitable for such a flag?
Christopher Southworth, 19 July 2009
The Order in Council of 1864 that abolished squadron colours introduced " The Blue Ensign.... to be carried by all vessels employed in the service of any public office; by vessels employed under the Transport Department, and the Civil Departments of the Navy (with the Seal and Badge of the Office to which they belong as at present)". This Order in Council alone was authority for any public office to create its own Blue Ensign without the need to seek Admiralty approval, though, as a matter of courtesy, most probably did. At the end of the Order in Council the Admiralty added "with such conditions in favour of yachts and other vessels as we may from time to time authorise to bear distinguishing flags".

The Corporations of Trinity House, London and Hull had defaced Red Ensigns, but were public bodies, not public offices, and could not automatically place the badge on a Blue Ensign. The Admiralty could have issued a Blue Ensign warrant for them, but apparently chose not to, and as far as I know did not issue a defaced Red Ensign warrant, but allowed them to continue as traditional flags. Customs and Excise also continued to use their defaced Red Ensign. It had been created in 1817 by royal warrant and Customs considered that it remained in force since the Order in Council did not specifically cancel it. They changed to a Blue Ensign in 1873.

In 1887 the Humber Conservators requested a defaced Blue Ensign for a new salvage vessel. This was refused on the grounds that it might be confused with the ensign already approved for a government department. However they were offered and accepted a defaced Red Ensign. At about the same time a defaced Red Ensign was introduced, presumably by warrant, for the Mersey Docks & Harbour Board. In 1900 a warrant for a defaced Red Ensign was issued for Eastern Sea Fisheries, with one for Lancashire and Western Sea Fisheries in the following year.

In 1912 Mersey Docks & Harbour Board's defaced Red Ensign was replaced by a defaced Blue Ensign, apparently because a member of the Board of Admiralty had an interest in MD&HB. To make the favour less obvious a defaced Blue Ensign was first granted to the Port of London Authority, also a Public Body and not entitled to a defaced Blue Ensign without a warrant.

In 1922 defaced Red Ensign warrants were issued to the Church Lads Brigade, and the North Irish Central Association of Sea Cadet Corps. The latter had originally requested a defaced Blue Ensign, so it seems strange that the RNLI were not offered a defaced Red Ensign in 1923, or perhaps they were, but it was refused.
David Prothero, 21 July 2009
---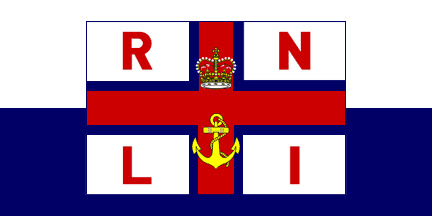 image by Martin Grieve, 18 July 2009
---
The BBC television programme Coast, first broadcast on Thursday, 30 November 2006 on the United Kingdom terrestrial channel BBC2, the other night featured the Bridlington, East Yorkshire, lifeboat. This boat was flying both RNLI flags currently shown above and, additionally, two small blue pennants. Although they might well pennants like the burgees and "hoist flags" which the RNLI sell - see www.rnlishop.org.uk/products/rnli_exclusive/1 - they were depicted too small to make out.
Colin Dobson, 8 December 2006
Yes, I noticed them too. I wondered at the time whether they were connected with the fact that the lifeboat was being launched from a carriage - i.e. pulled across the beach and into the sea by a caterpillar-tracked tractor until it was in sufficient depth of water to float away. The pennants could have been some sort of hazard warning, or an indicator of width during the manoeuvre. However, a quick google has revealed the truth: see this image and this image. They are Yorkshire roses!
André Coutanche, 9 December 2006
---
The RNLI in Ireland
When the flag of the RNLI was posted to the list recently, some uncertainty was expressed about whether it is flown by the lifeboats or only used ashore. When I was in Dún Laoghaire yesterday I took the opportunity of visiting the Maritime Museum of Ireland where there is a section dealing with the RNLI - a body that is responsible for lifeboats in this country as well as in Britain. One photograph which caught my attention showed a lifeboat with a cross-shaped mast. Ropes extended vertically from the yardarms and a flag flew from each of these ropes: the Irish Tricolour and the house flag of the RNLI. So the RNLI flag is used afloat, in Ireland at least. There were also a couple of photos showing lifeboats flying only the Tricolour, but none which showed a lifeboat flying only the RNLI flag.
Vincent Morley, 20 July 1997