This page is part of © FOTW Flags Of The World website
Hof Azza until 2005 (Israel, Gaza Strip Occupied Territories)
Regional Council of Hof Azza/Gaza Sea-shore, Mo'atza Ezorit Hof Azza, also known as Hevel Qatif
Last modified: 2020-08-22 by rob raeside
Keywords: hof azza | azza | hevel qatif | hevel katif | regional council | mo'atza ezorit hof azza | gaza strip occupied territories |
Links: FOTW homepage | search | disclaimer and copyright | write us | mirrors

---
Note: Regional Council Hof Aza was dissolved on 15 August 2005
---
---
See also:
---
Regional Council Hof Aza (meaning Gaza Sea-shore) includes the 'C' areas in the Gaza Strip. Est. 1978. 6,000 inh. in 17 settlements. The image with black and orange colours is based on the desk flag, so there could be changes when used as a hoisted flag.
Source: photo of the desk flag received from Ralph Phillips.
Dov Gutterman, 10 November 2001
The emblem of Hof Aza has not been formally adopted. Israeli municipalities in areas occupied since 1967 cannot register their emblems. The reason is that those areas are not legally part of Israel and according to international law they are governed by decrees of the military commander of the areas. Many Israeli laws are in force in those municipalities when adopted there by the military commander, but the Symbols/Emblems Protection Act of 1974 is not one of them.
Dov Gutterman, 19 January 2003
On today's Yedi'oth Akhronot daily, there is a photo of demonstration of the inhabitants waving the flag. It is green emblem on orange.
Dov Gutterman, 15 February 2005
Regional Council Hof Azza (called by the locals: Hevel Qatif) is going to be dissolved later this year (probably around August) as all the settlements that are governed by it will be evacuated following PM Sharon's severing plan.
Currently, it govern 21 settlements (Ele Sinai, Bedolah, Gadid, Gan Or, Gane Tal, Dugit, Kefar Darom, Kerem Atzmona, Morag, Neve Dekalim, Nisanit, Netzer Hazani, Netzarim, Pe'at Sade, Qatif, Rafi'ah Yam, Shirat HaYam, Slav, Tel Katifa, Bene Atzmon and Atzmona).
Dov Gutterman, 17 April 2005
The Disengagement Plan in which all Jewish settlements in Gaza Strip (and four more in North Samaria Region) are going to be evacuated from their civilian inhabitants is underway since yesterday. According to the plan, starting from midnight today, it will be illegal to be in the evacuated area without authorization. As expected, there is a strong resistance against the evacuation, and many will be forced by police and the IDF. As already reported, the anti-severing campaign choose to use the orange as their color, and most of the flags that are seen are a orange variant of the flag of the Regional Council of Hof Azza which governed all the Jewish settlements in Gaza Strip. The Regional Council itself is going to be dissolved as the evacuation will be completed in few weeks.
Dov Gutterman, 16 August 2005
According to a decree signed by PM Sharon, Mo'atza Ezorit Hof Azza, the only Jewish local authority in Gaza Strip was dissolved on 15 August 2005. Those symbols are now obsolete.
Source: <www.info.gov.il>.
Dov Gutterman, 22 June 2007
The flag above is orange, with a white variant below. During the demonstrations two years ago (and still today), orange is used as a color of support for the Gaza settlers. Which came first? Was the flag white and changed to orange because of the demonstrations, or was the color of the demonstrators taken from the flag?
I note that even the white version has a little orange too, so perhaps both are true.
Nathan Lamm, 24 June 2007
Orange is a popular color for Israel municipalities. It is very common in the Sharon area as well as Rishon LeZiyyon area. One can attribute it to the Jaffa oranges that grow in those area, but, I think it come to symbolize agriculture in general and its importence to past and/or present of those areas. As far as I know, Hof Aza used orange color from the start. My guess that it came to symbolize the agricultural character of the area. I don't know if this had any affect on choosing the anti-severing movement, but since the Regionl Council's elected officials were also leaders in this movement, I suspect that it had some affect.
Dov Gutterman, 24 June 2007
---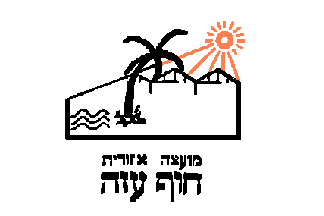 image by Dov Gutterman
---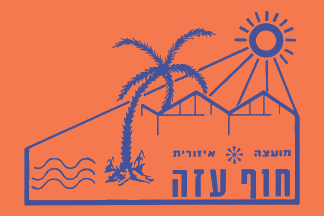 image located by Esteban Rivera, 29 July 2020
Image from https://he.wikipedia.org/wiki/ (source). This is the logo that is featured on the flag.
Esteban Rivera, 29 July 2020
image located by Esteban Rivera, 29 July 2020
Logo, as seen on sign outside the entrance, cropped image from the original located at https://upload.wikimedia.org/wikipedia/commons/8/8f/Sender-netzarim01.jpg (source).
Esteban Rivera, 29 July 2020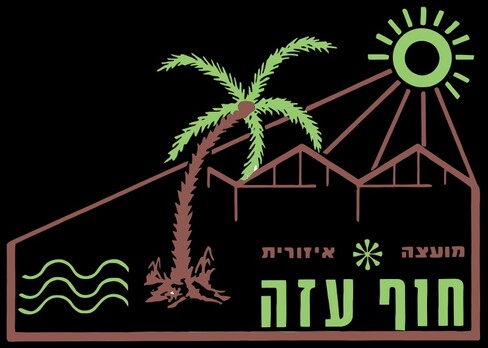 image located by Esteban Rivera, 29 July 2020
Logo, as seen on sign outside the entrance, cropped image from the original located at https://he.wikipedia.org/...Symbol_of_Hof_Azza_Regional_Council.svg (source).
For additional information go to Katif (semi official website): http://www.katif.net
Esteban Rivera, 29 July 2020
---
The Jewish Autonomous Authority of Hevel Azza - This "state" was announced on 14 August 2004 by Arie Yitzhaki, resident of Kefar Yam in Gaza Strip who nominate himself as temporary general secretary of the "authority" and asked for recognition by the UN. Four days later, and after strong resistance, Kefar Yam was evacuated according to the severing plan.
Dov Gutterman, 27 July 2007