This page is part of © FOTW Flags Of The World website
Lithuania - Flags of Higher Education Institutions
Last modified: 2021-08-12 by

zachary harden
Keywords: lithuania | university |
Links: FOTW homepage | search | disclaimer and copyright | write us | mirrors

---
---
See also:
---
Kaunas University of Technology, Faculty of Telecommunication and Electronics (Kauno Technologijos Universitetas and Telekomunikacijř ir elektronikos fakultetas) have its flag at <internet.ktu.lt>.
Jan Mertens, 12 June 2008
---
Vytautas Magnus University of Kaunaus banner, about halfway down at <teise.vdu.lt>.
Jan Mertens, 3 July 2008
---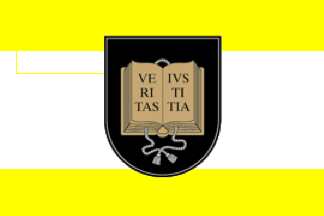 image by Ivan Sache, 23 October 2018
Mykolas Romeris University (MRU) is an international university located in Vilnius and Kaunas. MRU was established by Resolution No. IX-2,515, adopted on 28 October 2004, which reorganized the Law University of Lithuania. MRU is named for Pr. Mykolas Romeris (1880-1945), a founder of the Lithuanian Constitutional Law, who served as Rector of the University of Vilnius.
MRU is composed of 3 Faculties (Economics and Business, Public Governance, Public Security), 1 School (Mykolas Romeris Law School) and 4 Institutes (Communication, Educational Sciences and Social Work, Humanities, Psychology)
https://www.mruni.eu/ - MRU website

The "traditional" flag of MRU is horizontally divided yellow-white-yellow (1:2:1) with the university's coat of arms in the center.
Photo: https://www.mruni.eu/en/naujienos/

The coat of arms of MRU is "Azure an open book or inscribed "VERITAS" "IVSTITIA" [Latin, "Truth" "Justice"] in letters azure and a rope argent".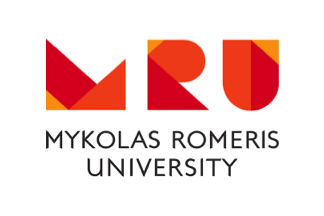 image by Ivan Sache, 23 October 2018
The "modern" flag of MRU is with the university's emblem.

Photos:
https://www.mruni.eu/
http://www.ayol.lt/
Ivan Sache, 23 October 2018
---
Seen today on the Telegraph website (defunct), Queen Elizabeth II at the University of Vilnius. A prominently displayed flag of the university is being waved.
Rob Raeside, 20 October 2006
Large picture at wikipedia. On the arms, see colour version on university site as well as PDF file, p. 4 and 7 and Festive banners on p. 57 (Soviet era).
Jan Mertens, 3 July 2008
---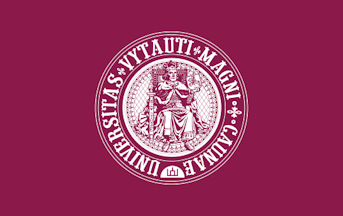 image located by Esteban Rivera, 16 August 2018
Vytauto Didžiojo Universitetas, VDU (English: Vytautas Magnus University, VMU) is a public university in Kaunas, Lithuania. The
university was founded in 1922 during the interwar period as an alternate national university. However, on February 16, 1918, with the establishment of the independent Republic of Lithuania, the State Council decided to reestablish Vilnius University. Since Vilnius was later under Polish administration and the Lithuanian government had to be transferred to Kaunas, this decision was not put into effect.

On January 27, 1920, Aukštuosius kursus (English: Higher Courses (of Study)) were established at the "Kauno Maironio Universitetinė Gimnazija" (English: Kaunas Maironis University Gymnasium) (official website: http://www.maironis.kaunas.lm.lt), laying the foundation for the establishment of a University. The Lithuanian Cabinet of Ministers decided to establish the University of Lithuania in Kaunas, on February 13, 1922. The ceremonial opening of the university took place February 16, 1922, while on the 12th of April the President of Lithuania confirmed the university's Statute along with six faculties.

In 1930, with the commemoration of the 500 years of the death of "Kunigaikščio Vytauto Didžiojo" (English: Prince Vytautas the Great), the name of the University was changed to Vytauto Didžiojo Universitetas, VDU (English: Vytautas Magnus University, VMU).

On June 21, 1940, with the Soviet invasion of the country, the university was renamed as "Kauno universitetu" (English: Kaunas
University) and then it was renamed "Vytauto Didžiojo" (English: "Vytautas the Great), after the Nazi occupation of the country in
1941.

In 1946 the university changed its name to "Kauno valstybinio Vytauto Didžiojo universiteto" (English: Kauno valstybinio Vytauto Didžiojo universiteto), later called "Kauno valstybinio universiteto" (English: Kaunas State University).

On October 31, 1950 by order of the Soviet Ministry of Education, it was reorganized and renamed as "Kauno politechnikos institutą" (English: Kaunas Polytechnic Institute).

Finally, after the country regained independence in 1989, the University takes its current name, Vytauto Didžiojo Universitetas, VDU (English: Vytautas Magnus University, VMU).

Sources: http://www.vdu.lt/en/about-vmu
https://lt.wikipedia.org/wiki/Vytauto_Did%C5%BEiojo_universitetas and
https://lt.wikipedia.org/wiki/Kauno_Maironio_universitetin%C4%97_gimnazija

Its flag is a maroon horizontal background with the logo (http://teise.vdu.lt/wp-content/uploads/2015/11/vdu.jpg) in the middle, as seen here (third flag from left to right): http://eurasiaeducationlink.com/images/vytautas/gallery1.jpg (source).

For additional information go to VDU (official website): http://www.vdu.lt/
Esteban Rivera, 16 August 2018