This page is part of © FOTW Flags Of The World website
Mexico: Independence war from 1810 to 1812
Last modified: 2016-05-08 by juan manuel gabino villascán
Keywords: mexico | guadalupe | eagle | virgin mary | independence | war | insurgentes | dolores cry | grito de dolores | hidalgo y costilla (miguel) | matamoros (mariano) | morelos y pavón (josé marí) |
Links: FOTW homepage | search | disclaimer and copyright | write us | mirrors

---
See also:
---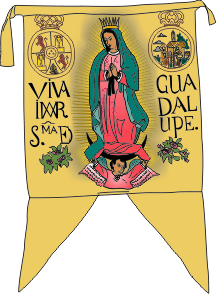 by Juan Manuel Gabino Villascán, January 2009.
Based on [col90] and [ban95]
A banner of the Virgin of Guadalupe was used by priest Miguel Hidalgo y Costilla in the revolution of 1810. It was taken from the sacristy of the town of Atotonilco el Grande, (Guanajuato). Adopted 16 of September of 1810. Abolished in November of 1810 [bas53].
Jaume Ollé, 04 Aug 1995.
---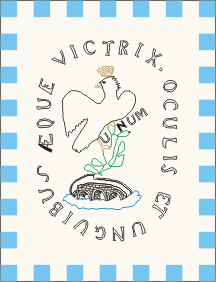 by Juan Manuel Gabino Villascán, August 2005.
Based on [col90]
There are lots of standards and flags preserved in the Museo Nacional de Historia (Chapultepec Castle) who belonged either to Morelos or any of his generals. All of them date from ca. 1811-1812. The Catálogo de Banderas (1990) shows only five flags and standards out of all those preserved in the Museum, being the flag above one of them [col90].
José María Morelos' flag, took part in the attack of the Insurgent hosts to Valladolid [present-day Morelia], on 13 December, 1813, and captured by Royalist troops on 5 January, 1814 in Tacámbaro.
The banner measures 145 cm. width x 189 cm height. The blue squares in the border are hardly visible. There appears the word, UNUM, meaning for "one" [col90]. The motto "OCULIS ET UNGUIBUS AEQUE VICTRIX" (by her eyes and claws equally victorious) is first attributed to Morelos, when on Aug. 19 1812, in Tehuacán he granted her army a flag [ban95]. Alamán [ala85] says that:
(...) By then, [Morelos] did not try to occupy Oaxaca, he led all his forces towards Tehuacán instead, where he entered on August 10 [1812] (...) Once there, Morelos (...) focused in regularizing and disciplining his troops.
"NON FECIT TALITER OMNI NATIONI" is another motto, particulary identified to Virgin Mary and also found written on flags. It is said, it is taken from Psalm 147, 20; which translation is: "She [i.e. Virgin Mary] has not done thus for any other nation" [col90], [ban95] and [nabxx].
Juan Manuel Gabino Villascán, August 2005.
---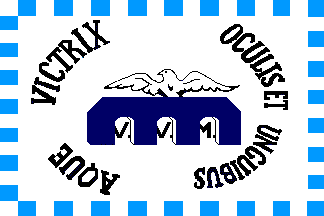 by Jaume Ollé, 04 Aug 1995

The Hidalgo revolt was continued by the Generalísimo don José María Morelos y Pavón who adopted a flag on 19th August 1812 with a bridge of three arches and after each arch a letter: V.V.M. (Viva la Virgen Maria, Long Live the Virgin Mary); in this flag appears an eagle resting on a prickly pear over and aqueduct, with an imperial crown and a legend in latin. On 6th September, 1813, the flag was used to proclaim independence under the name Kingdom of Anahuac. Abolished 5 of November of 1815 when the Morelos revolt ran out of steam [bas53].
Jaume Ollé, 04 Aug 1995, and
Jorge Candeias, 27 Oct 1997.
---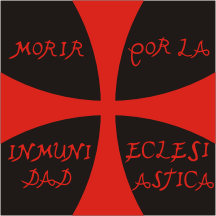 by Juan Manuel Gabino Villascán, August, 2005.
Based on written descriptions in [ala85] and [bus85]
On 1912, protesting a Vicerroy's edit of June 25, which considered out of law all clergy take part in the revolution, Mariano Matamoros, a priest, raised up a regiment, which he named "San Pedro". He granted his regiment a black banner featuring a red cross after those worn by priests in Ash Wednesday celebrations and the motto: "Inmunidad eclesiástica" (Ecclesiastic immunity) or "Morir por la inmunidad eclesiástica" (to the death for ecclesiastic immunity). It is said that the coat of arms of the Church charged the banner as well [ala85] and [bus85].
Juan Manuel Gabino Villascán, August, 2005.
---
Other revolutionary leaders created their own flags. Between 1812 and 1817, the troops of Nicolas Bravo and Guadalupe Victoria used a green-white-red one.
Santiago Dotor, 29 Dec 1998, summarizing from http://dyred.sureste.com/club/6febrero/24feb.htm
---
I am currently reading a novel about a British warship, some time around 1800. Part of that ship's mission was to assist revolutionaries in Acapulco, Mexico, to gain independence from Spain, since Britain and Spain were at war at the time. I have no idea whether there was a revolution in Acapulco at that time, but it mentions a flag being flown by a rebel ship. This flag is described as «blue with a yellow star in the centre». Does anybody know if this flag (or the revolution) actualy existed?
Thomas Robinson, 31 Jan 1999
---
Anything below this line was not added by the editor of this page.