This page is part of © FOTW Flags Of The World website
Dutch Houseflags of Shipping Companies [r]
Last modified: 2023-01-28 by rob raeside
Keywords: rasm | rotterdam-londen |
Links: FOTW homepage | search | disclaimer and copyright | write us | mirrors

---
Other "R" companies:
See also:
---
RASM
image by Jarig Bakker, 1 Jan 2005

Rotterdamsche Algemeene Stoomvaart Maatschappij, Rotterdam - red flag, white diamond, black "RASM".
Source: Brown's Flags and Funnels of British and Foreign Steamship Companies, compiled by F.J.N. Wedge, Glasgow, 1926 [wed26]
Jarig Bakker, 1 Jan 2005
---
Rensen Shipbuilding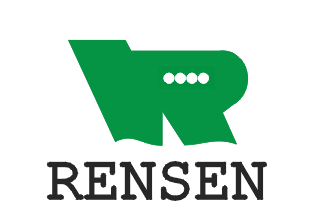 image by Jarig Bakker, 6 Jul 2006

One of the flags seen on the Verbeke Bunkering vessel inauguration photoshoot is white with a green logo (for background, see message of 1 June 2006). See 'Photos': page 5, sixth row (picture 4) and last or seventh row (picture 2).

Site of the company in question, Rensen Shipbuilding established at Zwijndrecht – the Dutch one, not the Belgian – on the Nieuwe Maas River opposite Dordrecht:
As explained in the introduction, Rensen – founded by George Rensen - has been building inland navigation vessels for a quarter of a century now totalling more than 250 units. So-called casco's or hulls are built in Romania, Russia, Poland, etc. and Rensen equips them be it tankers, bulk ships, or other kinds.

Buying and selling vessels, or counselling in that respect, is another or Rensen's activities. This includes selling off vessels traded in when having a new one built. A separate firm, Rensen-Driessen Scheepsmakelaardij, takes care of this part of the business.

Lastly, since 2004 the firm also develops projects and designs ships, specializing in units up to 15000 dwt but under the name of Rensen Seatrade BV. See English version of separate pages. (The company logo in this last source is blue but there is only the trace of the flag with a green one, so let us be content with that for the moment.)

The logo is placed on a white flag above the company name 'RENSEN' in bold black serifed letters; suggesting the bow of a ship, the left part of the logo is linked to a stylized initial 'R' (white dots represent the 'opening' of the R). The foot of the logo is rendered sinuously, suggesting waves.
The Rensen enterprise was probably founded in 1980 according to this press-release.
Jan Mertens, 3 Jul 2006

---
Van Riemsdijk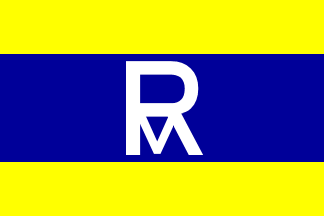 image by Eugene Ipavec, 12 Apr 2006

A name which crops up now and then in "Duwvaart" by Jansen & Van Heck is "Van Riemsdijk", accompanied by different initials indicating members of a family active in push navigation, at least when the book was published i.e. 1988.

As usual a b/w picture of the house flag is given, to be found under "Eurobulk" (pp. 32-36) in above book. It is described (additions by me, jm) as being yellow with (a broad horizontal) blue stripe and a white monogram 'VR' (in the middle). According to the picture, the stripes are arranged 1:2:1 and the 'R' is wide enough to tuck a much smaller 'V' under it.

To give an idea, have a look at these funnels showing the monogram on this site.
Base of operations of this family, whose members seem to have had their own ships, was Rotterdam.
Jan Mertens, 11 Apr 2006
---
Roes Scheepvaart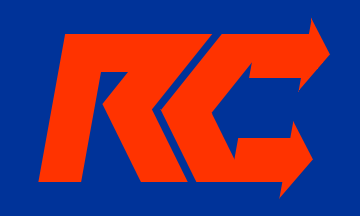 image by Eugene Ipavec, 21 Apr 2009

'Roes Scheepvaart & Transportovername BV' (i.e. Roes Shipping and Freighting Co.) is a Dutch firm established at Rotterdam, active in inland shipping in the Netherlands and its neighbouring countries plus Switzerland. The company presents itself as family owned and having been founded more than 25 years ago. Website (Dutch and German only): Freights of 250 metric tonnes and more are accepted: goods transported may be non-ferrous metals, ore for scrap, sand, gravel, cattle fodder, etc. including project cargo.
The house flag is shown on the 'Missie en Visie' (i.e. Mission and Vision) page: Royal blue bearing the company logo in vivid red (seemingly not orange as appearing on the website header). The logo consists of an italic, stylized initial 'R' accompanied on the right by a 'C'-like extension ending in two arrows and embracing the cut-out form of a further arrow going into the opposite direction (towards the 'R' in fact).
Jan Mertens, 21 Apr 2009
---
Roodhart Group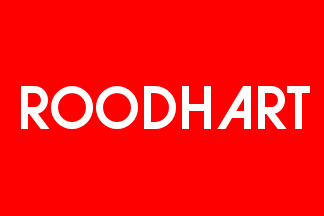 image by Eugene Ipavec, 26 May 2009

Why not letting the Dutch Roodhart Group present themselves since they do it so well: "Roodhart is a corporate group of companies located in the Netherlands and United Kingdom. The Roodhart group is dedicated to providing both products and services to industrial and marine industries. Founded in 1982 by John de Roode."
There are four main areas of activity: emission control (pump, valves, etc.), marine services (spare parts, engineering, and repairing), industrial pumps, and mechanical seals. I suppose the marine services justify treating the company flag as a house flag in the usual sense.
Of very simple design, this flag is red (Dutch "rood") bearing the name "ROODHART" in white letters without serifs, taking up about one third of the field:
Jan Mertens, 26 May 2009
---
Rotterdam-London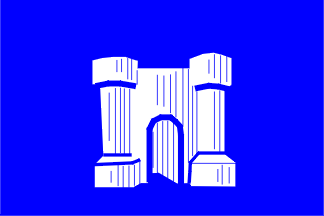 image by Jarig Bakker, 27 January 2005

Rotterdam-London Stoomvaart Maatschappij, Rotterdam - blue flag, white castle (?)
Source: Brown's Flags and Funnels of British and Foreign Steamship Companies, compiled by F.J.N. Wedge, Glasgow, 1926 [wed26]
Jarig Bakker, 27 January 2005

---
Rotterdamsche Droogdok Maatschappij
image by Jarig Bakker, 29 Apr 2008

Ton van Eijk sent a jpg file with the houseflag of Rotterdamsche Droogdok Maatschappij (Rotterdam Drydock Company): three horizontal stripes of blue and white. It was used on steamtugs; one of them can still be seen in the Leuvehaven in Rotterdam.
Jarig Bakker, 27 January 2005

---
Ruycontrans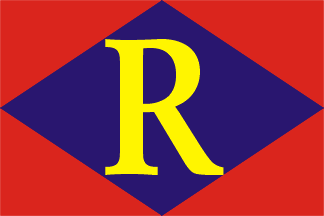 image by Jarig Bakker, 6 Jul 2006

Ruycontrans BV is established at Werkendam on the Boven Merwede River. Described in various commercial internet directories as a freighting and (container) transportation firm, it has a modest web presence, mentioning a Mr Ruytenberg who may well have given his name to the firm. And showing the flag: red with a large blue diamond touching the edges and a large yellow initial 'R', serifed, on the diamond.
Jan Mertens, 5 Jul 2006

---
Rhinecontainer B.V.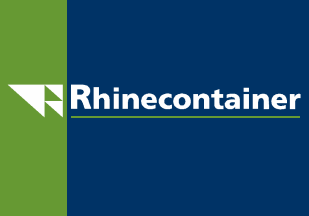 Current house flag. Taken from the company brochure.
The firm is based at Zwijndrecht opposite Dordrecht on the Oude Maas River. Founded in 1978, the company runs an inland, daily container service linking Benelux and German (even Swiss) river ports on the Rhine and Main, using terminals operated by Wincanton ? present owner, with Kuehne & Nagel, of Rhinecontainer - and others.
The logo, in white, is retained and placed above the centre of a greenish hoist taking up one fifth of the flag. The rest of the field is dark blue, sporting the thinly underlined company name "Rhinecontainer" above the centre, in white but for the stripe which is also greenish Jan Mertens 3 Jan 2010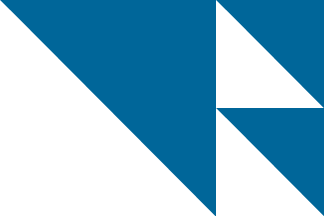 The former house flag of Dutch shipping company Rhinecontainer as offered on German eBay, no. 290166176246 (end 7 Oct 2007) put up by 'shipflag'. Approximate dimensions of this small item flag given as 15 [cm] x 24 [cm]. It shows a flag the two thirds of which consist of a panel divided by a descending diagonal, blue over white; at the fly end, this image is repeated twice i.e. one above the other.
It is possible to read the fly segment as an initial "R" but I do not know if this was done deliberately. Jan Mertens 30 Dec 2011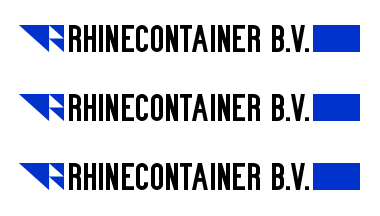 a Rhinecontainer promotional flag
We see a large white flag bearing three times ordered horizontally - the company logo in blue plus the company name in black "RHINECONTAINER B.V." plus a blue horizontally placed rectangle.Jan Mertens 3 Jan 2010
---
Van Rijckevorsel

image sent by Jan Mertens, 21 Jan 2010

Another discovery I owe to Maritiem Digitaal, Dutch data base with search page here: Type 'Rijckevorsel' into search box and tick the box "Toon alleen..." then hit "Zoeken". The resulting list presents various coloured images of ships one of which, 'Gouverneur Schomerus', is a water colour made by Jacob Spin in 1853 and held by the Dutch Maritime Museum at Amsterdam, inv. no. S.1931(02).
This is the source of image above: white field bearing black serifed initials "HVR" representing Rotterdam shipowner H[uibert] van Rijckevorsel.
Various ships may be found mentioned on the 'net as being built for or operated by Van Rijckevorsel, the time bracket being 1841 (earliest year found) till 1863. In that year the company went into receivership and was wound up two years later. By then at least some ships had been taken over by Rotterdam competitor H. Muller & Co.
Additional background information on HvR's African trade (passim) here.
Jan Mertens, 21 Jan 2010

---
Rijn-Lloyd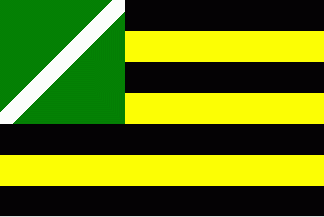 image by Klaus-Michael Schneider, 26 Mar 2009

An example of a "seven-stripe Lloyd flag" – referring to the 'Lloyd Seeschiffahrt' pattern, seven black and yellow horizontal stripes and a local symbol in the canton – is the one flown by 'NV Rijn-Lloyd Scheepvaart- en Expeditiebedrijf, Rotterdam' (i.e. Rhine Lloyd Shipping and Forwarding Company Ltd, Rotterdam) as it appears in 'Flaggen auf dem Rhein' (1952).
Here, the local element is represented by a green canton (four stripes high) bearing a white ascending diagonal stripe surely alluding to the office location, Rotterdam.
Given the flag pattern (based on an archivexillum) and the company name I suppose that it was a local branch or subsidiary of Lloyd Seeschiffahrt. To be confirmed!

Image from above book. The diagonal stripe is visibly smaller than the black and yellow stripes, but on these pages here and here: a b/w photo appears showing the barge 'Schouwen' with – as it seems – the diagonal having the same width as the horizontal stripes: So the design, followed in this by the Binnenvaart site, has to be amended in this regard.
Various vessels are mentioned on the 'net documenting activity between 1947 and 1978.
Jan Mertens, 29 Aug 2008

Lloyd AG; Basel and its daughters
NV Rijn-Lloyd Scheepvaart en Expeditiebedrijf, Rotterdam was a Dutch daughter. The date of foundation I don't know.
Klaus-Peter Bühne; translated by Klaus-Michael Schneider, 27 Mar 2009
---