This page is part of © FOTW Flags Of The World website
New Zealand - House flags of shipping companies (C-F)
Last modified: 2013-06-22 by ian macdonald
Keywords: houseflag |
Links: FOTW homepage | search | disclaimer and copyright | write us | mirrors

---
See also:
---

image by Neale Rosanoski, 3 November 2010
Canterbury Steam Shipping Co. Ltd. Formed 1904 it came under control of the Union Steam Ship Co. of N.Z. Ltd. the following year but traded under its own name until1969 when it was absorbed. The flag was white with a red saltire and letters "CSSC" being shown by Sea Breezes 6/1979, The Log 11/1988 and Talbot-Booth's
Merchant Ships 1949.
Neale Rosanoski, 3 November 2010
---
Circular Saw Line/Henderson Macfarlane Ltd
Circular Saw Line Houseflag according to 1966 Encyclopedia of New Zealand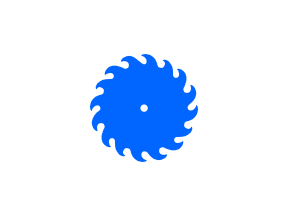 image by Eugene Ipavec, 1 May 2009
Circular Saw Line Houseflag according to Anthony Flude's history, possibly the version used by Henderson Macfarlane Ltd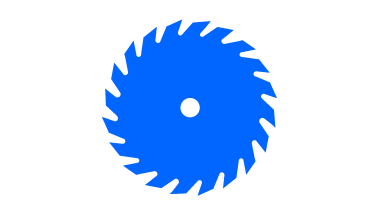 image by Eugene Ipavec, 1 May 2009
From the chapter on shipping company flags in the 1966 Encyclopedia of New Zealand (situated here):
A version of [the flag of the "Circular Saw" Line], with the saw teeth pointing in the reverse direction, is now used by Henderson and Macfarlane Ltd., of Auckland.
Jan Mertens, 17 November 2005

Founded in 1845 by Thomas Henderson and his brothers-in-law Henry, John, and Thomas, mill owners near Auckland who operated a few ships for trade. The remarkable house flag, white bearing a blue circular saw, originated from a whitty remark reported by A.G. Flude:
"The brigantine SPENCER was bought by the company in 1852. It was the mate of this vessel who gave the company the idea for their 'house flag.' A bright man with many years at sea, the mate asked Mr. Henderson why the company had no flag. As there was a large consignment of kauri timber aboard from Henderson's Mill which was headed for San Francisco, Thomas jokingly replied, "Oh! Anything you like, I suppose. How about a Circular Saw, for instance". Within a few days a blue circular saw on a white background, appeared painted on the bow of the brigantine's gig. Thomas was impressed with the mates handiwork and decided that this would become the company house flag, to be flown from the masthead of all his sailing ships and in later years to be painted on the funnels of his steamers."
More ships would be bought – up to thirty-five - as they were necessary to support the New Zealand government during the Maori Land Wars. From then on the company expanded to the Pacific trade, occasionally occupying islands which in due course would become British. The advent of steam shipping led to the firm's selling many vessels and although at least one steamer was operated all shipping activity had ended by 1914. The shipping agency business would continue for many years however.
Various on-line sources; the most extensive is the long article by Anthony G. Flude, Henderson and Macfarlane's Circular Saw Line'.
Jan Mertens, 27 March 2009
Henderson & Macfarlane appears to date as a partnership from 1842 commencing as hoteliers. 1845 saw a change of Macfarlanes and they entered into shipping in 1847 commencing the Circular Saw Line in 1852 but by 1903 were agents only. The company went public in 1914 and then in 1938 was taken over by Burns, Philp & Co. and it eventually became a paper company until struck off in 1997. The history of the company in "The Circular Saw Shipping Line" by Anthony G. Flude 1993 shows the flag with the saw points curving to the fly at the top. The Log of 8/1991 solved the problem by having very small points, hardly discernible and apparently not curved. Sea Breezes 6/1969 reverses the direction of the teeth but omits a central hole to the saw. There are a couple of ship paintings which may throw some light on the matter though whether they would be accurate is another story. The online views are not sufficiently large to tell how the teeth are shown. I am not sure whether it is possible to determine the exact portrayal. It all depends on what Flude based his image and as his book on the parent company displays a red saw on the cover with the teeth the "other way" and pointing to the viewers left on the top as opposed to his shipping company image, maybe nobody any longer knows. The following quote comes from the book on the company: The idea of the flag came from the mate of the "Spencer" – "A bright man with many years at sea, the mate asked Mr. Henderson why the company had no flag. As there was a large consignment of kauri timber aboard from Henderson's Mill which was headed for San Francisco, Thomas jokingly replied, "Oh! Anything you like, I suppose. How about a Circular Saw, for instance". Within a few days a blue circular saw on a white background, appeared painted on the bow of the brigantine's gig. Thomas was impressed with the mates handiwork and decided that this would become the company house flag, to be flown from the masthead of all his sailing ships and in later years to be painted on the funnels of his steamers"
Neale Rosanoski, 18 August 2010
---

image by Neale Rosanoski, 3 November 2010
Coastal Steam Ship Co. Formed in 1898 and it was reconstituted in 1905 as the Settlers' Steam Ship Co. Ltd. The original flag from The Log 8/1997 and Sea Breezes 6/1979 was blue with a white star in the middle of the white letters "CSSCo"but after its renaming there was no flag according to Sea Breezes.
Neale Rosanoski, 3 November 2010
---

image by Neale Rosanoski, 3 November 2010
Coastal Tankers Ltd. Formed in 1994 to operate the coastal tankers of the New Zealand Oil Consortium, the flag details as provided by a drawing from the master of the "Kuaka" 6/1995 were for of a white flag with a narrow black vertical band comprising the hoist and on the white a design comprising a panel of the black funnel bearing a white fern and below this a teal blue baton above a black baton separated from each other by the white field and which equate to the funnel bands, whilst on either side of the panel are teal blue triangular panels with that to hoist touching the panel but there being a gap of field between the panel and the fly triangular panel. This is very close to the image shown by The Log 11/1996 except it has both of the teal panels touching the central black one. The "funnel" part of the emblem is clear but not the meaning of the teal triangular panels. A possibility is it represents the tankers sailing between the two main islands.
Neale Rosanoski, 3 November 2010

image by Neale Rosanoski, 3 November 2010
It seems that there was a subsequent change as in 6/1998 I photographed the "Kotuku" flag and it appears that the emblem was made narrower and placed towards hoist thus leaving an area of fly available for wear and tear looking to be in the region of half the flag which seems to have retained its rectangular 2x3 size. However it also did differ from that drawn in 1995 with the "triangle" in the hoist no longer shown touching the funnel panel with a strip of white field separating them being clearly visible. The company was liquidated in 2008 and its functions were taken over by Silver Fern Shipping Ltd. who started off as a subsidiary of Coastal Tankers but later became their owners. The funnel markings have remained unchanged so the flag may still fly.
Neale Rosanoski, 3 November 2010
---

image by Neale Rosanoski, 3 November 2010
J.J. Craig Ltd. Merchants from 1885 who also moved into ship-owning, originally in sail for which Lloyds 1904 and 1912 and Sea Breezes 6/1979 show a blue flag with a broad white border and the white legend "CRAIG".
Neale Rosanoski, 3 November 2010

image by Neale Rosanoski, 3 November 2010
In 1910 they moved into steam adopting a blue and yellow vertical biband as sourced from Sea Breezes and The Log 8/1991 with the latter pointing out that it was the reversal of the International Code Flag K though there does not seem to be any point to this comment. The company's shipping later reduced to a few launches and then presumably these too went. It was taken over in 1942 as merchants.
Neale Rosanoski, 3 November 2010
---

image by Neale Rosanoski, 3 November 2010
Devonport Steam Ferry. Co. Ltd. Formed in 1881 it operated until about 1959 when driven out of business by the building of the Auckland Harbour Bridge. According to The Log 2/1987 the flag was red with a blue cross edged yellow and then fimbriated white [the blue is wider than the yellow] with the white letters "DSFCo" but Sea Breezes 6/1979 shows the letters as "DSFC" in plain format. Possibly there was a change but the answer may be a combination of letter font and the latter "DSFC" [see image] which is based on the image of an actual flag shown for auction in 2007.
Neale Rosanoski, 3 November 2010
---

image by Neale Rosanoski, 3 November 2010
T. Eckford & Co. Ltd. Operated 1881-1965 with the flag being white with a red saltire between the black letters "TA&Co" from Sea Breezes 6/1979.
Neale Rosanoski, 3 November 2010
---

image by Neale Rosanoski, 3 November 2010
Fifeshire Fishing Ltd. Name change from Fletching Fishing Ltd. when it was acquired in 1990 with its unchanged initials given by The Log 11/1990 for it retaining the previous livery. It changed name again in 1993 and seems to have only operated as managers for two trawlers which were included in the purchase. Not personally sighted as being flown during this period.
Neale Rosanoski, 3 November 2010
---

image by Neale Rosanoski, 3 November 2010
Fletcher Fishing Ltd. Operated as such 1980-1990 when sold and used a white flag with a blue panel within a blue orle bearing a white "ff" logo being sighted 21.4.1990 being flown by the "Otago Bucaneer".
Neale Rosanoski, 3 November 2010
---

image by Neale Rosanoski, 3 November 2010
A.G. Frankham Ltd. Formed in 1920 they also were a coastal shipowner from around 1924 to 1969 with a blue flag having a red "F" within a red ring. Still operating as a building designer there is no indication that the flag is still used or even the design as a logo.
Neale Rosanoski, 3 November 2010
---
Series continues: New Zealand shipping lines (G-I)