This page is part of © FOTW Flags Of The World website
Lambda flags (gay pride)
Sexual Orientation Flags
Last modified: 2015-06-27 by randy young
Keywords: lambda | lamda | λ | l | doerr (tom) | gay activist alliance | gaa | los angeles | catalyst | liberation | energy | wavelength | scales | balance | action | unity | light | lesbian | sparta | lacedaemon | laconia |
Links: FOTW homepage | search | disclaimer and copyright | write us | mirrors

---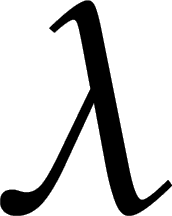 image by António Martins, 22 Nov 2006
(glyph from Monotype's Corsiva Regular typeface)
---
See also:External links:
---
Origin of the symbol
It's a lower case lambda ("λ"), as the upper case looks like an "A" without the horizontal stroke.
António Martins, 31 May 1999
The lambda symbol seems to be one of the most controversial of symbols in regards to its meaning. There are several differing opinions as to why the lambda was chosen as a gay symbol and what it really means. However, most sources agree on a few things:
The lambda was first chosen as a gay symbol when it was adopted in 1970 by the New York Gay Activists Alliance. It became the symbol of their growing movement of gay liberation. In 1974, the lambda was subsequently adopted by the International Gay Rights Congress held in Edinburgh, Scotland. As their symbol for lesbian and gay rights, the lambda became internationally popular.
Whatever the exact meaning and origin, the lambda originally embodied a fairly militant connotation. Today, the symbol generally denotes lesbian's and gay men's concerns together. Although the lambda was never intended to be linked to any specific gender or orientation such as other symbols may be, historically this is not so: some saw the lambda as a male symbol only.
But where history ends, speculation begins.
Charles Ashburner, 16 Mar 1999
Reported fact
I am personally aquainted with some veterans of the old 1970's Gay Activist Alliance, in New York City. The story that they always told me was that the lamda was first designed in December 1969 by the graphic artist and GAA founding member Tom Doerr. Doerr chose it because he said that in chemistry it is a sign for a catalyst.
Doug Blanchard, 14 Jun 2005
Educated guesses
But where history ends, speculation begins. Some suggested that it is simply the Greek lower-case letter "L" for liberation. Others disagree, citing the use of lambda in physics to denote energy (the energy we have when we work in concert) or wavelength (are gays and lesbians on a different wavelength?). Lambda may also denote the synergy of the gay movement, the idea that the whole is greater than the sum of its parts. The lambda also may represent scales and balance, and the constant force that keeps opposing sides from overcoming each other — the hook at the bottom of the right leg signifies the action needed to reach and maintain balance. The ancient Greek Spartans regarded the lambda to mean unity, while the Romans considered it «the light of knowledge shed into the darkness of ignorance».
Charles Ashburner, 16 Mar 1999
I always thought that it was just the inicial of "Λεςβος | Lesbos" (modern pron.: "lisvos"), a Greek island on the Aegean Sea were Sappho is supposed to have lived — the word "lesbian" derives from it. However, I seem to be mistaken.
António Martins, 31 May 1999
I was told once that the Lambda (or "L") derives from ancient Sparta: Its citizen-militia promoted homosexuality among its members… The Spartan military used shields which sported the letter Lambda as a "heraldic" device. This was done because the "official" name of Sparta was "Lacedaimonia" ["Λακεδαίμων | Lakedaímɔn" — ed.]. This explanation seems to make sense to me.
Jan H. Brockmann, 01 Sep 2000
---
Gay Activist Alliance (New York City, US)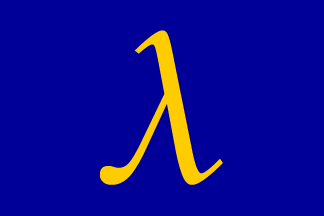 image by António Martins, 22 Nov 2006

Tom Doerr originally (in the 1970's) intended the lambda sign to refer to the political work of GAA (Gay Activist Alliance) specifically, and it was only later that it became a sign for gay liberation in general. Tom Doerr originally colored it chrome yellow (a reference to Huxley's novel Chrome Yellow which was very popular with gay activists of the time) on a dark blue field.
Doug Blanchard, 14 Jun 2005
---
Los Angeles (US) gay community proposal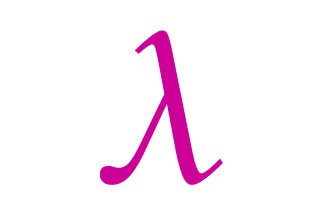 image by António Martins, 22 Nov 2006

In the early 1970's the Los Angeles gay community created a flag with a lavender lambda on a simple white background. They hoped the flag would catch on to other cities, but their hopes were denied because some saw the lambda as a male symbol only.
Charles Ashburner, 16 Mar 1999
---
Lambda on a rainbow flag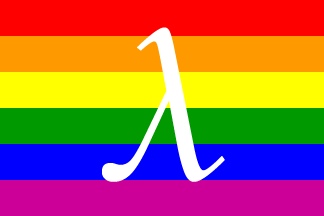 image by António Martins, 22 Nov 2006

I came across a website interview concerning the rainbow flag. But this flag has a white greek letter lambda on it. Has anyone seen one of these?
Chris Pinette, 16 Mar 1999

Yes, one of these flags or more in Chicago, some on buildings along Halsted Street. The Lambda flag, with the Greek letter "L", is one of many variations on the standard six-striped Rainbow flag that has become the basis for the Gay flag worldwide.
Steve Stringfellow, 16 Mar 1999

The rainbow with the lambda did come both ways [both red on top and purple on top] in the 1980'ies. The "red up", so far as I know, came from an incorrect handout from Lambda Rising in Wash D.C.
James Ferrigan, 28 Jul 1999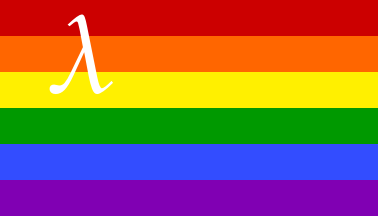 image by Tomislav Todorovic, 31 Aug 2014
The variant with lambda in canton also exists. Its photos from the West Hollywood City hall, where it was flown together with the US national flag and old city flag until January 2014, can be seen here, here and here. A photo from Long Beach, taken on 2013-03-26, can be found here.
On the oldest photo so far, which is from the Long Beach Gay Pride Festival in 1989, the flag hoisted above the letter R in word GENERATION is charged with a lambda in canton. There may be more such flags, but the details are just not visible enough. There is also a newer photo from San Diego Pride Festival in 1992 and a much newer one, taken on 2010-07-12 in San Diego.
Tomislav Todorovic, 31 Aug 2014
---