This page is part of © FOTW Flags Of The World website
Chukotka (Russia)
Ĉukotka
Last modified: 2021-07-17 by valentin poposki
Keywords: chukotka |
Links: FOTW homepage | search | disclaimer and copyright | write us | mirrors

---
Чукотка / ᙡᑯᐢᑲ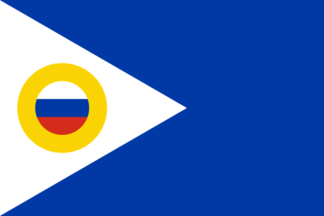 image by Tomislav Šipek, 16 February 2020
---
See also:
---
Presentation of Chukotka
(Note: You need an Unicode-aware software and font to correctly view the Cyrillic text on this page. See here transliteration details).
Name (English): Chukotka • (Russian, short form): Чукотка | Ĉukotka • (Russian, long form): Чукотский автономный округ | Ĉukotskiĭ avtonomnyĭ okrug • (local, long form): Чукоткакэн автономныкэн округ | Ĉukotkakên avtonomnykên okrug
Local official language: Chukchi

Capital (Russian): Анадырь | Anadyrh / ᐊᓇᑙᕐ • (English): Anadyr
Area: 737 700 km2 (~284 800 sq.mi.) • Population: 68 900 inhabitants in 2000
Status: Autonomous District (автономный округ | avtonomnyĭ okrug) within the Russian Federation
License plate code: 87 • Ham radio code: CK • ISO 3166-2 code: CHU
Flag adopted on unkn. date • Coat of arms adopted on unkn. date
Please note that, unlike the other avtonomniĭ okruga (Taymyr, Nenetsia, Ust-Ord Buriatia, Koryakia, Parma, Yugra, Agin Buriatia, Evenkia and Yamal), Chukotka is not dependent from a region or territory (it was once part of Magadan Region).
António Martins, 07 Aug 1999
Most recent maps and atlases show between Magadan Region and Chukotka the same tipe of boundary lines as between any other two normal subjects, while the border lines between, say, Koryakia and Kamchatka are different. This is so in the following sources I have at hand:
Ŝkolnaâ karta rossiĭskaâ federaciâ. Moskva, 1996 (no publisher, no codes)
Geografiaâ Rossii — Atlas neselenie i qozâĭstvo 9 klass. DiK and Drofa: Moskva, 1997. ISBN:5-7107-1212-4 UDK 373.167.1:912 BBK 26.89 (2R)â6 G35
Atlas Rossiĭskaâ Federaciâ. Kartografiâ: Moskva, 1993. ISBN:5-85120-014-6.
Moreover, this last source lists the russian subjects in the usual order, including all autonomous districts right after their "parent" subject (Nenetsia inside Arkhangelsk Region, Ust-Ord Buriatia inside Irkutsk Region, etc.) — except for Chukotka, which appears on its own and not inside Magadan Region.
António Martins, 09 Apr 2000

In 1990 this region unilaterally upgraded itself to an Autonomous Republic.
Stuart Notholt
---
Description of the flag
It consists of a 1:2 azure field, with a 1:1 white triangle in the hoist (i.e., this triangle is defined by the intersection of the flag's diagonal lines), charged with a roundel of the Russian flag fimbriated yellow.
The height of each "Russian" stripe,
the width of the roundel fimbriation and
the minimum distance between the roundel and the triangle's edge
are equal.
António Martins, 21 May 1997

On a website published full official text (in Russian) of new edition of the Law of the Autonomous Region of Chukotka #04-OZ (=okruznoy zakon, law of district) About Flag of Autonomous District of Chukotka, adopted on February, 19, 2004. In appendices to the law are published color images (averse and reverse) of a flag and his graphic circuit.
Length of a flag -L
Width of a flag - H
H:L = 2:3
A = 0,082 × H
R1 = 0,124 × H
R2 = 0,206 × H
Mikhail Revnivtsev, 11 May 2004

The flag of Chukotka in Russia marks its loyalty, and its geographical character. The flag is symbolically blue, standing for the water surrounding Chukotka and its rivers. It also stands for the Chukchi people, as their national colour is blue. The white in the hoist is representative of the ice, and snow, covering Chukotka for most of the year. And to prove the region as a part of Russia, this design includes the simplified version of the region coat of arms, that has the Russian flag in the center surrounded by yellow, and it being in a circle, indicating sun, hope and friendship.
Muhamed Mesic, 16 Nov 1998
---
The coat of arms of Chukotka
image by Chrystian Kretowicz, 27 Mar 2001 (courtesy of an excellent Canadian Site of Scott Polar Institute)
---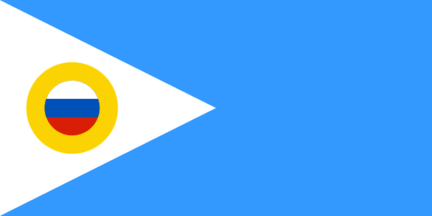 image by Tomislav Šipek, 16 February 2020
---
Wrangel Island
острова Врангеля
I noticed that Wrangel Island has its own postal issues. Has this island any form of autonomy and consequently flag?
Jaume Ollé, 06 Aug 1999
No. Wrangell Island (острова Врангеля) is part of Chukotka. Those stamps are issued by the Russian Postal authorities in Moscow and sold to in a few central post offices. The closest to Wrangel Island that those postage stamps ever get is in the album of Japanese or Alaskan philatelists… There may be a flag for Wrangell island (rather the flag of the local town — although I doubt it), but it would have nothing to do with those postage stamps.
António Martins, 07 August 1999