This page is part of © FOTW Flags Of The World website
George Washington's Personal Position Flag (U.S.)
Historical
Last modified: 2021-06-26 by rick wyatt
Keywords: united states | george washington | valley forge flag |
Links: FOTW homepage | search | disclaimer and copyright | write us | mirrors

---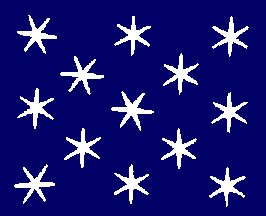 image by Dave Martucci, 6 December 1997
---
---
See also:
---
Description of the flag
This is an almost square blue flag with 13 white six-pointed stars arranged 3:2:3:2:3 Rather than the normal stars which appear to be composed of triangles, they're composed of three lines that intersect. The ends of the lines are slightly tapered.
The original of this flag is in the collection of the Valley Forge Historical Society. It is not quite square measuring 27 1/2 inches by 35 1/2 inches. It is made of faded blue silk with the stars appliqued white silk. Thus the stars appear smaller on the reverse than on the observe.
William M. Grimes-Wyatt, 21 February 1996
---
History of the flag
It is said to be the headquarters standard of General George Washington, but is questioned by some historians. It appears in two early postwar paintings, supervised by eyewitnesses, the Battle of Princeton by William Mercer and the surrender of Yorktown by the French artist Van Blarenberghe. It was donated to the Society by Miss Frances B. Lovell, a descendant of Washington's only sister, Betty Washington Lewis.

It is accepted by some experts as being Washington's Headquarters Flag and the standard of the army in 1781.
William M. Grimes-Wyatt, 21 February 1996
From "Flags to Color from the American Revolution" on page 10, this flag is listed as the Valley Forge Flag.

"Colors: The field blue, the stars white."
"During the bleak winter of 1777-1778 this flag flew over Washington's headquarters in Valley Forge, Pennsylvania. It symbolized the 13 colonies united in what then seemed a hopeless struggle for independence. The original flag is still preserved at Valley Forge. Another version, with the stars in a circle, is found in Peale's portraits of Washington."
Randy Young, 16 September 2004
Conservators finished preserving the fragile and faded silk banner -- but it won't be seen publicly anytime soon. It's one of thousands of objects waiting for a permanent home at the Museum of the American Revolution, which is expected to open in Philadelphia in late 2016. More details at http://www.foxnews.com/us/2014/06/13/george-washington-flag-awaits-museum-2016-opening/?intcmp=latestnews
Clay Moss 13 June 2014
---
Commander in Chief
In 1776 Congress conferred upon General George Washington the title "Commander-in-Chief of the Armies of the United States" so as to uniquely identify him. No insignia or flag were authorized.

Washington only ever wore three silver six-pointed stars as an insignia of grade and a light blue ribbon/sash diagonally across his chest indicating his status as Commander-in-Chief of the Continental Army. His flags as C-I-C were all blue of varying shades with 13 six-pointed stars arranged either 3-2-3-2-3, 4-5-4, or in a circle. There is a surviving flag in Valley Forge which is claimed to be Washington's command flag with the star arranged 3-2-3-2-3. The other arrangements are from period paintings.
James J. Ferrigan III, 21 December 2000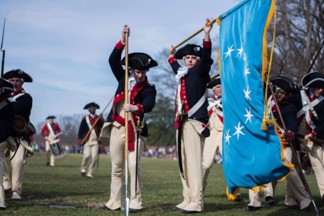 image located by Dave Fowler, 20 January 2021
The Commander-in-Chief's Guard (A Company, 4th Battalion, 3d Infantry Regiment) carries a different version of this flag, while decked out in colonial uniforms. It is a light blue flag with a ring of 13 6-pointed stats. It was carried in both a large and smaller versions at the inaugural pass in review today, but has been in use for awhile. (Picture from the web.)
Dave Fowler, 20 January 2021

---
Actually a canton?
The original flag is silk and measures about 27.5"x 35.5" (70cm x 90cm) which right there raises my suspicion: an odd size and certainly not regulation in any way for any kind of military flag. Of course, as the proponents point out, there was a lot of variation in sizes at the time. Still, one would think Washington of all people would pay more attention to such things. There is also no evidence of any fringe, which in my opinion would likely have adorned the Commander-in-chief's standard (see "Washington's Life Guard Standard", below).

The stars are also silk and appliqued on to one side with the back cut away and stitched in such a way as making the stars smaller on the other side. One would think Washington would have a flag that was painted or embroidered in a much richer fashion, but that is not necessarily so say the proponents.

A linen header is sewn to the hoist. Military flags do not usually have a header of a material different from the body of the field. Most unusual. Some claim it matches the materials of Washington's tent. Maybe so, but all nautical flags at the time had headers that were made of similar stuff; are these Washington's too?

The flag is hemmed along the top only. The fly and bottom edges are torn. What does that suggest to you?

The flag's recorded history begins in 1912 when Miss Frances B. Lovell donated it to the Valley Forge Historical Society. She was a distant descendant of Betty Washington Lewis, the only sister of George Washington. She stated it was known in the family as "Washington's Headquarters Flag" (note that the name is "flag", not "standard" or "colour" which would have been the proper military terms in the 18th century). She did not present any evidence of this.

Numerous paintings show various arrangements of stars on a blue (or red or white) field depicting various events during the American Revolutionary War, many of which (but not all) feature Washington in them. So what? Paintings are not photographs. Washington himself never mentions any such flag in the writings of his that we have; he does mention that he preferred the design with the "Union and emblems in the center" as a standard for the army but we do not have any idea what this looked like. At any rate, even if you assume the Union is a blue field with 13 white stars, there are no "emblems" on this flag so it is certainly not that.

Among the papers of Major General "Mad" Anthony Wayne is a drawing for a seal for the Board of War and Ordinance which features a flag outline with 13 dark 6-pointed stars on it in rows of 4-3-4-2 (more or less) flying from a Liberty Pole with a Liberty Hat on the top with rays coming of of it. It is surrounded by a cannon and cannonballs and two crossed muskets, the name of the Board, the date 1778 (the year the Board was founded), and the motto "This We Will Defend" on a ribbon. Handwriting analysis seems to indicate the artist may have been Francis Hopkinson, the designer of the Stars and Stripes. The seal design is not included in Hopkinson's itemized bill to Congress for his work that he presented in 1780, suggesting that if he did indeed draw this design, it was afterwards (Wayne was involved in the Board just prior to the adoption of the US Constitution in 1789 which rendered the Board moot). One is tempted to interpret the flag on this seal as the Standard of the Army, but the Board had even more duties in supplying Navy Ships with cannonballs and powder, so maybe it is the Navy Jack. Who knows? Hopkinson referred to his US Flag design as the "Naval Flag" so that seems at least equally as likely in my book.

Finally, one must remember that Washington was Commander of the American Army at two different points in time: during the 1775-1781 American Revolution and he was commissioned Commanding General of the Army by President John Adams in 1798, in which capacity he served until his death in 1799. His Commission Certificate shows several flags including one of solid color bearing an oval of 15 white 6-pointed stars. No one has considered the possibility that if this is indeed his "HQ" flag that maybe it dates from this later period.

There is also a depiction of a similar flag on the Standard of Washington's Life Guard, a unit that was formed in 1776 to protect the Commander-in-chief. It was disbanded in 1781 and reactivated in 1798. The flag is dark blue with an oval of 13 white 6-pointed stars and a gold fringe. An officer of the unit is depicted receiving the flag from the Goddess of Liberty. He is wearing a uniform typical of the late 1790s, a style decidedly different than that of the 1770s. Enough said.

The original flag's ratio is 1:1.29. The Town probably stretched this into 3:5 as all good US manufacturers like to do. The original shade of blue is very pale, probably faded from some unknown darker shade, but definitely NOT the dark blue we now associate with Old Glory. When Grace Cooper was studying this flag (and I went along on one trip with her) she asked to open the frame so she could peek at the remaining hem where some evidence of original color might be, but she was told no.

The stars on the original do not all point in the same direction, as is often depicted (think of one ray axis to be the key, oriented either along the horizon (H) or the vertical (V) or half way in between (X), they are oriented something like this in each row: H-V-V, X-X, V-H-V, X-V, H-V-V).

Replicas of the flag are commercially available; the Flag Guys in Newburgh NY sells it with a UN Blue field, which corresponds closely with the existing flag. A photo of the original is on Plate 18, page 196 in Edward Richardson's "Standards and Colors of the American Revolution". Richardson of course absolutely believes the flag was Washington's HQ flag during the Revolution. It is framed in such a way that you cannot see the edges or the header, but these are documented in the Conservator's Report.

Dave Martucci, 11 August 2010