This page is part of © FOTW Flags Of The World website
Eastern Cape Province, South Africa
Last modified: 2022-10-22 by bruce berry
Keywords: eastern cape |
Links: FOTW homepage | search | disclaimer and copyright | write us | mirrors

---
Other Eastern Cape pages:
See also:
---
Eastern Cape - introduction
Up to September 1995 none of the 9 new South African provinces have adopted their own flags although one or two have proposals in this regard. There is currently a debate in this country as to whether the provinces should have their own flags or not with the ruling ANC holding the view that the provinces should not have individual flags.
Bruce Berry, September 1995

The Eastern Cape Province is located in south central South Africa. It was formed following the introduction of the interim Constitution in April 1994, having been reorganized from the south-eastern part of the former Cape Province and including those parts of the former Transkei that were situated in Natal. It borders on the Western Cape, Northern Cape, Free State, KwaZulu-Natal (with enclave) and Lesotho and includes the former homelands of Ciskei and Transkei.
Antonio Martins, 30 May 1999

The former Eastern Province was a division of the Cape Colony, which extended as far as the Fish River (it's about half to a third of the current province). East of the Eastern Province was the separate colony of British Kaffraria, which was incorporated into the Cape Colony in 1866. The Kaffraria region was then divided into Ciskei (tribal trust lands) and Border (mainly white settlement, in the corridor stretching from East London through Queenstown to Aliwal North).

The name Eastern Province has been continued through sporting usage - the sporting unions of the Eastern Cape Province are split between Eastern Province (centred on Port Elizabeth) and Border (centred on East London). Since 1994 'Border' has also incorporated Transkei and, often, Ciskei as well.
Mike Oettle, 08 Dec 2001

Outside of Natal, only the Borough of King William's Town (Eastern Cape) used the designations "corporation" and "borough" for its local governments. This arose because King William's Town was established when it was the capital of British Kaffraria, and only became part of the Cape Colony in 1866. King William's Town is now (as of January 2000) part of the Buffalo City municipality, with East London, and all the old municipalities have now been reorganised across the country.
Mike Oettle, 08 Dec 2001

---
Coat of Arms of the Eastern Cape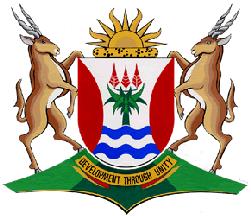 reported by JJ Andersson, 05 May 2002

ARMS: Argent, between flanches Gules, in base bars gemelles wavy Azure and in chief a tree-aloe issuant Vert, with three racemes Gules; the shield ensigned of a leopard-skin head ring proper with a demi-sun issuant Or.
SUPPORTERS: Two eland proper.
MOTTO: DEVELOPMENT THROUGH UNITY.
Registered with the Bureau of Heraldry on 25 March 1996.
JJ Andersson, 05 May 2002

---
Previous Municipal Flag descriptions
The following municipal flags in the former Eastern (Cape) Province were registered with the South African Bureau of Heraldry. These flags are no longer in use following the introduction of a new municipal dispensation in South Africa after 2000.

Jeffreys Bay municipality: flag registered on 11 Oct 1974 by the South African Bureau of Heraldry and described as:
On a white field four blue horizontal stripes and at the hoist a red pale charged with two fishes in saltire, heads
upwards, between two escallops in pale, all in gold.
Source: Data of the Bureau of Heraldry on registered heraldic representations.
Mark Sensen, 19 May 2002

The name given for the town on the page is Jeffreysbaai, which is correct in Afrikaans, but in English itís Jeffreys Bay. The town was named after an Englishman, a Mr. Jeffrey, who had a shop there about 100 years ago. His sons married Afrikaans wives and the family is today largely Afrikaans-speaking. The town grew up around the shop.
The flag is an adaptation of the municipal arms.

Jeffreys Bay is now part of the Kouga Local Municipality.
Mike Oettle, 25 Jun 2002

Burgersdorp municipality: flag registered on 3 Apr 1987 by the South African Bureau of Heraldry and described as:
A rectangular flag, proportion three by two, consisting of five horizontal stripes, from top to bottom yellow, black, white, red and yellow, respectively 1/3, 2/15, 1/15, 2/15 and 1/3 the height of the flag, and a green hoist third, charged with a yellow church-bell ensigned with a pair of white ram's horns conjoined.
Source: Data of the Bureau of Heraldry on registered heraldic representations.
Mark Sensen, 19 May 2002

These flags are illustrated in SAVA Journal 1/92 (April 1992) (ed) [brl92].

---