This page is part of © FOTW Flags Of The World website
Uri canton (Switzerland)
Last modified: 2023-11-25 by martin karner
Keywords: switzerland | uri | bull | german |
Links: FOTW homepage | search | disclaimer and copyright | write us | mirrors

---
---
---
See also:
---
Or, a bull's head caboshed sable, langued and noseringed gules.

On a yellow field, a black bull's head with no neck, seen face on, with a red tongue and a red nose ring. That's the official part, but heraldic artists can take liberties beyond that. The inside of the bull's ears and the outline of the eyes are sometimes rendered in red. Like all cantonal banners, this flag is derived from a war flag and is square.
Pascal Gross
---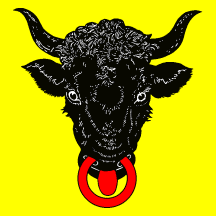 image by Pascal Gross
To illustrate the "liberties taken by the heraldic artists", this illustration comes from Achermann (1990). Here the bull seems to have eaten a bit more and looks somewhat better this way. It contrasts with the more commonly seen rather skinny shape of the bull's head, shown at the top of this page and known on a flag dating from the 15th century.
Pascal Gross, 19 June 2001
---
The black and yellow are taken from the black eagle on yellow field of the Holy Roman Empire, and the substitution of a bull is perhaps a pun. The bull is actually an aurochs, a now extinct European bison, thought to have been plentiful in Uri and domesticated by the locals (hence the nose ring). To the original Helvetes (Celts), the bull was a royal symbol and a symbol of their god Cernunnos. Urners (people of Uri) have long been teased by other Swiss that the nose ring signified they were wildmen who had to be tamed ("Ur" means wilderness, and Bos Urus is Latin for aurochs). The ring was originally gold, meaning it was an "augmentation of honour" (According to legend, a pope granted this honour for military services rendered).
---
The Uri flag is thought to have been in existence since at least 1231 when King Heinrich, son of Holy Roman Emperor Friedrich II, granted the region "imperial freedom". This meant they were sovereign and owed no feudal allegiance to anybody but the emperor and that they were entitled to their own flag. The flag was definitely carried at the battles of Mortgarten (1315) and Laupen (1339). A flag carried in those battles is preserved in the townhall of Altdorf.
T.F. Mills, 15 October 1997

The bull's head is called Uristier, meaning aurochs, Bos uris, which was domesticated by the original settlers. The red ring was originally gold. Uri citizens have been teased that the the nose ring represents the fact that the people of Uri had to be tamed. The bull has Celtic origins, representing royalty and a personification of the deity Cernunnos, who bore stag antlers.
Source: Angst (1992), "A Panoply of Colours: The Cantonal Banners of Switzerland and the Swiss National Flag"
Phil Nelson, 14 October 1998

The kind of depiction presented in the section "Variant of the Flag" on this page may be perceived as designed only in 1990, which is not the case. This kind of naturalistic depiction of the aurochs (Uristier) is already presented in the 1942 flag book from Robert Mader ([mro42], picture), and also in the 1948 publication from the Federal Chancellery about the Swiss arms and seals (picture). They continued the tradition of more or less naturalistic depictions since the Middle Ages. In the second half of the 20th century the image was simplified towards a more stylized depiction (picture). This version is also used for the licence plates of vehicles. Around 1990 the newest version was introduced, which makes a reference to the oldest Uri banners (e.g. to the banner of 1315, see below) (picture). Since 2012 this version is used for the logos of the cantonal authorities (picture, source).
Martin Karner, 23 November 2023

[Oldest known seal of Uri, around 1249, head of bull in profile (sign-off) (source). –
Oldest existing banner of Uri, carried in the battle of Morgarten (1315) (source). –
Banner of Uri, carried in the battle of Sempach (1386), with Confederate Cross (source). –
Julius Banner (1512), dedicated from pope Julius II for Uri's support in the Pavia campaign. Silk damask. Zwickelbild showing Crucifixion scene; below the papal keys are applied (source). –
Stained glass plate (1639); banner with Resurrection scene in the canton (after banner carried in the battle of Grandson, 1476); halberdier blowing a horn of an aurochs (Uristier, the heraldic animal), an old military instrument. Location: town hall of Sempach LU (source)]
---

image by Ole Andersen

Simple rectangular cantonal flag, as shown in Kannik (1956).
Ole Andersen, 4 August 2002
---
Flaggen, Knatterfahnen and Livery Colours
images by Pascal Gross

Flaggen are vertically hoisted from a crossbar in the manner of gonfanon, in ratio of about 2:9, with a swallowtail that indents about 2 units. The chief, or hoist (square part) usually incorporates the design from the coat of arms – not from the flag. The fly part is always divided lengthwise, usually in a bicolour, triband or tricolour pattern (except Schwyz which is monocolour, and Glarus which has four stripes of unequal width). The colours chosen for the fly end are usually the main colours of the coat of arms, but the choice is not always straight forward.

Knatterfahnen are similar to Flaggen, but hoisted from the long side and have no swallow tail. They normally show the national, cantonal or communal flag in their chiefs.

Željko Heimer, 16 July 2000
---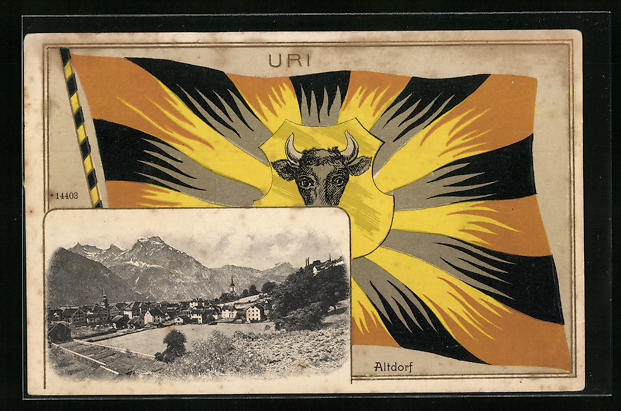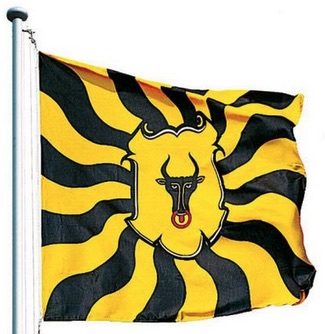 images located by Martin Karner
(source) (source)

At the beginning of the 20th century, flamed flags were still in use, with the white cross replaced by a (baroque) shield in the centre of the flag. These decorative flags had been used until WWII and then somewhat forgotten in preference of the current cantonal flags. [Today they are being produced again, see right image]
Pascal Gross, 30 June 2002

See also: - Other examples of "Early 20th century flag design": AG, AI, AR, BE, BS, GE, GL, GR, LU, NE, NW, OW, SG, SO, SZ, TG, TI, VD, VS, ZH
- Modern flamed flags