This page is part of © FOTW Flags Of The World website
Greece: History of the national flag
Part 1. 1822-1828
Last modified: 2016-08-13 by ivan sache
Keywords: greece |
Links: FOTW homepage | search | disclaimer and copyright | write us | mirrors

---
Flags of Greece, 1822-1828
Left, war ensign - Image by Željko Heimer, 11 October 2001
Right, war flag - Image by Ivan Sache, 19 June 1995
---
See also:
---
The Greek flags adopted in 1822
In January 1822 the National Assembly adopted blue and white as the national colours. The flag was only prescribed on 15 March 1822 (Julian calendar as used in Greece at the time) / 27 March (Gregorian calendar), in accordance with Decree No. 540 by the Temporary Administration. This Decree prescribed:
1. A flag to be used by the armed forces at sea (war ensign); this flag has nine horizontal stripes, in turn blue and white, and a white cross on a blue square field in canton. It is today the Greek national flag.
2. A flag to be used by the armed forces on land (war flag); this flag is blue with a white cross.
3. A flag to be used by merchant ships (civil ensign).
Two of the islands which played an important role in the revolution, Hydra and Samos, had already chosen a flag with blue and white colours before the Greek national flag was adopted.
Yannis Natsinas & Andre van de Loo, 14 March 2003
---
Civil ensign

Civil ensign, 1822 - Image by Ivan Sache, 19 June 1995
The civil ensign is blue with a canton made of a blue cross on a white rectangular field.
Yannis Natsinas & Andre van de Loo, 14 March 2003
---
Variants of the war ensign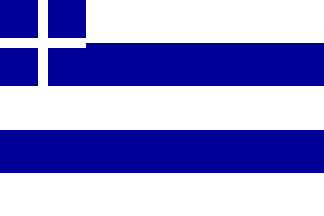 Kanaris' war ensign - Image by Miles Li, 19 June 2015
Constantine Kanaris (1793/95-1877) was born on the island of Psara, famous for ages for its fleet. One of the first Greek freedom fighters to dare attack Ottoman vessels with fire ships, Kanaris inflicted heavy losses to the much powerful Ottoman navy. In a revenge of the Chios Massacre, he destroyed on 18 June 1822 the Ottoman flagship, killing 2,000 seamen and officers, including Captain Pasha (Admiral of the Navy) Kara-Ali Pasha. On 9 November 1822, Kanaris, using two fire ships under false Ottoman flag, failed to destroy the new Ottoman flagship but hit her escort vessel, killing 1,600 seamen and forcing the Ottoman fleet to withdraw to the Dardanelles. After having escaped the Psara Destruction in June 1824, Kanaris resumed the fight. On 10 August 1825, he led a failed attempt against the Ottoman fleet in the port of Alexandria (Egypt). Kanaris did not fought in the Battle of Navarino, as recalled by Victor Hugo in another poem included in Les Orientales, Navarin (text), dated 23 November 1827.
After the independence of Greece, Kanaris was awarded the rank of Admiral in the new Greek Navy. He served six times as Prime Minister, mostly for short periods (one month in 1844, 13 months in 1848-1849, two months in 1854, one month in 1864, six months in 1864-1865, and three months in 1877).
Ivan Sache, 23 September 2012

Miaoulis' war ensign - Image by Miles Li, 19 June 2015
Quoting the Nostos website:
Andreas Miaoulis (1769-1835) was born on the island of Hydra. At the age of 17 he became captain of a commercial ship. During the Napoleonic wars he managed, due to his courageous sea operations, to accumulate considerable wealth. From the second year of the Greek revolution he was appointed Admiral of the Greek fleet. He defeated the Turkish navy near Patra and the Turko-Egyptian navy near Geronda, and on many occasions he was able to provide supplies for Greek cities besieged by the Turks (for instance Missolonghi).
Ivan Sache, 5 February 2003