This page is part of © FOTW Flags Of The World website
Unidentified Flags or Ensigns (2007) - Page 2
Flags submitted in 2007 - 2 of 2 pages
Last modified: 2023-06-03 by

zachary harden
Keywords: ufe | unidentified flags |
Links: FOTW homepage | search | disclaimer and copyright | write us | mirrors

---
Please note our Policy for Submissions and Enquiries.
Below is a series of images of flags that have been provided to FOTW; some we have recognized, and some we have been unable to recognize. If you can help us identify any of these flags, please let us know! Contact the: UFE Editor.
Identification Key:
= Positive ID (Positive Identification)
= Tentative ID (Tentative Identification)
= Some Speculation
---
07-28. Flag at Last Night of the Proms

Positive ID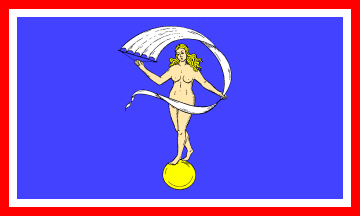 This flag was positively identified as the flag of the City of Glückstadt, in Germany.
---
07-29. Quatre Barres Flag with I

Positive ID

Image submitted by Stephen Schwartz, 26 June 2007
This flag has been identified and moved to its correct page on the Kingdom of Italy page as the flag of the First Colonial brigade in Eritrea.
---
07-30. Three Flag Pins

Positive IDs

These have all been identified and placed on to the FOTW database. Flag #30a is that of Herbert Woods Broads Holiday Adventures of the United Kingdom. Flag #30b is that of the International Motorized Transport Company of The Netherlands. Flag #30c is that of E.C. Landamore & Company of Wroxham, United Kingdom.

I have been searching your site, but have been unable to trace the three attached house flags. Have you any ideas please?
Julian Purser, 12 september 2007

The middle pin, BTW, I think is related to the Internationaal Motor Transportbedrijf: blue field, white oval with the letters IMT. I'm also not sure we have the current flag details right for that company; I've asked them for more information.
Peter Hans van den Muijzenberg, 19 January 2010

I'm happy to inform you that the right-hand pin badge is the house flag of the Landamore family, yacht builders based in the villages of Hoveton and Wroxham, Norfolk, UK. In addition to some of finest Norfolk Broads sailing boats Landamores also produced the much larger sea-going Oyster Yachts. [A "broad is a wide shallow lake]
That arm of the Landamore operation was recently sold to Oyster Marine but the Landamore pennant remains a familiar sight on local waters flying on the boats of Landamore family members and some of their customers and employees. Anthony Landamore is a keen contender in the annual Norfolk Broads yacht racing regatta calendar, always skippering a yacht of his family's design and production.
Jerry Ping, 23 June 2013

This pennant on the left is the same as the "Six-Pointed Blue Star on White Pennant" submitted by Tom Pountney in 2008 and now identified by Jerry Ping as the Herbert Woods/Lady Yacht Club pennant.
Pete Loeser, 23 January 2013

The flag on the right also appears in the 1917 Lloyd's Register of American and Canadian Yachts Plate 8 as the Jackson Park Yacht Club, 642 Stony Island Ave., Chicago, Illinois; Organized and Incorporated in 1896.
David Martucci, 3 January 2015

Your thoughts? Two flags, two groups, one in UK and one in US, using same flag?
Pete Loeser, 3 January 2015

No - I don't think so. This looks exactly like the Landamore pennant - compare the one above and here. The Jackson Park Yacht Club uses straight-edged bands of white - see here. Similar, but sufficiently different to correlate, I think.
Rob Raeside, 3 January 2015
---
07-31. Flag on Al Jazeera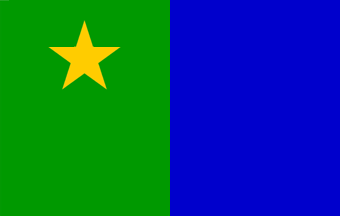 Image by Clay Moss, 3 October 2007
I was watching Al Jazeera tonight and this flag popped up flying over a big mosque looking building. The camera stayed on the flag for a while, so I got a good look at it. I couldn't understand anything being said, but if I were a guessing man, I would say that story was coming out of Algeria or maybe Tunisia.
Clay Moss, 3 October 2007
---
07-32. Iranian Flag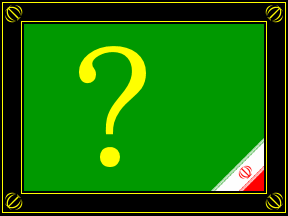 Speculative image by Eugene Ipavec, 4 October 2007
Quite recently I saw some new footage of President Ahmadinejad inspecting a parade, with a flag just behind him. This time I got a better look; the flag was green, with a wide black border, itself bordered in gold. In the two fly corners there were Iranian national emblems, also gold, tilted 45° - I assume these were also at the hoist, but the flag was partially furled. In the bottom fly corner there was an Iranian flag, also tilted 45 deg. This may also have been at all corners. Most of the green field was taken up by a large golden piece of calligraphy, which I here represent purely symbolically. It looked more angular than this, possibly Kufic-style. Also note that this bears a certain modest resemblance to the "Official Flag" of Hezbollah.
Eugene Ipavec, 4 October 2007
---
07-33. German World War II Eagle

Positive ID

This flag has been identified as a flag used by the German Veteran´s Association 1933-1945 and is on its proper page.
---
07-34. Unidentified Flag in Bangladesh

Some Speculation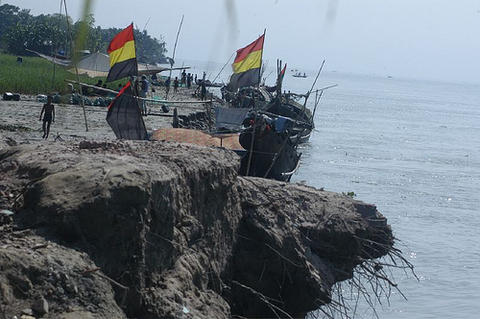 Image provided by hrothgar01usa, 1 November 2007
There is a series of articles on BBC's website, bbc.com, that describes a journey through Bangladesh to ascertain the effects of changing climatic patterns. In one photo, there are two unknown flags. I have uploaded this photo to the Photos section of the group. Any ideas as to what this is?
hrothgar01usa, 1 November 2007
Considering the general settings, it would seem as if the 'flags' are actually three flags each - monocolored banners are a major feature of devotional imagery in the Subcontinent, especially but not limited to Buddhists. While I can say they are almost certainly likely to be some kind of prayer banners, whether they're permanent or temporary (in response to a recent event or crisis) and which group (ethnic or religious) is using them is beyond me.
B. Casey, 5 September 2008
---
07-35. Yellow-Orange-Green Flag

Image from Jerry Nelson
My eccentric mother of 80 years sent me a flag in the mail (for what reason, I can only guess Christmas), and she does not know what the flag represents. It is horizontal striped, tri-colored, much like Bolivia, but has the colors in this order: Yellow-Orange-Green, or Green-Orange-yellow. I have looked at every flag picture I can find on the FOTW website and am out of leads. It is too orange to be red, and is a well made 3x5 [feet], nylon, maybe as early as the 70's i would guess. There is no maker marks, just a "3x5" stamped on the white binding with brass grommets. She probably picked it up at a yard sale or thrift store, and there is no telling why she found it interesting enough to buy. She lives in Central Minnesota, and I don't think it is a college flag, but one never knows, maybe a high school or car dealership thing, but the colors don't make sense for high school.
Jerry Nelson, 20 December 2007
---
07-36. Red Flag at RV Park

Some Speculation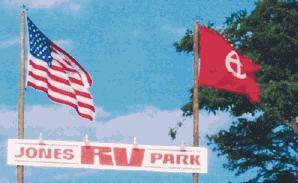 Image provided by Al Cavalari, 23 July 2007
Someone was told that the flag on the right is a Christian flag. Can anyone tell me from what sect, group or church it derives?
Al Cavalari, 23 July 2007
The wheel of life used by Indian tribes in the USA is identical to the Celtic cross used by right wing groups, given the white on red I would say this usage is native American, however, the photo is not perfect if the cross sections are not equal, then I would say this might be a one-time-type religious flag from some small Christian sect.
Rick Prohaska, 29 January 2008
I'm sure it hasn't escaped anybodies notice that if this is a Christian church's flag, it was a very poor design choice, especially in the deep South (Georgia) where this RV park is located. The use of the "sun wheel" on red reminds one of a multitude of extremist flags, i.e - KKK, Knights' Party, neo-Nazi, and other racially oriented National Socialist groups. I'd suggest the Church leaders (if indeed it is a church) rethink their design at the very least. Please spare me the "Celtic" connection arguments...
Pete Loeser, 23 September 2010
Perhaps more of a disturbing choice than a poor one. Without implying anything about churches in general, it is safe to say that there are some churches which themselves could well be described as extremist and racially oriented. But in any case, I don't yet see much reason to conclude that this in fact any church flag. That is based on a single second-hand (or maybe third-hand) report of unknown reliability.
Ned Smith, 25 September 2010
On a lark I found Jones RV Park, complete with a cropped image of the same main gate, so no flags. I called the number listed and was informed that the flag was put up and flown by the late owner's wife in honor of her husband. I asked about the symbolism of the flag and was told it was "A Christian Thing;" but that if I wanted more information I could call back when she was there. For those who wish to pursue this here is a lead.
Jim Ferrigan, 26 September 2010
I see that Jones RV Park has been contacted. I've never been able to do so over the net. I take it the suggested follow-up was never taken. Looking at this again, I wonder whether the charge actually is a sun symbol, or whether it's a letter C with a cross in it.
Peter Hans van den Muijzenberg, 30 December 2014
07-37. Unknown Hanging Flag

Some Speculation

Image from M. Schmöger, 26 February 2007
In a report on the state of the Portuguese armed forces there is a photograph with M113 APCs, showing a flag in the background that looks a bit strange to me. It is a vertical, hanging flag, swallow-tailed, in the upper part blue, below divided of red and green. I can just guess that this refers to the national colours, but I can't explain the blue. Source: Jane's Defence Weekly 1987: vol. 8, iss. 11, pp. 621-629.
M. Schmöger, 26 February 2007
Well, I've never seen anything even remotely similar to that, but usually these vertical banners, in Portugal, are more decorations than anything else. I wouldn't be surprised if this was the case, and I wouldn't be surprised if the blue was meant to refer to the European flag.
Jorge Candeias, 28 February 2007
Difficult without context. Does anyone have access to the relevant issue to see what's supposed to be in the photograph?
Peter Hans van den Muijzenberg, 30 December 2014
Is it my imagination, or is there a thin white line emblem on the blue canton? Maybe just reflection? The flag seems to be made of very thin material, doesn't it, so it is hard to tell? Can anybody make out what the pole is mounted on? It appears to be leaning outward, as from a banister on a railing.
Pete Loeser, 3 January 2015
My guess was that it's just the reversed print from the other side, which also shows in the rest of the image. I flipped the image, but there's not enough to make it readable. The pole looks to me like it's just a dirt-mounted pole. But this is why I was asking for more context. I don't even know what continent we're on. As far as I know, this might be the equivalent of a wind sock, somewhere. After all, the pole doesn't look like straight kind we'd hoist a representative flag on, and the flag isn't hoisted with a taut line.
Peter Hans van den Muijzenberg, 3 January 2015
---