This page is part of © FOTW Flags Of The World website
Unidentified Flags or Ensigns (2011) - Page 2
Flags submitted in 2011 - 2 of 3 pages
Last modified: 2023-06-03 by

zachary harden
Keywords: ufe | unidentified flags |
Links: FOTW homepage | search | disclaimer and copyright | write us | mirrors

---
Please note our Policy for Submissions and Enquiries.
Below is a series of images of flags that have been provided to FOTW; some we have recognized, and some we have been unable to recognize. If you can help us identify any of these flags, please let us know! Contact the: UFE Editor.
Identification Key:
= Positive ID (Positive Identification)
= Tentative ID (Tentative Identification)
= Some Speculation
---
11-24. Flag on German Coat-of-Arms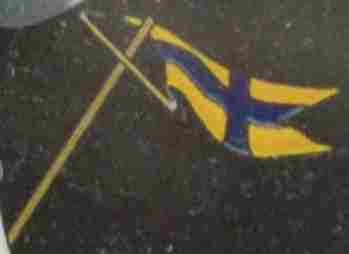 Image by James Dwight, 19 April 2011
I discovered this flag on a coat-of-arms for the German surname "Lamprecht." It looks like an inverted Swedish flag. It is most probably old and so I don't think its the WWI aircraft identification flag mentioned on your website. I would greatly appreciate any help in identifying it. It could be that the flag was made up specifically for the surname, I'm not sure.
James Dwight, 19 April 2011
---
11-25. Alster Lake Promotion flag (FR)

Some Speculation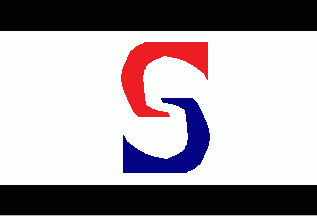 Image by Klaus-Michael Schneider, 23 April 2011
This pattern was part of a grey promotion flag. Normally this type contains a real flag at the bottom. This time it was a white flag edged black at top and bottom and having a red and a blue wing pointing towards one another. I supposed, it would be a new flag of CMA-CGM, which was not in use before 2008. But I am not sure. Does anyboda know this flag? Source: I spotted this flag on 15 April 2009 on Alster Lake.
Klaus-Michael Schneider, 23 April 2011
I've never see it. However, it is not the actual flag of CMA-CGM.
Dominique Cureau, 23 April 2011
It looks like an S, doesn't it?
Peter Hans van den Muijzenberg, 30 April 2011
---
11-26. Unknown Car Flag - perhaps German

Some Speculation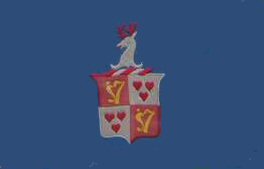 Photo from Klaus-Michael Schneider, 23 April 2011
The flag is celestial blue with a coat of arms in its centre. The shield is quarterly divided showing a golden harp in a red filed (1st and 4th quarter) and three red hearts in a silver field (2nd and 3rd quarter. The shield is crested by a silver stag armed red. Source: I spotted this flag on 2 April 2011 at Alster Lake.
Klaus-Michael Schneider, 23 April 2011
Hertz? Well, I hardly know anything more about it than any of us, but the description first mentions "flag" and then "coat of arms." So after image searching for "Hertz flag" fails, "Hertz coat of arms" should let you know all that I know (except for the physics stuff).
Peter Hans van den Muijzenberg, 30 April 2011
I did a google search for "quarterly gules and argent"+"harp"+"three hearts" and came up with nothing which links to a similar coat of arms. Unfortunately, the only ordinary of arms I have available is for British heraldry, but if anyone has access to an ordinary of European (particularly German) arms, that would the place to search next.
James Dignan, 23 September 2011
---
11-27. Unknown house flag at Valletta Malta

Some Speculation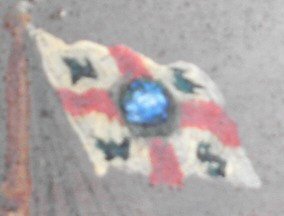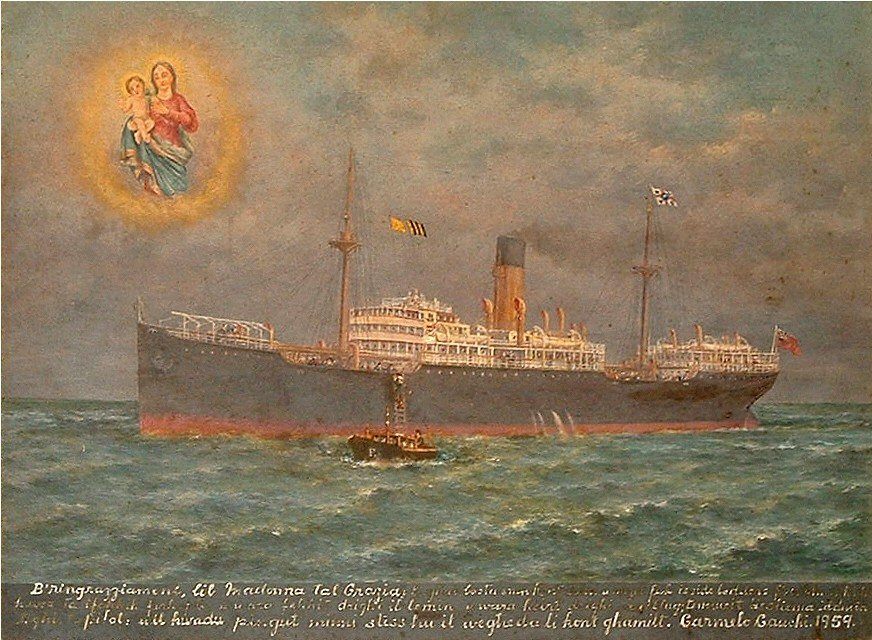 Click to enlarge
Images from Michael Buhagiar, 1 May 2011

I have this house flag painted on a ship probably passenger ship of the late 1950's in the harbour of Valletta Malta in an ex-voto in our museum. Can the flag be identified or can I contact any organisation?
Michael Buhagiar, 1 May 2011

Ponder mode: On. I would go for N & W S. - Two family members S., called N. and W., who are in marine business together? Or merely "something and other Shipping?" But it beats me what the thing on the anchor is supposed to be. The funnel is probably yellow with a black top. Brown 1940 lists a few of those, but there's no match for the flag. The other flags appear to be a UK Red Ensign, and the signal flags Q and G: I am healthy and require a pilot. Apparently she's entering a foreign harbour, and from the image the pilot is just boarding her. I wonder whether the text tells us anything.. She doesn't look all that 50-s, to me, though. A rather straight forward hull, upper ship is not integrated at all, with a lot of frills, and two masts and a midship pipe funnel. It may be she is a converted freighter, but even-so, I would expect her to be from long before the war. Ponder mode: Off
Peter Hans van den Muijzenberg, 7 May 2010

The museum site says "Offered by Carmel Cauchi, who painted the ex-voto himself, as thanks to Our Lady of Graces for keeping him safe in all the trouble he met during his work as a harbour pilot." For a harbour pilot not to identify the ship he painted seems a bit strange to me. As a possibility maybe it was not an actual ship (see the definition of an ex-voto), and based on the above narration, this was not for a specific occasion, but for his whole period as a pilot.
There is nothing on the size of the painting and obviously the larger it is the clearer should be the actual flag but the image provided is not clear and more interestingly the sender, who is the only position to know, has not given a description which would have been most helpful. Therefore I assume that it is not clear on the painting.
There is no name on the ship bow which is highly unlikely. The ensign at the stern has a canton which is unclear which is similar to the house flag.
When I say it is not an actual ship I mean that the painter may have used a class of ship as his model to represent his career as a harbour pilot without meaning to identify it as a specific vessel which would explain the lack of a name showing and a house flag and ensign which only hint at what they are and also are not meant to actual.
The writing at the bottom presumably does not assist as otherwise why did not the sender state what it says as it certainly is not easy to read. About all I can make out is that it is not in English and the name of the painter at the end which at least gave me a lead to where the painting can be found. That it was painted in 1959 does not necessarily date the vessel anyway if it represents his career, of which no dates are given.
Neale Rosanoski, 8 May 2011

I think that in this painting the ship is there just so it can show a pilot boarding it. As for the name on the ship bow, I think it's just not big enough to be readable (in this photograph). At the Zabbar Sanctuary Museum's maritime ex-voto collection exhibit, the picture before this one (dated 27-01-1951) is from the same painter, Carmel Cauchi, and it's a bit easier to see there where the name would be and what size it might be. You also mentioned that the ensign at the stern is similar to the house flag, but are you sure? I see nothing special about the ensign, as far as the details go. I guess we'd need a close up to be sure, though.
I don't think I've ever seen a sailor paint a ship that didn't exist. And for something as meaningful as an ex voto at that? No, considering she's likely to be from around 1910, she could have been his first, or a particularly noteworthy occasion, earlier in his career, and it may be he didn't recall all the details correctly. But I expect he did intend to paint a real ship. Seeing how he didn't just paint a house flag with the flutter obscuring most of it, but instead painted in quite a bit of detail, I would imagine it's either a line entering Valletta harbour often, or one whose flag was on record for him. As for the Maltese written below it, any native readers?
Peter Hans van den Muijzenberg, 9 May 2011

I'm going to follow Peter into "ponder mode" on the unknown Maltese shipping flag. The writing at the bottom, from the little I can work out, is likely simply a thanks to "Our lady of grace" for keeping the pilot safe, and make no mention of the ship. The ship may well be a composite. Given that the previous painting on the catalogue was done in 1951, I'd guess that the ship, if it exists as a real ship, may be from the mid-to-late 1940s rather than the 1950s, and it's possible that, given it was offered as a thank you for safety, may have some connection with the heavy bombardment Malta got during WWII.
I'm intrigued that no-one seems to have suggested the obvious explanation for "N&WS", that it is something like "Northern and Western Shipping". Understandably, names of that sort are hard to search with google (you get all the companies shipping into the northern and western regions of everywhere when you try)... but it may be another possible line of investigation.
James Dignan, 23 September 2011
---
11-28. Another Luftwaffe Command Flag

Positive ID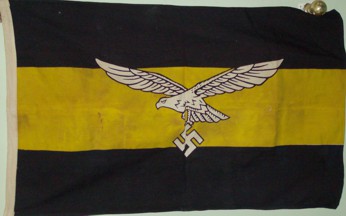 This flag has been identified as a Luftwaffe Reconnaissance Regiment Command flag and all discussion has been moved there.
---
11-29. Royal Canadian Artillery Ensign (What´s the S?)

Some Speculation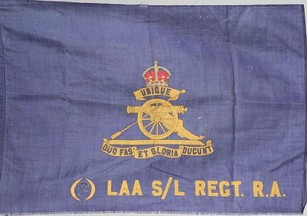 Image from Jim Ferrigan, 12 May 2011
Attached is an Internet image of a flag which was sold in 2009 as a part of Lot 1058 from Alderfer Auctions & Appraisal of Pennsylvania. It is an image of a wool, 34" (86.33cm) by 50" (127cm) Royal Artillery Camp Flag with the unusual designation "(S) LAA S/L Rgt. RA," which I think stands for "Light Anti-Aircraft Search Light Regiment Royal Artillery." What puzzles me is the (S) - a unit designation of which I am unfamiliar. I'm submitting this in the hope that some of out British members might be able to shed some light on this.
Jim Ferrigan, 12 May 2011
I know the mottoes and the badge match those of the Royal Canadian Artillery, but are they also used in a British context?
Rob Raeside, 12 May 2011
As I'm sure you both know, the Royal Canadian Artillery flag is almost identical to the Royal United Kingdom Artillery except in the gold coloring of the badge, but would the designation "(S) LAA S/L Rgt. RA," which you think stands for "Light Anti-Aircraft Search Light Regiment Royal Artillery," be done in the same manner on a British unit camp flag? I failed to find a meaning for the "S" except the guess that it might actually stand for "searchlight," or maybe, as my grandson said "superheros," Humm...
Pete Loeser, 28 May 2011
Is it possible that the "S" is a "5," as in 5th Searchlight Regiment?
Jim Popovitch, 29 May 2011
A very reasonable thought there, Jim,
Christopher Southworth, 28 May 2011
Unlikely, because if it were 5th Regiment, the 'S' (or '5') would not be in parentheses. Artillery regiments of the Second World War period were either Searchlight _or_ Light AA; the combination of LAA/SL was only introduced in 1947. I had a word with a friend who served in the Royal Artillery, and who is knowledgeable about their history and traditions, but he wasn't able to throw any light on the flag. I suspect it may be the flag belonging to one of the sub-units of the mystery regiment, rather than the regiment itself, which would account for the single colour of the field.
Ian Sumner, 29 May 2011
---
11-30. Unknown Canadian (military?) flag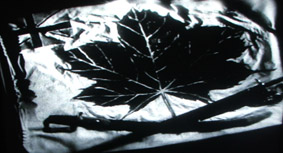 Image provided by James Dignan, 28 May 2011
I've just been watching a very odd, arty, Canadian film called "Archangel." It's set in northern Russia in 1919, but has several deliberately anachronistic elements. The whole style of it is meant to imitate early Russian silent films. At one point in the film the camera freezes onto a clearly Canadian flag, but one which I'm having trouble recognising. Anyone able to help me identify it?
James Dignan, 28 May 2011
---
11-31. 17th Century Dutch Flags

one Tentative ID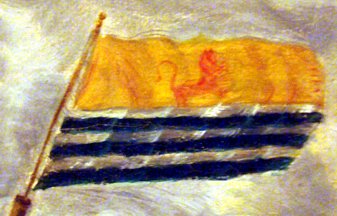 #31b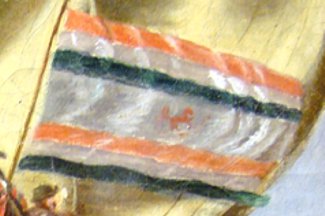 #31c
Images from Frank Campbell, 3 June 2011
[Editorial Note: The two images are enlargements of the flags from the original painting. The identification letters were added by me, and hold no special significance except as a reference point for discussing the flags. There was a third image (#31a) provided that showed the type and size of boat involved, but Frank didn't provide an image of the whole painting.]
I have a Dutch maritime painting, circa 1650 with three boats flying various Dutch flags. They each fly the standard Dutch flag of the period, but also two large flags which I imagine are municipal or regional. Can anyone help to identify them?
Frank Campbell, 3 June 2011
It is an interesting painting from the 1650-ties. At that time the red [orange], white and blue were established as the Dutch national colours. On #31b it looks like a jumping horse, but it probably is a lion, facing away from the flagstaff. I haven't seen that particular flag before, but #31c is definitely the old flag of the province of Zeeland, which was used about the 1650-ties.
Jos Poels, 4 June 2011
I compared arms on practically every Zealand flag and have so far not found a match.
Peter Hans van den Muijzenberg, 18 February 2012
---
11-32. Palestinian Flag (Fateh)?

Positive ID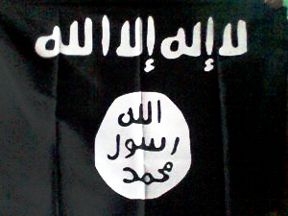 This flag was positively identified and now resides on the Islamic Extremism page.
---
11-33. Iranian Intelligence UFE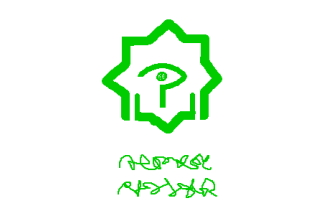 Image by Eugene Ipavec, 13 June 2011
This is a very crude sketch of a flag seen on Al-Jazeera News, 04 May 2011, the flag of an Iranian intelligence entity of some kind; white with a all-green logo consisting of an 8-pointed star containing an eye whose pupil is a tiny globe. Two lines of writing below.
Eugene Ipavec, 13 June 2011
---
11-34. Flags carried by Toy Soldiers

Some Speculation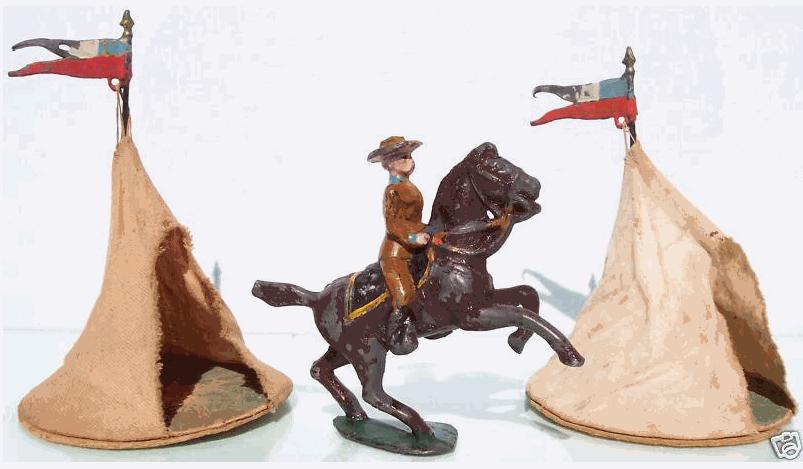 Image provided by William Nutting, 16 June 2011
May I ask your opinion on the flags in the toy soldier picture attached. These are probably meant to be Spanish-American War era flags, but I can't match them up exactly. And I can't match them with earlier Cuban, etc. Maybe the toymaker wanted to adjust the flag design just enough to make them multi-purpose/generic toy flags?
William Nutting, 16 June 2011
I think Bill Nutting is correct in his asumptions. Also, I think many toy makers think it is not important to get flags right.
Elias Granqvist, 17 June 2011
The "Chilean" color pattern is reminiscent of a recent (1950's-1960's) flag of the Directorio Revolucionario which in turn may be derived from older Cuban flags, so perhaps the toymaker is not entirely off-base.
Albert S. Kirsch, 17 June 2011
---
11-35. Indian military flags in Ladakh

Positive ID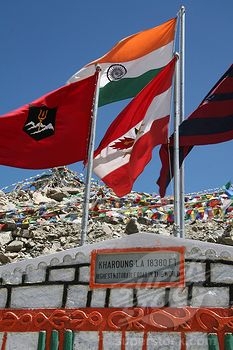 Image provided by Corentin Chamboredon, 15 June 2011
I've seen three Indian flags on Flickr, and I can't identify all of them. The photograph has been taken on the Khardung La pass, Ladakh.
One of them [center lower pole?] is a vertical triband (red / white / red), with three yellow five-pointed stars on the flying [obverse?] side . There are some devices in the white strip [reverse side?]. Other photographs allowed me to see two crossed flaming arrows (and perhaps a bow) and what seems to be a green kirpan (sikh sword) in the middle.
Another one [left lower pole?] is red with a yellow five-pointed star in the middle of the fly [obverse?] side, and a central emblem consisting in a black shield with white mountains from where a golden trident arises.
The third flag [right lower pole?] is basically the flag of the Corps of engineers. This one is different as it has blue strips instead of black ones, and its central emblem is the one of the Border roads organisation (stylised red and white mountain where a white road twists toward a blue sky) in a shield.
A memorial says that the road was opened by the 201st engineer regiment, the Madras sappers of the Indian army. The third flag might therefore be a regimental flag. Corentin Chamboredon, 15 June 2011

The symbol upon the red flag is probably symboloizing Shiva (trident) and the Himalayas (He is said to reside on top of Mt. Kailash). The triband at the first glance looks like a party flag of Nepalese Congress (which seems, however, to be impossible). In the photos you showed us, there are two variants (one without stars upon the fly). The red-blue stiped flag seems to be a military flag in British imperial style (I saw a few similar flags in England last year). The dark blue stripes in rainy wheather might appear as black. I guess, if it is a military flag, it could be that one of the 201st Engineers in Chennai (Madras). The monument is also dedicated to the sappers of that regiment having lost their lived in building that road. I believe, I could identify the logo in the centre of the flag: An equilateral triangle, red a t base with two white lines (symbolizing roads?) and blue at the top with two white peaks (flanking a pass?).
Klaus-Michael Schneider, 16 June 2011

I forgot to mention it. Kailash is an imortant pilgrimage site for Hindus, Buddhists and Bönpos (bön is the other traditionnal Tibetan religion, nowadays it is so similar to Tibetan buddhism that a complete foreigner couldn't see nor understand the differences). As Ladakh is one of the main entrance to Tibet and Kailash, this trident is not really surprising. This logo can also be seen in full size on the homepage of the BRO's website.
Corentin Chamboredon, 16 June 2011

Obviously the flag is no military flag, but belongs to the Border Roads Organisation, but you have given us at least a trace.
Klaus-Michael Schneider, 16 June 2011

I think I have positively identified the two remaining flags shown, that is to say the red-white-red flag and the red flag with star. The badges are in fact those of the XIVth Corps and the IIIrd Infantry Division (part of the XIVth corps) of the Indian army. Also see XIVth corps' badges for a more detailed view of their badges.
Corentin Chamboredon, 23 March 2013
---
11-36. Three Unknown North American(?) Flags

1 Positive ID

Some Speculation
#a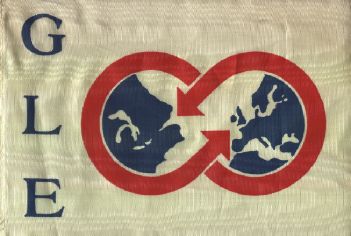 #b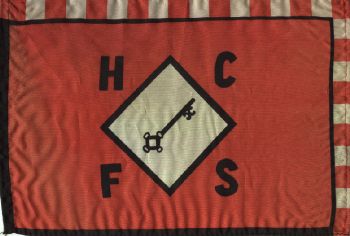 #c
Image by Joerg M. Karaschewski, 26 June 2011

Find attached three unrecognized flags, possibly North American. On one flag the Great Lakes are depicted. Maybe collectors from North America will be able to help with their identification.
Joerg M. Karaschewski, 26 June 2011

The key on the brown/orange flag suggests a German company from the Bremen/Hamburg area. A similar key is shown on house flags in Flaggenbuch 1928 [d9e28]. The EK flag might possibly be Greek (?)Ships and The Sea, by E.C.Talbot-Booth, [tbb36] shows; Blue E on white flag for S.G. Embiricos, and Blue K on white over blue for Rethymnis and Kulukundis Ltd.
David Prothero, 28 June 2011

Pure speculation from me with no expertise at all, but I'd like to suggest it may be worth looking into the third flag (#36c) being something to do with the 50th Signal Corps Battalion. My curiosity was piqued, so I googled for a little while. The orange/white colour scheme and black key seem similar (but not identical) to the Corps coat-of-arms, while there also seems to be some association between them and a white diamond on an orange backdrop. Haven't turned up any strong suggestion as to the meaning of the letters, though, although the FS could stand for Fort Sam Houston/Fort Sheridan, where the corps were based at various points.
It doesn't seem much of a stretch for GLE [on Flag #36b] to be from a Great Lakes-based company, although Great Lakes Energy, which currently exists, only stretches back to 1997, and doesn't seem to have any international role, which suggests the flag isn't theirs.
Law, 4 July 2011

I don't now. It's [unclear flag reference] kind of reminiscent of dangerous goods warnings, isn't it?
Peter Hans van den Muijzenberg, 2 March 2012

[On #36b] the arrows seem to point to the Great Lakes and Great Britain: Great Lakes — England?
Peter Hans van den Muijzenberg, 3 March 2012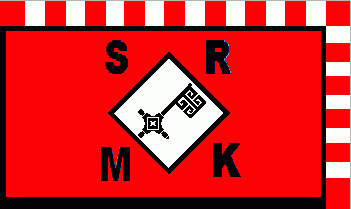 SRMK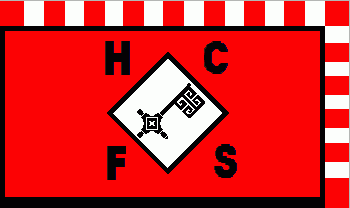 HCFS
Images by Klaus-Michael Schneider, 2 July 2012

This German flag belongs to Schifffahrtskontor RMK, located in Syke, a little bit south of Bremen. I spotted this one in Josef Nüsse's webpage. The other flag is UFE11-36c which has the same pattern. The order of initials then should be "HCFS". The "S" here might represent Syke too.
Klaus-Michael Schneider, 2 July 2012
---
11-37. Revolutionary War Flag? Positive ID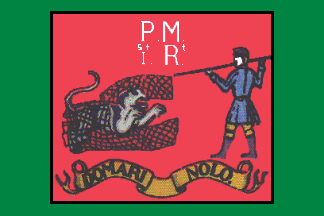 Image by Rick Wyatt, 10 September 1999
I'm trying to identify a flag my husband and I saw on HBO's John Adams, in the beginning credits. It looks to me like men netting something (possibly a bear or wildcat?), and we've been trying to figure out which state it represented. We would really appreciate an answer if you have any idea which flag we're talking about.
Jennifer Charter, 4 July 2011
Not a bear, but a lion. It's the colour of the 1st Pennsylvania Regiment. It was raised as Thompson's Rifle Regiment or Battalion in 1776; renamed 1st Pa in 1777, and was also known as the 1st Continental Regiment. The device shows a hunter trying to snare a lion, and the motto underneath reads "Dominari Nolo" - I refuse to be subjugated. The original flag is in the William Penn Memorial Museum in Harrisburg, PA. The flag is discussed on pp116-117 of "Standards and Colors of the American Revolution" by Edward W. Richardson (Univ of Pennsylvania Press, 1982); and in an article by Wendy M. Werner & John N. Armstrong, '1st Continent Regiment / 1st Pennsylvania Regiment flag' in the journal Military Collector and Historian Spring 1975.
Ian Sumner, 4 July 2011
The flag is that of the First Pennsylvania Rifles. (See picture provided)
Rick Wyatt, 4 July 2011
---
11-38. Unknown Historical US Stick flag Positive ID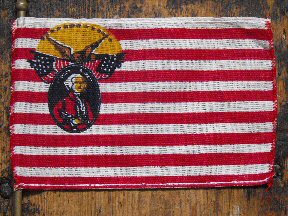 #38a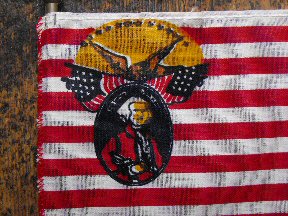 #38b
Images by Roger Owens, 4 July 2011

I have a 4X6 inch stick flag I got with a bunch of other historical U.S. flags. I can't ID one of them. It has 16 red and white horizontal stripes with a white one on top. In the upper left corner is an image of George Washington in a red jacket holding a Sword with an eagle, 2 American flags/banners and 13 gold stars. Can you give me any help in identifying this flag?
Roger Owens, 4 July 2011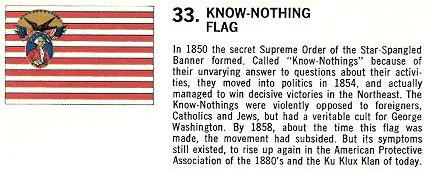 Image from Golden State Flag Company Pamphlet, 1975
This flag is from the American Bicentennial, released in 1975 by the Golden State Flag Company of San Francisco. This was their version of the "Know-Nothing" Flag. Attached is the picture and description from their pamphlet.
Dave Pawson, 4 July 2011
Note: Also scroll down to Native American Party 1841-1856 for further information about this replica flags origins.
---
11-39. A Lot of Seven Flags
Some Tentative IDs and some Speculation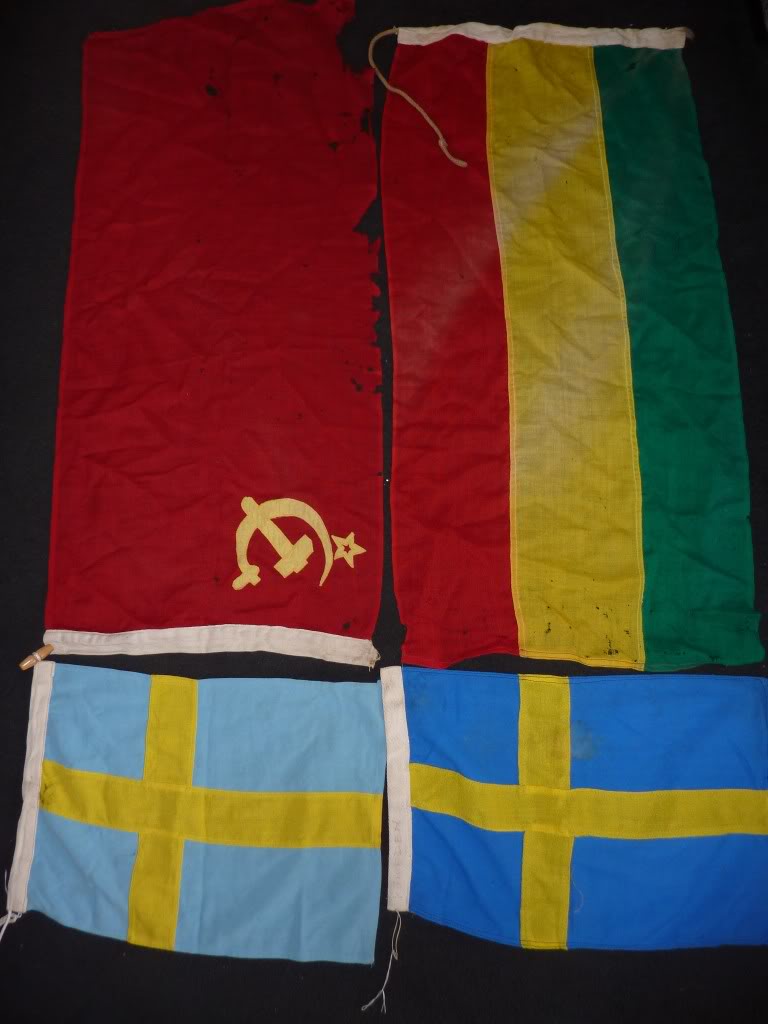 Flags #39-1, 39-2, 39-3, 39-4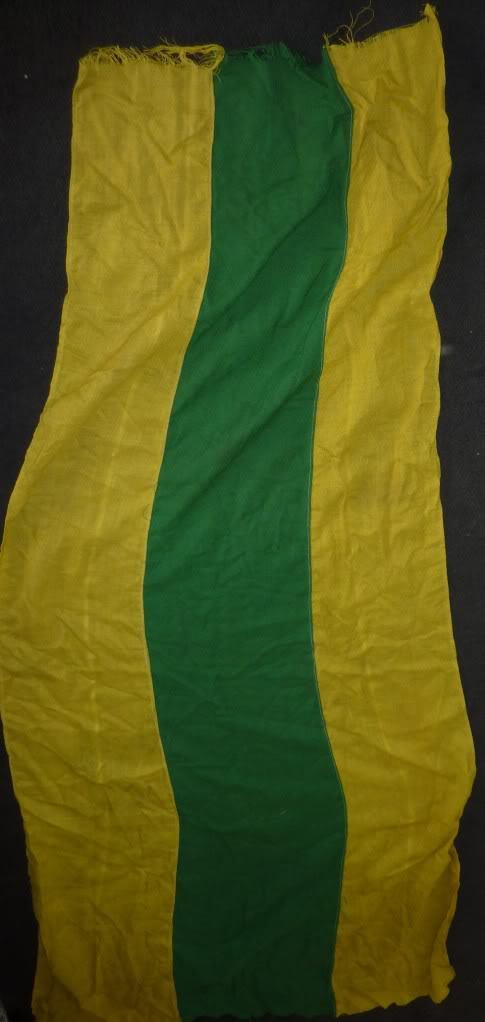 Flag #39-5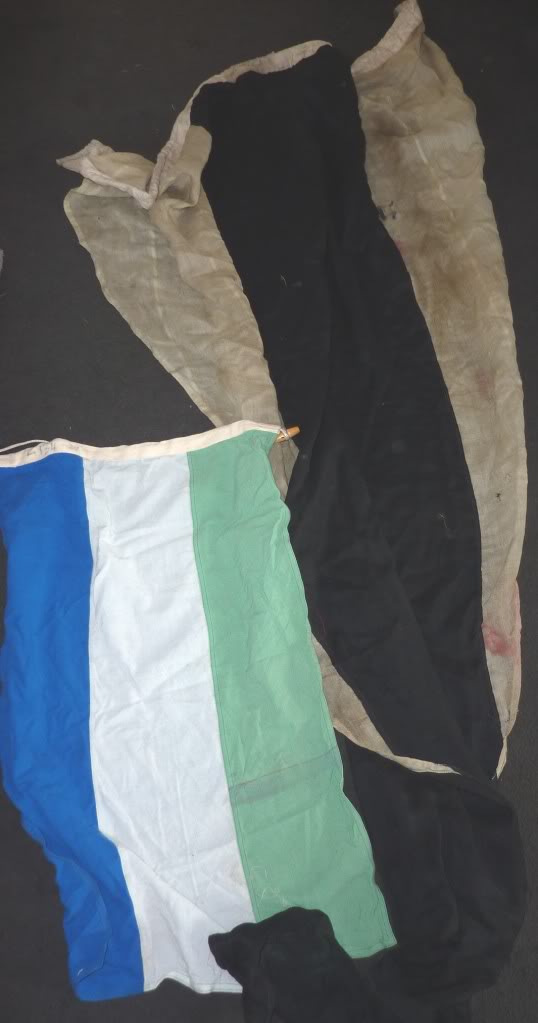 Flags #39-6, 39-7
Images from Keir Laird, 6 July 2011

I just bought a lot of seven flags on eBay, simply because one appears to be a pre-1955 Soviet flag (#39-1). A couple appear to be Swedish (#39-3 and #39-4), and one is Sierra Leone (#39-6). I had assumed the one with red, yellow, and green horizontal stripes was Ghanaian (#39-2), but it lacks a star. Another has two yellow horizontal stripes flanking a green one (#39-5), and the last is a large triangular-shaped pennant; a black stripe flanked by white (#39-7).
Keir Laird, 6 July 2011

The red-yellow-green tricolour (#39-2) might also be Bolivia (but it is a strange ratio), the three others yellow-green-yellow (#39-5), white-black-white (#39-7) and blue-white-green (#39-6) might be flags of students' associations. I'll take a look to see if I could find a good match.
Klaus-Michael Schneider, 6 July 2011

I'd say #39-2 is green-yellow-red, and Ethiopian.
Jonathan Dixon, 6 July 2011

Jonathan, of course. How could I not immediately recognise the oldest colours of an African flag?
Keir, 6 July 2011

I checked the plates of Coburger Convent and found there was:
1. no match for yellow-green-yellow (#39-5) and white-black-white (#39-7)
2. There are two matches for blue-white-green (#39-6)
a. Chattia located in Berlin-Charlottenburg
b. Göttinga-Normannia located in Göttingen
Since black and white had been the traditional colours of Prussia, there might exist a Prussia or Borussia fraternity in some other convent.
Klaus-Michael, 6 July 2011

I'm pretty sure the pennant (#39-7) is a Royal Navy signal flag, but not sure.
Keir, 7 July 2011

Actually, pennant #39-7 looks like the 3rd substitute (repeater) in the International Signal Code.
David Prothero, 7 July 2011

It hasn't made the DoV yet, but the Editor's Master List confirmes that this pennant certainly appears to be the 3rd Substitute in the ICS (and indeed in the NATO Code).
Christopher Southworth, 7 July 2011

I agree and you can see the NATO Substition Flag on this page, identical to the ICS one.
Pete Loeser, 8 July 2011

Has anybody noticed the uncanny resemblance of #39-7 to the unidentified UFE10-16c, could they both be the same flag?
Pete Loeser, 15 July 2011

Yes, I had noticed resemblance. Whether the stripes are blue or black may be a matter of lighting. But the difference is that one has a tapered middle stripe, and the other a straight one.
Peter Hans van den Muijzenberg, 16 July 2011

The White, Black, White (#39-7) could be some sort of prep flag used in military ceremonies. At Navy Cadets, we have one which is the same shape, but Yellow, Green, Yellow. So, that could be the reason for it.
Ben Felix, 16 November 2012
---
11-40. Unknown United Kingdom Royal Standard

Some Speculation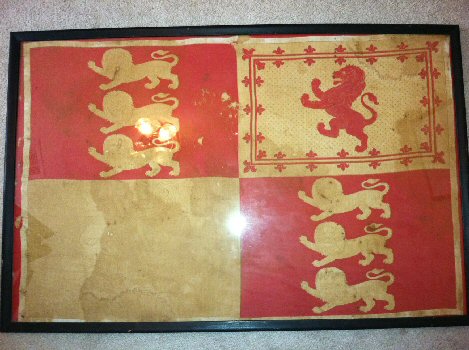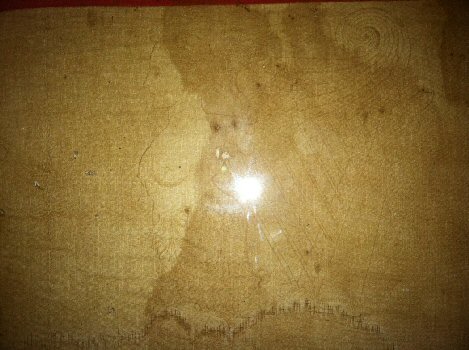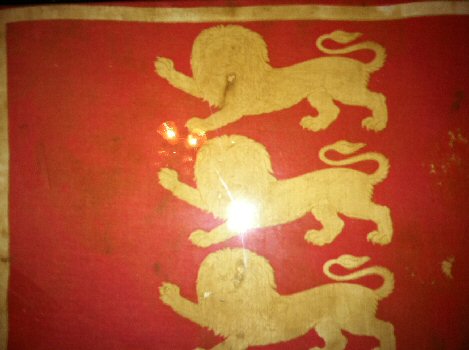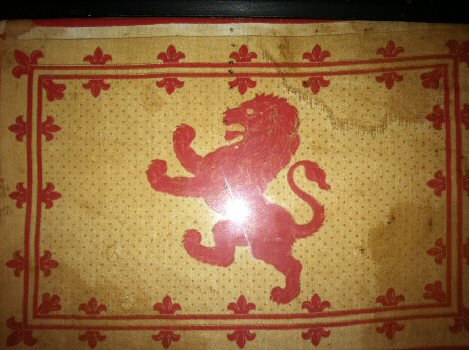 Images from Kyle Addis, 25 July 2011
[Click on image to enlarge]

Recently my father gave me a flag that was given to him many years ago by a close friend. From what little research I have done the flag looks to be some form of the United Kingdom Royal Standard. I have attached a few pictures for you to see if you have any idea the time period.
Kyle Addis, 25 July 2011

It is unlikely that this is a flag since there are no fastenings by which it might have been attached to a halliard. It appears to be a decoration of some sort, based upon the British Royal Standard, with a narrow red and white border added. It is definitely later than 1837, when Victoria became Queen, and the Hanoverian escutcheon was removed from the centre of the standard. It is probably not much later than 1907 when the number of fleur-de-lis on the tressure around the Scottish Lion, in the official Royal Standard, were reduced to eight.
David Prothero, 27 July 2011
---
11-41. Strange Arabian Movie Flag Tentative ID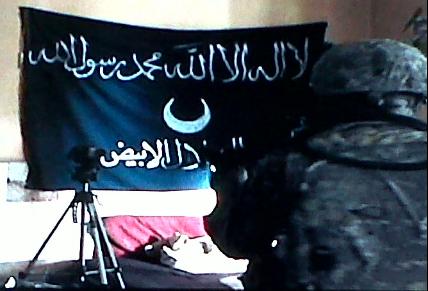 Image by Esteban Rivera, 3 August 2011
In this 2009 movie, there's a scene where the two main carachters are searching in a warehouse where they find a cache full of explosives, and they come across an Arabic flag. The setting is in Iraq, and the flag seems similar to that of Abu Musab al-Zarqawi Organization flag.
Esteban Rivera, 3 August 2011
I suspect it's fictitious. There is a shehada at the top, but with zero ornamentation in the calligraphy, there is a crescent (vs a full moon/disc in the one we have), and whatever's on the bottom is not "jihad" and doesn't look like the blurry lettering in "ours" either. It is obviously based on Zarqawis and conceivably could be a variant, though it's rare that Hollywood attempts such accuracy.
Albert S. Kirsch, 3 August 2011
This flag was from the movie "The Hurt Locker," so I include the movie name which mght help.
Esteban Rivera, 13 August 2011
I suspect you're right that Hollywood created this flag, but I can tell you what it says, if you don't already know. The top says: la allah ila allah(,) Muhammad rasuul allah (translations vary), but meaning "There is no god but God (and) Muhammad is the messenger of God", which, as Albert Kirsch pointed out, is the Shahada; the Muslim declaration of belief. We would also be inclined to believe that it is probably not Shia since it lacks the additional line that Shia Muslims usually add "wa Aliyuun waliyuu allah" (and Ali is the viceregent of God). The bottom is partially obscured, but reads: ...al-abyad, meaning "the white [something]". It almost certainly says, "(al)-halaal al-abyad" (the white crescent), given the partially-visible letters and the emblem. My assumption is that "The White Crescent" is the name of a fictitious group which the flag is meant to identify.
Brent Carey, 6 January 2012
This flag is probably (and most likely) based on the Abu Musab al-Zarqawi Organization flag since the setting is in Iraq, but it should not be an Unidentified Flag or Ensign since it is a fictional flag from the movie "Hurt Locker," it should go in the section "Fictional Flags in Films". I've come to the conclussion that it's a fictional flag because it has the exact same pattern as the Abu Musab al-Zarqawi Organization (text on top, image in the middle, text on the bottom), but the image is the middle is the crescent, representing Islam. Therefore it is a flag representing an Islamic proscribed group in Iraq, but no particular group is mentioned in the film.
Esteban Rivera, 2 February 2013
I haven't seen the film, but I guess it currently is unidentified as we don't know exactly what it stands for in the film. (Finding a new home for an IFE is a concern of the editors. They'll probably do that when they are convinced it's fully identified and have the time to do so.) Maybe there's a better shot of the flag in the film, if we can find it.
Peter Hans van den Muijzenberg, 2 February 2013
---
11-42. Unknown Flags from Dido - Tsezy (RU)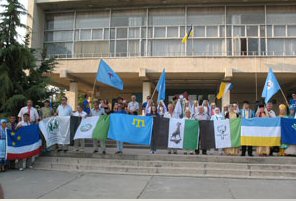 #42a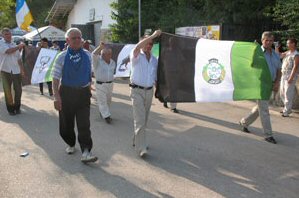 #42b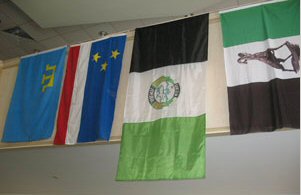 #42c
(Click on images to enlarge)
Images from Chrystian Kretowicz, 20 August 2011


Calling on all expert vexillologists: I found some small photos of the flags from the Dido (Tsezy) website. I could positively identify only the flags of Gagauzia, Crimean Tatars and Buryatia (national one, not republican). The rest is Greek (or Turkish) to me, meaning: "I don't know" - does anybody?
Chrystian Kretowicz, 20 August 2011
---
11-43. UFE with waves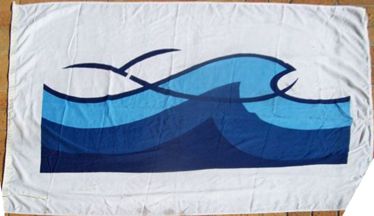 Image by Sid Hart, 5 August 2011
I have a fleamarket stall in Cape Town and I sell on Bidor Buy and have many flags from the tanker ships, but this one has me stumped.
Sid Hart, 5 August 2011
---