This page is part of © FOTW Flags Of The World website
Unidentified Flags or Ensigns Page 4 (2016)
flags submitted in 2016 - Page 4 of 5
Last modified: 2023-01-14 by

zachary harden
Keywords: ufe | unidentified flags | 2016 |
Links: FOTW homepage | search | disclaimer and copyright | write us | mirrors

---
Please note our Policy for Submissions and Enquiries.
Below is a series of images of flags that have been provided to FOTW; some we have recognized, and some we have been unable to recognize. If you can help us identify any of these flags, please let us know! Contact the: UFE Editor.
Identification Key:
= Positive ID (Positive Identification)
= Tentative ID (Tentative Identification)
= Some Speculation
Unidentified Flags on Page 1:

Unidentified Flags on Page 2:

Unidentified Flags on Page 3:




Unidentified Flags on this Page:

Unidentified Flags on Page 5:

Unidentified Flags on other pages:
16-48. Red Flag with Shahada Some Speculation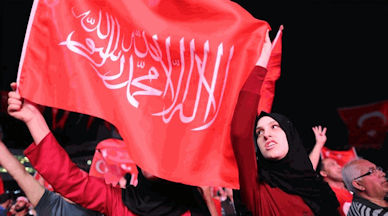 Image from Esteban Rivera, 22 July 2016
Yesterday (21 July 2016) this flag was shown in an article by Jesse Rosenfeld (image) that appeared on the AlJazeera news website, with the caption: "Supporters of Turkish President Recep Tayyip Erdogan shout slogans in Taksim Square on Wednesday [Tolga Bozoglu/EPA]".
It is a red horizontal flag with the shahada in white. Since it is the first time I've seen the shahada over a red background (earlier versions show it over green and even black) does anybody have any idea if it is a new flag, or simply a variant over a different background?
Esteban Rivera, 22 July 2016
Red is not new, see comments about the "Flag of the Imam of Yemen". But here the red may simply be the Arabian colour we described at "Origin of the Pan-Arab Colours", or the "red field of Turkish flag".
Peter Hans van den Muijzenberg, 22 July 2016
Since it is Turkey, it is probably the Turkish red in question. Anyway, the chances of exact reuse of the Yemeni flag do not seem big - the Saudi flag is a more likely inspiration, and the inscription resembles it very closely in form, although lacking a number of diacritics.
Tomislav Todorovic, 22 July 2016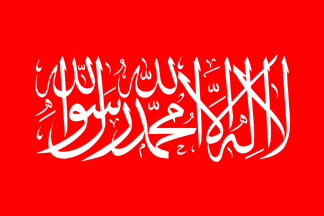 Image from António Martins-Tuválkin, 29 November 2016
The photograph by Tolga Bozoglu (EPA), captioned "Supporters of Turkish President Recep Tayyip Erdogan shout slogans in Taksim Square on Wednesday" shows a red flag with the shahada, written out in details differing from those on the Saudi national flag. A more close design, though still not an exact match, is located (here). In this instance, at the left, the lam and the resh on the Saudi flag have parallel swashes while on the photographed flag they cross. Of course, given the diversity of callygraphic renderings of the shahada, these are however quite close.
António Martins-Tuválkin, 29 November 2016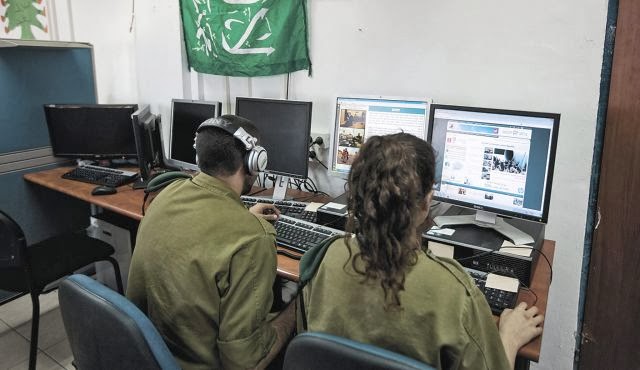 Image from Esteban Rivera, 31 December 2016
On December 26, I spotted this flag (source). In the picture, the flag is hung upside down. If turned horizontally, the flag would pretty much resemble our "Red Flag with Shahada", but having a green instead of red background. It can also be found here (source) and here (source); the same room with the same people, pictured from different angles. The pictures were taken back in 2013 in an analysis room in the ISNU (Israeli SIGINT National Unit), sometimes referred to as the "Central Collection Unit of the Intelligence Corps", or simply "Unit 8200" (8200 חידה in Hebrew, or Shmoneh-Matayim in Yehida). (source)
The green shahada flag, and the already reported red shahada flag, are also similar to the Saudi Arabia flag, but with different script. So I think that the shahada inscription, (here) (here), and (here), is being used on protest or message flags with several background colors (in these two cases, red and green), and although they do not have to be exclusively used in any particular country (as in a national flag), they usually represent the color of the nation in which they are being used (i.e. - green in Saudi Arabia and red in Tunis, Turkey).
Esteban Rivera, 31 December 2016
---
16-49. Unknown Old Californian Bear Flag Some Speculation
Image from Katherine O'Mahoney, 22 July 2016
I have what looks to be an extremely old California bear flag. Can you tell me any information about it?
Katherine O'Mahoney, 22 July 2016
I am afraid I don't recognise this flag at all - if you have any context for it, that might help. Can you link it to California in any way?
Rob Raeside, 2 July 2016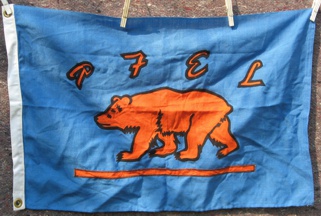 Image from Jim Ferrigan, 23 July 2016
Similar to the Pacific Far East Lines (PFEL) Flag.
Bill Trinkle, 23 July 2016
Image from Jim Ferrigan, 23 July 2016
It is similar to the Pacific Far East Lines House Flag (pre-1960), but I also think it might be from the TS Golden Bear, the training ship of the CA Maritime Academy. Attached is an image of the stack.
Jim Ferrigan, 23 July 2016.
Unfortunately, an inquiry to Bobby King, Director of Public Affairs and Communications for the CA Maritime Academy, garnered this reply: &quotI've checked with a few people (including our campus archivist), and no one recognized this flag from memories or photos.&quot
Pete Loeser, 25 August 2016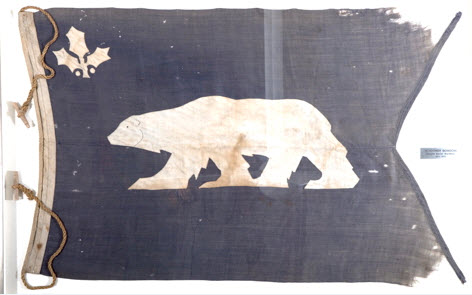 Image from Dave Martucci, 26 August 2016

I had looked at this UFE before and did not realize then that it "bears" a resemblance to Cmdr. Donald MacMillan's personal flag for the Schooner Bowdoin during his Arctic explorations in the 1930s. Of course, this means nothing in terms of identifying this flag, but attached is a photo of MacMillan's flag for comparison. I guess my point is that it is not necessarily a California-specific flag, although the bear is more California-like than MacMillan's. My question is what color exactly is this bear? Looks like it could be either "yellowed" white or actual yellow in the photo. If it was originally white, then we may be looking at someone's version of a polar bear.
Dave Martucci, 26 August 2016
---
16-50. Unrecognized C, R & N, C Flag Some Speculation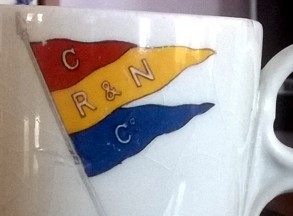 Image from Wayne Sharman, 17 July 2016
I'm hoping that you may be able to recognize the origin of the flag on a cup I have. It's got the letters C, R & N, C. Any ideas? I can't find anything anywhere.
Wayne Sharman, 17 July 2016
The final letter of &quotC, R & N, C" isn't a singular "C" at all, but rather a &quotC" followed with small elevated letter "o", suggesting that it may have stood for "Company." Since it looks very much like a shipping flag, I suggest that it represents the "C...... Railway (or Railroad) & Navigation Co.", but I cannot suggest the name for which the first "C" stands.
Lowell G. McManus, 22 December 2016
If it's a railroad company (and that's a fairly big if), there are only two possibilities I've found in North America: The "Columbia Railway & Navigation Company" or the "Copper River & Northwestern Railway".
James Dignan, 26 December 2016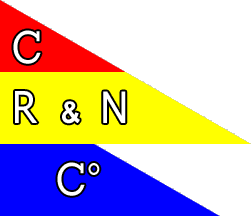 Image by António Martins-Tuválkin, 14 April 2017
I can offer a description and an image for this, but not an identification: It seems to be an asymmetrically forked flag, with three equal horizontal stripes, the bottom one, blue, shorter and ending in an angle that goes backwards and upwards to meet the boundary line dividing the middle and bottom stripes at roughly half of its own length: The overall shape is a rectangle trapeze, its two 90-degree corners on the hoist. The middle stripe, yellow, is also such a trapeze, its tip extending longer than the blue stripe, and thus shaped as to make a triangle when joined to the upper stripe, red, which is itself triangular. The letters are white, edged black, uniform-thick and serifless, but the "C"s have an upper tack. The ampersand is clearly smaller than the letters, which are all upper case.
António Martins-Tuválkin, 14 April 2017
---
16-51. Eagle Flag (US) Positive ID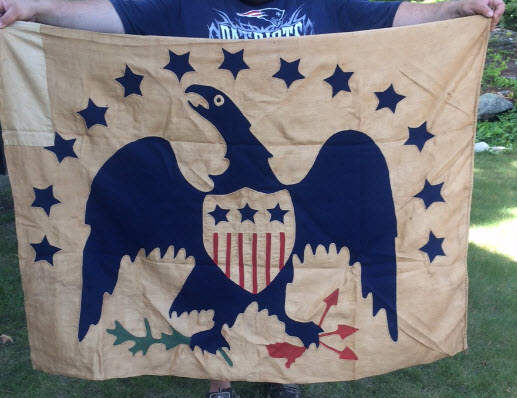 Image from Keith Bellew, 27 July 2016
I have a flag an I'm trying to find out some more information about it. It is similar to the flags located on Historical Flags of Our Ancestors. Thanks, I appreciate any information you could give me.
Keith Bellew, 27 July 2016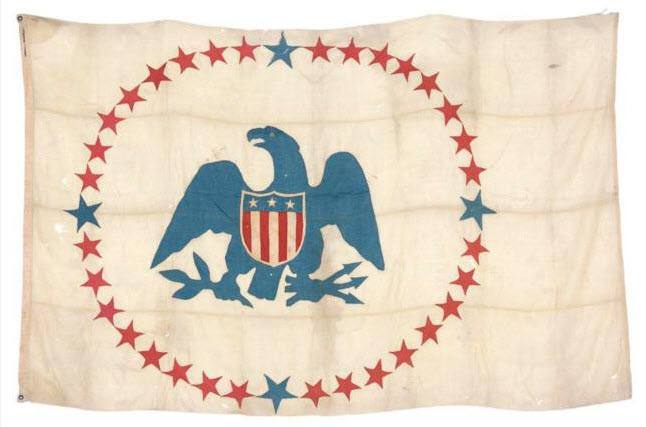 #51a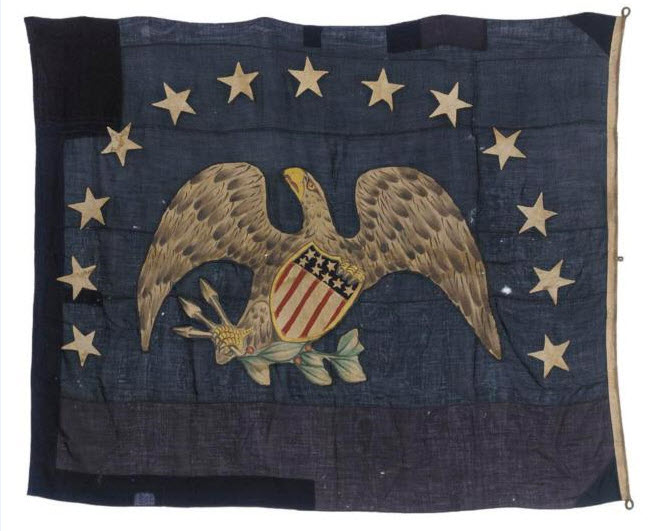 #51b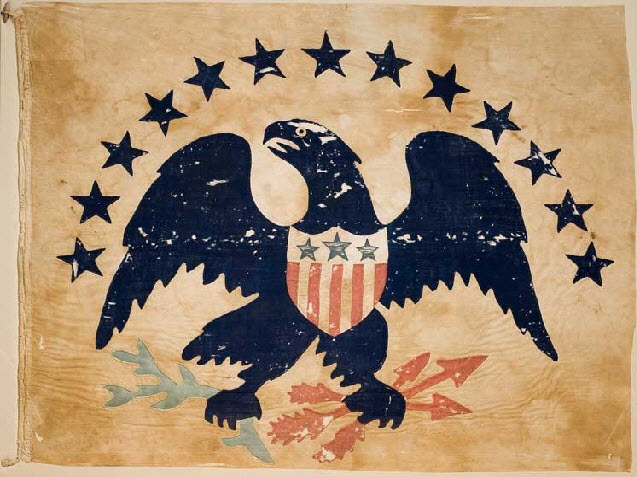 #51c
Images from Jim Ferrigan, 28 July 2016
These flags are often, incorrectly, identified as Revenue Marine jacks. I attached some images of others. They were more likely civilian jacks, we see these quite often on 19th paintings of ships engaged in the Hudson River trade, Sarah McFadden was one of the largest makers, another was Disney, both of New York.
They were also made with blue backgrounds.
Jim Ferrigan, 28 July 2016
This Eagle flag is what Jim Ferrigan says. [...from a message about UFE15-30 - Ed.]
Dave Martucci, 30 July 2016
---
16-52. Unknown German POW Flag Positive ID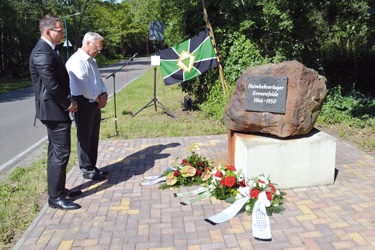 Image from Jens Pattke, 29 July 2016

After the Second World War, in the years 1946 to 1950, all German POWs who were imprisoned in the former Soviet Union were freed and returned to Frankfurt (Oder). However, many of the German prisoners did not survive the Soviet (Russian) prison camps to return to Germany. Many were buried in Frankfurt. On the occasion of the 70th Anniversary (2016) flowers were laid at the memorial for these German prisoners. In the background of the ceremony is an unknown flag. Can anyone identify the flag? The flag could be a Russian design. Can someone help me? (Reference: OderlandSpiegel Verlagsgesellschaft mbH)
Jens Pattke, 29 July 2016

My attempt at identifying this flag begins on the inscription of the commemorative stone that reads: Heimkehrerlager Gronenfelde 1946-1950 (Gronenfelde Repatriate Camp 1946-1950). The Heimkehrer (literally "homecomer", but a better translation would be "Repatriates"), were German prisoners of war and internees of World War II who were allowed to return to Germany and Austria after the war. The term is also associated with Heimat (a German word that has no exact translation, but it would mean homeland, or home). There are many Heimkehrerdenkmale (Repatriates monuments) throughout the country (Sources: German Wikipedia and Viadrina Muesum).
The Gronenfelde Repatraite Camp housed all the prisoners from the Eastern Front and was located in the outskirts of Frankfurt (Oder) and was established on May 8, 1946 and started operations on July 27, until May 3, 1950 (officially disbanded on August 15, 1950). It was initially under Soviet supervision and from 1948 onwards under the supervision of the State of Brandemburg.
An official 1,125,688 people returned to Germany via this camp. A certificate of discharge was issued for soldiers as well as civilians for war compensations and reparations. The Brandenburgisches Landeshauptarchiv Potsdam (official website) contains the records of the camp when it was under German supervision. In 1946 the Frankfurt (Oder) Stadtverwaltung (City Hall) approved the establishment of a Provinzialverwaltung und der Zentralverwaltung für deutsche Umsiedler beauftragt (Provincial administration and the Central Administration for German resettlers). The proximity of Gut Gronenfeld (a location) gave the camp its name. As early as 1942 the Ministry of Interior (Reichsinnenministerium) had established a camp for foreign workers. The camp was first used, postwar, as a German POW camp and from April 29, 1946, as a Quarantänelager (quarantine camp). Since the camp was in the RDA, the first repatriates who arrived there were received by members of the SED. Pictures of the camp can be seen (here), (here), and (here).
The flag you specifically found is the flag of the VdH (Verband der Heimkehrer) (Association of Retrunees, or Association of Repatriates). The Verband der Heimkehrer, Kriegsgefangenen und Vermisstenangehörigen Deutschlands e. V., or Association of Repatriates, was also known as the Prisoners of War and Missing Germans, was an umbrella organization established in 1950 that gathered the many local VdH chapters. The Österreichische Heimkehrerverband (Austrian Repatriates Association) founded in 1957, evolved from the previously established Interessenverband ehemaliger Kriegsgefangener (Association of Former Prisoners of War). It was a non-profit organization, now incorporated into the Bundesarbeitsgemeinschaft der Senioren-Organisationen, or BAGSO (German National Association of Senior Citizen's Organisations). The official website incorporated the Vdh logo and was established in 1989. "It currently includes over 110 nationally active member associations and represents more than 13 million older persons in Germany". Sources: German Wikipedia and BAGSO.
Here you can see the banner (displayed in vertical form, an additional flag to the one you found): It is a banner hanging from a cross bar, with its respective finial bearing the coat-of-arms. The banner is 1.4cm tall x 84cm wide and the cross bar is 3m tall. This particular specimen seems to be from Düsseldorf.
The flag you found is a horizontal flag, with a rhombus in the middle, making it the coat-of-arms made by golden barbed wire and inside, another triangle pointing down, also made by golden barbed wire and inside the letters VdH in golden as well. The flag also features a cross maltese that covers the whole flag with green background, a white border and black on the outside of the flag. (Source). There were various VdH's according to the camps they went through, as these images suggest:

There even was a Heimkehrerstiftung (Repatriates Foundation) located in Bonn, established under the Heimkehrerstiftungsgesetz (HKStG, Repatriates Foundation Act) (official document) in 1956 (other sources mention 1970) and dissolved on September 20, 2006 by the Federal Parliament (formally December 31, 2007). After January 1, 2008 the Bundesverwaltungsamt, BVA, (Federal Office of Administration) (official website) of the Ministry of Interior (Bundesministerium des Innern), Federal Ministry of the Interior) took charge of these issues. The existing Foundation was replaced by the Heimkehrerstiftungsaufhebungsgesetz (HKStAufhG, Derogation of the Repatriates Foundation Act). According to Article 44 of the Kriegsgefangenenentschädigungsgesetzes (POW Compensation Act), the Heimkehrerstiftung - Stiftung für ehemalige Kriegsgefangene (Repatriates Foundation - Foundation for former POW) would continue to be called the Heimkehrerstiftung (Repatriates Foundation) until its dissolution in 2007. Source: German Wikipedia.
There were other significant camps, like the Grenzdurchgangslage Friedland (GDL Friedland, Border transit camp Friedland) which existed from September 20, 1945 set up by British occupying forces until 1955 (the last German POW returned in 1956) (official website). In the past it has been also used for RDA refugees, as well as African migrants and it is a permanent camp still operating today. (Sources: Grenzdurchgangslager, Grenzdurchgangslagerand, Lager_Friedland, and German Prisoners of War_in the_Soviet Union.
Bear in mind that this is some sort of "Refugee" camp. However these German camps were actually temporary camps established after World War II for the return and repatriation of POW's and civilians as well for resettlement purposes. The term refugee "according to the United Nations Convention relating to the Status of Refugees, is a person who is outside their country of citizenship because they have well-founded grounds for fear of persecution because of their race, religion, nationality, membership of a particular social group or political opinion, and is unable to obtain sanctuary from their home country or, owing to such fear, is unwilling to avail themselves of the protection of that country; or in the case of not having a nationality and being outside their country of former habitual residence as a result of such event, is unable or, owing to such fear, is unwilling to return to their country of former habitual residence." Applied to this case, the heimkehrer defines German (and Austrian) displaced peoples in an armed conflict (World War II) area that had to flee their homes (and/or homeland) due to war who later returned through this camp.
Esteban Rivera, 30 July 2016
---
16-53. Mexican UFE Some Speculation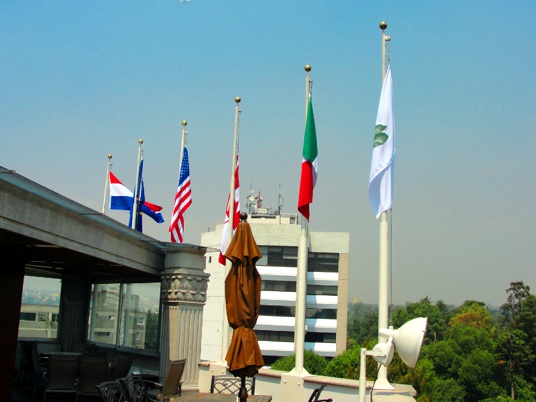 #53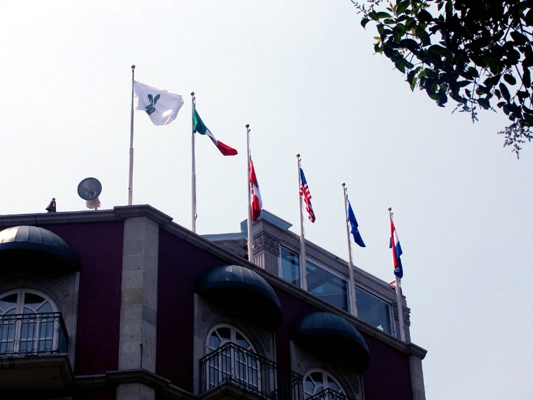 #53a
Images from Esteban Rivera, 9 August 2016
Here are two pictures (source) that show a white horizontal flag with a green leaf in the middle (Image #53 - last flag from left to right and Image #53a - the flag first from left to right). Any guesses? It seems to be an official government flag, since it flies next to the flags of Mexico, Canada, U.S and two other flags I can't recognize.
Esteban Rivera, 9 August 2016
Mexico, Canada in mourning, USA, Brazil, Paraguay? I don't know. It's more like four leaves on one twig, by-the-way. While there is some white on them, it doesn't look like a 4-H flag. (I guess that also would require the US.)
Peter Hans van den Muijzenberg, 10 August 2016
---
16-54. UFE Yellow-White-Yellow Some Speculation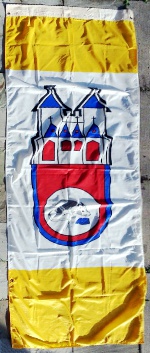 Image from Clayton Horner, 4 September 2016
I picked this flag up several months ago, and have not been able to ID it. It is a vertical flag, and the size is about 9 feet by 3 feet. Due to the size and quality of manufacture, I do not think it is a garden/decorative flag, but I could be wrong. The photo is not my own, but the one that was originally used by the seller on eBay.
Clayton Horner, 4 September 2016
This flag has elements of the German city of Hamelin (Hameln) - the castle is similar in design, although the colours are reversed. However, the lower part of the shield has a rat instead of a millstone and spindle. Vertical German flags are very rarely banded horizontally - the stripes almost always run vertically, so I suspect if this is from Hamelin, that the flag is either a local decoration, or a tourist banner, commemorating the famous Brothers Grimm tale of the Pied Piper of Hamelin. I have rotated and stretched the image to make it vertical.
Rob Raeside, 4 September 2016
---
16-55. Possible Commissioning Pennant Positive ID

Image from Dave Martucci, 8 September 2016
I think I should know what this pennant is, but I'm drawing a blank...anyone?
Dave Martucci, 8 September 2016
Perhaps for El Salvador, 1865-1912?
Tomislav Todorovic, 8 September 2016
It is for a Commissioned vessels of the U.S. Army.
Jim Ferrigan, 9 September 2016
---
16-56. Unknown Pennant Identification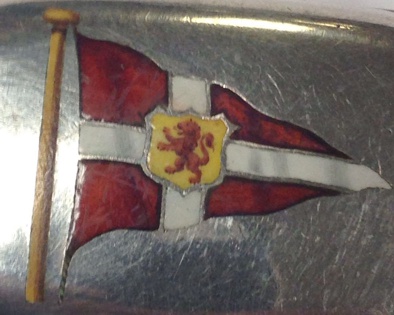 Image from Phillip Windsor, 14 September 2016
Could you please identify the pennant on this silver sovereign case?
Phillip Windsor, 14 September 2016
---
16-57. Golden Dragon on Black Flag Some Speculation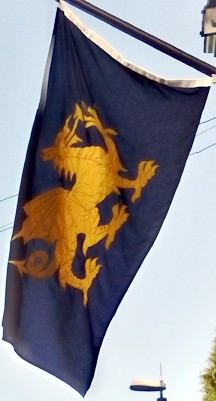 Image from David B Lawrence, 22 September 2016
I came across these flags outside "The Chepstow Castle" (a pub in Chepstow) and despite taking several pictures I did not capture them well. This is the standard modern design of Welsh dragon as on Y Ddraig Goch - but this is a golden dragon on a black flag. The bartender told me that the owner of the pub had bought them recently (and on-line?), but I have not located any on the internet yet. (photo from early September 2016)
David B Lawrence, 22 September 2016
Welsh flag from Wikimedia Commons.
Tomislav Todorovic, 22 September 2016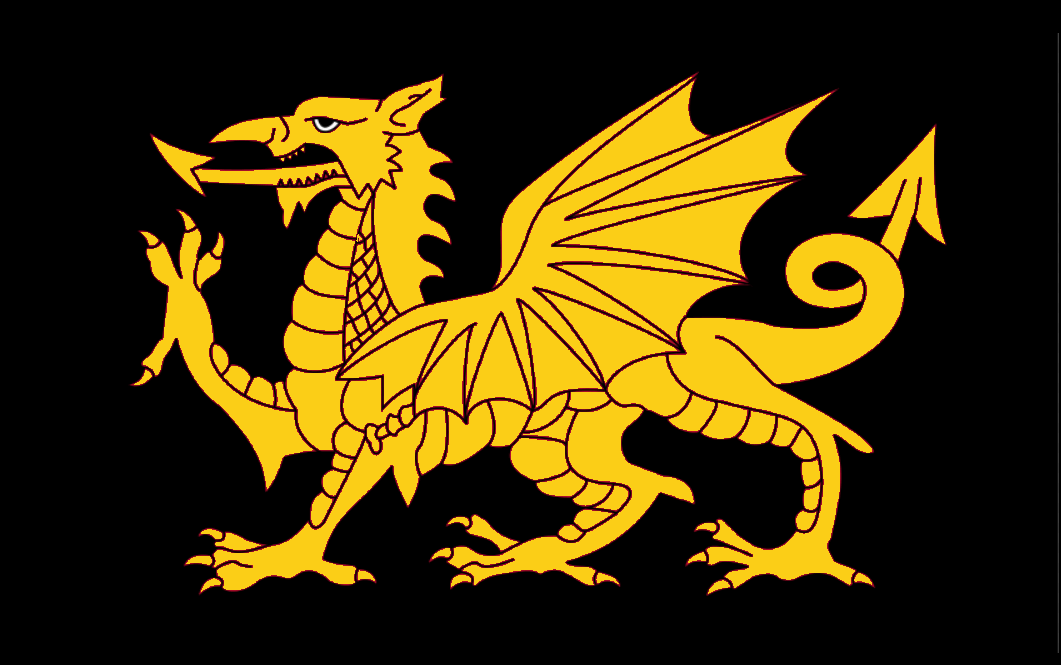 Black?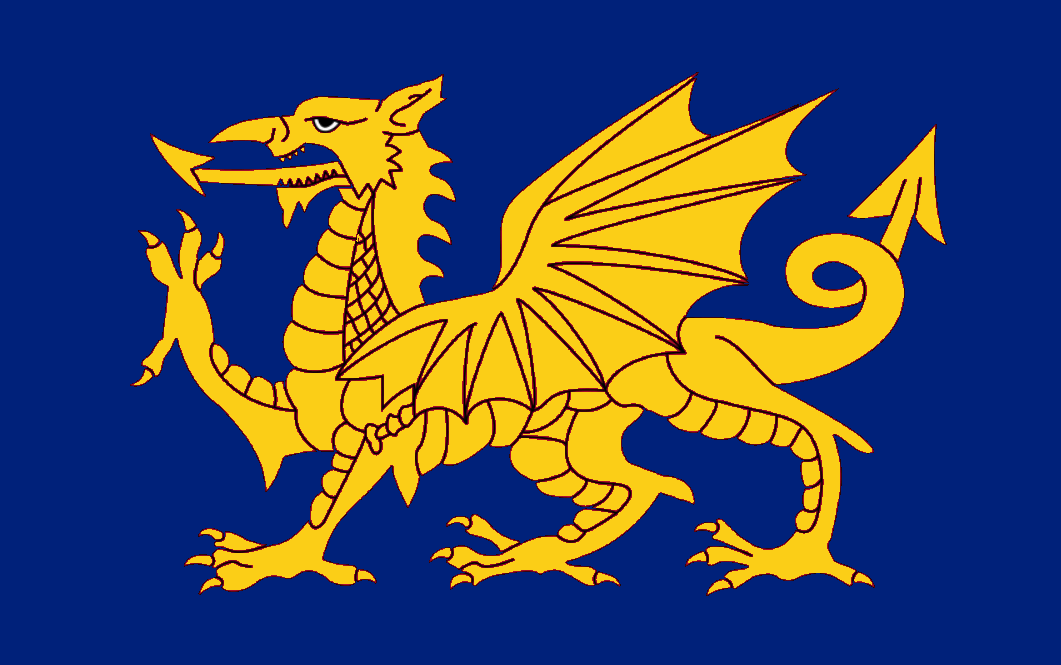 Blue?
Speculative Images from Pete Loeser, 22 September 2016

If you took the Y Ddraig Ddu or "The Black Dragon" used by the "Cymru 1400" Republican Movement on their flag and re-colored it gold, we'd get this. Anything here close to what you saw? Of course, this doesn't identify the flag, but might be where the inspiration comes from.
Pete Loeser, 22 September2016

No, not what I saw. I think that Gethin or Sian designed this but I am not sure what their sources were. I presume that they had good historical sources (they founded Cofiwn) but I do not know them. This sort of flows into the whole argument as to how Owain Glyndwr contrived his quartered lions flag.
David B. Lawrence, 26 September 2016

Yesterday I saw a commercial sign which had the gold dragon on black. It was for the US company Cambria, a manufacturer of quartz surfaces (Wiki source and Cambria website).
The company's logo is the same as the UFE except that it includes the name CAMBRIA. They fly a version of the flag without the name, but with a gold sleeve. Perhaps they also fly one without the sleeve.
Ned Smith, 25 September 2016

Well, there was a dragon at the actual Chepstow Castle this August. I don't know whether there's a connection, though. Is this blue flag in the photograph actually black in real cloth, and are the shades of gold due to the light, or does it actually have multiple shades? I guess the owner would be the best source of information. He'd probably be proud to fly these flags, and would likely be quite willing to tell more about them.
Peter Hans van den Muijzenberg, 22 September 2016

That is exactly what I was speculating about; that somebody has been playing with Y Faner Wen and by placing Y Ddraig Aur onto Y Faner Du they have mimicked the colour scheme of Y Faner Dewi Sant. I have been arguing that The White Flag was an heraldic pun on "Gwynedd" as "The Holy/Sacred Land." (The words Gwen/Gwyn having connotations of white, pure, sacred, holy, etc.)
Incidentally I was over to a party in Llanbedr and went for a walk around the old courtyard of St David's University College where there are similar bosses in the church roofs in different designs. These are early 19 century and their version of the heraldry does not have the escalloped cross but a straight-sided one as promoted by The Knights of St. David who created Y Faner Dewi Sant. (I presume that you know the story about the other St David cross flag which was a black cross on a golden flag ... I forget the details)
I have not had a reply from The Chepstow Castle and I have still not found out where these came from, perhaps somebody will claim this dragon for Gloucestershire? (500 yards across the Wye bridge.) Perhaps Y Faner Du charged with Y Ddraig Aur is supposed to signal a Welsh of "No Surrender"?)
I see that you have adapted (Gethin and Sian's?) artwork with the dragon gardant. I do not think that anybody can be really sure what these dragons looked like - I have suggested that the original Welsh dragon was puce (Y Ddraig Piws) because that then makes sense of The Leek as an emblem : normally it is depicted white stem, green leaves, purple thousand headed flower (decapitated). Puce/Piws means "Flea Coloured" i.e. "Blood Coloured :quot; which fits in better with the history of the imperial draco standards being dipped in blood which had a purple windsock i.e. the actual "flag" part of the original standards of Wales' precursor Britannia Prima (it was the only province of the western empire to not fall to the barbarians and I like to assume that "King" actually "Dwg/Dux" Arthur Pendragon was leading a cavalry troop up and down the A303 in Somerset where Wales is between Queen Camel, West Camel and Camel Hill - which is a lot of Camels ...) The dracos were made of gilded copper or brass.
I have to break off from this merry humour : you will excuse me for mentioning that I think that the proportions of this flag outside The Chepstow Castle were the same as in Y Faner Goch.
David B. Lawrence, 26 September 2016
---
16-58. New flag for Syrian Kurds? Positive ID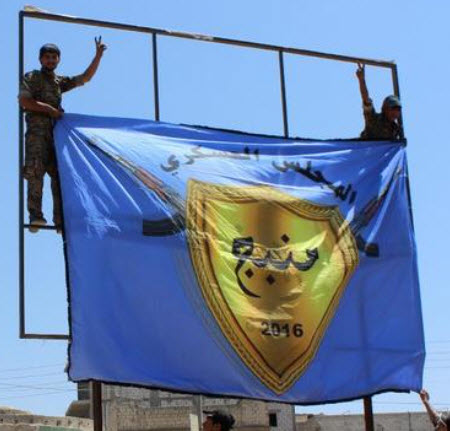 This flag has been identified and given a permanent location - see Manbij Military Council.
---