This page is part of © FOTW Flags Of The World website
Unidentified Flags or Ensigns - Page 4 (2021)
flags submitted in 2021 - Page 4 of 5
Last modified: 2023-06-03 by

zachary harden
Keywords: ufe | unidentified flags | 2021 |
Links: FOTW homepage | search | disclaimer and copyright | write us | mirrors

---
Please note our Policy for Submissions and Enquiries.
Below is a series of images of flags that have been provided to FOTW; some we have recognized, and some we have been unable to recognize. If you can help us identify any of these flags, please let us know! Contact the: UFE Editor.
Identification Key:
= Positive ID (Positive Identification)
= Tentative ID (Tentative Identification)
= Some Speculation
---
21-41. WWII "Liberation Day" Memorial Vexillum (IT) Positive ID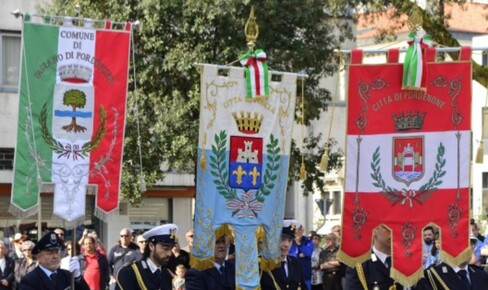 Image from William Garrison, 10 August 2021
The caption read: "U.S. and Italian military officials, partisan and veteran associations, local officials, and hundreds of spectators attended a ceremony for Italy's 'Liberation Day' celebration, April 25, 2018 in Pordenone, Italy. The ceremony started at Piazza Ellero dei Mille and marked the 73rd anniversary of the Allied and Italian Resistance forces releasing Italy from Nazi occupation. (U.S. Air Force photo by Senior Airman Cary Smith)" - It did not identify the flags.
Sources: here, here, and here.
William Garrison, 10 August 2021
The front flag is a gonfalone of Pordenone.
The middle flag is Citta de Porcia (name listed, but no page yet).
The rear flag is Pasiano de Pordenone.
Rob Raeside, 10 August 2021
---
21-42. Taliban flag 2021 Positive ID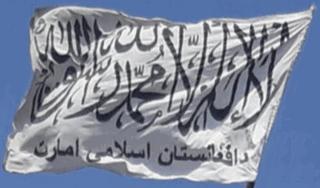 Image from Dave Martucci, 10 August 2021
This is the flag of the Taliban Regime of the Islamic Emirate of Afghanistan.
---
21-43. Two Unidentified Flags in Afghanistan c2019 Positive ID
These are flags of the Islamic Unity Party of Afghanistan
---
21-44. Mystery "Pleiades" Flag Positive ID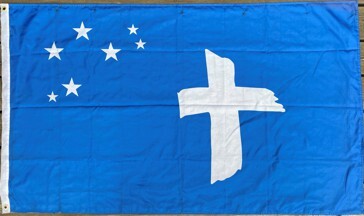 This is the flag of the Rock Church.
---
21-45. Unknown Gay Freedom Flag Some Speculation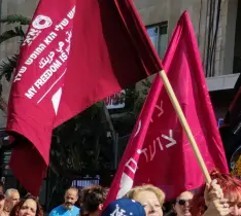 Image from William Garrison, 19 August 2021
I do not know whether or not FOTW already has this maroon-colored pride flag. The picture caption reads: "Jerusalem Pride Parade 2021, (photo credit: TZVI JOFFRE)" in an article about a teen being released after being forcibly hospitalized for being gay. I could not identify the flag itself. (source)
William Garrison, 19 August 2021
I am not sure if these are flags or banners bearing a slogan. They appear to say "MY FREEDOM IS YOUR FREEDOM".
Rob Raeside, 19 August 2021
---
21-46. Meaning of a Strange Flag Display Some Speculation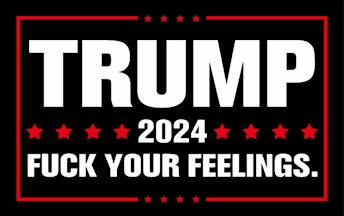 #46a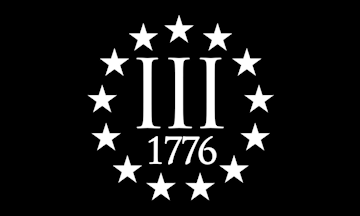 #46b
Images from Randy Young, 24 August 2021
There is no intent to start a political discussion here; simply relaying a flag sighting from earlier today.
While driving my daughter to her doctor appointment this afternoon, we found ourselves stopped behind a school bus and in front of a house with some interesting flag display choices. Three flags were displayed on a flagpole, with a blue Trump 2020 campaign flag at the top above an upside-down American flag, itself above an upside-down Virginia flag. There were two additional flag poles attached to the house and flanking the front door. The pole to the right of the door held a tattered and barely recognizable white Trump 2020 flag. The pole to the left carried a black and white "III percenter" flag that I hadn't seen before. We talk about the III percent movement on FOTW showing an American flag with the Roman numeral III in white within the ring of 13 stars. The flag seen today, however, had that same Roman numeral III in white above the year "1776," all within a ring of 13 white stars and centered on a black field.
Please let me know if you have any questions or additional information. Thanks, and enjoy!
Randy Young, 24 August 2021
I wonder: What is the meaning of a upside-down flag that is not top-most? Our whole ship is burning, but a pirate has taken over the top of our flag mast?
Well, Frisians, of course, still sometimes hoist wefts as a sign of mourning. But other than that, I don't think anyone hoists wefts of any sort any more, except hoisting a flag upside down as a form of protest. That in itself makes sense, in a way, in that you indicate there's something wrong.
That would mean that hoisting a weft in any position or direction different from the regular, would indicate your ship (or house, as the case may be) is in distress.
So, hoisting a flag that has to always be in top, but hoist it lower, would make the entire hoist suspect. That then would be read as: Ruler trying to place himself above the nation. But then if the flag of the country itself is reversed, do we get "Idiot is trying to place himself above the nation?" Or is it merely "Guy trying to place himself above the nation and as a result we're a sinking ship?"
Even more puzzling: Hoisting a third flag. Does it inverse the flag of the second, or does it reverse that again, making it an upright flag again, even if upside down?
Puzzling,
Peter Hans van den Muijzenberg, 25 August 2021
---
21-47. Royal Navy Pennant Some Speculation

Image from Pete Buss, 28 August 2021
I've recently had to clear my elderly parents house after they both passed away and discovered that my dad had kept a pennant that was gifted to me as a child by our next door neighbour at the time. I have a vague recollection that he had served in the navy during World War II, which would be about right time wise as I know his wife was born in 1907 and she outlived him by a good 20 years before passing away in 1996 (my mum was very good with her diary and birthdays).
Here's the pennant but I have absolutely no idea what it was used for. Was it displayed on HMS Renown? Would there only have been one or many? Would the crew have been given them as mementoes of their service? Any information of interest would be greatly appreciated.
Pete Buss, 28 August 2021
Your pennant obviously is associated with the HMS Renown, which has a substantial page on Wikipedia that mentions its role in the Norwegian campaign.
As far as this pennant is concerned, it looks like it might be screen-printed and possibly on felt - can you confirm that? If so, I doubt it was aboard the battle cruiser during the campaign. It looks to me as if it was something that was made later, perhaps at the decommissioning.
Rob Raeside, 28 August 2021
---
21-48. Unknown Hazaristan Flag? (Afghanistan)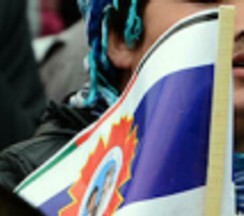 Image from William Garrison, 3 Ocober 2021
Regarding flags of the Hazara tribe in Afghanistan, this is a unidentified flag is a possible addition. (source)
The progressive media whitewashes the misdeeds of the Taliban, even as the good jihadis put a bullet in someone's head, splattering blood all over. To say, however, that all their hate is targeted at non-Muslims would be wrong: the Taliban have slaughtered Muslims also, that is, the Muslims who were not Muslim enough for them. (jihadwatch.org)
The caption reads: " This photo was purportedly taken at some demonstration of Hazara tribe members; c. Aug. 2021." In the bottom right there is what appears to be a flag, but the photo source does not clearly state that the flag pertains to the Hazara - but one might infer that there is some correlation. (On the left, there appears to be a poster of some guy attached to a pole that at first glance might appear to be a flag, but most likely is just a poster. Hey, just call me "Sherlock".)
William Garrison, 3 Ocober 2021
---
21-49. Marryat Flag Code in Difficult Order Some Speculation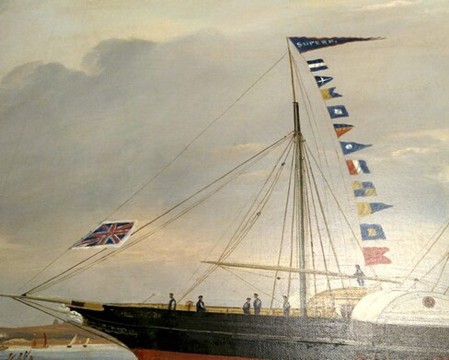 Image from Hans-Joachim Lincke, 5 September 2021
Some years ago, I've bought an oil painting that depicts a British paddle steamer. The painting is dated 1853 and the steamer's name is "Superb". There are several signal flags hoisted. At first, I thought them to be merely decorative. Later I found out that these flags refer to the Marryat code of signals. I studied the Marryat's manual, but could not make sense of the flags in their order. Maybe the painter used them just as a decorative element, but as far as I know portraits of ships in that time were done as realistic as possible. Thus, there may be a meaning that I do not understand as an amateur.
So my question is: Could you perhaps be so kind and help me with your expert knowledge, or could you help me by sending my request to someone who is well experienced into deciphering Marryat code?
Hans-Joachim Lincke, 5 September 2021
The use of Codes at sea in the early-to-mid 19th century was different than the codes used later. Both Marryat's and Rodgers' codes refer more to the flags than a specific code and the meanings could be a bit different from place to place although certain elements were fixed. For example, each vessel had its own code number and each port had a code as well.
This painting shows the following Marryat's Code Flags: 2-4-0-8-6-Distinguishing 2-Telegraph-9-Numeral-8-5. The Distinguishing and Telegraph and Numeral flags indicate some changes in the signal.
Various ports had different signal requirements as well. For example in 1839, the Port of Glascow required ships to display which port they were coming from, their Ship number, The number of days passage, and "All Well" if that is the case. I am not certain of what the signal for "All Well" was.
Other ports required similar but not necessarily the same kinds of hoists. Liverpool, for example only required a ship make its number while London required a ship number and the port of departure.
My take on this display is that we are looking at the ship number (anywhere from 2 to 4 digits) and Port of Departure (1-3 digits) in the first part of the hoist separated by the Distinguishing pennant and then Telegraph-9, whose meaning I am uncertain (maybe "All Well"?) and then the number of days passage. But I am just guessing.
Dave Martucci, 17 October 2021
---
21-50. Iranian Flag, possibly Iran Atomic Energy Organization? Positive ID

This flag was identified as that of the Imam Khomeini Airport City in Iran.
---
21-51. Strange Texas Lighthouse Flag Positive ID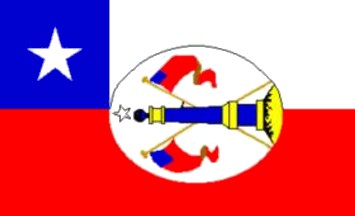 This flag is the New Fatherland flag of Chile.
---
21-52. Unrecognized Srpska Flag (Serbia) Some Speculation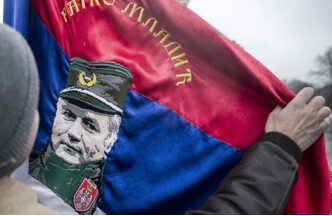 Image located by William Garrison, 14 September 2021
The caption on this photo reads: "unidentified Serbia/Srpska flag with embroidered image of General Ratko Mladic, c. Jan. 2019." (source)
William Garrison, 14 September 2021
This flag, featuring a portrait of Ratko Mladic surmounted by his name written in Cyrillic letters, has no particular vexillological merit.
[Although reportably] "The caption on this photo reads: 'unidentified Serbia/Srpska flag with embroidered image of General Ratko Mladic, c. Jan. 2019.'", there is no such a caption in the source. The very same photos was used as an illustration in different media between 2019 and 2020, all without providing any context.
Ivan Sache, 10 October 2021
---
21-53. Identification of An Emblem Requested Some Speculation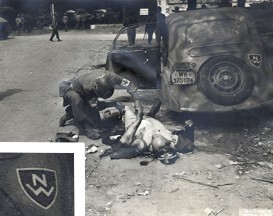 Image from Kent Venish, 14 September 2021
Modified by Rob Raeside, 14 September 2021
I know this is not a flag, but just maybe you folks would know what the emblem is on the right rear of this Peugeot 202...
Kent Venish, 14 September 2021
Not really for FOTW - but a request for identification we may be able to help. I have reduced the image, but copied the emblem at original size in the lower left corner.
Rob Raeside, 14 September 2021
I don't know what the emblem is, but I can help steer you in the right direction. The photo is WW2 northern France, thus 1944: a US Army medic is helping a wounded German Luftwaffe officer (identifiable from his hat on the ground). The German was probably in the Peugeot staff car when he was hit. The license plate (WH) identifies it as a Wehrmacht Heer (Army) vehicle. (A Luftwaffe vehicle would be WL.) The emblem is most probably a German army unit. (I have no expertise in those, sorry.) The men in the background are US Army.
T.F. Mills, 14 September 2021
Wouldn't the NW letters stand for Nordwest (air group/squadron or whatever)?
Corentin Chamboredon, 15 September 2021
---
21-54. Flagge KPD Ortsgruppe Marne
I have inherited the following flag from a friend and thought it would be of interesting for FOTW. [Perhaps some additional background information could be discovered?]
Andreas Neschki via Martina Koomen, 16 September 2021
---
21-55. Unknown Flag on the Tusitala (UK) Positive ID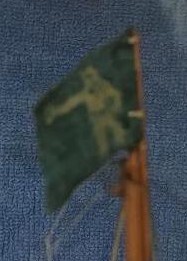 Image from Nancy Byers, 16 September 2021
I have a ship model of the Tusitala that was displayed at India House NYC. James A. Farrell was my husband's Great Grandfather. I am in the process of writing the histories for these family heirlooms to leave to the next generation of collectors and I'm having a hard time identifying a flag.
The flag has a blue background and a man, it is not the Farrell Lines flag, Isthmian Lines flag, or the Robert Steele (shipbuilder) flag. Could it be the house flag for when the ship was a training vessel in the late 30's?
Nancy Byers, 16 September 2021
I don't recognise this flag - it almost reminds of some of the pirate flags.
Rob Raeside, 16 September 2021
It is interesting you mention how the Tusitala flag resembles a pirate flag. This sends us down an interesting rabbit hole indeed. The Ship Tusitala was the last full-rigged merchant ship to fly American flag. It was built in 1883. In 1899, the author Robert Louis Stevenson sailed with his family from San Francisco on an almost three year voyage across the eastern and central Pacific. In 1890, they settled in the village of Vailima on Upolu, one of the Samoan islands. There he took the Samoan name Tusitala, meaning "Teller of Tales" and would live out his life. In 1923, the before mentioned merchant ship Tusitala became the private yacht of James A. Farrell, the president of U.S. Steel. After that it went on to became a training ship for merchant seamen in 1939.
You can probably see where I'm heading with all this. Stevenson wrote the book "Treasure Island" which introduced the world to his infamous Long John Silver, a fictional pirate. All these small threads of history seem to tie together in an interesting bit of speculation, don't they? In 1986, there was released a three-part mini-series for television based on the last years in the life of Robert Louis Stevenson named "Tusitala," which I haven't seen, but will be looking for now. I wonder if it has a pirate flag in it? Welcome to my latest flag Rabbit Hole.
Pete Loeser, 10 October 2021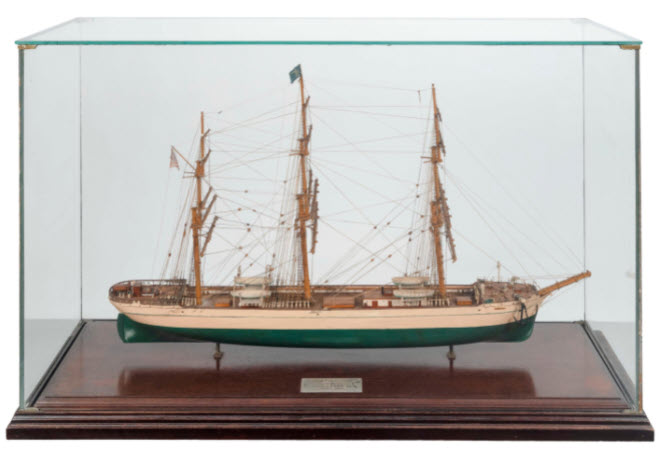 #55a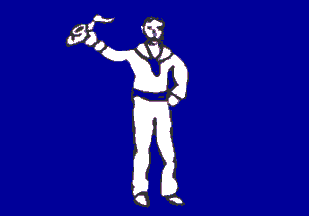 #55b
Photo located by Pete Loeser, 16 September 2021
The Argonaut Line Flag the work of Joe McMillan.
OK, I'm going to get serious now. As I said, the Ship Tusitala was the last full-rigged merchant ship to fly the American flag. It was iron sided and built in 1883. When it became the private yacht of James A. Farrell, the president of U.S. Steel, he also purchased a shipping company named the Argonaut Line. Farrell's son began the Farrell Shipping Company, incorporated the earlier shipping company with it. After his father's death, he kept the Tusitala in service sailing from New York to Hawaii via the Panama Canal until in 1939. After that, as mentioned, the Tusitala went on to became a training ship for merchant seamen operated by the United States Maritime Services Training Center at Bayboro Harbor in St. Petersburg, Florida. The ship was finally scrapped in Mobile, Alabama in 1947.

Further information:
- #55: a picture of the Tusitala model that Nancy Byers mentions (#55a), sold last at auction in August of 2021.
- #55b: The House Flag of the Argonaut Line.
and also direct your attention to UFE14-5 which speculates on the Signal Flags used on the Tusitala.
Pete Loeser, 10 October 2021
---
21-56. Unknown pro-Muslim/Islamic Flag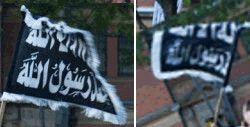 Images located by William Garrison, 17 September 2021
These are two photos of same flag, taken from slightly different angels - both showing some additional details of white slogans.
Their captions read:
- "pro-Muslim black-field flag with unidentified white slogans & white fringe, at demonstration in Sydney, Australia, c. Sept. 2012." (source)
-"On 15 September 2012, a protest against perceived anti-Islamic film Innocence of Muslims was held in Sydney, New South Wales. While the protest started peacefully, violent confrontations between police and protesters began when protesters reached the United States Consulate General. In resulting clashes, six police officers and 19 protesters were injured. The violence was condemned by Australian political leaders, including Prime Minister Julia Gillard. Police arrested nine protesters in connection with the violence." (source)
William Garrison, 17 September 2021
---
21-57. Unknown Palestine Authority Flag Positive ID
Image located by William Garrison, 24 September 2021
The caption on this photo reads: "unidentified white-field flag regarding Palestine Authority, c. Sept. 2021. Palestinian Authority Prime Minister Mohammed Shtayyeh and President Mahmud Abbas attend a session of the weekly cabinet meeting in Ramallah. (PHOTO CREDIT: MAJDI MOHAMMED/AFP VIA GETTY IMAGES)." (Full image)
William Garrison, 24 September 2021
That is the flag of the Chairmanship of Palestine of the G77 which was announced in the official communiqué on October 16, 2018.
The flag is a light blue horizontal flag, displaying the logo in the middle, the logo incorporating the G77 loco and adding an outer golden ring split into four equal parts, each one including relevant information, clockwise: The State of Palestine (in black capitals)/Palestine flag (image)/G77 Chairmanship (in black capitals)/2019
Images attached:
- #57a cropped image from the original located here. (source)
- #57b cropped image from the original located here. (source)
- #57c cropped image from the original located here. (source)
Esteban Rivera, 24 September 2021
---
21-58. Unknown Israeli Flag Positive ID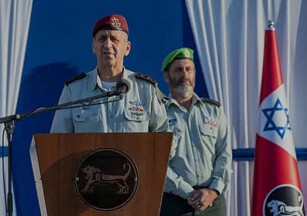 This flag has been identified as the flag of the the Central Command of the Israel Army.
---
21-59. Unknown Israeli "Territory" Flag Positive ID

This was identified as a variant of the flag of the Local Council of Efrata

.
---
21-60. Color Code for Nazi-German Swastika Flag Some Speculation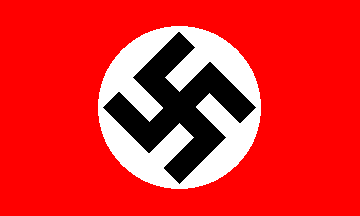 Image by Mark Sensen
I'm a producer for historical documentaries. I'm going to colorize older b/w-films with swastika-flags. I couldn't find any specific color codes for the red. I guess in older times there was just a remark, that the colors are black, white and red without any references to further details. So, what is red? From a historical point I would say the swastika-flag was meant to use the same red as the former Reichskriegsflagge. But what was the red of this flag? Nevertheless, I often get the impression that nowadays in print and TV the red of the swastika-flag is darker than a "normal" red. Do you have any information? Which red do you use? Is it just the standard RGB red (255/0/0 resp #ff0000 in hexadecimal)?
Thorsten Pollfuß, 30 September 2021
As far as I'm aware there is not (nor ever has been) an official standard for the swastika flag, and the only suggestion I can make is the compare illustration in the 1939 Edition of the Flaggenbuch with a Pantone chart. Unfortunately, whilst I have the book I don't have an up-to-date chart so cannot help further.
Christopher Southworth, 17 October 2021
The text of the Organisationsbuch distinguishes red (rot) as bright red (hellrot) or dark red (dunkelrot). They didn't use anything like our modern Pantone© color charts. With this in mind, the color of the main field of Nazi flags seems to be the shade they called "bright red." Bright red and red didn't seem far apart, but the bright red may have had more yellow mixed into it. Dark red is clearly darker, maybe Pantone 186C BU Red? An inconclusive discussion of all this can be found on our Shade of Red in the Swastika Flag page.
Pete Loeser, 17 October 2021
---
21-61. Old Ship Yard-Long Photo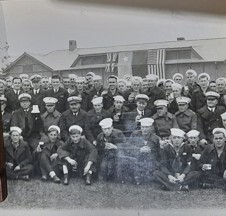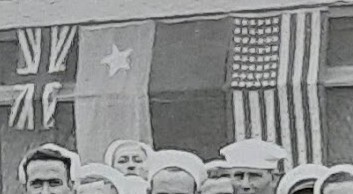 Images from Ron Compton, 4 October 2021
A few years ago I inherited some yard-long photos that my grandfather had. He was in the Navy 1918-1944.
One photo it appears to be US and British sailors &amp marines with pints of beer at an outdoor event.
My educated guess in sometime in the 1930's. I attached the section of the photo I am curious about. (It has been stored in a tube and very curled so difficult to get the whole picture)
In the background there is the Union Jack and the 48-star US flag, but between them appears a one or two banners and one has one white star.
I never have seen one like this. There is no note of date or location in photograph.
My grandfather served ships in both the Atlantic or Pacific so I have no guesses where or when this was taken. My best guess in sometime in the 1930s.
Ron Compton, 4 October 2021
---
21-62. Unidentified Flag Found in My Possessions Positive ID
Image from Igor Winiarczyk, 15 October 2021
Originally sent to NAVA "Flags Questions & Answers" (FQ&A)
This flag has stumped our experts. Theories included an early 20th-century Texaco logo, a Yugozlavian Air Force roundel, a Canadian maritime use, and a patriotic red-white-blue decoration.
I'm forwarding this to the "Flags of the World" site, which maintains a "mystery flag" page.
Original Enquiry:
Looking for help in identifying an old sewn cloth flag. Background is blue, with a red star inside a white circle. Looks and feels rather old, right down to the jute or hemp cord stuck inside the header area. Any help or tips appreciated.
Igor Winiarczyk, 15 October 2021
Perhaps others will recognize your flag.
Ted Kaye, NAVA secretary, 15 October 2021

Looked maritime to me (and with the cable in the header...). Thought maybe yacht club (some use non-triangular burgees), etc, too... Since the person with the question appears to be from Ontario, searched what I could find for Canada/Ontario regarding maritime/yacht/transport house flags, etc. A couple of things that came close, somewhat, but no joy.
Odd that it seems longer on the header than the fly. Without more context, this is all I have to offer.
Stan Contrades, 17 October 2027

It's one of those flag designs, it's got to be familiar to someone, but isn't! Judging by your photograph, it appears the flag was hung by the folded over (and sewn?) flap on the left of your image. If so, it's a very short flag, so I think this flag was made to be hung from a horizontal rope or wire, and that would fit with the symmetry of the star (so, turning your photo 90 degrees clockwise). I would lean toward the patriotic decoration hypothesis here, as a result.
Rob Raeside, 27 October 2021

Perhaps a shipping company? That's the only thing that comes to my mind.
Tomislav Todorovic, 27 October 2021

This vaguely suggests something oil/petrol-wise.
Peter Hans van den Muijzenberg, 27 October 2021

The Texas Oil Company first used a red star on a white circle on a blue field about 1903 until sometime during or just before WWI, when the Russian Revolution popularized the red star as a symbol of Communism, at which point they added a green "T" to the center of the star. In 1981, the logo was changed to a white star and "T" on a red circle on a white field. (source)
Dave Martucci, 27 October 2021

See: Czechoslovak Ocean Shipping.
James Dignan, 27 October 2021

Thank you all for making the attempt. Just a few days ago I seem to have stumbled upon the answer - it seems to be the flag of the Communist-era Czechoslovak merchant marine (didn't know a landlocked socialist peoples republic would have one of those. (source)
Igor Winiarczyk, 27 October 2021

I too think it is most likely the house flag of the Czechoslovak merchant marine.
See: Czech Shipping Company - is the "narrow vertical band near the hoist in white" a mistake?
Miles Li, 27 October 2021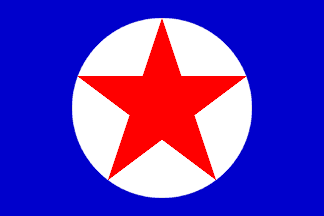 Image by Miles Li, 7 November 2021
Recently in our discussion of the house flag of Czechoslovak Ocean Shipping I noted that it resembled that of the "Czech Shipping Company" which had a "narrow vertical band near the hoist in white", and I wondered if that was a mistake. Now I can shed some light on that matter.
The Czechoslovak Ocean Shipping (Ceskoslovenská námorní plavba) was founded in 1959; privatised in 1992; renamed Czech Ocean Shipping (Ceská námorní plavba) in 1994; its fleet was sold off in 1998. Its home port was Moldauhafen in Hamburg, leased by Germany to Czechoslovakia (and now to Czechia) since 1929, under the terms of the 1919 Treaty of Versailles. The house flag was blue, with a white disc bearing a red five-pointed star. The version with the blue and white stripes at the hoist has only existed as a logo of COS after its privatisation; the blue stripe possibly represents a flag pole.
The yellow-blue-yellow tricolour version was the funnel colours of COS; I have not seen that as an actual flag either.
Miles Li, 7 November 2021
---
21-63. German Yacht Club Stick Pins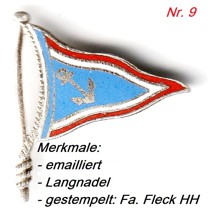 #64a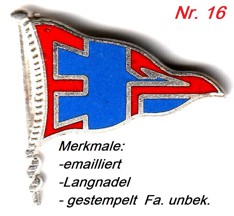 #64b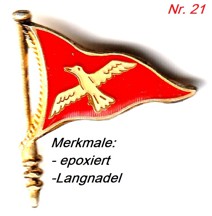 #64c
Images from Werner Müller, 11 November 2021
This is the start of a series of yacht clubs, probably all German and no longer existing. The contributor, Werner Müller, has much more material and I guess, he will be sending it directly into FOTW thru Pete Loeser. If I remember right, there had been some 3 dozens of these stick pins. I have already seen the complete material, but I lost it, as I had kept it in my Unknown-Folder, where it was deleted automatically after 3 months. Hopefully, one of our specialists can identify some of the clubs for him.
Klaus-Michael Schneider, 11 November 2021
More explanation and two more unidentified stick pins can be found on UFE21-68. "Unidentified Flag Stick Pins".
Pete Loeser, 23 December 2021
---
21-64. Flag Found in a Thrift Store Positive ID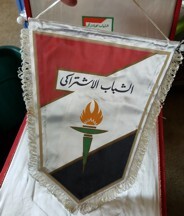 Enquiry from Douglas Bolte, 15 November 2021
This has been identified as that of the UAR Socialist Youth Organization and moved here.
---
21-65. Unknown Tank Unit (Kuwait)

Image located by William Garrison, 18 November 2021
The caption on this photo says: "Unidentified red-field flag with white-slogan carried on Kuwaiti 'Land Force' army tank in a military exercise with Saudi and U.S. militaries, north of Kuwait City, c. Novomber 18, 2021." Could be unit-commander's flag (tells both friendly and enemy forces where the head honcho is) or might be some religious flag encouraging tankers into battle.
William Garrison, 18 November 2021
[This UFE enquiry has also been posted here, but still needs to be identified and properly illustrated.]
---
21-66. Canadian Indigenous People's Flag Some Speculation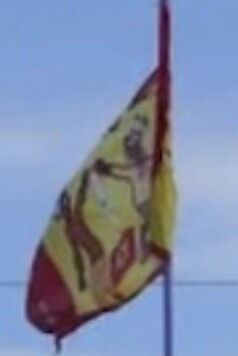 Image from Tyler Boyco, 18 November 2021
Do you by chance recognize this flag? I'm sorry for the poor quality. It's related to Canadian indigenous people, but I haven't a clue what it could be. If you have any idea, please let me know!
Tyler Boyco, 18 November 2021
I'm afraid I cannot recognise this one, and I checked our collection of Indigenous flags without luck. It's not a common flag. Can I assume it was seen in northern Ontario?
Rob Raeside, 18 November 2021
---
21-67. Georgian Flag for Mikheil Saakashvili? Positive ID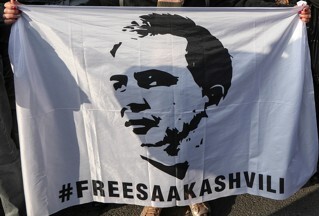 Image from William Garrison, 21 November 2021
As hundreds of protesters were rallying outside a prison in Georgia to demand that the country's incarcerated former President Mikheil Saakashvili be transferred to a private cell, this was seen. (source) Is it really a flag?
The caption read: "Georgian supporters of former president Mikheil Saakashvili hold national flags, a white-field flag with Saakashvilli's portrait, and posters during a rally in front of the prison where the former president is being held, in Rustavi, about 20 km from the capital Tbilisi, Georgia, Saturday, Nov. 6, 2021."
William Garrison, 21 November 2021
Not sure if this is really a flag, perhaps a protest banner?
Rob Raeside, 21 November 2021
Why is the inscription in English?
Will Linden, 21 November 2021
Well, not quite sure who says what, but this ABC News feature shows a flag, AFAIKS, used as a protest.
Peter Hans van den Muijzenberg, 22 November 2021
A protest banner used as a flag? See these photos: photo #1, photo #2, photo #3, and photo #4.
Ivan Sache, 22 November 2021
---