This page is part of © FOTW Flags Of The World website
Cities, Municipalities and Subcounties in Schleswig-Holstein A-K (Alphabetical List)
Städte, Gemeinden und Ämter in Schleswig-Holstein A-K (Alphabetische Liste)
Last modified: 2019-03-02 by klaus-michael schneider
Keywords: schleswig-holstein |
Links: FOTW homepage | search | disclaimer and copyright | write us | mirrors

---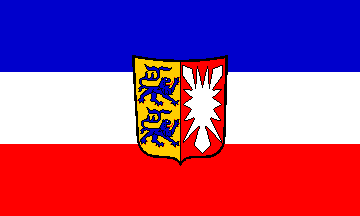 3:5

image by Santiago Dotor, May 1999
this flag is also flown by the authorities of the subdivisions of Schleswig-Holstein
---
See also:
---
Alphabetical list of cities, municipalities and subcounties (A-K)
If a name is not followed by a letter, it is a municipality. The meanings of the following letters are: s = subcounty, c = city, C = county free city. Except the county-free cities any name is also followed by a county code [XX].
Please also note the following eqivalences in German spelling: ä = ae; ö = oe; ü = ue. Thus e.g. ö is listed between od and of.
A

Aebtissinwisch, [IZ], Agethorst, [IZ], Ahlefeld-Bistensee, [RD], Ahrensbök, [OH], Ahrensburg,c [OD], Albersdorf, [DI], Alt Duvenstedt, [RD], Altenhof, [RD], Altenholz, [RD], Altenkrempe, [OH], Alt Mölln, [RZ],Alveslohe, [SE], Ammersbek, [OD], Appen, [PI], Arensharde, s [SL], Armstedt, [SE], Arnis, c [SL], Arpsdorf, [RD], Ascheberg (Holstein), [PL], Ascheffel, [RD], Aukrug, s [RD], Aukrug, [RD], Aumühle, [RZ], Aventoft, [NF], Averlak, [DI],
B

Bad Bramstedt, c [SE], Bad Oldesloe, c [OD], Bad Schwartau, c [OH], Bad Segeberg, c [SE], Badendorf, [OD], Bäk, [RZ], Bahrenfleth, [IZ], Bargenstedt, [DI], Bargfeld-Stegen, [OD], Bargstall, [RD], Bargstedt, [RD], Bargteheide, c [OD],Bark, [SE], Barkelsby, [RD], Barkenholm, [DI], Barmissen, [PL], Barmstedt, c [PI], Barsbek, [PL], Barsbüttel, [OD], Basthorst, [RZ], Bebensee, [SE], Behlendorf, [RZ], Beidenfleth, [IZ], Bekmünde, [IZ], Beldorf, [RD], Bendfeld, [PL], Bendorf, [RD], Bergenhusen, [SL], Beringstedt, [RD], Berkenthin, [RZ], Beschendorf, [OH], Besdorf, [IZ], Besenthal, [RZ], Bevern, [PI], Bilsen, [PI], Bimöhlen, [SE], Bissee, [RD], Blekendorf, [PL], Bliestorf, [RZ], Blumenthal, [RD], Böel, [SL], Böhnhusen, [RD], Bäk, [RZ], Bönebüttel, [PL], Bönningstedt, [PI], Börm, [SL], Börnsen, [RZ], Bösdorf, [PL], Bokel, [RD], Bokelrehm, [IZ], Bokholt-Hanredder, [PI], Bokhorst, [IZ], Bokhorst-Wankendorf, s [PL], Boksee, [PL], Bollingstedt, [SL], Boostedt, [SE], Bordesholm, [RD], Bordesholm, s [RD], Borgdorf-Seedorf, [RD], Borgstedt, [RD], Borgwedel, [SL], Bornholt, [RD], Bornhöved, [SE], Borstel, [SE], Borstel-Hohenraden, [PI], Borstorf, [RZ], Bosbüll, [NF], Bothkamp, [PL], Bovenau, [RD], Braak, [OD], Brammer, [RD], Bredenbek, [RD], Bredstedt, c [NF], Bredstedt-Land, s [NF], Breiholz, [RD], Breitenburg, s [IZ], Breitenburg, [IZ], Breitenfelde, [RZ], Brekendorf, [RD], Brickeln, [DI], Brodersby, [RD], Brokdorf, [IZ], Brokstedt, [IZ], Brügge, [RD], Brunsbek, [OD], Brunsbüttel, c [DI], Brunstorf, [RZ], Buchholz, [DI], Büdelsdorf, c [RD], Bühnsdorf, [SE], Bünsdorf, [RD], Büttel, [IZ], Bullenkuhlen, [PI], Bunsoh, [DI], Burg, [DI], Burg-Sankt Michaelisdonn, s [DI], Busdorf, [SL], Busenwurth, [DI],
C

Christiansholm, [RD], Christinenthal, [IZ],
D

Dägeling, [IZ], Dänischenhagen, [RD], Dätgen, [RD], Dahme, [OH], Dahmker, [RZ], Dalldorf, [RZ], Damendorf, [RD], Damlos, [OH],Dammfleth, [IZ], Damsdorf, [SE], Dannau, [PL], Dannewerk, [SL], Dassendorf, [RZ], Delingsdorf, [OD], Delve, [DI], Dersau, [PL], Dingen, [DI], Dobersdorf, [PL], Dörnick, [PL], Dörphof, [RD], Dörpstedt, [SL], Dollerup, [SL], Drage, [IZ], Drelsdorf, [NF], Duvensee, [RZ],
E

Eckernförde, c [RD], Ecklak, [IZ], Eddelak, [DI], Eddelak-Sankt Michaelisdonn, a [DI], Eggebek, [SL], Eggstedt, [DI], Ehndorf, [RD], Eiderstedt, s [NF], Eisendorf, [RD], Ekenis, [SL], Ellerau, [SE], Ellerbek, [PI], Ellerdorf, [RD], Ellerhoop, [PI], Ellingstedt, [SL], Elmenhorst, [OD], Elmshorn, c [PI], Elsdorf-Westermühlen, [RD], Emkendorf, [RD], Enge-Sande, [NF], Epenwöhrden, [DI], Erfde, [SL], Eutin, c [OH],
F

Fahrdorf, [SL], Fahrenkrug, [SE], Fargau-Pratjau, [PL], Fehmarn, c [OH], Felde, [RD], Feldhorst, [OD], Felm, [RD], Fiefbergen, [PL], Fitzbek, [IZ], Fitzen, [RZ], Fleckeby, [RD], Flensburg, C, Flintbek, [RD], Fockbek, [RD], Föhr-Land, a [NF], Föhrden-Barl, [SE], Fredesdorf, [SE], Freienwill, [SL], Frestedt, [DI], Friedrichsgraben, [RD], Friedrichsholm, [RD], Friedrichstadt, c [NF], Fuhlendorf, [SE],
G

Galmsbüll, [NF], Gammelby, [RD], Garding, c [NF], Geesthacht, c [RZ], Gelting, [SL], Geltorf, [SL], Geschendorf, [SE], Gettorf, [RD], Glinde, c [OD], Glücksburg, c [SL], Glückstadt, c [OD], Gnutz, [RD], Göhl, [OH], Göldenitz, [RZ], Gönnebek, [SE], Göttin, [RZ], Gokels, [RD], Goldelund, g [NF], Goosefeld, [RD], Grabau, [OD], Grambek, [RZ], Grauel, [RD], Grebin, [PL], Gremersdorf, [OH], Grevenkop, [IZ], Grevenkrug, [RD], Gribbohm, [IZ], Grinau, [RZ], Grömitz, [OH], Grönwohld, [OD], Großbarkau, [PL], Groß Boden, [RZ], Groß Buchwald, [RD], Groß Grönau, [RZ], Groß Nordende, [PI], Groß Offenseth-Aspern, [PI], Groß Pampau ,[RZ], Groß Rheide, [SL], Groß Rönnau, [SE], Groß Schenkenberg, [RZ], Groß Vollstedt, [RD], Großenaspe, [SE], Großenrade, [DI], Großensee, [OD], Großenwiehe, [SL], Großhansdorf, [OD], Großsolt, [SL], Grube, [OH], Güby, [RD], Güster, [RZ],
H

Haby, [RD], Haddeby, s [SL], Hagen, [SE], Halstenbek, [PI], Hamdorf, [RD], Hamfelde, [OD], Hamfelde, [RZ], Hammoor, [OD], Hamwarde, [RZ], Hamweddel, [RD], Handewitt, [SL], Hanerau-Hademarschen, [RD], Harmsdorf, [OH], Harmsdorf, [RZ], Hartenholm, [SE], Haselau, [PI], Hasenkrug, [SE], Hasselberg, [SL], Haßmoor, [RD], Hattstedt, [NF], Heede, [PI], Heide, c [DI], Heidekamp, [OD], Heidgraben, [PI], Heidmoor, [SE], Heikendorf, [PL], Heiligenhafen, c [OH], Heiligenstedten, [IZ], Heiligenstedtenerkamp, [IZ], Heilshoop, [OD], Heist, [PI], Helgoland, [PI], Helse, [DI], Hemdingen, [PI], Hemme, [DI], Hemmingstedt, [DI], Hennstedt, [DI], Hennstedt, [IZ], Henstedt-Ulzburg, [SE], Heringsdorf. [OH], Hingstheide, [IZ], Hitzhusen, [SE], Hochdonn, [DI], Hodorf, [IZ], Högel, [NF], Högersdorf, [SE], Högsdorf, [PL], Höhndorf, [PL], Hörnum (Sylt), [NF], Hörup, [SL], Hoffeld, [RD],Hohe Elbgeest, s [RZ], Hohenfelde, [IZ], Hohenfelde, [OD], Hohenfelde, [PL], Hohenhorn, [RZ], Hohenlockstedt, [IZ], Hohenwestedt, [RD], Hohenwestedt-Land, s [RD], Hohn, [RD], Hohner Harde, s [RD], Hohwacht (Ostsee), [PL], Hoisdorf, [OD], Hollingstedt, [SL], Holm, [PI], Holstenniendorf, [IZ], Holtsee, [RD], Holzbunge, [RD], Holzdorf, [RD], Honigsee, [PL], Horst (Holstein), [IZ], Hüsby, [SL], Hüttblek, [SE], Hüttener Berge, s [RD], Husby, [SL], Husum, c [NF],
I

Idstedt, [SL], Itzehoe, c [IZ], Itzstedt, [SE],
J

Jagel, [SL], Janneby, [SL], Jarplund-Weding, [SL], Jerrishoe, [SL], Jersbek, [OD], Jevenstedt, [RD], Jörl, [SL],Jübek, [SL],
K
Kaaks, [IZ], Kabelhorst, [OH] Kaiser-Wilhelm-Koog, [DI], Kaltenkirchen, c [SE], Kampen, [NF], Kankelau, [RZ], Kappeln, c [SL], Karby, [RD], Kasseburg, [RZ], Kasseedorf, [OH], Kastorf, [RZ], Katharinenheerd, [NF], Kattendorf, [SE], Kayhude, [SE], Kellenhusen, [OH], Kellinghusen, c [IZ], Kellinghusen, s [IZ],Kellinghusen-Land, s [IZ], Kiebitzreihe, [IZ], Kiel, C, Kiesby, [SL]. Kirchbarkau, [PL], KLGn Eider, s [DI], KLG Heide-Land, s [DI], KLG Heider Umland,s [DI], KLG Hennstedt, s [DI], KLG Tellingstedt, s [DI], Kisdorf, [SE], Kittlitz, [RZ], Klamp, [PL], Klausdorf, [PL], Klein Barkau, [PL], Klein Bennebek, [SL], Klein Gladebrügge, [SE], Klein Nordende, [PI], Klein Offenseth-Sparieshoop, [PI], Klein Pampau, [RZ], Klein Rönnau, [SE], Klempau, [RZ], Kleve, [DI], Kleve, [IZ], Klixbüll, [NF], Koberg, [RZ], Köhn, [PL], Kölln-Reisiek, [PI], Königshügel, [RD], Köthel, [OD], Koldenbüttel, [NF], Kolkerheide, [NF], Kollow, [RZ], Kosel, [RD], Krempe, c [IZ], Krempel, [DI], Kremperheide, [IZ], Krempermarsch, s [IZ], Krempermoor, [IZ], Krems II, [SE], Krogaspe, [RD], Krokau, [PL], Kronprinzenkoog, g [DI], Kronsgaard, [SL], Kronshagen, [RD], Kropp, [SL], Kröppelshagen-Fahrendorf, [RZ], Krummbek, [PL], Krummesse, [RZ], Krumstedt, [DI], Kuddewörde, [RZ], Kuden, [DI], Kudensee, [IZ], Kühsen, [RZ], Kükels, [SE], Kummerfeld, [PI],
---
to entities L-Z click here
---
back to Schleswig-Holstein alphabetical list main page click here