This page is part of © FOTW Flags Of The World website
Unidentified Flags or Ensigns Page 5 (2018)
flags submitted in 2018 - Page 5 of 5
Last modified: 2023-01-14 by

zachary harden
Keywords: ufe | unidentified flags | 2018 |
Links: FOTW homepage | search | disclaimer and copyright | write us | mirrors

---
Please note our Policy for Submissions and Enquiries.
Below is a series of images of flags that have been provided to FOTW; some we have recognized, and some we have been unable to recognize. If you can help us identify any of these flags, please let us know! Contact the: UFE Editor.
Identification Key:
= Positive ID (Positive Identification)
= Tentative ID (Tentative Identification)
= Some Speculation
---
18-56. UFE with Yellow 24-Ray Sun Positive ID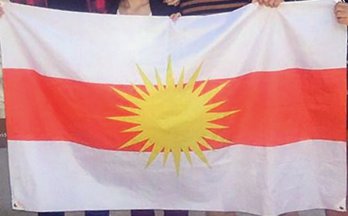 Image from Carl Gurtman, 16 October 2018
I'm attaching a photo of a flag seen near York, Maine, which I've been unable to identify. Perhaps you know it. Unfortunately, there were posters of the flag attached to telephone poles, but I can no longer retrieve either a picture or a description.
Carl Gurtman, 16 October 2018
A full size version of the image is posted for list members (here) - where you can see text behind the group, which I think is written in Portuguese.
Rob Raeside, 16 October 2018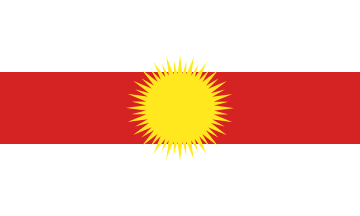 Image from Olivier Touzeau, 16 October 2018
This is a Yazidi flag, and to be more precise, the flag used by the Protection Force of Êzîdxan or HPÊ (Hêza Parastina Êzîdxanê), a Yazidi militia founded by Haydar Shesho in the summer of 2014 in response to the genocide of Yazidis by the Islamic State of Iraq and the Levant. The militia was known as the Protection Force of Sinjar until November 2015, when it changed its name to HPÊ. It was bigger but less active than the other main Yazidi militia, the Sinjar Resistance Units. (Source on Wikipedia)
Olivier Touzeau, 17 October 2018
---
18-57. UFE British RAF Flag with Star Tentative ID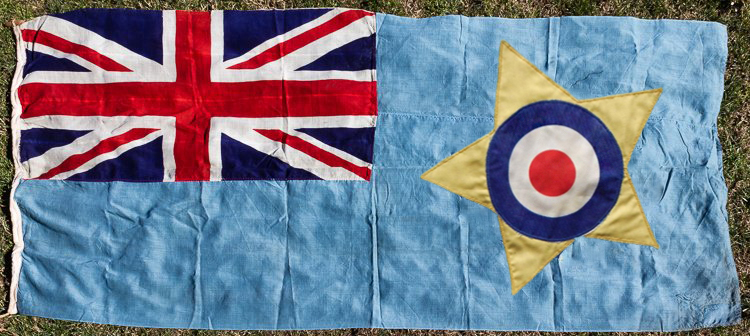 Photo #57
Image from Mattias Hansson, 17 October 2018
I was wondering if your experts can say anything about this RAF ensign with a yellow star. Is it real or a figment of someone's imagination? I've tried doing research on it and I think it may be fake, but would love a second opinion.
Mattias Hansson, 17 October 2018
Image by M. Schmöger, 9 November 2001
Probably the flag of the Royal Indian Air Force, roughly 1945-1950. I have no record of the attached image, but it appears to a variant of an FOTW construction originally reported by M. Schmöger in 2001.
David Prothero, October 2018
I concur that it is probably the RIAF ensign of 1945-1947, and FOTW has it with the image referenced by David, albeit with a different file name, and attributed to Manuela Schmöger. David's 2001 comments on FotW-ws say "The roundel is not superimposed on the 'Star of India'... That 'star' is an emblem from a British order of chivalry, The Most Exalted Order of the Star of India. This star (unknown to me) is quite different."
I think there might be some confusion as to what constitutes a "star" in British chivalric orders. The badge of any order, regardless of its actual shape, is usually called a star. The badge or emblem of the Order of the Star of India consists of three parts:
A sunburst of 52 rays (26 larger alternating with 26 smaller).
In the centre of the sunburst is a light blue knotted garter bearing the motto "Heaven's light our guide.:quot;
Within the garter is a five-pointed star, the points protruding on the garter.
This whole 3-part badge is generally called the "Star of India" and appears on three pre-1947 flags, as well-described here. I think it is accurate to say that the 5-pointed device is the star proper of the "Star of India," and it sometimes appears isolated from the other elements, as in the necklace of the Order. And it does appear to be accurate to say that the RIAF ensign consists of a roundel superimposed on that star. Manuela sources her 2001 image from Fachinger 1974. Is it possible that the source was black and white, and that Manuela mistakenly guessed the star to be black and white rather than yellow (as in the photo submitted as UFE)? Or some similar explanation?
T.F. Mills, 26 October 2018

This may need to be revised, as there is another possibility. That it was a test piece, (hence the amateurish construction of the star), of a proposed ensign, that was not adopted.
From the "RAF Sailing Association".
12 February 1969. Air Commodore D.E.Hawkins requested a defaced RAF ensign for the RAF Sailing Association. "Proposed a five pointed gold star, set behind the roundel, with only the arms showing. Warrant would be in name of vessel which would be over 2 tons. Coloured sketch. Roundel reduced in size, compared with that on RAF ensign, with large red bullseye and narrow white and blue rings. Star badly proportioned in order to fit behind the roundel."
27 March 1969. Loose minute. Defaced RAF ensign would not be an RAF ensign. Actual legality in considerable doubt. Inclined to think that Merchant Shipping Act forbids one, except under warrant from the Admiralty, of any national colour other than the Red Ensign. Wearing of colours as national colours contrary to the Act. An altered ensign would not be the RAF ensign, "and not therefore covered by the Order in Council, nor, by itself, could it have any legal recognition."
"It was noted that the RAF ensign was introduced by Order in Council which might complicate any variation of it. Order in Council of 24 March 1921 was signed by Almeric Fitzroy. The inclusion of a clause prohibiting unauthorised flying of the ensign was considered, but not pursued on the advice of parliamentary counsel. It had not been done for the White Ensign, and it was therefore unnecessary for the RAF Ensign."
24 April 1969. Naval Law, NL 600/69. Colours of the RAF, as approved by Order in Council 1921, relate to that Service in a general way, no mention being made of maritime use as national colours. Even if such use is so accepted by custom, the colours may only be worn by the RAF proper. No power in Order in Council to permit defacement, and delegation of power to the Air Council is not read as intended to permit it.
22 May 1969. Wheatley-Smith, Wing-Commander (retired), Adastral House. Navy would not contemplate defacement of the White Ensign, which is equivalent to RAF Ensign. Suggest adopting RAF Sailing Association proposal without the Union canton; to be used in addition to Red Ensign."
National Archives, AIR 2/18233. The adopted RAFSA Ensign, crown and eagle superimposed on RAF roundel, was introduced 11 June 1986.
David Prothero, 28 October 2018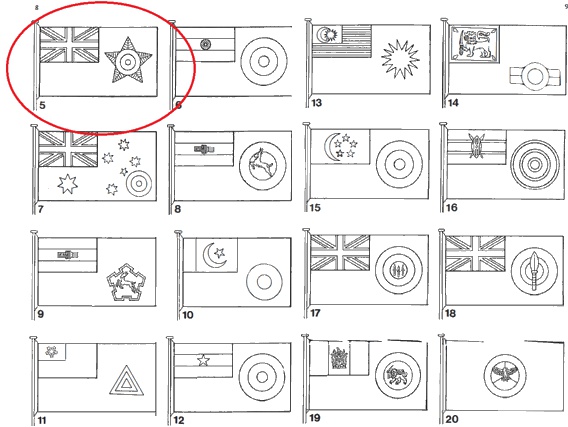 Image #57a
Image from Mattias Hansson, 17 November 2018
I am still not convinced that the flag I submitted with a Union Jack and the RAF roundel on the background of a yellow star is the Royal Indian Air Force ensign. Something is not sitting right with that one. I am continuing my investigation though.
But in the meantime I requisitioned those few pages called Die Luftwaffenflaggen Grossbritanniens und der Commonwealth-Staaten by Karl Fachinger and although my school German is not amazing, it was very little info about this flag.....in fact there was one line of text. Translated it goes like this:
"The Imperial-Indian Air Force placed the British roundel on the Star of India star (Fig. 5). After the establishment of the Union in 1950, a light blue flag was introduced for the Air Force, replacing the Union Jack with the Indian National flag in the upper corner and in the fly, there was a green-and-white-saffron-colored roundel.(Fig. 6)"
The Figure 5 mentioned, I assume is one drawn by the author Karl Fachinger along with the other Air force ensigns in the paper. I don't know if he had a source for this, but I cannot find one. Also the star looks like the five-pointed star contained within the type of "Star of India" that was used on the Viceroy's Union Flag as well as the Red and Blue Ensigns rather that the whole "Star of India".
In 2001, Marcus Schmöger referenced Fachinger and submitted a colour-version gif to FOTW, but his star is different from that of Fachinger. It has different patterns in the arms of the star. Interestingly the star in this Schmöger-drawing is black and white. (also enclosed image)
David, you are undoubtedly the greatest authority on British Ensigns. Have you come across any references with regards to this RIAF Ensign? Warrants, dates, drawings, photos or other mentions of it...anything?
I am a collector of the actual flags and in my 20 years of collecting I have never seen one. It would be very interesting for me to know if this there is any validity to the claim that such a flag existed. Surely there must be more "proof" than one reference to it in a 44-year old article, in which this particular flag gets a one-line mention?
Is Marcus Schmöger still active on FOTW? Maybe he can shed a little light on this flag, or at least why his drawing differs from that of Fachinger? [Mattias, Before this gets anymore confusing, "Marcus" Schmöger is "Manuela" Schmöger and she is still with us. - Ed.]
Mattias Hansson, 13 November 2018
I agree that the colours of the Ceylon flag, including the garland are odd. The RAF flag photo came from an acquaintance of someone I had previously bought a flag from. This person contact me with that photo and when I asked for additional photos, they refused, which rang an alarm bell in my head. There is something that is not sitting right with me about that flag.
Mattias Hansson, 20 November 2018
I can now prove that the RAF with the roundel on a yellow star is indeed a fake. It wasn't even a real flag - it was a product of Photoshop and after endless searching, I found the original image in an old eBay listing (Image #57).
The Star-roundel had just been photoshopped onto the flag and when asked for additional images of the flag, the communication went silent. There is no doubt this is the exact same image of the exact same flag.
My interest in the RIAF Ensign has been peaked though. I e-mailed Manuela Schmöger earlier to ask about the image she drew 17 years ago and am hopefully awaiting a response.
I will also reiterate my question to you, David: Have you come across any references with regards to this RIAF Ensign? Warrants, dates, drawings, photos or other mentions of it...anything? It would be interesting to learn more about this elusive flag....even if the one in the photo I shared a few weeks back turned out to be a hoax.
Mattias Hansson, 21 November 2018
I have never found any papers relating to the Royal Indian Air Force, though that does not mean that there aren't any. It seems that the Indian Auxiliary Air Force was given the title "Royal" in 1945, but I think it quite possible that in the confusion following the end of World War II, and the impending independence of India, no RIAF ensign was ever made/used. I notice that although I was editing Malcolm Farrow's "Colours of the Fleet" for a number of years, I did not include a RIAF ensign in the Indian section.
David Prothero, 21 November 2018
---
18-58. Possible Parliamentary Flag or Speaker's Personal Flag, Sri Lanka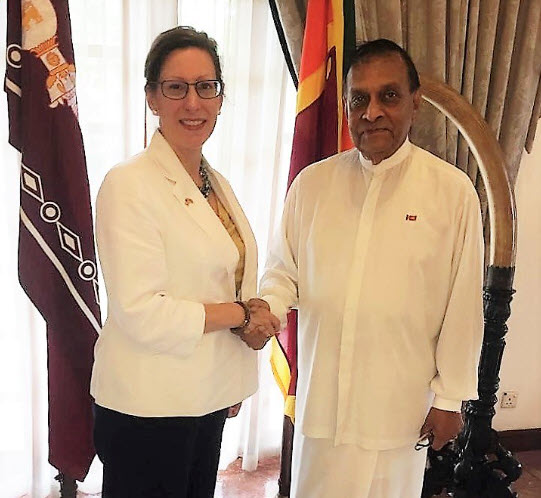 Image from Janith Leanage, 6 November 2018
A previously unknown Sri Lankan flag is seen here behind the Speaker of the House, Karu Jayasuriya. Since it carries the mace, the symbol of Parliament, it is probably a flag connected to that institution.
Janith Leanage, 6 November 2018
---
18-59. Unidentified Dutch Flags on Paintings Some Speculation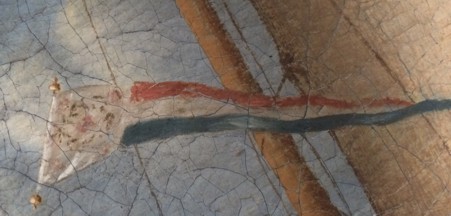 #59a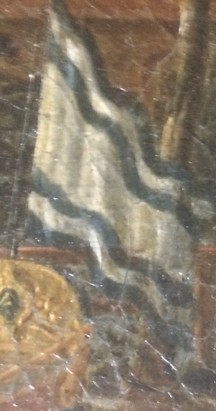 #59b
Images from Maria Nikitina, 8 November 2018
I am a research officer of the Arkhangelskoye Palace Museum (Krasnogorsky District, Moscow Oblast, Russia) conducting research on the museum's collection of Dutch and Flemish paintings. In the collection of our museum there is a painting by the Dutch painter J. Storck, depicting some yachts and boats on a river. There are also two flags on the painting, that we couldn't identify. One is more of a mast pendant and appears to depict a flower garland(?) with pink flowers on a white background. We've found several works by Storck, depicting similar pendants. Perhaps you've seen something like this before. The second is a more simple-looking flag with white and blue stripes.
Maria Nikitina, 8 November 2018
The location is the Old Rhine in Alphen upon Rhine. (The situation makes me wonder how they know all those paintings signed J. Storck are always by Jacobus and not by his older brother Johannes, who apparently was a painter too, but supposedly none of his paintings are known to have survived.) The pennants are floaters, hence they should be viewed with the tail down. Also, they should have the red on the left side of the image. (Apparently, this is an early case of the law that you can never get a flag to fly right when you try to take a picture.)
The younger of the two Storck brothers took a trip along the Rhine in 1670. The painting is named "View of Düsseldorf" and might date from that trip. Usually, such pennants show an allegorical scene of some sort. By the 19th century, such pennants also had the white stripe painted in. Take a look at this website.
I would expect such a pennant to belong with the ship. The scene in the hoist would then most likely represent the name of the ship. There are more flags in similar styles, 3 stripes along top and bottom and a wider field left in the centre, but there doesn't seem to be an explanation about why they came into existence.
It would seem there might be two paintings involved and so some of this is also dependent on whether it's really one painting or two paintings.
Peter Hans van den Muijzenberg, 6 February 2019
---
18-60. UFE Ceylon Decorative Flag Some Speculation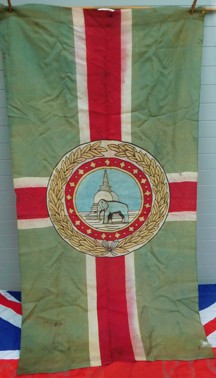 #60a

#60b
Images from Mattias Hansson, 11 November 2018
I found this odd looking flag online. At a very first glance it looks like a flag for the Governor of Ceylon, but very quickly it becomes evident that that's not the case even though the central device is the colonial badge of Ceylon surrounded by the traditional garland of laurel leaves with a small blue bow as used by Colonial Governors across the British Empire.
First of all the background is not a Union Flag, but rather Union Jack-looking flag that is missing the St Andrew's and St Patrick's saltires. Also the Governor's badge is mounted vertically rather than horizontally. The colours look a bit off too, but that could of course be due to fading. Across the top of the flag is printed "Wardle & Company, 71 New Bond Street, London Works Leek".
I googled this and found the following interesting information:
"Thomas Wardle & Co. Thomas Wardle (1831-1909), a knowledgeable dye chemist, is credited with changing the face of silk dyeing and printing in the late nineteenth century. Born into a silk dyeing family, his father Joshua Wardle (1802-1879) based his dye works at Leekbrook, Staffordshire, where he was famed for producing a raven black dye, the bluest black then available. Thomas Wardle set up his own company in 1872, at the Hencroft Works in Leek, Staffordshire, which was strategically situated on the banks of the river Churnet. The plentiful supply and good quality of the river water was a vital element of the many processes undertaken. He swiftly gained a reputation for the high quality of the goods his small company produced.

Generally, the business acted as commission printers and dyers for a number of notable clients. They converted 'grey' cloth and skeins of yarn using diverse dyeing, printing and finishing processes. Different methods of production were employed according to the requirements of a particular product, and the Wardle pattern books at the Whitworth Art Gallery clearly show how dye recipes were adapted over time according to the type of cloth, dyestuffs available and market forces.

Wardle continued to hand-print silk with wood blocks as that technique gave him maximum flexibility, but he was not against modern technology and used roller printing and synthetic dyes where appropriate (T.14009, T.14011 & T.14012). The same design could be produced using different processes, cloths and colourways according to the demands of his clients. At any one time the dye workshops were busy with steaming vats of different colours, and the print tables covered with various patterns, all with specific requirements for a range of customers.

To maintain high standards the company constantly monitored its supply chain and product development was a major part of daily activities. Wardle's research into India's wild silks and natural dyestuffs at the Hencroft site brought him international fame and many accolades (Tussur Silk).

In 1881 Wardle's son Arthur joined him in the company and T. & A. Wardle, a large dyeing and finishing plant (later Sir T. & A. Wardle to acknowledge Thomas's knighthood), was established at the Churnet Works on the riverside. The site was close to the Hencroft Works, which, from 1896, was leased by Bernard and Tom Wardle, Thomas's younger sons. However, the site proved to be too small for them and Hencroft Works was closed in 1908. Wardle had various business partners during his lifetime and the various branches of the company specialised in different processes (Wardle Family Companies). By the mid-twentieth century the combined company was the largest independent dye works in Britain.

Wardle & Co. traded on its flexibility and was organised so that the specialised business of small scale dyeing and printing with vegetable dyes continued alongside large-batch production. Clients varied; bulk orders from the Admiralty were vital for their economies of scale, while the more challenging, but smaller, artistic ranges provided the skilled workforce with greater creative opportunities.

Locally produced plain and figured silks, silk plush and velveteen were dyed in the piece and printed along with imported silk cloths from India. Silk embroidery yarns, sewing thread and braids were transformed alongside linen, challis, cotton cloth, and hanks of wool for carpets.

Wardle's shop at 71 New Bond Street, London, was an outlet for his products, with Leek embroidery being given a prominent place. He also supplied the Aesthetic Gallery in New Bond Street, which specialised in retailing 'artistic' English fabrics, Harrods and Storys (Wardle & Co.: getting fabrics to the consumer).

The company frequently exhibited their goods at major international and Arts and Crafts exhibitions and received many accolades and prizes for their products."

Can we based on this assume that this was not intended to be used as a flag, but rather as some sort of decoration? The only odd thing is that the flag does not appear to be silk to me based on the photos. Looks more like a thin broadcloth type of material.... It would be interesting to hear what the experts have to say.
Mattias Hansson, 11 November 2018

The only comment that I have on the Ceylon banner is that I would have expected a governor's badge to have a green garland. Where did the RAF ensign come from? Does the idea that it might have been a test piece for a proposed flag seem likely?
David Prothero, 14 November 2018

I agree that the colours of the Ceylon flag, including the garland are odd.
Mattias Hansson, 20 November 2018
---
18-61. UFE Crossed on New York Yacht Club Ensign Positive ID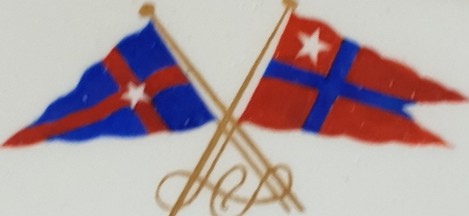 Image from Max at Chinatown Imports, 14 November 2018
Can you identify the flag on the China plate on the right in the attached photo? We estimate this plate to be about 100 years old (early 1900s or late 1800s). [the attached clipped image shows the two flags on a dinner plate.]
Max at Chinatown Imports, 14 November 2018
The flag on the left is obviously the New York Yacht Club, as you already know, but the inverted colours with an upright cross don't seem to be in our collection.
Rob Raeside, 14 November 2018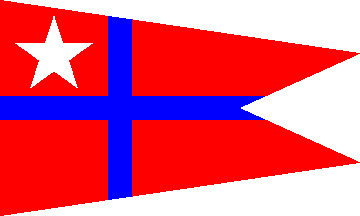 Image by Peter Hans van den Muijzenberg, 6 February 2019
Red broad pennant with a blue cross throughout, bearing a white star in the canton: 1892 - The sloop Corsair, thus the private signal of H.C. Fuller.
- New York Yacht Club Book 1892 supplement: owner of Corsair
- New York Yacht Club Book 1906: non-yacht owner
Peter Hans van den Muijzenberg, 6 February 2019
---
18-62. Unknown Flag - Castle Line Some Speculation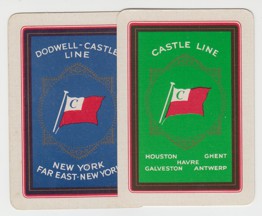 Image from Jan Walls, 14 November 2018
I collect shipping line playing cards as my hobby, I have these 2 cards but can't identify the flag to Castle Line. Would you please be able to help? I have googled the Dodwell Castle name and it comes up with George Dodwell was a shipping merchant who represented Castle Line.
Jan Walls, 14 November 2018
Another mystery flag here - I cannot find any reference to a "Castle Line" either on FOTW or in the Rosanoski collection. Dodwell shows up here, but the flag has no resemblance.
Rob Raeside, 14 November 2018
The Dodwell Castle Line (Far East-New York) appears to have been operated by Lancashire shipping Co. Ltd./John Chambers & Co., from Liverpool. All the vessels of the fleet were named for a castle.
Ivan Sache, 14 November 2018
I'm completely confused now. It doesn't help that The Castle Mail Packet Co. Ltd. is often called "Castle Line". "The Castle Line house flag was also the personal flag of Sir Donald Currie with his red 'C' in the middle of the white saltire." As best as I can tell, "Castle Line" here refers to The Castle Mail Packet Co. Ltd..
My impression was that George Dodwell was the shipping agent for North Sea ports, of a Galveston, Texas based Castle Lines. (One source claimed Houston, but the newspaper account that describe a loss from a hurricane says that it was based in Galveston.)
However, there was an Edinburgh Castle whose maiden voyage in 1872 was between Liverpool and South America, that was part of Castle Lines. I have no idea what Castle Line that ship was a part of. It has the wrong destination for Donald Currie's line, and the wrong port of origin for whatever George Dodwell represented. (Was Dodwell even alive in 1872?)
I found a source claiming that the following were Dodson-Castle vessels from roughly 1910 through 1940:
* Thurland Castle
* Greystroke Castle
* Bolton Castle
* Hornby Castle
* Penrith Castle
* Muncaster Castle
* Lowther Castle
But that list is in the middle of a discussion of Union-Castle Lines vessels, and at least two of those vessels were part of Union-Castle Lines. Their trips always originated in England, and went to the Far East either via the Suez Canal or Cape of Good Hope. No Trans-Atlantic crossings for them.
For copyright reasons Google Books is not able to display Lloyd's House Flags and Funnels for 1900, 1910, or any of the half dozen other years that I selected. ( Archive.org has some pre-1900 Lloyd's Registers, but not House Flags.
An 1895 World Facts listed funnels and house colours for transatlantic steamers, but it was only passenger vessels, and then only those that went to New York. Nothing for transtlantic trade from the Gulf of Mexico.
** Union Line colours: white hull and yellow funnels.
** Union-Castle Line Colours: Lavender hull, black and red funnel
Jonathon Toki-Kantoor, 14 November 2018

And of course, as soon I sent that email, I stumbled across Lancashire Shipping Co (Dodwell-Castle Line).
Are those the same playing cards?
There is another picture of playing cards in the Maritime Museum, but it doesn't mention the Lancashire Shipping Co connection.
And a brief history of "Lancashire Shipping Company" can be found here - House flag, funnel, and routes included.
Which doesn't explain why the newspaper reports said it was based out of Texas.
Jonathon Toki-Kantoor, 14 November 2018
---
18-63. Unknown Inverted German Flag with Sunrise Positive ID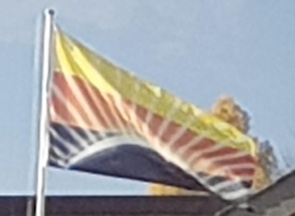 Image from Alex Stolarz, 18 November 2018
Do you have any idea about this flag? Any information is appreciated, Google did not help so far.
Alex Stolarz, 18 November 2018
Any thoughts on this flag - image clipped from a much larger image showing some modern houses in front of a high rocky mountain. I suspect it is in the Bavarian Alps, German Switzerland or Austria.
Rob Raeside, 18 November 2018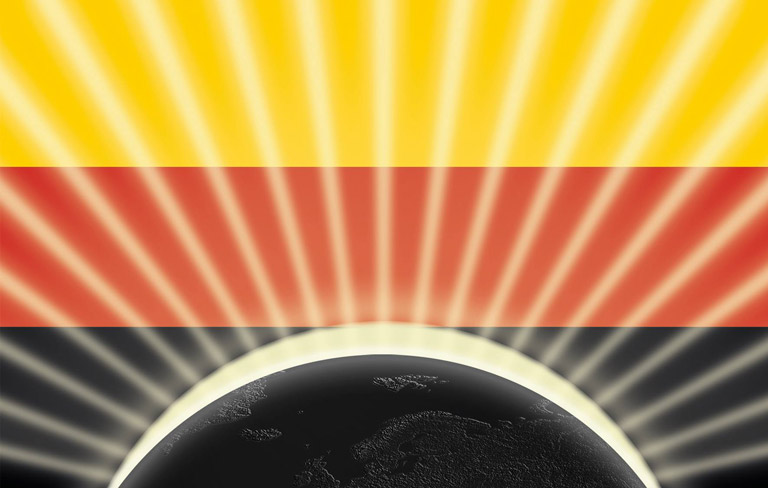 Image from M. Schmöger, 18 November 2018
This flag of one of the Reichsbürger pseudo-governments, named Königreich Deutschland (Kingdom Germany).
M. Schmöger, 18 November 2018
[More information about "New Germany's" creator Peter Fitzek here in English. - Ed.]
---
18-64. Unknown USATC flag with reversed colours (Berlin Airlift) Some Speculation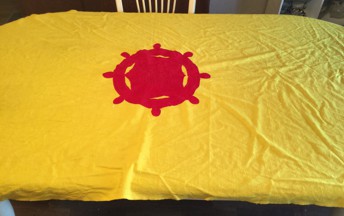 #64a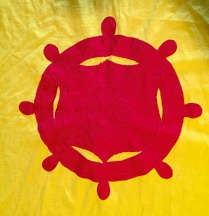 #64b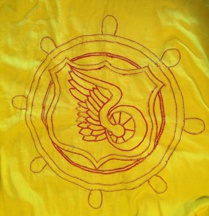 #64c
Images from Glenn Davis, 28 November 2018
I have this Transportation Corp flag that has a verbal history that it's connected to the Berlin Airdrop. This flag is yellow with a brick red coat of arms. The soldier was in Berlin during the late 1940's thru the Korean War. I was told that this flag was given to him when he retired. Have you ever seen a flag like this before.
Glenn Davis, 28 November 2018
The flag is in inverted colours from the Army Transportation Service flag. It looks like a home-made flag - the first image (#64a) shows the full flag draped over a table. The next image (#64b) shows the detail of the central emblem - a ship's wheel with a winged wheel on a shield inside. The details are difficult to see in the photo, but a photo of the reverse (#64c) shows the red stitching clearly and gives the design.
Rob Raeside, 28 November 2018
---
18-65. Unknown British Ensign Positive ID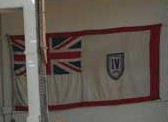 Image from Ian James, 8 December 2018
Trying to identify this flag seen in Goderich, Ontario. Any ideas?
Ian James, 8 December 2018
This is a Canadian World War II Victory Loan flag.
Rob Raeside, 8 December 2018
---
18-66. Unknown British Naval Flag. Some Speculation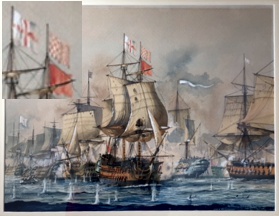 Image from Stephen A. Green, 10 December 2018
I recently purchased a painting of a sea battle in the age of sail. The main subject is a 3 deck ship similar to, but not, HMS Victory. It has a red ensign at the stern, a cross of St George on the main mast and two flags on the foremast. The lower of these is all red and I assume denotes a vice admiral of the red, but the flag above it, which is a similar size is made up of small red and white chequers - it looks like there are 6 alternate squares vertically (i.e. 3 red, 3 white) and probably a similar number horizontally. I wondered if you had any idea what this might signify? It doesn't seem to correspond to any signal flags I could find.
Stephen A. Green, 10 December 2018
Concerning the recently posted chequered flag, I attach a photo of the painting (photo reduced in size but detail of flags retained in upper left corner at original size).
Rob Raeside, 10 December 2018
Could anyone help me with the context, here? Which HMS Victory does the ship look like? Can we determine a time frame? A location? A nationality? An opponent? Does the painting look like it's contemporary?
I expect the Red under that Brabant flag is part of a signal, rather than the officer's flag. The signal might refer to an officer, though.
Peter Hans van den Muijzenberg, 14 January 2019
She is similar to the Victory of 1765 - Nelson's Victory - in that she is a three-decker, but it is unclear as to whether she was of the First (like Nelson's Victory) or the (more numerous) Second Rate? It is clear that she was the flagship of a Vice-Admiral of the Red Squadron, but the date of the engagement in question would require more information than I have available. The fact that she is seen actually flying a Red Ensign (whilst engaged with the enemy) would indicate the possibility that this battle occurred before 1794 (the introduction of le tricolore), but this is by no means certain?
The checked flag is completely unknown to me.
Christopher Southworth, 14 January 2019
---
18-67. Unidentified Flag in Canadian Legion Branch Some Speculation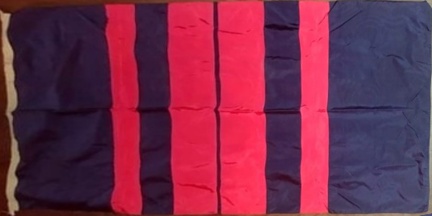 Image from Peter Czink, 24 December 2018
I am hoping that you might be able to help me identify a flag. I have attached a picture of it - unfortunately there are no markings on it. It's well made of natural material (rather than modern nylon). It was found at a local Royal Canadian Legion branch in Vancouver, BC, Canada.
Peter Czink, 24 December 2018
Flags like this remind me of British RAF rank flags, or their Canadian equivalents. However, I would expect the air force blue to be seen, not the dark navy blue. An alternative might be a camp flag of a corps, like the Royal Canadian Engineers
Rob Raeside, 24 December 2018
Is there any reason to assume it's Canadian, apart from its location? Did you ask the members for context? No markings at all, including on the heading?
A look at the National Defence and the Canadian Forces website will get you to the series of the indicated type of flags. [Do we have all those? Do we have an artist who can draw all the flags and all the details? Can we ask the department permission for scholarly use?] This one isn't there.
Not here either, AFAICS. They remind me of the flags to indicate a medal awarded to a collective. Doesn't seem to help either.
If it is military, wouldn't it be likely to have an indication of size on the heading? And would it be made of that same material, if recent? Or when?
Peter Hans van den Muijzenberg, 9 January 2019
---
18-68. Unidentified Libyan Royal Flag Some Speculation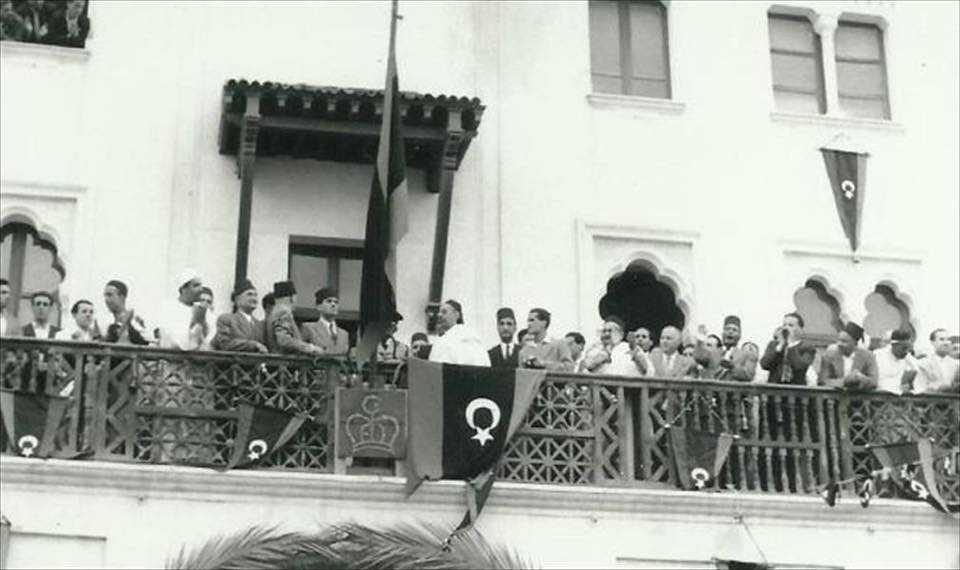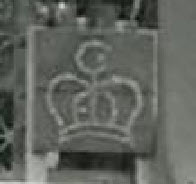 detail
Image from Kryštof Huk, 25 December 2018
I recently spotted this image posted to the FOTW Facebook group. The poster submitted it with the caption "24th of December marks the 67th anniversary of Libya's independence" and several other generic Libya flag images. Erik Sveistrup identified the photo as taking place in 1951 and shows King Idris and the Libyan government.
However, what interests me is the small square(?) flag or plaque to the left of the central vertically hung Libyan flag. It appears to be a dark material with a light outline of the Libyan crown on it (possibly white on black?). My first idea was that it might be a royal standard or a rank flag for the king. FOTW contains references to a "flag of King Idris" displaying the white crescent on black of Cyrenaica and topped with the royal crown in the canton of the flag. Another option is that the square image might just be a generic royal symbol or a permanent decoration on the balcony?
If anybody has any more specific ideas, please let me know. Here is a link to the original Facebook post.
Kryštof Huk, 25 December 2018
I don't believe that the background was black. Can be red or green. Black is the colour of Sanussiyya order and their masters, then it can not be a royal flag for Cirenaica and doubtless for Lybia. Perhaps, if is red, it can be a standard of the Sanussiyya in Tripolitana region. At first, the Kingdom of Lybia was a federation.
Jaume Ollé, 26 December 2018
The black was a guess based on the royal standard (which was white on black) and the contrast on the black and white photo. But yes, it was a guess.
Kryštof Huk, 25 December 2018
I don't think the squarish thing is a permanent decoration. If it were permanent, I would expect the frame to be the same colour as the rest of the balcony. Instead, it's apparently a separate frame, placed under the central flag staff.
Peter Hans van den Muijzenberg, 7 January 2019
There's a flag next to it that does show white on black, and these are quite different shades. It's unlikely the object you're interested in is white on black.
Peter Hans van den Muijzenberg, 9 January 2019
---
18-69. Flags in 1919 (GB?) Some Speculation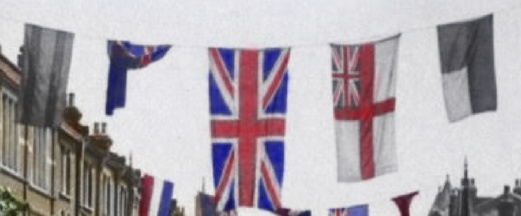 Image from Ray Neman, 29 December 2018
I am currently trying to colourise an old 1919 photo and wondered whether you could identify the two flags at each end.
Ray Neman, 29 December 2018
I don't recognise those two flags and wonder if they are merely decorative banners. I presume this photograph was taken in UK - likely in London?
Rob Raeside, 29 December 2018
The flag on the left would be the Spanish civil ensign from 1785 to 1927: yellow with two red stripes. I am unable to identify the flag on the right; an educated guess of the colour scheme would be: red canton (upper hoist), white upper fly, blue lower stripe.
Miles Li, 30 December 2018
I'd have said quite the opposite. Given the way older black and white film responded to colour, the canton of the other flag is more likely blue and the stripe red - i.e., the design is like the Chilean flag but without a star.
James Dignan, 30 December 2018
I would expect this problem to be easier with more context. For one thing, the colours of the UFEs would be easier to determine if we would known the shades the known flags show in the photograph. Is there an uncoloured version? For another, it might help to know what we see if we would know where we see it. Is there a description of this photograph, other than "five flags, 1919"? Is this the entire photograph or is this cropped from a larger photo showing the next row(s) of flags as well? Any additional information, really.
Peter Hans van den Muijzenberg , 9 January 2019
---
18-70. Unknown California Flag Without Star Some Speculation
Image from Mike Hanauer, 29 December 2018
I've been trying to research this flag for years and I continue to come up empty. I have attached a picture of the flag which measures 24" x 34 1/4". When my grandmother purchased it for my parents in the 70's at an antique shop in Long Island, the history of the flag was on the back. Unfortunately, in 1998 our house burned to the ground and the story was lost, but the frame protected the flag from being damaged. From what my parents can remember, they believe it was a gift from the Governor of Texas to the Governor of California at some point (maybe it was a senator, or it was given vice-versa... not exactly sure). It appears to be linen, but may be a different material, but what is unique about the flag is that there is no star on it. My understanding of the history of the flag is that they immediately transitioned from the flag at the bear flag revolt in 1886 to the modern day flag, incorporating the star from the lone star flag from the revolution in 1836. From my understanding, this was never the design of a flag of California, so maybe it was a design from before the modern day flag was adopted in 1911 that I can't find any info on, or something else. I'm clueless here and I've reached a dead end.
Mike Hanauer, 29 December 2018
I can't take this any further than you already have, except to say it might simply be a decorative representation of California.
Rob Raeside, 29 December 2018
I've never seen this before. Probably a strange manufacturer variant probably in the 1900-1925 time frame. It also has an odd thin red stripe besides the absent star.
Bill Trinkle, Bear Flag Museum, 30 December 2018
---