This page is part of © FOTW Flags Of The World website
Unidentified Flags or Ensigns Page 4 (2018)
flags submitted in 2018 - Page 4 of 5
Last modified: 2023-06-03 by

zachary harden
Keywords: ufe | unidentified flags | 2018 |
Links: FOTW homepage | search | disclaimer and copyright | write us | mirrors

---
Please note our Policy for Submissions and Enquiries.
Below is a series of images of flags that have been provided to FOTW; some we have recognized, and some we have been unable to recognize. If you can help us identify any of these flags, please let us know! Contact the: UFE Editor.
Identification Key:
= Positive ID (Positive Identification)
= Tentative ID (Tentative Identification)
= Some Speculation
---
18-36. Jogo Unknown Flag Positive ID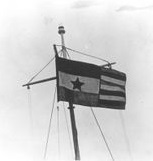 Image from Alistair Dallas, 27 April 2018
Found this interesting flag on Fotogalerija|Arhiv Znaci. Its nearly all about the Jugoslavian commie partisans.
Alistair Dallas, 27 April 2018
The flag looks like a combination of the two flags presented on FOTW at the National Liberation Movement (Yugoslavia, Second World War): Note that there is also a (source) displaying the same flag. The star is a "fat" variant, but centered, smaller than in the images we currently present, and no accompanying anchor.
Tomislav Todorovic, 27 April 2018
Well identified indeed Tomislav, but given the conditions in German occupied Yugoslavia during three years a little variation is to be expected is it not?
Christopher Southworth, 27 April 2018
---
18-37. Unknown Mixed Melanesia Flag Some Speculation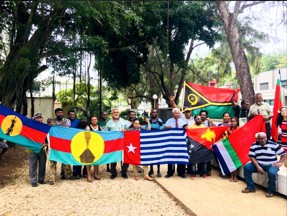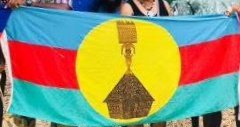 Images from Jason Saber, 29 April 2018
I stumbled across this image of Melanesian flags. I don't recognise the second from the left next to the Kanak flag but it looks similar to that, so wondered if it may be a city or province? Don't see it listed on FOTW so perhaps it's a novel creation?
Jason Saber, 29 April 2018
It is a tricolor. (Whether it's intended is another thing.) We might fare better with some context: Where does this image come from?
Peter Hans van den Muijzenberg, 13 May 2018
The source of the Mixed Melanesian Flag that remains unidentified is from a Free West Papua Campaign demonstration in Vanuatu, and I think the unidentified flag is just a custom Kanak and Socialist National Liberation Front (FLNKS) flag - you can see the color pattern appears almost identical in this photo of the New Caledonia flag. (source)
Considering the FLNKS flag is adorned with a traditional Kanak roof ornament, I don't think it's such a stretch to assume the house in the possibly-custom flag represents something similar.
Greyson Miller, 8 December 2018
---
18-38. Do You Recognize This Flag Tentative ID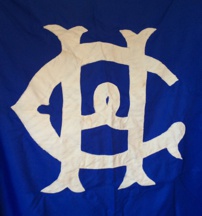 Image from Mark Brader,7 May 2018
Do you happen to recognize this flag? The question was asked on the Wikipedia:Reference desk/Humanities [Read more speculation there].
Mark Brader, 7 May 2018
It looks home-made to me, so could be a family flag, or something unofficial.
Rob Raeside, 7 May 2018
This almost looks like a Christian symbol to me. Are there any indications that it is even a flag? Maybe a wall hanging?
Pete Loeser, 13 May 2018
Is this a flag? I only see a monogram or a cypher.
Peter Hans van den Muijzenberg, 13 May 2018
It is absolutely impossible to pick up on this query if we do not include several details posted on the original message (#219595). For instance, in the message forwared originally by Mark Brader, he points out a question in a forum with the topic being "Reference desk/Humanities". When an occasional reader goes to look for clues on such a flag question, one can find that the list of subjetcts grows on a daily basis. So: if the message was originally sent on May 7, it should be noted on our entry so as to not get confused with subsequent questions on the same forum posted on the same thread.
Also, the flag in question is taken from a Twitter account judging from its URL, but no Twitter account (nor tweet) is given, so we can start to look for it, its source, etc.
Furthermore, when one clicks on the link provided there is no reference to a flag or banner in the text whatsoever. So, if we could please be a little bit more specific on the flag in question, it would help a great deal when trying to identify it.
Esteban Rivera 13 May 2018
See here. Also, the flag in question is taken from a Twitter account ...by "tonyoconn1".
Peter Hans van den Muijzenberg, 13 May 2018
Questions on the "Wikipedia:Reference_desk/Humanities" forum only remain there for about a week whether they are answered or not. The discussion thread is archived here, but since no real information is available on this one, I would suggest not worrying about it.
Mark Brader, 13 May 2018
By-the-way, "tonyoconn1" is Tony O'Connor, administrator of the Lloyd George Archive twitter account. Wording suggests that this account indeed publishes for the archive.
Peter Hans van den Muijzenberg, 19 May 2018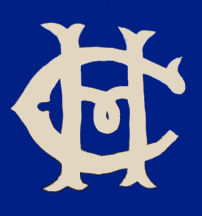 #38a

#38b Images from Dave Martucci, 19 May 2018
First of all, I believe the image is upside down and backwards, see image #38a. Secondly, it has been haunting me that I recognize this monogram and I finally placed it, although I cannot find a version identical to the design details here. I'm pretty sure it is an antique version of the "word mark" of Holy Cross College in Worcester, Massachusetts. While today their mark is a "clean" sans-serif font shown on a purple background (#38b), I have seen other font styles on a dark blue in the latter part of the last century. For the record, I briefly dated a young lady who attended Holy Cross and one of the three or so dates we went on was to a football game where hundreds of pennants with this logo on them were waving. My recollection is that the pennants were blue with the white cypher.
Image from Dave Martucci, 19 May 2018
Ah, upsidedown and backward, so that is what irked me in the image as it was. You also mentioned you were "pretty sure it is an antique version of the 'word mark' of Holy Cross College in Worcester, Massachusetts".
I expect for a USAnian it would be easy to confirm that with the college. There are several CH entities that might have such a flag and might be related to Lloyd George's life, so we'd need to find the one that actually had exactly that cypher and indeed had such a relation.
Is anyone in Britain asking the House of Commons? (The combined cyphers of C and H in Great Britain will probably be more difficult, so it makes sense to first try to confirm one of the easier ones.)
Peter Hans van den Muijzenberg, 20 May 2018
---
18-39. Unknown Groom Shipping Line flag (UK) Some Speculation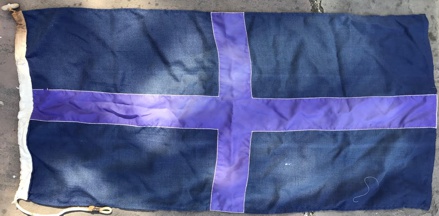 Image from Alistair Dallas, 7 May 2018
I have an old flag which is a purple cross on a dark blue background which I am told was flown by my great grandfather's shellfish shipping line Groom off the East Anglian coast. Do you have that one in your records or know where I should ask please?
Alistair Dallas, 7 May 2018
Purple and blue, or two shades of blue. It is quite unusual. I checked our collection of upright cross flags and we have nothing like it. I suspect the simplest explanation is probably the best one here - you reference your great grandfather's shellfish shipping line, Groom. Is there any reason to presume it is not related to that company? I do note that the flag looks a lot newer than the time of a great-grandfather. The field looks like it might be made of a bunting, but can you tell if the central cross is a nylon type of fabric? Have you had the hoist strip and clips replaced? These look new too.
Rob Raeside, 7 May 2018
Well, it doesn't look like it's a formerly white cross post-laundering. So, really an unusual combination. Archives at Fishmongers' Hall? Shell-fishing is an East-Anglian thing, I guess, so local historical societies? Might be easier if Alistair would happen to know where Great Grandfather plied his trade.
Peter Hans van den Muijzenberg, 13 May 2018
---
18-40. Unidentifiable Burgee Some Speculation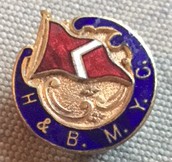 Image from Sara Sullivan, 13 May 2013
I have a cap badge that I found in a collection of pin badges. It's says H&B. M.Y.C. I can't find any marina or motor yacht club that would fit H&B. I also can't find any with that red burgee and white chevron.
The cap badge has a registered design number stamped on it which I have established was registered in late 1913/early 1914 (but of course that's the design not the badge). It was also made by the well respected Thomas Fattorini. Any information you have would be appreciated.
Sara Sullivan, 13 May 2018
A possiblity here - could it be related to the Bayonne Yacht Club?
Rob Raeside, 14 May 2018
This pin is seen here - Obverse (already attached) and Reverse (See original source). Notice that in the reverse, one can read its manufacturer, Bromfield Sports, (located in Shoreham by Sea, on West Sussex.
Esteban Rivera, 14 May 2018
I discovered another badge identical to this. The clue was on an image of the reverse of the badge, showing that it was made in Shoreham-by-Sea, Sussex (just outside Brighton). There was, in the early 20th century, a Hove and Brighton Model Yacht Club, and I suspect this was their burgee.
James Dignan, 8 July 2018
---
18-41. UFE from "The Lloyd George Archive"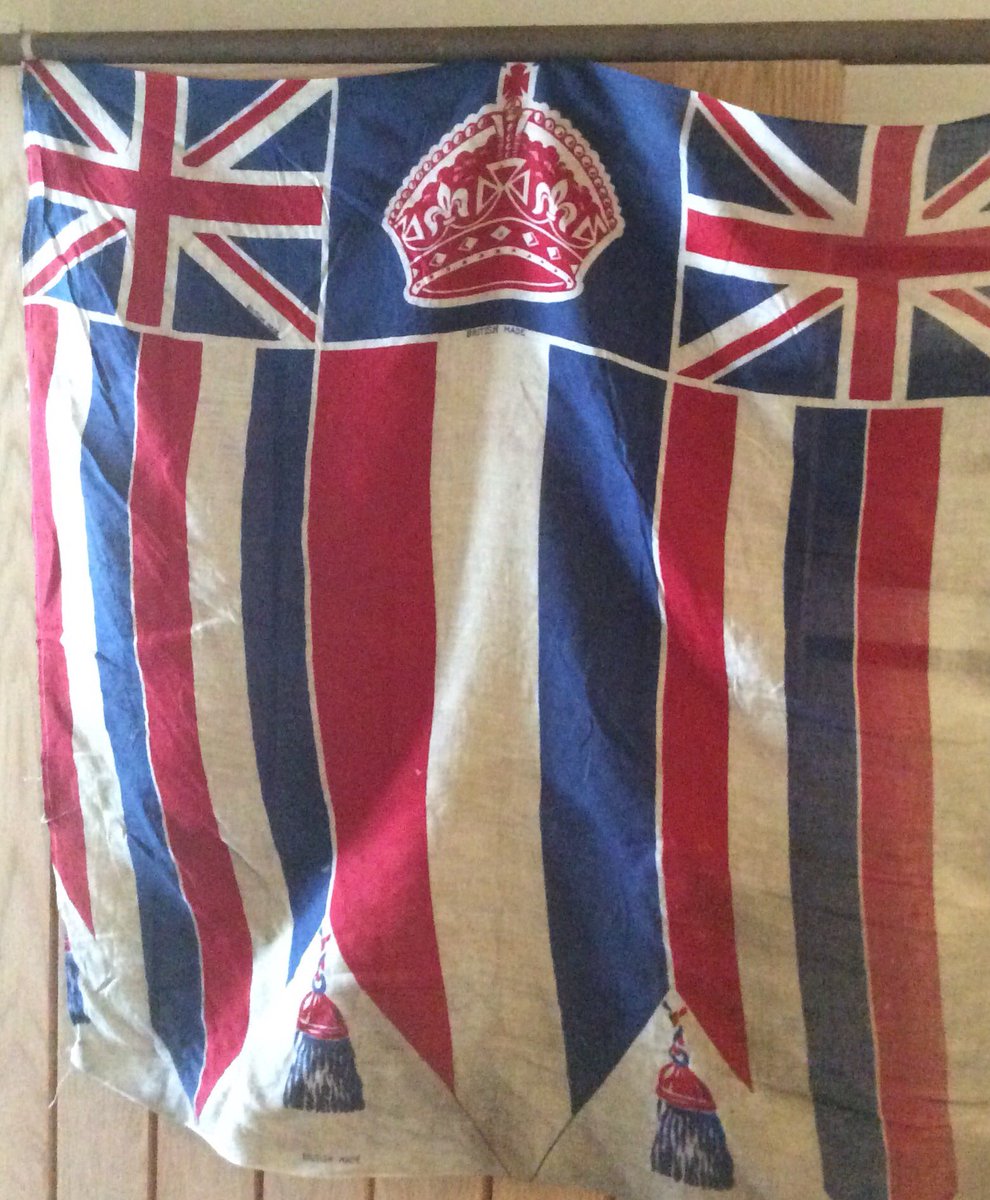 Image from Esteban Rivera, 20 May 2018 (source)
Here is a flag from the "Lloyd George Archive Twitter Account" by Tony O'Connor. This flag is from this tweet published on May 18, 2018. The picture caption reads: "An old banner/flag from our collection. Somewhat appropriate for this weekend!...Can anyone identify this flag?"
Esteban Rivera, 20 May 2017
---
18-42. Unknown Russian Flags in a Parade One Positive ID and Some Speculation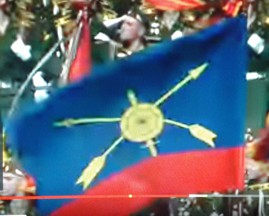 #42a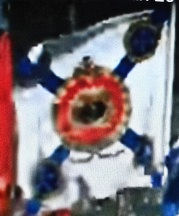 #43b
Image from Art Montreal, 6 June 2018
I'm attaching a pair of screenshots of the last Victory Day parade in Moscow (May 9). for your consideration. Their quality is not the best, for which I apologize. Maybe our friend Viktor can tell us whose flags are they.
Art Montreal, 6 June 2018
One is the Russian strategic missile troops flag and the other appears a regimental unit flag of the Navy.
Ломанцов В.А. Lomantsov, 6 June 2018
We can't identify the second photo. And nobody can do it. Because the photo is too small. It may be a regimental flag, may be a division flag, or it may be the flag of some other military unit of the Navy or Navy School. All these flags are similar. They differ only in their central emblem. For example, see several flags at my Vexillographia page.
Victor Lomantsov (Ломанцов В.А. Lomantsov), 9 June 2018
Regarding #43b, according to this list of Military Units involved in the Victory Parade in Moscow (2018 version), the flag in question is clearly of naval origin. According to the list of participating Units, the ones that took part in this parade version are (in the respective Order of Precedence in the Parade):
- Балтийский военно-морской институт "Адмирал Федор Ушаков" (Baltic Naval Institute "Admiral Feodor Ushakov")
- "Нахи́мовское военно-морское учи́лище" (Nakhimov Naval School)
- "336-я отдельная гвардейская Белостокская орденов Суворова и Александра Невского бригада морской пехоты (336-й обрмп)" (336th Independent Guards Bialystok Orders of Suvorov and Alexander Nevsky Naval Infantry Brigade)
- "61-я отдельная Киркенесская Краснознамённая бригада морской пехоты (61-я обрмп)" (61st Separate(Independent) Kirkenes Red Banner Marine Corps (61st Division), also known as 61st Naval Infantry Brigade).
Given the 61st Naval Infantry Brigade's participation in recent events (i.e. Syrian Civil War for instance (source), one is lead to think that the Unit is being hailed for its merits in that particular conflict and I would go with this Unit as the one featured in Art Montreal's picture, in contrast with the 336th Independent Guards Bialystok Orders of Suvorov and Alexander Nevsky Naval Infantry Brigade. However, after watching the full video of the Parade, in which all of the Units display their flags (from 38:00 to 40:30 in the video), specifically the four mentioned above of naval origin, it is either one of them.
Esteban Rivera, 17 June 2018
---
18-43. Unrecognized May Day flag in Berlin Positive ID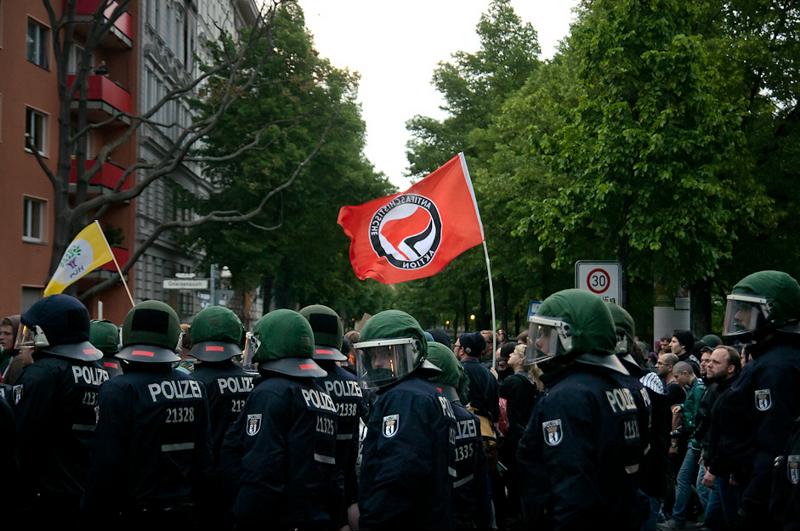 Image from Pete Loeser, 6 June 2018
Does anybody recognize the flag on the left in this picture of the police taken at the Mayday Demonstration on 1 May 2014 in Berlin. The righthand flag is, of course, one of the Anti-Fascism Action (Antifaschistische Aktion) flags, but although the yellow one on the left seems familiar, but I can't recall it. The original name of this image was "MayDay2014AntifaschistischeAktionDemonstration.jpg" and it was tagged "#Mayday Berlin - Revolutionary demo" if this helps.
Pete Loeser, 6 June 2018
The flag belongs to a Turkish political party, the Peoples' Democratic Party (Halklarin Demokratik Partisi - HDP).
Ivan Sache, 6 June 2018
I wonder what it was doing at a German May Day Demonstration? That is a great page, by-the-way.
Pete Loeser, 6 June 2018
HDP is a left-wing alternative party and a main opponent to the ruling parties AKP and CHP. There is a sizeable Turkish community in Germany. The May Day demonstration is a good opportunity to see several Turkish political flags, including those of organizations banned from Turkey. Manuela Schmöger contributed several reports on May Day demonstrations in Munich.
Ivan Sache, 6 June 2018
---
18-44. Flag, Unknown, Arabic, Jihad Militia? Some Speculation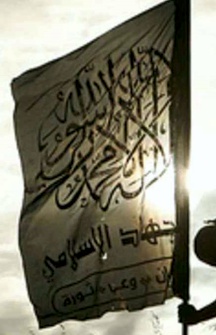 Image from William Garrison, 2 June 2018

This flag was found in an article by Raymond Ibrahim called "Islam's Impact on the West's Identity" in his weekly column "The Ugly Truth" (Front Page Magazine, 1 June 2018).
William Garrison, 2 June 2018

This flag displays the "Khatam an-Nabiyyin" (خاتم النبيين) Seal of the Prophets without the circular border and in black and white colors. The Seal of the Prophets is a title used in the Qur'an to designate the prophet Muhammad. However the flag in question is used in the context of Islamic Extremism, more specifically in Jihadism (in general).
The first used of this picture dates back to (at least) 2012 as this article and, again, given the context in which it is discussed, my take is that it is related to Isis, which at that time was starting to emerge.
Esteban Rivera, 17 June 2018
---
18-45. Old Decorative Flag found in Iceland Some Speculation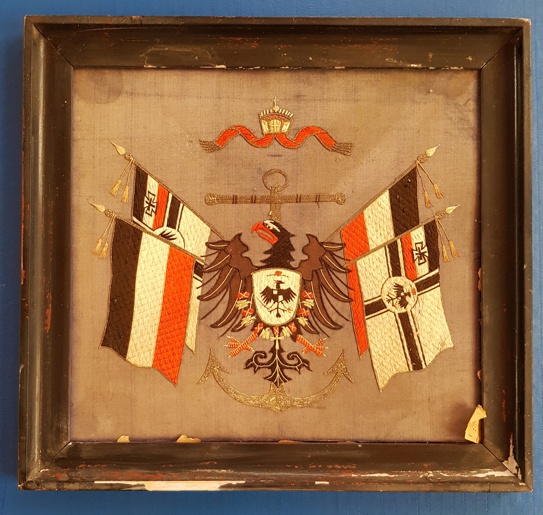 Image from Ketill Gunnarsson, 29 June 2018
I found an old framed decorative flag in the attic of my old house about 20 years ago here in Iceland. I put it into storage and didn't think much about it. Was renovating the house and had enough on my hands.
Looking for information about this using google reverse image search I found your page on War Ensign 1871-1919 which is the closes match I've found so far. So if its not too much bother, could you shed any light on what this decorative flag is? I know its Germanic and naval due to the anchor, probably came from a ship that docked here in iceland I guess. Anyway thanks in advance and greetings from Iceland.
Ketill Gunnarsson, 29 June 2018
I'm in a bit of a time crunch, but a few quick speculations here. It looks to me to be either Imperial German or even Prussian subnational. I base this speculation on a couple of factors. First there is the addition of the imperial crown and scarf (forget the German name) above the Reichsadler (Reich eagle), a variant similar to those used on ensigns such as German Imperial Service Flags and especially by the German foreign office. Then there is the shield on the chest of the eagle, very reminiscent of Prussian flags like those used on the Posen-West Frontier Province State Flag. Anyway, for those working on this project, perhaps these can be clues leading you in the right direction. Happy hunting.
Pete Loeser, 7 July 2018
German imperial, definitely: the device in center is the Imperial arms superimposed on an anchor, and the flags at its sides are those of the Empire, not Prussia. Only the crown with infulae (not scarves) is moved upwards, atop the anchor, instead of being placed atop the Imperial eagle, and is depicted somewhat erroneously: the infulae are red instead of gold and the inside of crown is also red, as if having an inner red cap (which should be gold).
The imperial eagle is bearing the royal arms of Prussia: silver shield charged with a black eagle, which bears the escutctheon of arms of the House of Hohenzollern - quarterly argent and sable. Consequently, no connections with the Posen-West Prussia Frontier Province.
Tomislav Todorovic, 7 July 2018
I agree with Toma, it is German Empire, depicted incorrectly but at least simplified, and twice showing the then German merchant ensign and the war ensign (Reichskriegsflagge). It might belong to a German naval association.
Klaus-Michael Schneider, 7 July 2018
---
18-46. Mystery Flag in Photo Some Speculation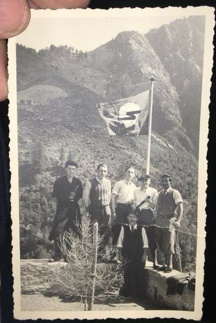 Image from Jason Saber, 27 June 2018
The attached photo appeared on the Facebook page today. I thought it would be of interest.
Jason Saber, 27 June 2018
This is not a flag I know, but the symbol reminds me of two groups - the British Union of Fascists and the German American Bund Youth Unit. Any suggestions?
Rob Raeside, 27 June 2018
This also resembles the flag of Integralist Party of Great Britain and Northern Ireland. But most of all, it looks as if someone drew a sig-rune shape with a felt-tip pen over the photo, presumably in order to cover a symbol they did not want to be recognized, or less likely, to add a missing symbol they wanted to be there (the disc looks rather vacant, minus the said shape).
Tomislav Todorovic, 27 June 2018
---
18-47. Swedish Flag Variant Some Speculation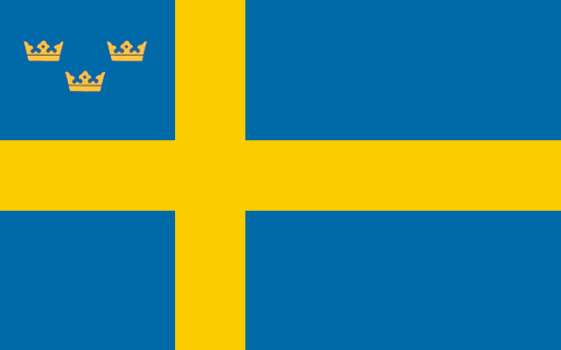 Image from RM Walsh, 3 July 2018
A restaurant in New Castle, DE, flies the flags of UK (17th/18th century version), Netherlands, and Sweden, the colonial powers that each controlled New Castle. The Swedish flag is a variant I have not seen elsewhere, with the Swedish royal three crowns in the canton (perhaps not the correct term in this case). Here is my reconstruction.
RM Walsh, 3 July 2018
I believe this is an adaptation of the tre kronor into a [hockey fan] flag. The recurrent use of the tre kronor is widely common on hockey team flags used in tournments, although there are no official flags for it. I specifically refered to some of the flag adaptations seen and discussed as part of the "Strange Flags at Hockey World Cup" (UFE 16-59) discussion (List message #211521). I further suggested in a previous message to the list (List message #211652) the inclusion of additional flags as part of the hockey tournament in which that version of the tre kronor flag was spotted.
Esteban Rivera, 9 July 2018
---
18-48. UFE Found with colonial flag of Jamaica Positive ID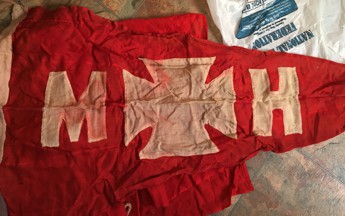 Image from Stuart Bodgers, 3 July 2018
This item was discovered in a plastic bag, wrapped in a colonial flag of Jamaica. The flags belonged to my Father-In-Law now sadly deceased and we know he was a merchant seaman between 1953 and 1958. I can't quite decide whether it is a Maltese Cross or croix pattée on the pennon?
Stuart Bodgers, 3 July 2018
I do not recognise this flag nor can I find it in some of the more obvious places in FOTW. A pennant like this without the MH was used as part of the flag of Furness Houlder Argentine Lines, and the Forth Yacht Club in Scotland used the cross pattée in the 19th Century.
Rob Raeside, 3 July 2018
This flag is the house flag of Moss Hutchinson Ltd, London.
Dominique Cureau, 3 July 2018
---
18-49. Unrecognized Flag in the KGB Museum Positive ID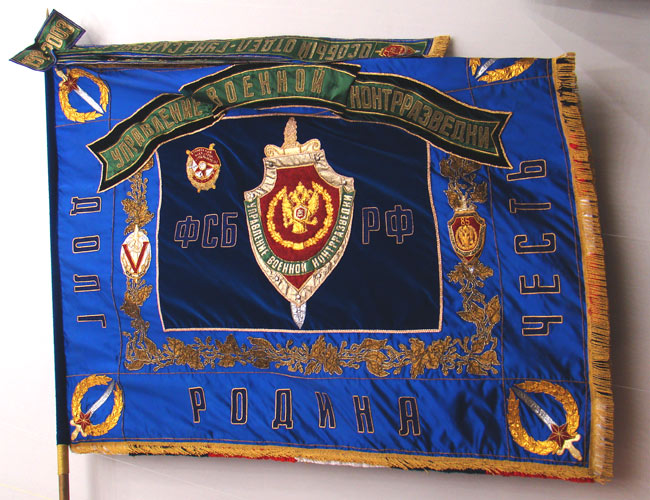 Image from Heli Karhunen, 7 July 2018
Interesting stuff, history. Unfortunately Russia's leaders are trying to hide and cover up the nasty aspects and instead want everybody to believe it was all honor and glory.
Heli Karhunen, 7 July 2018
I could translate the inscriptions as follows: above and in central arms "Command of Military Counter-intelligence", in orle: "Duty - Homeland - Honour". I hope that helps!
Klaus-Michael Schneider, 7 July 2018
It is for the Directorate of Military Intelligence - part of Federal Intelligence Service. The banner made in single instance. This type of flags was not adopted officially. I think it was made by veterans of the Directorate in about 90ths. Maybe as memorial banner... Now the banner is in the museum.
Victor Lomantsov, 7 July 2018
---
18-50. German Signal Flag Enquiry Some Speculation

#50a

#51
Image from Natasha Miles, 26 September 2018
I wonder if you can help me identify a German signal flag from World War II. It was recently acquired by the Russian Arctic Convoy Project and we believe it once belonged to the u-boat U255. We are now trying to ascertain what it was used for. I have attached some photos. Any assistance would be greatly appreciated.
Natasha Miles, Russian Arctic Convoy Project, Scotland, 26 September 2018
At first I thought it was some sort of victory pennant judging from the shape of the item attached. However, after looking a bit deeper into other sources (source #1) and (source #2)it is perhaps a more educated guess to pinpoint this pennant as a German Signal Flag. Here's a picture (source) that shows the size of Victory Pennants by this boat, in contrast to another flag raised on its control tower, which definitely clears up the issue and discards the attached image as a Victory Pennant. This picture is also found here (original photograph) (source). The caption reads: "U-boat crews aboard their craft, at Narvik, Norway, following the action against PQ-17, Flying the flag of one of their victims. This was a high scoring boat, credited with 30,000 tons sunk. Note 20mm gun on conning tower, raised periscope, and anti-torpedo nets in background. German wartime photographs." Again, the same picture is located here (source). The Caption reads: "U-255 after the attacks on PQ 17, flying four victory pennants and the captured flag of the merchant ship SS Paulus Potter&quot (source #1) and (source #2).
The Signal Flag that is most similar to the one attached, is the Number 2 on the German Signal Flag system. It is also similar to the ICS Number 3. Now the question is why this U-boat used (either) number. Perhaps denoting a sortie (mission) or the number of enemy boats attacked/sunk/hit? Or even maybe it is related to Convoy PQ-17?
Esteban Rivera, 27 September 2018
---
18-51. Fictional Flag spotted in the 1965 Film "36 Hours"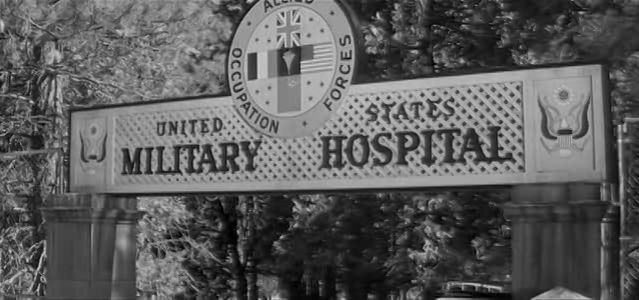 #51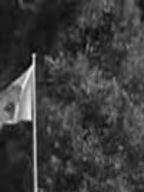 #51a
Image from Graham Donald, 29 September 2018
I was watching the World War II film "36 Hours", in which the Germans try to trick an American officer into giving up the secrets of D-Day by convincing him that the war is over and the Allies won. The flag in question is that of the unified command of occupied Germany, it only appears in a few scenes and I've attached the best of the screen shots I could get. The logo on the flag also appears in several other places so I've included a shot of it face on. The film is black and white so the colors will have to be worked out.
Graham Donald, 29 September 2018
---
18-52. Question about Canadian 1863 Mercantile Flag Codes Positive ID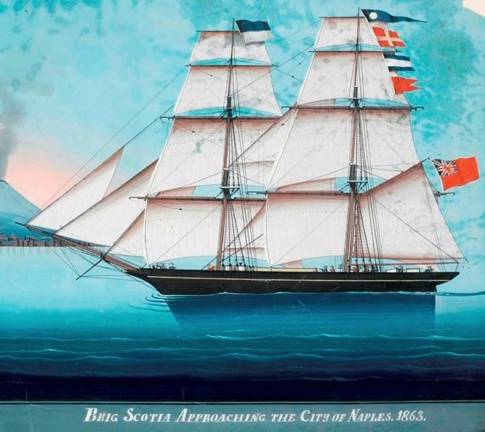 Image from Arlene Gehmacher, 29 September 2018
I am researching a watercolour in our collection: it's of the brig "Scotia" in the port of Naples in 1863. I have information from the dealer (which he took from Lloyd's Shipping Register, 1868) that the ship was registered in St. John's Newfoundland, and that it belonged to Punton & Munn. The flags are quite clear, and based on the Marine Trade flag manual that I consulted, it seems to me that the flags are identifiable by letter (4-signal, top to bottom: D, R, J, B). It looks like it has the British mercantile marine flag on the gaff. But I am so very not knowledgeable about interpreting such details (consulting the previously mentioned book, I took DRJB = hawser-laid rope), and would very much appreciate any help you think you could offer.

Current cataloguing, based on Lloyd's American Register 1863 is as follows:
- Brig Scotia
- Captain R. Purcell
- Class A2
- 284 tons
- 106.5 x 24.5 x 12 ft [in Lloyd's American 1866, the length suddenly becomes 166 ft]
- 1 deck (plus beams)
- 12 draft
- Mixed wood, with copper and iron bolds
- Built 1861; metalled November 1861
- Built in Shelburne, Nova Scotia
- Port in 1863: St. John's, Newfoundland
- Owned by/consigned to Punton & Munn - Model: Medium
- Surveyed: New York, 1863

I've not yet been able to determine how widely sailed the Scotia was. Any online references related to Punton & Munn suggests their trade was more local. So I am hoping the flags may give a clue as to whether or not I have the correct "Scotia." [n.b. that the colour is "off" - apologies... I cropped it, and the colour shifted.]
Arlene Gehmacher, Curator, Canadian Paintings, Prints & Drawings, Department of Art & Culture, Royal Ontario Museum, Toronto, Ontario, 29 September 2018
I received this inquiry below from the Royal Ontario Museum. Can anyone provide any more information about this ship or flag sequence?
Rob Raeside, 29 September 2018
The ship in the picture is 'making her number', ie identifying herself, according to Captain Marryat's Code of Signals for the Mercantile Service, the forerunner of the modern International Code of Signals.
Under Marryat's code, the flags read, 2nd distinguishing pennant-7-2-5. The 2nd distinguishing pennant merely identified which schedule of names in the Code was intended (there would be five such schedules eventually); 725 is listed as the Scotia, but there are no other details given as to which Scotia it could possibly be.
The Red Ensign would be the appropriate ensign for a Canadian-registered ship in the early-mid 1860s, before the creation of a distinctive Canadian version.
The blue over white flag on the foremast is probably that of the owner, but I have not been able to trace a similar flag in the material in our library. Having said that, information on such early house flags is very difficult to find. They are frequently shown as marginal illustrations to prints depicting individual ports, so it may be worth looking for such a print for St John's.
Ian Sumner, 10 October 2018
We always appreciate your insight and knowledge! For further information, I have a chart of Signals made at the Port of Halifax, which provides a number of late 18th Century shipping line house flags. There is one blue over white bicolour, allocated to Pryor & Son.
Rob Raeside, 10 October 2018
I have (of course) nothing to add to Ian's summary, however, Arlene may care to check the Dictionary of Vexillology's entry on "Marryar" where there is a link to the appropriate page of FOTW.
Christopher Southworth, 10 October 2018
---
18-53. Early Ross-type flag image?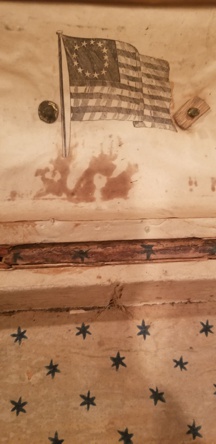 Image from David Martucci, 12 August 2018
I recently received the attached image along with the following explanation: "I recently aquired an late 1700s, early 1800s deer hide document box that has an interesting paper lining, with the Betsy Ross flag. Of course the first thought is the lining might have been added later 1800 after the Betsy story was trendy, but the print/paper seems to be late 1700 - grain, quality, shade of ink, the print in thebhinge area etc. I attached some pictures."
My response was: "The so-called 'Betsy Ross' design was not associated with Elizabeth Griscomb Ross Ashburn Claypoole until after about 1876. She herself never made any claim on the record to having made this design flag or any other 13-star flag. The claim that she made the first Stars and Stripes in 1776 was made by her grandson, George Canby, in 1870. This followed some news accounts that Rebecca Young had made that claim as early as the 1840s or so and that her first flag claim was that Young made the first flag in 1777. However, at least one document from 1782 shows a flag very similar to your design, with more white stripes than red, except that it showed eight-pointed stars. I note with interest the bottom of the box has six-pointed stars. One feature of concern is the fact that the 5-pointed stars on the flag all point up. So far this feature has not been found on flags or flag images before the 1820s and even then it was very rare until the 1860s and later. My understanding is that paper manufacturing techniques had not changed much before the middle of the 19th century so the paper type could be contemporary to anytime before that. Having said all that, your guess is as good as mine."
So your guess is certainly as good as mine. What do you think?
David Martucci, 12 August 2018
---
18-54. Flag seen on the movie "The Sand Pebbles" Positive ID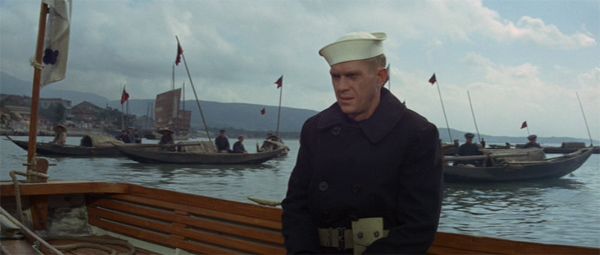 Image from Miles Li, 9 August 2018
I just saw "The Sand Pebbles" (Steve McQueen; 1966), about the fate of an American gunboat in mid-'20s revolutionary China. Plenty of "Taiwan" flags are shown, but some smaller craft display an white ensign that appeared to have 5 blue quatrefoil 'flowers', cornered and in the center. So far, I've found nothing...
Phil Allen, 9 August 2018

Image by Joe McMillan, 8 August 2003
I believe this is the flag you saw on "The Sand Pebbles" (shown above): Today it is the NATO signal flag "Zero". However during the time the movie was set, it was the US Navy signal flag "Guard & Guide." (reference: National Geographic Magazine, October 1917, p.318)
Miles Li, 9 August 2018
---
18-55. Gold NSDAP Podium Banner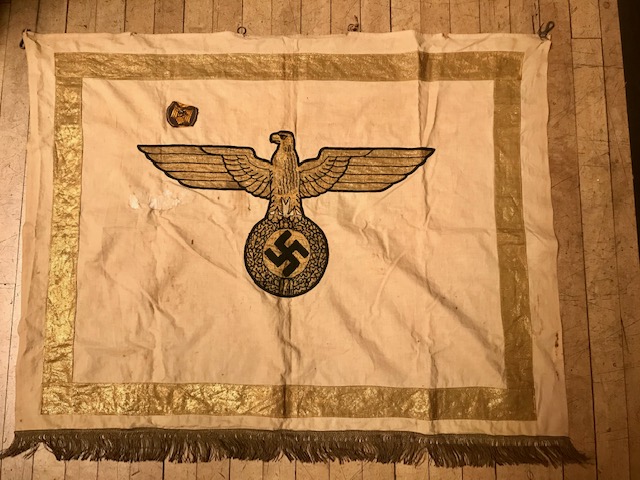 #55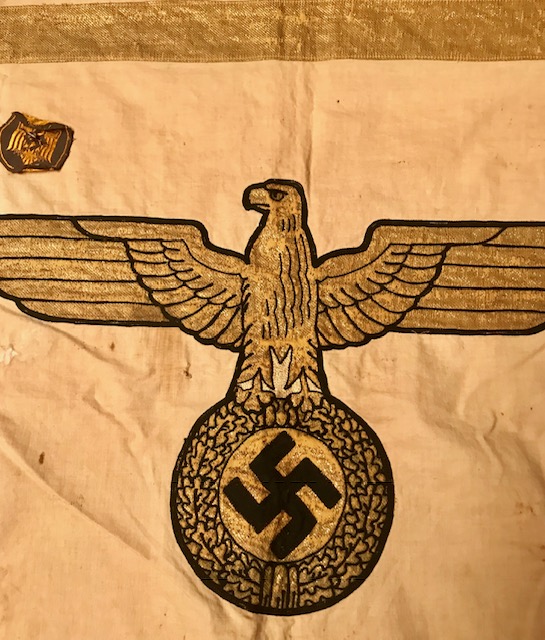 #55a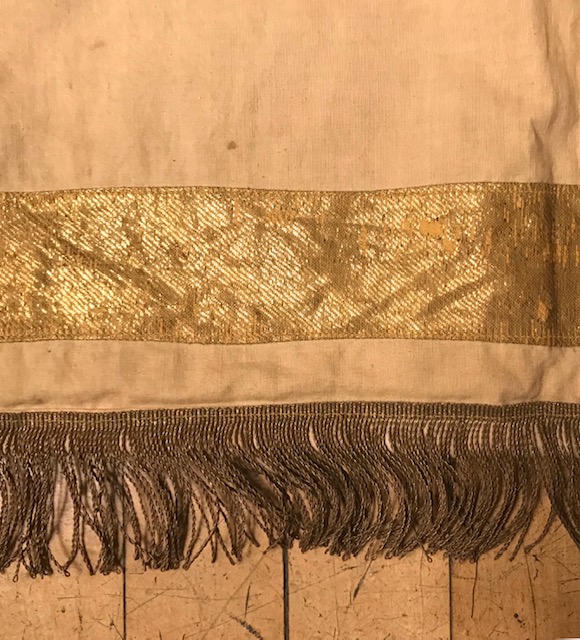 #55b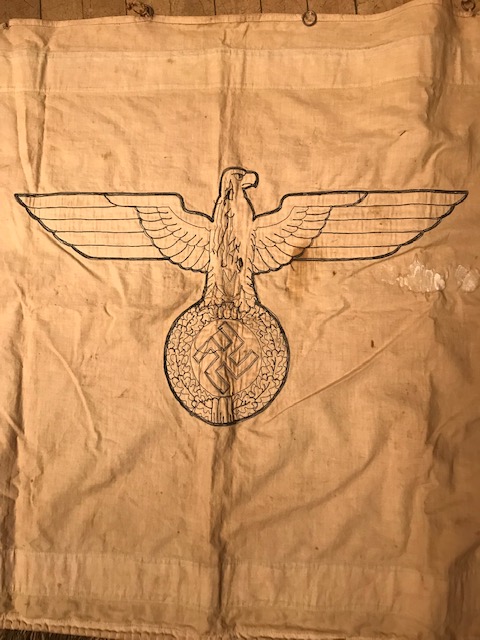 #55c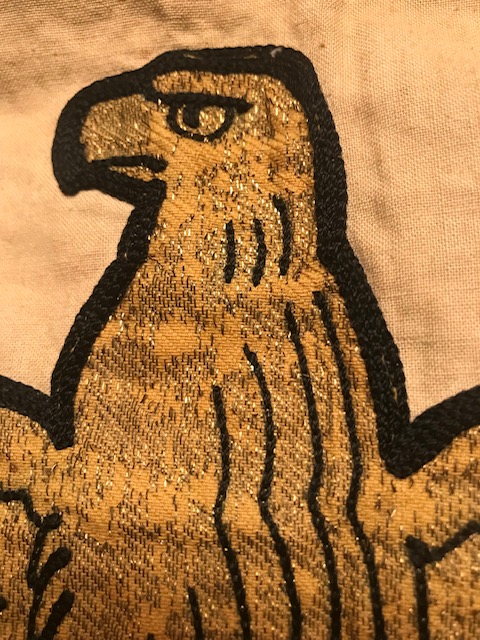 #55d
Images from Paul Milbury, 3 October 2018
My name is Paul Milbury of Military Historical Arms and Antiques in Globe, Arizona. I have had this, what I believe to be a podium banner, for a number of years now and just came across it as my wife and I are in the middle of "organizing". I'm hoping that you might be able to give it a proper identification. I see a similar silver one with a red background on your site and wonder if the gold color represents a higher ranking official? I will be happy to answer any questions and provide more pictures.
Paul Milbury, 3 October 2018
---