This page is part of © FOTW Flags Of The World website
Unidentified Flags or Ensigns - Page 2 (2022)
flags submitted in 2022 - Page 2 of 3
Last modified: 2022-07-30 by pete loeser
Keywords: ufe | unidentified flags | 2022 |
Links: FOTW homepage | search | disclaimer and copyright | write us | mirrors

---
Please note our Policy for Submissions and Enquiries.
Below is a series of images of flags that have been provided to FOTW; some we have recognized, and some we have been unable to recognize. If you can help us identify any of these flags, please let us know! Contact the: UFE Editor.
Identification Key:
= Positive ID (Positive Identification)
= Tentative ID (Tentative Identification)
= Some Speculation
---
22-21. Unknown (Yellow/White/Brown) Tribar Flag Some Speculation
Associated with Pennsylvania before 1959...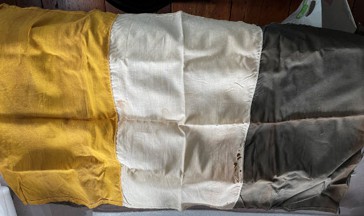 Image from Dr. Barbara Wert, 26 September 2021
Originally sent to NAVA for identification, forwarded to FOTW by Ted Kaye, 27 March 2022.
I am a member of an historical society and on a committee to catalogue textiles in storage for our society. We came across a flag that none of our current members seem to be able to identify. Can you help? It is about 23" x 33", on a 4 foot Pole with finial and was found with other flags the same size of United States 48 star flags (same pole, finial and size).
It may be local to our area but no one knows. It is a trifold flag with golden yellow, white, and brown (faded) in that order from the pole out to the end. Have you ever seen anything like it or know of ways for my group to research or identify it? Any assistance or direction would be deeply appreciated.
Dr. Barbara Wert, Bloomsburg University, 26 September 2021
If possible, can you send an image of the flag, and of any details (writing on header, for example)? Let us know your location/society name, too - as that might provide clues.
Dyes sometimes fade or change over time - for example blue can turn into brown, so that might be part of the puzzle.
Ted Kaye, NAVA secretary, 27 September 2021
We had just pulled it out of a bag with multiple flags so please excuse the crinkles. Our Society is the Hanover Area Historical Society in Hanover, Pennsylvania. We are located between Gettysburg and York. There is no writing and yes, the colors are faded. The photo may present colors slightly different from the real thing but they seem to be a goldenrod yellow (next to the pole of the flags), white, then brown (or possibly green or possibly another color) at the free end of the flag. They were found with American flags with 48 stars of the same size and with similar poles and finials (simple cone shape). The photo is portrait but the flag is designed horizontal so you will want to turn the photo for realistic viewing.
Dr. Barbara Wert, 28 September 2021
I'm not recognizing it immediately. But I'll work on it. Coincidentally, my son did major research into tribar flags (horizontal and vertical) 20 years ago, so I'm checking his documentation for prospects. Were the others all U.S. flags or were there some others as well? If so, is it possible to list some of the other flags in the set?
Ted Kaye, 27 September 2021
There were only the US flags and several of this flag together . No other flags were found.
Dr. Barbara Wert, 28 September 2021
Information on this flag remained inconclusive and so Ted passed it on to you to see if we could find anything.
Pete Loeser, 27 March 2022
This flag reminds me of some of the National Woman's Party (NWP) flags used by the American Women's Suffrage movement. The "Congressional Union for Woman Suffrage" held their First International Women's Suffrage Conference in 1902, and this was before the gold-white-purple "horizontal" tricolor was made the flag of the American suffrage movement. Perhaps that mysterious faded brown/blue third stripe on those found in storage were actually purple ones and these flags were a set of early demonstration banners or flags used by the suffragettes before they became more standardized. There were many large demonstrations with people carrying both the Stars and Stripes and Woman's Suffrage Movement Flags, displaying them both horizontally and vertically. The NWP became the first group to picket the White House and frequently conducted marches. The 48-Star Flag became official in 1912 and in 1913 Alice Paul organized a large demonstration in Washington D.C., for example. Perhaps this is a set of their early demostration parade flags you have discovered. The gold-white-purple "horizontal" tricolor only became official after 1917 when the "Congressional Union for Woman Suffrage" reinvented themselves as "The National Woman's Party." There were many demonstrations and perhaps "vertical" tricolors, or horizontal ones rotated counterclockwise, like these were used as banners or decorations? Since it is Woman's History month, why not consider this a working hypothesis?


Pete Loeser, 27 March 2022
#21a
#21b
#21c
#21e
Images from Pete Loeser, 5 April 2022
Further research shows that apparently the National Woman's Party displayed their flag vertically quite often and these photos indicate the order the stripes are shown during demonstrations appeared random as the photo (#21a) in front of the White House clearly shows. The March photo (#21b) also demonstrates this disregard to any stripe order. The NWP Convention name tag in photo #21c again shows a disregard of the vertical order of stripes. The use of both horizontal and vertical tricolors was also apparent within the British Suffrage Movement as photo #21e demonstrates.
Once again, I emphasize that this hypothesis that the flags are parade or decorative NWP flags is pure speculation at this point, but I hope this generates other theories about the identification of these flags
Pete Loeser, 5 April 2022.
---
22-22. Unidentified Flag with Seven Gold Stars Positive ID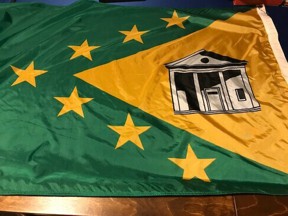 Image from Eric Martin, 6 March 2022
Anyone know what this flag represents?
Eric Martin, 6 March 2022
Try Spanish or Brazilian municipal flags at FOTW.
Klaus-Michael Schneider, 7 March 2022
There's a place in Brazil with a flag with similar elements. Did your photo chop off an extra star?
Ian MacDonald, 7 March 2022
Nope. Only 7 stars.
Eric Martin, 7 March 2022
It's the flag of Southampton County, Virginia. The image on the FOTW page looks like there might be an inscription on the courthouse with a clue!
Russ Adams, 8 March 2022
Thanks to everybody who took the time to help ID this flag.
Eric Martin, 8 March 2022
Town hall? Maybe not the most enlightening line of inquiry.
Peter Hans van den Muijzenberg, 3 May 2022
---
22-23. Old German Yacht Flag 1933-45 Some Speculation
Alte deutsche Yachtflagge 1933-45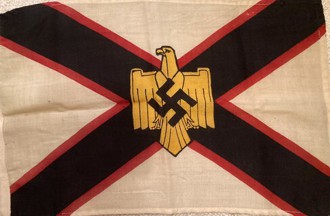 Image from Armin Hertel, 20 March 2022
[This message was translated and edited from German] I am looking for information on an old family flag. My hypothesis is that the mysterious flag may belong to the DSV (German Sailing Federation) cruiser division between 1933-45.
The flag itself has a red bordered (fimbriated) St. Andrew's Cross in black on a white background. The flags manufacturer was Fahnen Fleck in Hamburg. They are still in business.
Instead of a yellow golden oval with black anchor and rope as on the earlier DSV flag, it has a yellow stylized Federal Eagle (Reichsbund Adler) defaced with a NSDAP swastika. My great-grandparents had a dinghy cruiser, so it might make sense.
Armin Hertel, 20 March 2022
Although the contributor made an educated guess, I believe this might be a variant burgee of the Yacht Club of Germany (Kreuzerabteilung of YCvD), which existed between 1937 and 1945. Has anybody more information than I have?
Klaus-Michael Schneider, 20 March 2022
---
22-24. Three Unknown Cap Badges with Flags One Positive ID and Some Speculation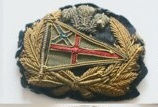 #24a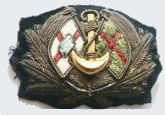 #24b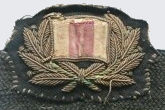 #24c
Images from Ron Flook, 6 April 2022
As you will appreciate many shipping companies used their house flag as the basis for their cap badge. I have a collection of badges and amongst them some have defied identification. Any help in identifying them would be very much appreciated.
Badge #24a could well be a Yacht club badge. Badge #24b is an oddity, it appears to be a Federal/NZSC badge, but the quadrants of the area where the NZSC letters should be are devoid of any letters and are coloured green. They are not discoloured as the thread show through the back and is green. [Badge #24c is shown without comment]
Ron Flook, 6 April 2022
None of the fields on these flags appear to bear any emblems and any detail you might see seems simply to be embroidery. (Much larger images are available directly upon request to me.)
Rob Raeside, 7 April 2022
Ron included three other badges (without flags on them) in hopes sombody might spot one they recognized. Since they didn't have any flags on them they are not included here as UFE items (See: Additional unknown cap badges), however if you recognize one, let Rob know directly, and he can forward the information on to Ron.
Pete Loeser, 9 April 2022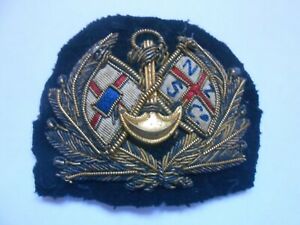 image located by Peter Hans van den Muijzenberg, 9 April 2022
I'd say #24b is the New Zealand Shipping Company (NZSC). I don't know why the specimen has green, but it looks like £70 will get Ron the other specimen for comparison.
Speaking of green: #24a appears to have green for white as well. Someone using the wrong washing powder? Unfortunately, the right company doesn't come to mind. (At least, not today.) Anyone else who can help us out, now that the green is identified as white?
Peter Hans van den Muijzenberg, 9 April 2022
We might look under English Shipping Companies.
Peter Hans van den Muijzenberg, 12 April 2022
---
22-25. Unidentified US Flag (?) Positive ID
Image from Ian Sumner, 14 April 2022
I've been asked to try and identify this flag, but it has defeated me so far, so was wondering if someone else might have better luck (or knowledge ).
It comes from a US collection with a maritime bias, based in California, and may date from any time from the Second World War onwards. I can't see anything in the US house flags on our pages, nor in Neale Rosanowski's work, nor on the websites of Josef Nüsse or Marcollect. The logo bears a superficial resemblance to those used in some blood donor campaigns (assuming the droplet "is" blood, and not, say, oil), but none are quite identical - I don't think it's American Red Cross.
Ian Sumner, 14 April 2022
Regarding this flag inquiry from Ian Sumner, as I thought it might be medical related, I contacted the American Red Cross. Their reply below:
"Thank you for contacting the American Red Cross. I am very sorry, that is not one of our symbols. I tried to do an image search on Google and was not able to find anything that matched. - Sharrie T., Customer Service Agent, American Red Cross Training Support Center"
Bill Garrison, 15 April 2022
Does this flag refers to perhaps a blood donor drive?
Esteban Rivera, 17 April 2022
I also looked as well and it reminds me of a blood bank center but I have not been able to identify it either.
Zachary Harden, 17 April 2022
Image located by Masao Okazaki, 17 April 2022
It looked like something from the 60s or 70s, so I searched for "blood donation logo 1970" and I found this image on Pinterest as the Irwin Memorial Blood Bank Logo. Designed in 1970 by Walter Landor Associates.
Regarding the maritime bias Ian mentioned, it might be due to the headquarters of the Landor and Associates design firm once being the renovated ferryboat Klamath docked at San Francisco Pier 5.
Sources: Landor Associates and Wikipedia: Richmond-San Rafael Ferry Company: The Klamath.
Masao Okazaki, 17 April 2022
So now that Masao has located the Irwin Memorial Blood Bank logo, designed by Walter Landor Associates (Landor), here's a little interesting historical insight:
"On June 17, 1941, the Irwin Memorial Blood Bank opened its doors in response to the lack of a sufficient method of obtaining and storing blood for later use - by both the military and community hospitals in the San Francisco area. The aim was to ensure that patients in the Bay Area would never again be without an adequate supply of blood. Irwin Memorial Blood Bank is credited as the first community blood bank in the United States."
"The San Francisco County Medical Society granted the fledgling blood bank permission to operate out of the basement floor of an old San Francisco home, the Irwin Mansion. However, after years of growth, the blood bank had expanded its blood collection operations throughout Northern California."
"In April 1955, Irwin opened its new doors at Masonic and Turk Streets in San Francisco."
[It would later merge with other local community blood banks becoming the "Blood Centers of the Pacific." It remains at the same location today.]
On September 24, 2018, the Blood Centers of the Pacific joined 120 other community blood banks existing across the United States under the umbrella of the Vitalant Research Institute. For additional information on this see the Vitalant website. Other sources on the history of these blood banks in Wikipedia would include Blood Centers of the Pacific and Vitalant.
Esteban Rivera, 17 April 2022

Oh brilliant! Thanks Masao and Esteban, that looks like the symbol in question.
In further chat with the original enquirer, Jim Scriba of the Sausalito Historical Society, the original owner of the flags was associated with a ship-building company called Marinships, based in Sausalito, California. All the others that came to me for IDing were ensigns or signal flags, so my first thought was that the mystery flag had a maritime origin. But a Second World War-era blood donor drive would fit as well.
Ian Sumner, 17 April 2022
---
22-26. Mysterious Silk Trinity Flag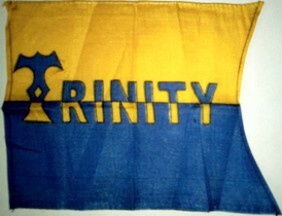 Image from BlinxCat, 17 April 2022
I purchased a set of 1900's-1910's era silk flags not too long ago, said set came with 1901 Maine, 1899 Presidential Naval Flag and a Prototype Polish flag, however one flag stood out was this mysterious flag that resembled Ukraine that had "trinity" written on it, me and a friend believe this may have to do with "Trinity College" which uses similar colors but the issue is there is no information regarding them having a flag of some kind similar to this and only having modern-day "sports styled" flags that can be bought online.
BlinxCat, 17 April 2022
---
22-27. Unknown "Free Syrian Army" Sub-Unit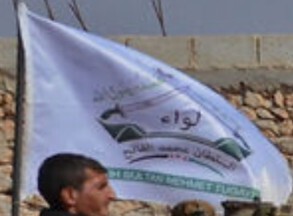 Image from William Garrison, 21 April 2022
A fighter from the Free Syrian Army fires an anti-aircraft machine gun mounted on a vehicle deployed during fighting against the Islamic State near the northern village of Beraan, north of the embattled city of Aleppo, Syria, Oct. 24, 2016. (Nazeer al-Khatib/AFP via Getty Images) Read more here.
Caption reads: "A white-field flag of an unknown 'Free Syrian Army' sub-unit near Beraan, Syria (north of Aleppo, Syria); Oct. 2016. Nazeer al-Khatib/AFP via Getty Images" (source)
William Garrison, 21 April 2022
---
22-28. Unknown Israeli Political Party Positive ID
Image from William Garrison, 21 April 2022
"Members of the Israeli government called the march, which was joined by Knesset member Itamar Ben-Gvir, a provocation." (Daily Syndicated Source)
The caption reads: "Unidentified dark-green flag w/yellow imagery, carried in 'right wing' demonstration in their unsuccessful attempt to pass through the Damascus Gate, the entrance to the Muslim quarter of Jerusalem; (might it be a variation of the 'Otzma Yehudit' political party flag?) c. 21 April 2022."
Source: Jewish News Syndicate (JNS).
William Garrison, 21 April 2022
I think the field color is dark blue, not dark green - it may just look greenish due to the presence of yellow charges upon the blue field.
Tomislav Todorovic, 22 April 2022
This Israeli Political Party flag is the Lehava Party.
Marc Pasquin, 26 May 2022
---
22-29. National Socialist Movement Unknown Variation Some Speculation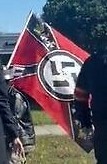 Image located William Garrison, 22 February 2022
"Antisemitic rallies were held near Orlando, Florida, on Saturday and Sunday, with some two dozen people in neo-Nazi gear waving swastikas, stomping on Israeli flags, and yelling antisemitic..." insults. (source )
FOTW shows some "National Socialist Movement," but this flag (source) isn't shown and may be a new NSM variation, or a flag borrowed from another neo-Nazi group.
The caption reads: "A flag that mixes the basic (German) Nazi flag with the (C.S.A.) Confederate flag. Neo-Nazi demonstrators with swastikas and 'National Socialist Movement' banners, stomping on an Israeli flag, in Orlando, Florida on January 29, 2022. (screen capture: Twitter/Luke Denton)"
William Garrison, 22 February 2022
I didn't see any flags with this combination on any of Pete's Political Flags of Extremism pages.
Rob Raeside, 22 February 2022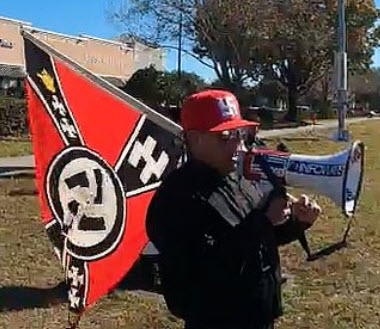 Image located William Garrison, 22 February 2022
Regarding this NSM flag-variation, I am attaching another photo that hopefully "clarifies" the images in the radiating "bars," (in case someone might want to try to draw an image of the flag). (source).
William Garrison, 22 February 2022
The flag might be used by the National Socialist Movement, but it is not "their" flag as such. Also, it does not combine the basic Nazi design with the CSA flag, for there is no blue color - what might look blue, is actually black, and the "saltire" arms width is increasing towards the corners, typical for the pre-1918 German military colors, also used in some "generic" neo-Nazi flags as this one. Two arms of the "saltire" bear a gold crown and two white crosses patty, reminiscing the flag and arms of the city of Danzig (now Gdansk, Poland), while the other two bear the SS emblem. Also, there is the SS skull-and-crossbones superimposed over the swastika.
Tomislav Todorovic, 22 February 2022
---
22-30. Ukrainian Anarchist Flag Positive ID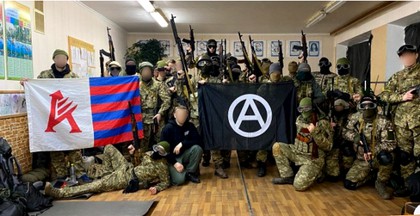 Image from Jaume Ollé, 12 March 2022
Today the Spanish press published a photo of Ukrainian Anarchists. Anyone know what the blue and red colors mean in the left flag?
Jaume Ollé, 12 March 2022
The flag posted as an "Anarchist" Ukrainian flag in March 2022 is the flag for the FC Arsenal. They are an Ukrainian Football Club based in Kyiv.
Anonymous, 8 June 2022
---
22-31. Possible Iranian Health and Medical Education Ministry Flag

Image from William Garrison, 18 March 2022
The caption on this photo reads: "An unidentified sky-blue flag possibly of Iran's 'Health and Medical Education Ministry'; c. Sept. 2021" (source)
My inference that it is based on as the article reads in part: "Speaking at a meeting to discuss how to curb COVID-19 at Iran's Health Ministry, Major General Abdolrahim Mousavi."
William Garrison, 18 March 2022
---
22-32. Unknown Green Iranian Military Flag Positive ID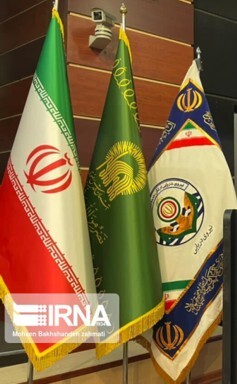 Image from William Garrison, 28 April 2022
According to the AhlulBayt News Agency (ABNA), the Commander of Iran Navy said on Tuesday that the country's navy has turned into a determining force in the region. The photo contained these three flags. The caption read: "Unidentified green-field flag with yellow logo &amp: lettering; Iran navy Rear Admiral Shahram Irani speaking at the 'National Navy Music Festival' in Mashad, Iran; c. Jan. 2022." (source)
The Flags are: (left) Iranian National Flag; (middle) Unknown - no anchor or naval imagery, no obvious musical imagery; and (right) The Iranian Navy flag.
William Garrison, 28 April 2022
I just found this unidentified flag myself, it is the Shia Muslim banner, located by Valentin Poposki on 9 December 2011.
I was able to contact أحمد سميح مصالحة (Ahmad Sameeh Massalha) who kindly helped identify this flag. The gold text عليٌ ولي الله means "Ali is God's liege" or "The liege from God". Ahmad says this is another Shia Muslim banner declaring their allegiance to Ali (Hussein's father), the 4th Muslim ruler...
William Garrison, 28 April 2022
Identifications don't come much faster than this!
Rob Raeside, 28 April 2022
---
22-33. Unknown Light-Olive-Green Iranian Army Flag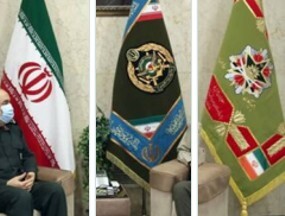 Image from William Garrison, 2 May 2022,
An article from TEHRAN FNA reports that the Commander of the Islamic Revolution Guards Corps (IRGC), Major General Hossein Salami, in a meeting with Iranian Army Commander Major General Seyed Abdolrahim Moussavi stressed the need for the development of more advanced electronic warfare to defend the country.
The photo (cropped here) showed: "Three flags: (left-to-right): Iranian national flag; Iranian Artesh/Army flag; and on (far right) an unknown light-olive-green Iranian Army flag (maybe a new variety of some Chief of Army Command flag?). The caption on read: "Commander of the Islamic Revolution Guards Corps (IRGC) Major General Hossein Salami (left) in a meeting with Iranian Army Commander Major General Seyed Abdolrahim Moussavi (right).
William Garrison, 2 May 2022,
---
22-34. Nazi Guard Dog Flag? (Poland) Positive ID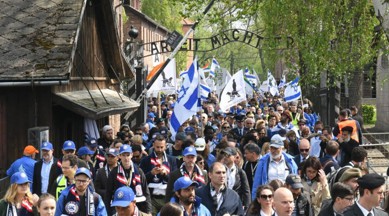 Image located by William Garrison, 2 May 2022
This photo, from an article titled "Ukrainian refugees to join March of Living at Auschwitz for first post-COVID commemoration," shows Israeli/Jewish participants in the "March of the Living" [remembrance of Jewish concentration-camp inmates] as they exit a gate in the former Nazi camp Auschwitz in Poland on May 2, 2019. (Courtesy of the "International March of the Living") The event gathers 2,500 people from 25 countries for a memorial march through the former death camp in Poland.
I believe the imagery on the white flag (with a black logo-design) is a man with a dog alongside him. I see 2 possibilities as to what this may represent: (1) a handicapped blind man with a seeing-eye dog, or (2) as this is a demonstration/gathering of Jews holding a remembrance at a former Nazi extermination camp, I suggest that this is a white flag with black imagery of a Nazi soldier with a guard-dog to heard Jews/prisoners between various areas of some prison camp. I am also guessing that there is some slogan in Hebrew just below the imagery - which, if it could be read, would undoubtedly explain the meaning of this flag.
In mid-April 2022, I sent an email to the NYC-based "International March of the Living" organization inquiring about this flag, but I haven't received a reply.
William Garrison, 2 May 2022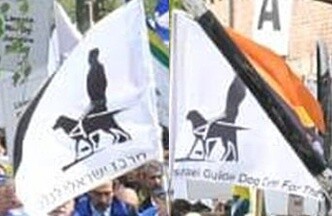 Image modified by Rob Raeside, 2 May 2022
I think this is an Israeli flag, possibly for a guide dogs organization. There is a second flag like the one Bill points out over on the left of the photo, and it has an English caption on it, which reads "Israel guide dogs ____ for them" (I can't quite read the middle word). I have combined the two parts of the image in the attached file, after flipping the one with English text.
Rob Raeside, 2 May 2022
Is the flag wavy enough that it might allow for "centre for the blind"?
Peter Hans van den Muijzenberg, 2 May 2022
As correctly pointed out by Peter Hans van den Muijzenberg regarding an inscription for "center of the blind" spotted on the flag, the image in question does portray that organization's flag.
The מרכז ישראלי לכלבי נחיה לעיוורים (Israel Guide Dog Center for the Blind, IGDCB) was co-founded by Noach Braun and his wife Orna. As as a former IDF paratrooper, Noach pursued a career that combined his love of animals and helping people. After working with the Israel Nature Preservation Society for a few years, he discovered that there was no school in Israel that trained guide dogs for blind and vision impaired Israelis. The couple studied guide dog training and breeding in the United States and Great Britain, with the goal of establishing a school in Israel.
In 1991 they establish the Israel Guide Dog Center in a rented house in Kfar Yedidiah, a moshav near Netanya. A guide dog school in the United States donated two breeding females, and the first breeding stock was established. The first two dogs were donated to the first blind clients, who trained with their dogs while living in Noach and Orna's home.
In 1994 a plot of agricultural land was purchased near Moshav Beit Oved, and the Israel Guide Dog Center moved to its present location. In 2001 a generous contribution by Lady Elizabeth Kaye of London enabled the construction of the purpose-built accessible buildings that now houses the center's offices, student guest rooms, and other facilities. Blind clients today receive a guide dog, instruction and regular home visits during the working life of the dog at no charge.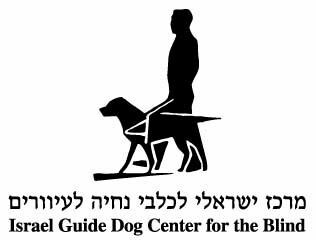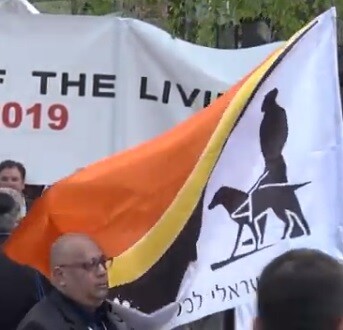 Images located by Esteban Rivera, 3 May 2022
Their flag is a horizontal white background flag with the logo in the middle, and towards the upper right hand corner of the fly, three waving stripes, from top to bottom: orange, yellow and black. And in the the black stripe, there's a dog's paw in white.
The event in which the flag was spotted is called the March of the living (מצעד החיים) sometimes referred to as MOTL. Every year, on January 27, the International Holocaust Remembrance Day is observed. It was the date that Auschwitz concentration camp was liberated by the Red Army in 1945. In Germany, a 3 km march is held, from Auschwitz to Birkenau, to remember the victims of the Holocaust (השואה). It's a symbolic recreation of the death march that Jewish prisoners were forced to take as the Allied Forces approached Auschwitz.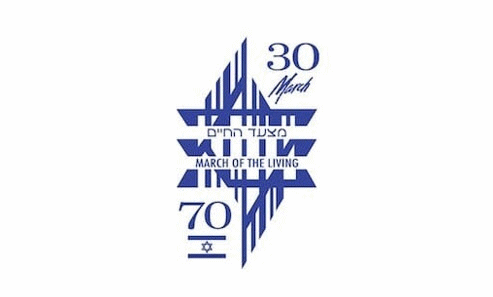 Image by Pete Loeser, 22 May 2022
Based on this photo located by Esteban Rivera, 3 May 2022
There's a commemorative flag for MOTL, in which both, the 70th anniversary of the establishment of the State of Israel in 1948 and 30th anniversary of the first MOTL in 1988, are observed. The flag is a white horizontal flag with the commemorative logo in the middle in light blue.
Sources: Israel Guide Dog.org, Israel Guide Dog Center, and Israel Guide Dog Center for the Blind.
For additional information go to: Israel Guide Dog (official website) and MOTL (March of the Living) (official website)
Esteban Rivera, 3 May 2022
---
22-35. Bizarre People's Republic of the Congo Flag Some Speculation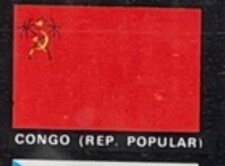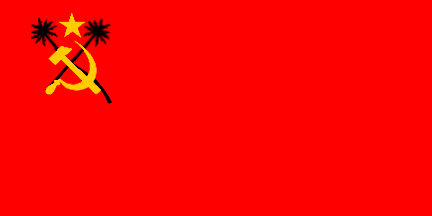 Images from BlinxCat, 2 May 2022
I've spotted this flag once in an old chart once, it's a flag similar to that of the USSR but with two palm trees behind the hammer & sickle.
I've once spotted it again and now two variants exist, I've redraw my memory of it and shown a variant I just recently spotted.
BlinxCat, 2 May 2022
I am not sure which Congo is intended for this flag, and I don't think we have it on FOTW. Can anyone provide more information?
Rob Raeside, 2 May 2022
Could it be a misinterpretation of the 1969-1991 flag of Congo-Brazzaville?
Elias Granqvist, 2 May 2022
Indeed it's label is in Spanish: Congo (República Popular de) (abbreviation of the State in the period 1969-1992).
Esteban Rivera, 2 May 2022
Probably, but a Congo People's Republic existed in the 60s in north-east Congo.
Jaume Ollé, 3 May 2022
---
22-36. Unidentified pro-Russian militia (Ukraine) Tentative ID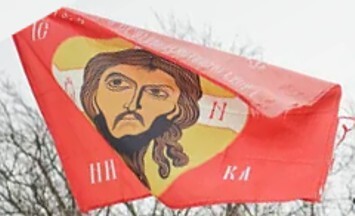 Image from William Garrison, 14 May 2022
Pro-Russian rebels pose on a tank near Donetsk in eastern Ukraine (Vadim Massalimov/Kommersant via Getty Images). The caption says: "an unidentified flag of some pro-Russian rebels near Donetsk, in eastern Ukraine; c. Feb. 2015." (source)
Perhaps something we can add to the Donetsk County (Ukraine) page?
William Garrison, 14 May 2022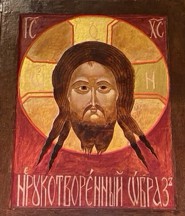 Photo taken by Ivan Sache, 14 May 2022
The flag features an icon of the Mandylion type. The "Image not made with hands" shows the face of Christ miraculously reproduced on a cloth.
Tradition says the cloth was sent by Jesus to the King of Edessa. The touch of the cloth healed the king of an illness.
The two other main types of iconic representation of Christ are "Christ Pantocrator" and "Christ Emanuel.". (Duquesne University)
As an example, a Mandylion icon kept in the Skit of the Holy Spirit, a Russian Orthodox hermitage located in Le Mesnil-Saint-Denis, near Paris.
The icon was written by Father Grégoire Krug (1908-1949). Ivan Sache, 14 May 2022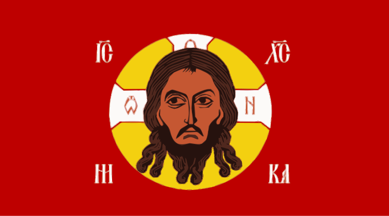 Image located by Peter Hans van den Muijzenberg, 14 May 2022
The work of Haisollokopas, 30 April 2022
Flag of the Serbian volunteers in Ukraine. A drawing of the flag used by Serbian volunteers shown here.
Peter Hans van den Muijzenberg, 14 May 2022
I should have joined this discussion earlier, but better now than never: This is not a Serbian flag - flags with such design are not used in Serbia (yet). Even if the photographed user is Serbian, the flag is not - it looks like a re-creation of a medieval Russian flag, one of those which were used since some time after the Christianization of Russia until the end of 17th century (and on some occasions afterwards), many examples of which can be found throughout the Vexillographia website. Such flags have been popular among present-day Russian nationalist groups and this man seems to have joined one of those in order to get to Ukraine, which explains how he got photographed with it.
Sorry, but the flag should be demoted from "Positive ID" to "Some speculation". Or maybe should remain "Positive ID", but be re-attributed to a Russian one.
Like I had said, Serbian nationalist groups have not been using such flags so far, but those which have been voicing support for Russia, might start using them someday in order to express their stance visually. Stay tuned...
Tomislav Todorovic, 23 May 2022
Like Tomislav, I guess I should have checked on this thread sooner. I concur with Tomislav when he mentions that this militia is not a Serbian Unit. Like those military factions with foreign combatants (i.e. Georgian National Legion) which is pro-government of Ukraine), there are also anti-government military factions, and in this case they are Serbian. We will have to look deeper in order to label this entry as positive, but I am pretty sure it is an anti-government (more precisely a pro-Russian) proxy militia of Serbian origin.
Esteban Rivera, 25 May 2022
---
22-37. Ukrainian Wounded Veterans Association? Tentative ID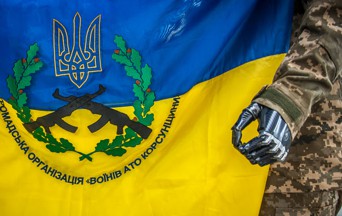 Image from William Garrison, 14 May 2022
The caption reads: "Unidentified Ukraine military flag of wounded veterans association? c. 2017." (source).
William Garrison, 14 May 2022
Regarding this flag, I received an email (21 May 2022) from an Ukrainian who identified it as: "the flag of a hromada (community) organization of militia participants in the military operation in 2014 in the city of Korsun in central Ukraine, it doesn't related to some unknown wounded-veterans association. Possibly the soldier with the hand-prosthesis was a wounded veteran from that 2014 unit." So maybe we need a new listing titled as: Ukraine - Korsun hromada (city/community) militia - 2014
Bill Garrison, 23 May 2022
What does the text on the flag say? Perhaps that would help clarify exactly what community organization the flag represents?
Pete Loeser, 24 May 2022
You asked me if I could ask my Ukrainian contact for a translation of the wording on this flag, I just received from him stating that he did not have further info regarding the flag. Perhaps he misunderstood my inquiry about a translation, or maybe he was busy trying to avoid incoming Russian missiles in Kiev. Or, maybe didn't care. Sadly, he did not provide more information.
Bill Garrison, 25 May 2022
It is indeed a Veterans' organization. However it is not specifically a wounded/disabled one. The image is from an article by International Alert, "an independent international peace building organization (NGO) established in 1986" (Sources: International Alert and Wikipedia)
The image caption reads: "Disabled war veteran with prosthetic hand at the Borispol airport, in Kiev, Ukraine ©Shutterstock 2017".
The article is "Policy Brief: March 2019. What's next for veterans in Ukraine?," and is a policy brief written by Flavie Bertouille. The text (written in Ukrainian) translates as "the Public organization of Ato Soldiers Of Korsun Region" (ГРОМАДСЬКА ОРГАНІЗАЦІЯ ВОЇНІВ АТО КОРСУНЩИНИ). The ATO is the unit conducting operations in the zone (or area) of the Russian-Ukrainian confrontation in Donbass (or River Don Basin). These denominations were first established in the period 2014-2017 during the Russian-Ukrainian War as part of the administrative reform of Ukraine, which reduced the number of raions (administrative areas or Districts) of Cherkasy Oblast to four. The area of the Korsun-Shevchenkivskyi Raion was split between Cherkasy Raion and Zvenyhorodka Raion. (source #1 and source #2)

Flags of the Korsun-Shevchenkivskyi Raion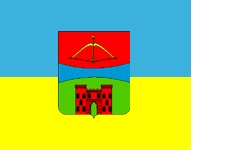 1992-2001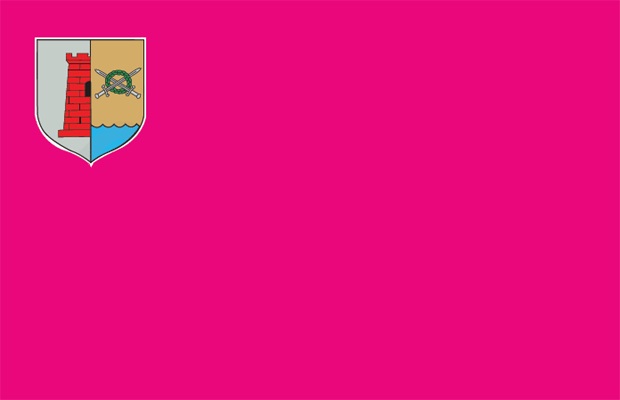 1923-2022
Image located by Esteban Rivera, 25 May 2022
From this source
When the First Phase of this Ukraine conflict ended, numerous veteran organizations emerged, mainly those addressing concerns related to the former paramilitary volunteer units. Our unknown veterans' organization flag is related to the Ukraine area in Cherkasy County (Korsun-Shevchenkivskyi Raion). The Verkhovna Rada Ukrayiny (Supreme Council of Ukraine, or Rada) reorganized the first-level Administrative Divisions in the area and should be shown on this Clickable map of Ukraine.
This flag was approved on April 29, 1992. Credits and information from Victor Lomantsov.
Coat of Arms of Korsun-Shevchenkivskyi District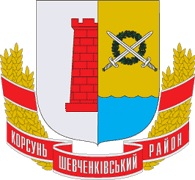 Image located by Esteban Rivera, 25 May 2022
Source: image - Wikipedia: Coat of Arms of Korsun-Shevchenkivskyi District
Sources: image and source: original source - "Украина: гербы и флаги" (Ukraine: coats of arms and flags, by the Ukrainian Parliament, published in 2010). This flag was approved on November 14, 2001. Credits and information to Victor Lomantsov.
Esteban Rivera, 25 May 2022
[UFE Editor's Comment: Esteban's information was drastically reduced on the UFE pages as a size consideration. He provided a detailed account of the changes in the Korsun-Shevchenkivskyi District, I refer you to his original message of 25 May 2022]
I don't think that it is a "proxy militia of Serbian origin" - there were no reports of complete units formed by volunteers from Serbia and the number of those seems to be too small to form a single unit, so they are most likely dispersed among various units, which may be formed either by the locals or by the volunteers from Russia. Anyway, the flag itself is certainly of Russian origin.
Tomislav Todorovic, 25 May 2022
---
22-38. "Black National" Israeli Air Force Flag Positive ID

Image from William Garrison, 18 May 2022
The caption Reads: "Meeting between NATO Assistant Secretary General for Defense Investment, Camille Grand (left) and Director of Policy & Political- Military Bureau at the Ministry of Defence of Israel, Zohar Palti. (Credit: Ministry of Defence of Israel) c. Sept. 2019." (source)
My question is: In the middle is the regular white/blue national flag of Israel. Second to its right is a white/black flag that looks like the national flag. Is it already identified somewhere in FOTW-Israel? (The central logo seems similar to an aircraft's rondel - Air Force maybe?
William Garrison, 18 May 2022
Looking at this flag more closely, I think it is very dark blue, and the field of the flag is a very light blue (contrast with white in the central emblem).
Rob Raeside, 18 May 2022
Indeed as Rob points out, it's light blue background and dark blue stripes and Star of David.
Esteban Rivera, 18 May 2022
This should be relabeled to positive ID, since it is the regular Israel Air Force flag. Often times, due to photographic filters (lenses and/or digital edition) colors may change appearance but it doesn't mean they have changed at all (which usually happens with different manufacturers/suppliers or even change in legislation, neither of those is the case here), or that it is a variant of the already reported flag
Esteban Rivera, 25 May 2022
---