This page is part of © FOTW Flags Of The World website
Unidentified Flags or Ensigns - Page 3 (2022)
flags submitted in 2022 - Page 3 of 5
Last modified: 2023-04-15 by

zachary harden
Keywords: ufe | unidentified flags | 2022 |
Links: FOTW homepage | search | disclaimer and copyright | write us | mirrors

---
Please note our Policy for Submissions and Enquiries.
Below is a series of images of flags that have been provided to FOTW; some we have recognized, and some we have been unable to recognize. If you can help us identify any of these flags, please let us know! Contact the:

UFE Editor.
Identification Key:
= Positive ID (Positive Identification)
= Tentative ID (Tentative Identification)
= Some Speculation
---
22-36. Unidentified pro-Russian militia (Ukraine) Tentative ID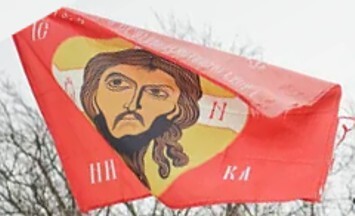 Image from William Garrison, 14 May 2022
Pro-Russian rebels pose on a tank near Donetsk in eastern Ukraine (Vadim Massalimov/Kommersant via Getty Images). The caption says: "an unidentified flag of some pro-Russian rebels near Donetsk, in eastern Ukraine; c. Feb. 2015." (source)
Perhaps something we can add to the Donetsk County (Ukraine) page?
William Garrison, 14 May 2022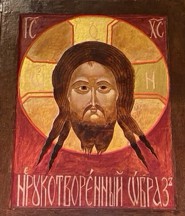 Photo taken by Ivan Sache, 14 May 2022
The flag features an icon of the Mandylion type. The "Image not made with hands" shows the face of Christ miraculously reproduced on a cloth.
Tradition says the cloth was sent by Jesus to the King of Edessa. The touch of the cloth healed the king of an illness.
The two other main types of iconic representation of Christ are "Christ Pantocrator" and "Christ Emanuel.". (Duquesne University)
As an example, a Mandylion icon kept in the Skit of the Holy Spirit, a Russian Orthodox hermitage located in Le Mesnil-Saint-Denis, near Paris.
The icon was written by Father Grégoire Krug (1908-1949). Ivan Sache, 14 May 2022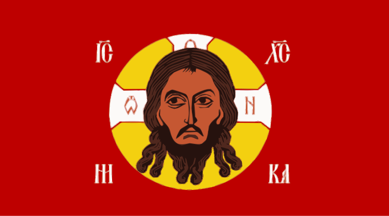 Image located by Peter Hans van den Muijzenberg, 14 May 2022
The work of Haisollokopas, 30 April 2022
Flag of the Serbian volunteers in Ukraine. A drawing of the flag used by Serbian volunteers shown here.
Peter Hans van den Muijzenberg, 14 May 2022
I should have joined this discussion earlier, but better now than never: This is not a Serbian flag - flags with such design are not used in Serbia (yet). Even if the photographed user is Serbian, the flag is not - it looks like a re-creation of a medieval Russian flag, one of those which were used since some time after the Christianization of Russia until the end of 17th century (and on some occasions afterwards), many examples of which can be found throughout the Vexillographia website. Such flags have been popular among present-day Russian nationalist groups and this man seems to have joined one of those in order to get to Ukraine, which explains how he got photographed with it.
Sorry, but the flag should be demoted from "Positive ID" to "Some speculation". Or maybe should remain "Positive ID", but be re-attributed to a Russian one.
Like I had said, Serbian nationalist groups have not been using such flags so far, but those which have been voicing support for Russia, might start using them someday in order to express their stance visually. Stay tuned...
Tomislav Todorovic, 23 May 2022
Like Tomislav, I guess I should have checked on this thread sooner. I concur with Tomislav when he mentions that this militia is not a Serbian Unit. Like those military factions with foreign combatants (i.e. Georgian National Legion) which is pro-government of Ukraine), there are also anti-government military factions, and in this case they are Serbian. We will have to look deeper in order to label this entry as positive, but I am pretty sure it is an anti-government (more precisely a pro-Russian) proxy militia of Serbian origin.
Esteban Rivera, 25 May 2022
---
22-37. Ukrainian Wounded Veterans Association? Tentative ID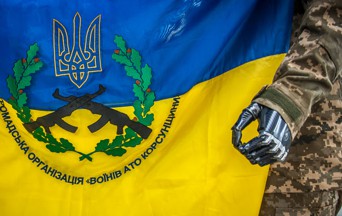 Image from William Garrison, 14 May 2022
The caption reads: "Unidentified Ukraine military flag of wounded veterans association? c. 2017." (source).
William Garrison, 14 May 2022
Regarding this flag, I received an email (21 May 2022) from an Ukrainian who identified it as: "the flag of a hromada (community) organization of militia participants in the military operation in 2014 in the city of Korsun in central Ukraine, it doesn't related to some unknown wounded-veterans association. Possibly the soldier with the hand-prosthesis was a wounded veteran from that 2014 unit." So maybe we need a new listing titled as: Ukraine - Korsun hromada (city/community) militia - 2014
Bill Garrison, 23 May 2022
What does the text on the flag say? Perhaps that would help clarify exactly what community organization the flag represents?
Pete Loeser, 24 May 2022
You asked me if I could ask my Ukrainian contact for a translation of the wording on this flag, I just received from him stating that he did not have further info regarding the flag. Perhaps he misunderstood my inquiry about a translation, or maybe he was busy trying to avoid incoming Russian missiles in Kiev. Or, maybe didn't care. Sadly, he did not provide more information.
Bill Garrison, 25 May 2022
It is indeed a Veterans' organization. However it is not specifically a wounded/disabled one. The image is from an article by International Alert, "an independent international peace building organization (NGO) established in 1986" (Sources: International Alert and Wikipedia)
The image caption reads: "Disabled war veteran with prosthetic hand at the Borispol airport, in Kiev, Ukraine ©Shutterstock 2017".
The article is "Policy Brief: March 2019. What's next for veterans in Ukraine?," and is a policy brief written by Flavie Bertouille. The text (written in Ukrainian) translates as "the Public organization of Ato Soldiers Of Korsun Region" (ГРОМАДСЬКА ОРГАНІЗАЦІЯ ВОЇНІВ АТО КОРСУНЩИНИ). The ATO is the unit conducting operations in the zone (or area) of the Russian-Ukrainian confrontation in Donbass (or River Don Basin). These denominations were first established in the period 2014-2017 during the Russian-Ukrainian War as part of the administrative reform of Ukraine, which reduced the number of raions (administrative areas or Districts) of Cherkasy Oblast to four. The area of the Korsun-Shevchenkivskyi Raion was split between Cherkasy Raion and Zvenyhorodka Raion. (source #1 and source #2)

To confirm what Victor Lomantsov wrote, the organization is based from Korsun-Shevchenkivskyi. There also was a possible name change in 2016 but information about this and the current group as a whole is very scant except for registration information. It is of note that the term "Громадська організація" (Hromads'ka orhanizatsiya) is just the designation "Public Organization" for purposes of intent of the aims of the group. Also, ATO is the general term of the "Anti-Terrorist Operation Zone" that constitutes the area of combat between Russian and Ukrainian forces since 2014 in Eastern Ukraine.
Zachary Harden, 11 April 2023
Flags of the Korsun-Shevchenkivskyi Raion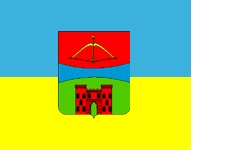 1992-2001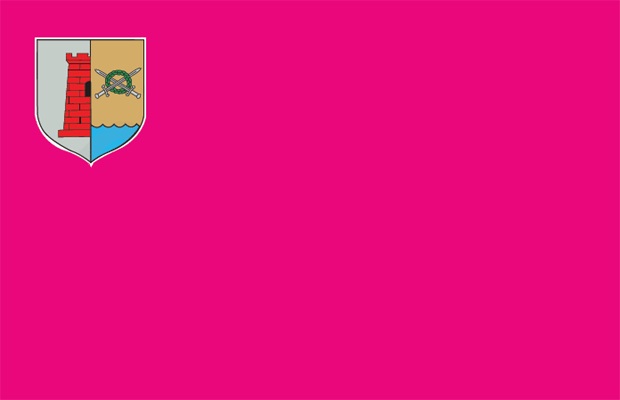 1923-2022
Image located by Esteban Rivera, 25 May 2022
From this source
When the First Phase of this Ukraine conflict ended, numerous veteran organizations emerged, mainly those addressing concerns related to the former paramilitary volunteer units. Our unknown veterans' organization flag is related to the Ukraine area in Cherkasy County (Korsun-Shevchenkivskyi Raion). The Verkhovna Rada Ukrayiny (Supreme Council of Ukraine, or Rada) reorganized the first-level Administrative Divisions in the area and should be shown on this Clickable map of Ukraine.
This flag was approved on April 29, 1992. Credits and information from Victor Lomantsov.
Coat of Arms of Korsun-Shevchenkivskyi District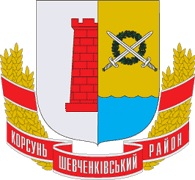 Image located by Esteban Rivera, 25 May 2022
Source: image - Wikipedia: Coat of Arms of Korsun-Shevchenkivskyi District
Sources: image and source: original source - "Украина: гербы и флаги" (Ukraine: coats of arms and flags, by the Ukrainian Parliament, published in 2010). This flag was approved on November 14, 2001. Credits and information to Victor Lomantsov.
Esteban Rivera, 25 May 2022
[UFE Editor's Comment: Esteban's information was drastically reduced on the UFE pages as a size consideration. He provided a detailed account of the changes in the Korsun-Shevchenkivskyi District, I refer you to his original message of 25 May 2022]
I don't think that it is a "proxy militia of Serbian origin" - there were no reports of complete units formed by volunteers from Serbia and the number of those seems to be too small to form a single unit, so they are most likely dispersed among various units, which may be formed either by the locals or by the volunteers from Russia. Anyway, the flag itself is certainly of Russian origin.
Tomislav Todorovic, 25 May 2022
---
22-38. "Black National" Israeli Air Force Flag Positive ID

Image from William Garrison, 18 May 2022
The caption Reads: "Meeting between NATO Assistant Secretary General for Defense Investment, Camille Grand (left) and Director of Policy & Political- Military Bureau at the Ministry of Defence of Israel, Zohar Palti. (Credit: Ministry of Defence of Israel) c. Sept. 2019." (source)
My question is: In the middle is the regular white/blue national flag of Israel. Second to its right is a white/black flag that looks like the national flag. Is it already identified somewhere in FOTW-Israel? (The central logo seems similar to an aircraft's rondel - Air Force maybe?
William Garrison, 18 May 2022
Looking at this flag more closely, I think it is very dark blue, and the field of the flag is a very light blue (contrast with white in the central emblem).
Rob Raeside, 18 May 2022
Indeed as Rob points out, it's light blue background and dark blue stripes and Star of David.
Esteban Rivera, 18 May 2022
This should be relabeled to positive ID, since it is the regular Israel Air Force flag. Often times, due to photographic filters (lenses and/or digital edition) colors may change appearance but it doesn't mean they have changed at all (which usually happens with different manufacturers/suppliers or even change in legislation, neither of those is the case here), or that it is a variant of the already reported flag
Esteban Rivera, 25 May 2022
---
22-39. Help with Identifying Three Banners Positive ID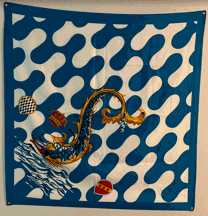 #39a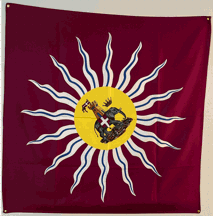 #39b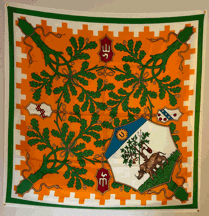 #39c
Images from Noah Jacoby, 20 May 2022
I found your Flags of the World website, and was hoping you could help me identify a few flags. My parents brought these back from various European trips for me years ago, and my recollection is that they were perhaps from Germany, maybe Austria or Italy? One of them has a Hapsburg eagle on it, and a shield that looks like it has a papal emblem on it, but I've had no luck identifying the symbols on the others. I'm also unsure of the proper orientation for these flags, so maybe some of them will be shown backwards?
Noah Jacoby, 20 May 2022
Take a look here: The Contrada System And The Palio.
Roger Moyer, 23 May 2022
Also on our Palio di Siena Flags page. The Hearst Castle, a historical landmark and state park located on the Central Coast of California has a collection of these flags hanging over the dining room. These festival flags keep appearing with new variants appearing each year for the celebrations. These are nice examples.
Pete Loeser, 23 May 2022
Those are three Siena Contrada flags.
a - Onda
b - Torre
c - Selva
Hm, especially Selva is a good example of where we could do with a close-up of the arms. Montone even more so, of course, but still. Noah Jacoby in a way refers to this, as he mentions the possible origins. Each of these emblem ultimately must have an origin, and at the least the arms would give an idea.
By The Way, since these are not actual flags, but rather the matching "fazzoletti", neck scarves, they should all be rotated 1/8th. This will display them upright/bottom-down.
Peter Hans van den Muijzenberg, 23 May 2022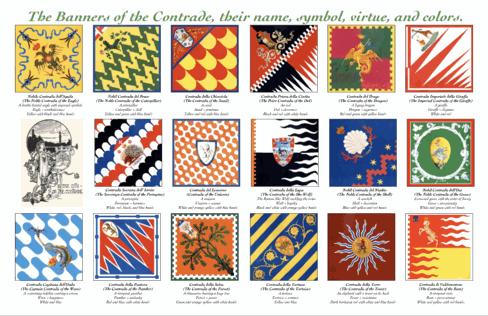 #39d - Image from NAVA News #192 (Oct-Dec 2006)
To add to this, NAVA News 192 (Oct-Dec 2006) featured an in-depth article about the flags of the Palio, including The Palio itself. These were smaller reproductions of the actual flags themselves, which changed somewhat from time-to-time.
If interested you can see the full piece on the NAVA Website, schroll down to 2006 and select "Vol. 39 no. 4 (Oct.-Dec. 2006)," When the file opens find pages 4-6. Here is a small thumbnail image of the issue's centerfold. If you wish a larger version of this chart it is available on request.
At the time this was a timely piece as NAVA met in Reno, Nevada, that year in a Casino whose theme was "The Palio."
Dave Martucci, 28 June 2022
Dave added a bit more sources, but I don't really think they add any new information. Whoever gets a camera near a Contrada flag should take photographs of all the details. That's probably the only thing we have not covered completely.
Anyone who hadn't planned a trip to Siena, is probably too late now. Tomorrow, the provas start.
Peter Hans van den Muijzenberg, 28 June 2022
---
22-40. Ukrainian Blue Lives Matter Flag?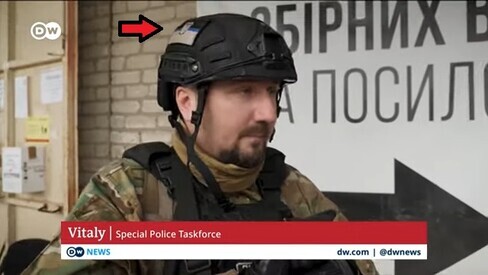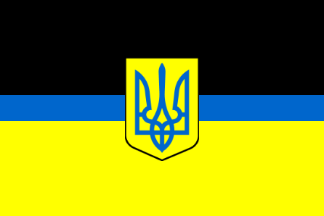 Images from Marc Pasquin, 26 May 2022
An UFE worn as a patch on the helmet of a policeman in the ukrainian city of Severodonesk. Because it appears to be a black and yellow flag with a shield and a thin blue line in the middle, I wonder if this might be the Ukrainian equivalent of the US "Thin Blue Line" flag? (DW News)
Marc Pasquin, 26 May 2022
---
22-41. Israeli "United Jerusalem" Flag? Positive ID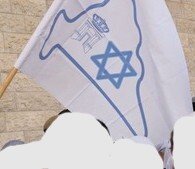 Image located by William Garrison, 10 May 2022
A white-field flag with a blue-colored outline of apparently the city of Jerusalem, with the blue "Star of David" in the center [similar to the Israeli National Flag], with a "crown" and Hebrew writing below it - which I cannot read. I am guessing it reflects a Jewish appeal that all of Jerusalem should remain united under total Israeli control. While I cannot read the Hebrew slogan, I surmise that it pertains to some Israeli political party or some Jewish religious organization. The original caption was: "Religious Zionist MK Itamar Benn-Gvir during the May 10 [2021] Jerusalem Day March of the Flags (Photo: Alex Kolomoisky)"
William Garrison, 10 May 30 2022
I don't see anything "Jerusalem" in this design. The outline does not match any map of Jerusalem that I can find, and the object toward the hoist is a crown over a gateway. Crowns are not common on Israeli flags, but there is one used by the Chabad-Lubavitch Movement that is very similar in shape.
Rob Raeside, 30 May 2022
Some more speculation here, I wonder what the shape represents, the City of Jerusalem? certainly not Israel itself?
Pete Loeser, 26 June 2022
Like William, I am unable to read the Hebrew. In my case, however, it's because I cannot even see it.
That leaves me with just the basics: Why is this even supposed to be Jerusalem-related? Curious map, with two sides seeming rather natural, and one mostly treaty. So, what is the bulb in the lower hoist corner? Is that the actual Jerusalem? Then that makes all the rest a claim?
Peter Hans van den Muijzenberg, 26 June 2022
The gate on the flag doesn't match any of the 12 gates of Jerusalem. It does "vaguely" resemble the remains of Roman-period gate located under the Damascus Gate, but it's a stretch. (Image of Roman-period gate)
I was also unable to locate any of the historical Kingdoms of Israel (search based on the use of the crown on the flag) or any territories of the 12 Tribes of Israel that matched the outline on the flag.
Pete Loeser, 26 June 2022
This flag may belong to a political/religious party, but, more importantly, it reflects an idea and aspiration of several extremist and ultra-orthodox groups in Israel and in the United States. Here is the explanation of the elements, all of which are from an imaginary/aspirational future, and have no official codification:
The crown is "Messianic" or "King David".
The "gate" is actually the "Third Temple" that extremists believe must replace the Al-Aqsa mosque and Dome of the Rock shrine in the Noble Sanctuary (Temple Mount) in Jerusalem. The first temple was allegedly Solomons. The second was Herods reconstruction, and destroyed by the Romans in the Jewish war of 66-73 CE. (This narrative overlooks a much more complicated history involving other temples and disputed locations.)
The map is a crude representation of Eretz (Great, or Greater) Israel, which several Bible verses describe as "from the river of Egypt to the Euphrates." Again, extremists and their maps don't agree on the exact borders, but the western side is the Mediterranean and Nile (or Suez Canal). The top of the triangle is mostly the Euphrates. The bottom of the triangle is an arbitrary line across Saudi Arabia from Egypt to the mouth of the Euphrates. Thus, the territory depicted includes present Israel, occupied West Bank, Lebanon, Jordan, most of Syria, a large chunk of Iraq, Kuwait, a big slice of Saudi Arabia, and part of Egypt (always including all of the Sinai Peninsula.)
Some believe that Eretz Israel represents a restoration of the fullest extent of the kingdom in Solomon's time. The problem is that there is zero evidence for the existence of Solomon, and whatever proto-Israel/Judah state (tributary to the Egyptian and Assyrian empires) existed around that time was smaller than modern Israel. Some modern politicians have a much more territorially-conservative vision of Eretz Israel, i.e. Israel plus the West Bank, and sometimes the Golan Heights. This area is also often called "Judea and Samaria," which can be interpreted as a sly way of signaling that its adherents really do believe in the more grandiose Eretz Israel.
This flag probably belongs on the Israel parties page: but I think it is premature to link it decisively to Temple Mount Faithful or Chabad. (The other main organizations in this movement are Temple Institute and Return to the Mount.)
A 2013 poll commissioned by the Joint Forum of Temple Mount Organizations found that 30% of Israeli Jews want a Third Temple on Temple Mount. The Third Temple Movement has only grown in numbers and influence since then, moving from fringe to mainstream politics. It also has strong support from about half of American evangelicals, for whom a Third Temple is central to their end-times theology. Thus, the flag might also represent an American organization dedicated to this cause.
T. F. Mills, 26 June 2022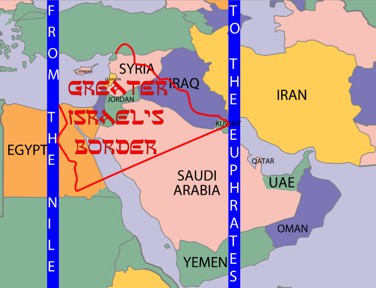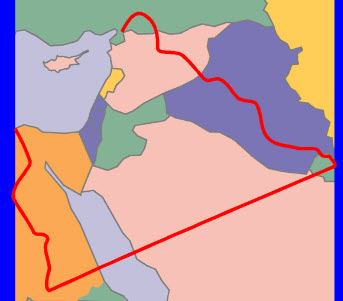 Images located by Pete Loeser, 27 June 2022
Todd has nailed it. For those needing a better visual of the "Eretz Yisrael Greater Israel," I located these maps once I knew what to look for. I think we can call this one a Positive ID now. (Open Clip Art #1) and (Open Clip Art #2)
Pete Loeser, 27 June 2022
---
22-42. Unidentified Green Iraqi Flag Positive ID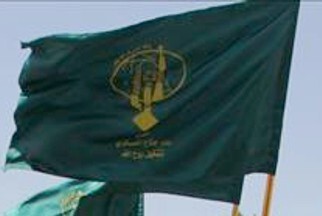 Image located by William Garrison, 4 June 2022
From an Anadolu Agency article about celebrations used to mark Israel's occupation of Palestinian lands.
The caption on the photo reads: "An unidentified green-field flag with yellow image & slogans in Arabic."
Source did not provide any specific information regarding these flags. Just a loose reference to "Iraqis mark Al-Quds (Jerusalem) Day in Bagdad" Iraq; c. early 2022? (source)
William Garrison, 4 June 2022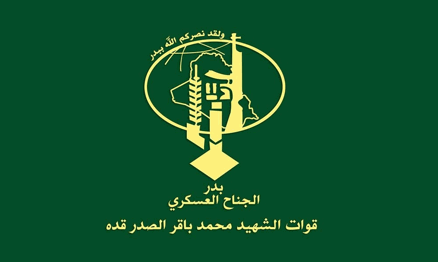 Image by Pete Loeser, 2 July 2022
Although the photo is a bit blurry, I believe it to be a flag of the Badr Organization: Martyr Sadr Forces. A clear picture of their logo can be found on Jihad Intel (part of The Middle East Forum).
According to them: "The Badr Organization, previously known as the Badr Brigades, originated as an Iranian-backed armed wing of the Supreme Council for Islamic Revolution in Iraq (SCIRI, since rebranded the Supreme Islamic Council of Iraq), which is closest to Iran ideologically of the main Shi'a political groupings in Iraq. Since the 2003 invasion, however, the Badr Organization has effectively split off from the Supreme Islamic Council to form its own political and armed wing, acting as a direct proxy of Iran. Over the course of the Syrian civil war, the Badr Organization has deployed fighters to Syria under the banner of the Martyr Muhammad Baqir al-Sadr Forces to push back against Syrian rebels. Muhammad Baqir al-Sadr was the father-in-law of cleric Muqtada al-Sadr. He had supported the Iranian Revolution and serves as a wide figure of inspiration for Iraq's Shi'a political groups. Since the outbreak of the wider Sunni insurgency in Iraq, the Badr Organization's military wing has been involved in fighting in Anbar, Samarra, and other areas." (Source)
I've also seen the design with the colors reversed, i.e. green pattern on a yellow field.
Pete Loeser, 2 July 2022
---
22-43. Unknown Popular Mobilization Forces Unit? Some Speculation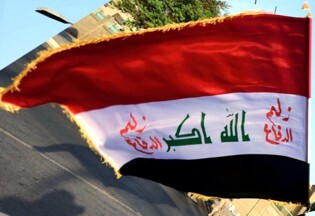 Image from William Garrison, 10 June 2022
Regarding this flag image, I cannot find any information regarding it. I found it in a Google search, but with no attached caption except this: "Unknown red-printed Arabic slogans on national flag of Iraq. Same slogan on both sides of middle white stripe."
William Garrison, 10 June 2022
Not sure if this is a new flag or simply the national flag with text added.
Rob Raeside, 10 June 2022
---
22-44. Unidentified Ukraine Army Unit Flag Positive ID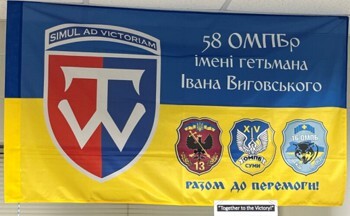 Image from William Garrison, 19 June 2022
Caption on photo: "Unidentified Ukraine army unit flag; c. 2021. Bottom blue line may read: 'Together to the Victory'."
Text: "An Ukrainian army unit flag hangs in Glen Petersen's classroom at Normal West high school, a memento of his Illinois National Guard service in Ukraine last year as a trainer. Speaking to students Friday at Normal West high school [in Normal, Illinois], a veteran soldier and a Peace Corps volunteer both described Ukraine as a lovely country with a gently rolling landscape similar to central Illinois - and the people as freedom-loving who have fought hard for liberties and separation from Russian domination.
Retired Illinois Army National Guard Colonel Glen Petersen spent July 2020-April 2021 in Ukraine, training the country's army. Petersen, who was in the Guard 35 years, is a social studies and history teacher at Normal West." article by Charlie Schlenker (source)
William Garrison, 19 June 2022
I can confirm that both the Latin and the Ukrainian read "Forward to Victory" The text above translates (by Google translate) as:
58 OMPBr
Name of the Hetman
Ivan Vyhovsky
Rob Raeside, 19 February 2022
This is an example of the regrouping of military Units in Ukraine.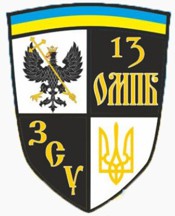 #45a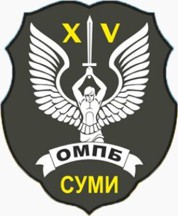 #45b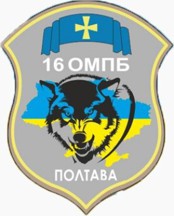 #44c
Images from Esteban Rivera, 21 June 2022
In this case, the 58 ОМПБр (Independent Motorized Infantry Brigade, IMIB) is a brigade size military Unit which was incorporated into the Ukrainian Army Land Forces encompassing originally three Territorial Defense Battalions :
- 13th Territorial Defence Battalion " Chernihiv-1" (Chernihiv Oblast) (13 окремий мотопіхотний батальйон (смт. Вороніж).
- 15th Territorial Defence Battalion "Sumy" (Sumy Oblast) (15 окремий мотопіхотний батальйон).
- 16th Territorial Defence Battalion "Poltava" (Poltava Oblast) (16 окремий мотопіхотний батальйон).
It was established on February 17, 2015 (even though its founding Units were established earlier) and took active part in the War in Donbass (2014-2015 and current conflict) as part of the "Оперативне командування «Північ»" (Operational Command "North") (official website ).
Sources: Memorybook, source #2, source #3 and source #4.
The flag in question has the same color composition background as that of Ukraine, that is: blue on top and yellow on bottom.
To the left it features the patch insignia, having a shield with silver outline, divided in the middle vertically by two equal stripes, left in red and right in blue, superimposed by the monogram "TW" in black capitals, with the motto on top in Latin SIMUL AD VICTORIAM (together for victory).
To the right, on the blue stripe, it features the name of the Unit: 58 ОМПБр 958th IMIB0 імені гетьмана = in memoriam Hetman Івана Виговського = Ivan Vyhovsky
Below, on the yellow stripe, towards the fly, it features the three CoA's (patch insignia) of the founding Units mentioned above (13-й, 15-й and 16-й) and below that, the same motto, this time in Ukrainian "Разом до перемоги!" (Together to victory!).
Notice that the images of the COAs may have slight variations when referring to the flag sent since they either evolved when incorporated from being volunteer Units to standing military formations and/or readjusted according to task):
- #44a is the coat of arms of the 13th Territorial Defence Battalion "Chernihiv-1".
- #44b is the coat of arms of TerrDefB (15th Territorial Defence Battalion "Sumy".
- #44b is the coat of arms of TerrDefB (16th Territorial Defence Battalion "Poltava".
Esteban Rivera, 21 June 2022
---
22-45. Strange Japanese World War II Era Flags Some Speculation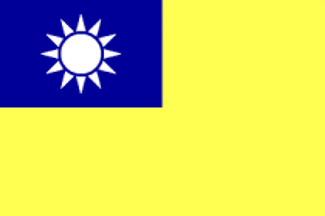 #45a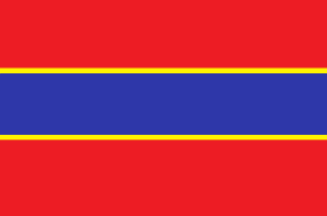 #45b
Images by BlinxCat, 22 June 2022
Here's a couple strange flags from a Japanese WW2-era paper construction (source)
It shows what I believe is a Japanese collaborationist Chinese flag, but yellow and what people assume is a Japanese-Thai collaborationist flag.
BlinxCat, 22 June 2022
The sun in the Chinese flag seems to have more than 12 rays, thus making it even more erroneous.
The flag of Manchukuo is also incorrect - blue and white stripes in canton have swapped their places - as well as that of Italy - the arms are incorrect, displaying white field and blue cross which is conjoined with blue border (its only element that is correct).
Tomislav Todorovic, 22 June 2022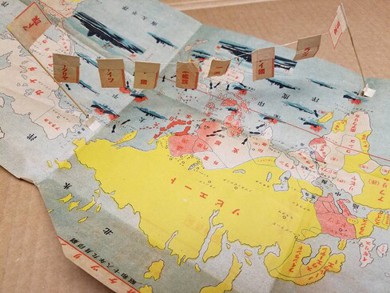 Image from Nozomi Kariyasu, 22 June 2022
It seems that they simply made incorrect flags. The captioned text in the back side reads from left to right "Z flag, Italy, Germany, China, Japanese naval ensign, Manchukuo, Thailand, France and Japan."
Nozomi Kariyasu, 22 June 2022
---
22-46. Iranian Security Nuclear Engineering Flag? Positive ID

Image from William Garrison, 1 July 2022
The caption reads: "Unidentified white-field Iran flag with blue logo incorporating wavy Iran flag in top-right area - maybe 'security nuclear engineering' c. June 2022?" (source).
William Garrison, 1 July 2022
This is the Flag of Ministry of Information and Communications Technology of Iran. (source)
Anonymous, 4 October 2022
---
22-47. Six Unidentified Ministries of Qatar
or six flags of Military Units/Commands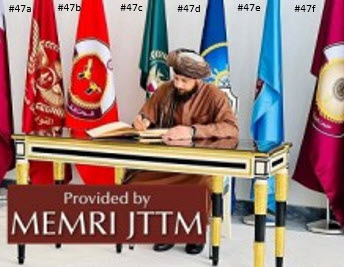 Image located by William Garrison, 7 July 2022
[identifying numbers (#47a thru #47f) to left of the flags added by UFE Editor]
The Acting Defense Minister in Afghan Taliban government met with Qatari officials to discuss means of security and defense cooperation.
The photo caption reads "photo right: 6 unidentified flags displayed at some Qatar military center/building [possibly at Al Udeid Air Base, Qatar]; c. July 5, 2022," but an earlier caption read in part: "...as showing the visit of the [Afghanistan] Taliban Minister of Defense to the U.S.-Qatar Joint Military Operation [Center] to ask for their support for the Taliban government in its effort to counter terrorism. (source)
William Garrison, 7 July 2022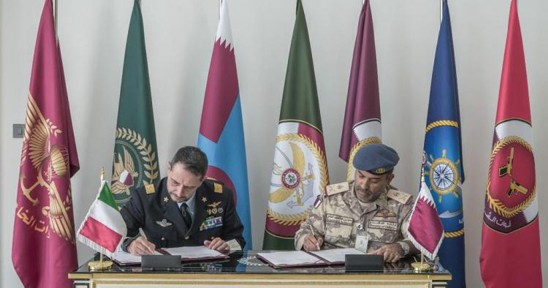 Image located by
source)
The flag on the far left appears to be that of the Qatari Joint Services Force as photos #47a (source) and #47b (source) indicate.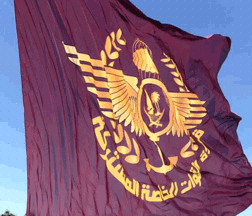 #47a QJSF Flag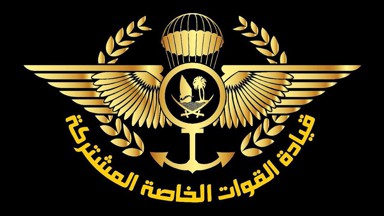 #47b QJSF Logo
Images located by nombre apellido, 7 July 2022

The flag on the far right appears to be that of the Qatari Military Police Forces as photo #47c (source) indicate.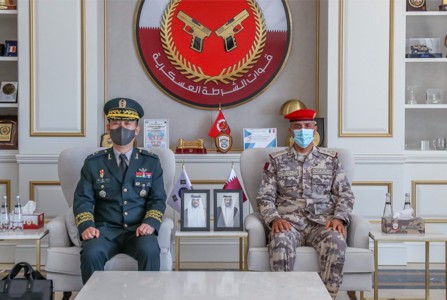 #47c Military Police
Image located by nombre apellido, 7 July 2022

[Unfortunately, the very top of the shield which appears in the photo is cut off leaving a mystery about what the top holds - notice the small white circle on the table flag below the emplem]
nombre apellido, 7 July 2022
---
22-48. Unknown Extremist Death Head Flag Positive ID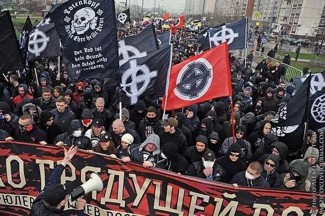 Image located by Bill Garrison, 10 July 2022
I know I should know which group(s) is/are represented in this demonstration, but I am lacking the computer researching skills to identify them. The source article shows this photo, but presents no caption. Given the long red banner at the bottom of the photo, which appears to have Cyrillic/Russian letters, it may refer to the Russia-Ukraine conflict.
Can you identify the black-field/white-skull flag? The large, close, in front, black-skull flag has the German word: Totenkopf.
According to Wikipedia Toten-Kopf translates literally to "Dead's Head", meaning exactly "dead person's head". Semantically, it refers to a skull, literally a Schädel. As a term, Totenkopf connotes the human skull as a symbol, typically one with crossed thigh bones as part of a grouping. The common translation of Totenkopf as death's head is incorrect; it would be Todeskopf, but no such word is in use.
Bill Garrison, 10 July 2022
First, we need somebody to give a translation of the wording on the black and white "death's head" flag/banner near the top of this picture. It might help identifying the flag in this picture. The other flags in the photo seem to be variants of generic the sun wheel cross flags used pretty much worldwide by extremist groups (Golden Dawn of Greece, National Action Movement of Portugal, French Nationalist Party of France, Serbian Action, etc., to name a few). This makes identifying the demonstration or groups there very hard to identify. I don't see anything in the picture to connect it to the Russia-Ukraine conflict.
Perhaps if somebody can translate some information off the large red banner in front of the group at the bottom of the picture we could some valuable clues? While you are at it can somebody read the street addresses on the buildings in the background?


Pete Loeser, 15 July 2022
Well, first, it would be good if we would know where this came from. Otherwise, let's see:
Death
My honour is loyalty
Death is no reason
not to carry out the order
It all seems to be redro is redro. But what the actual intent was ..
Anyway, the origin seems to be 2014 or earlier (source: tineye).
That means it was used before Putin claimed all Ukraine flags were blue over yellow with a swastika simi-changed, or something like that. Thus, I have no idea if people use it figuratively or counter-something. But either way, the photograph as it was taken originally is not related to the 2022 instalment of the conflict.
The story about the German word for Skull not meaning Skull doesn't make much sense to me. Are you sure it is really relevant for determining the meaning of the flag?
Peter Hans van den Muijzenberg, 23 July 2022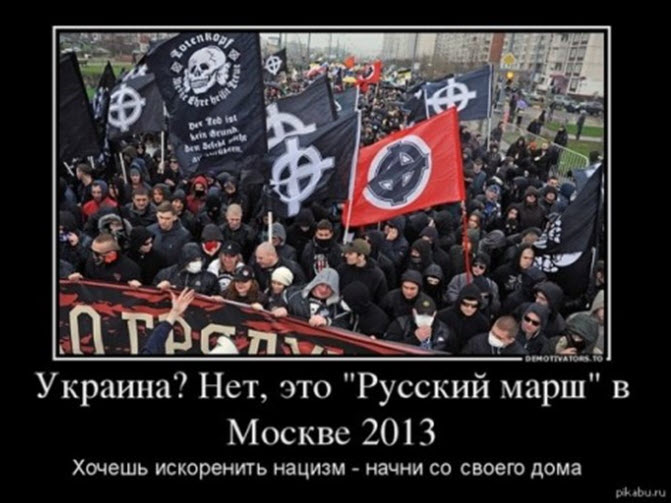 original slide 19

text detail
Images located by Pete Loeser, 10 July 2022
I found nine references to the original photo and one appears to identify it with the National Bolshevik Party (NBP - See slide #19 on this page). Unfortunately I can't read Russian or Ukrainian, but I attach the text with the photo in the hopes that one of you can translate it, it appears to identify the demonstration in the picture as taking place in 2013.
Pete Loeser, 19 August 2022
The text is in Russian and it says:
"Ukraine?, No, it is 'Russian March' in Moscow 2013. You want to eradicate Nazism - start at your home."
The attribution of the flag to the Nazbols is incorrect, though - its users are just neo-Nazis, while the Nazbols have never used it. Beside that, the National Bolshevik Party had already been history in 2013, having been replaced by the Other Russia in 2010. A larger copy of the photo can be found at this page which is also accessible from the FOTW presentation of the neo-Nazi flags with the Black Sun symbol.
More about the Russian March, the annual demonstration of Russian nationalists, can be read here.
Tomislav Todorovic, 18 August 2022
---