This page is part of © FOTW Flags Of The World website
Camp Barneo, Arctic Ocean
Last modified: 2016-02-20 by rob raeside
Keywords: expedition | barneo | arctic |
Links: FOTW homepage | search | disclaimer and copyright | write us | mirrors

---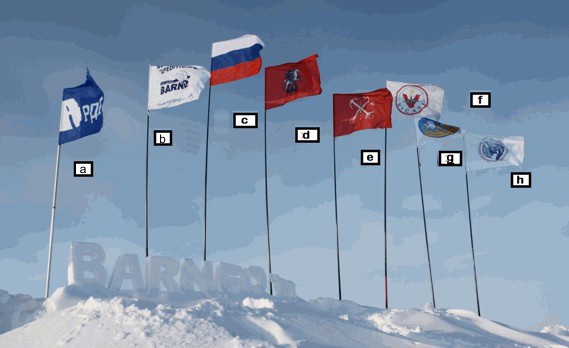 image provided by Bishop Lamoureux, 3 March 2014
[Click on image for larger version]
---
See also:
---
Identification of flags
The flags shown here are Originally from Nattsnakk fra Longyearbyen - Labels added to help flag identification at the suggestion of Peter Hans van den Muijzenberg, 31 March 2014

["Barneo Ice Camp is a unique Russian-operated drift station on the frozen Arctic Ocean near the North Pole. With its integrated ice runway, Barneo caters for the air-borne tourist industry that operates from Longyearbyen in Svalbard (Norway)." (Source: Ice Trek Expeditions) - Ed.]

These flags are a set of flags that were shown flying at Barneo, Russia, a camp near the Arctic Ocean. Some of them have been already identified by various Reddit users. The ones in the middle are Russia (c) and Moscow (d), beside Moscow is the flag of St. Petersburg (e), the lower left flag has been identified as the flag of the Russian Airborne Troops (g ?). Any help in identifying the remaining flags would be great. More pictures of Barneo can be found here.
Bishop Lamoureux, 3 March 2014

The flag of Moscow referred to is specifically the city, not the region. At the Nattsnakk fra Longyearbyen site [see Entry for Thursday, 7 April 2011] there is an image with a higher resolution. It also has a different photograph that shows a few flags more.
The identification of the flag for the Russian airborne troops (#21-f) is probably correct, for one interpretation of "left", but it's not in the UFE picture, though it is in the other one. The flag that says VICAAR is probably the flag of Vicaar.
Peter Hans van den Muijzenberg, 31 March 2014
---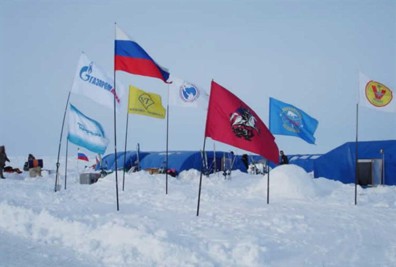 image provided by Bishop Lamoureux, 3 March 2014

The second flag from left to right, b, with the Ice Camp Barneo 90º logo is the company flag of Polar Expeditions Ltd.. Looking closely at the picture one can see that it reads "North Pole Expeditions" on top of the ice camp logo and below has the URL address of "www.norpolex.com".
When searching for "Flags at Ice Camp Barneo" I found other pictures from the same Camp: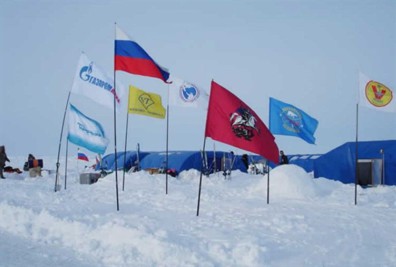 Image from Garden of Life.

There are eight flags in this new picture, and from left to right. Going by the poles they are:
Light blue/white - another UFE
"VT"- another UFE.
White UFE (same as 20-h)
Blue UFE
VICAAR - the flag of International Projects and Expeditions, as seen in this logo and flag #20b-6.
VICAAR was founded in 1991 and stands for "Victory in Arctic and Antarctic research". The website address (initially) was www.norpolex.com (and written on flag f). (Source: VICAAR website.)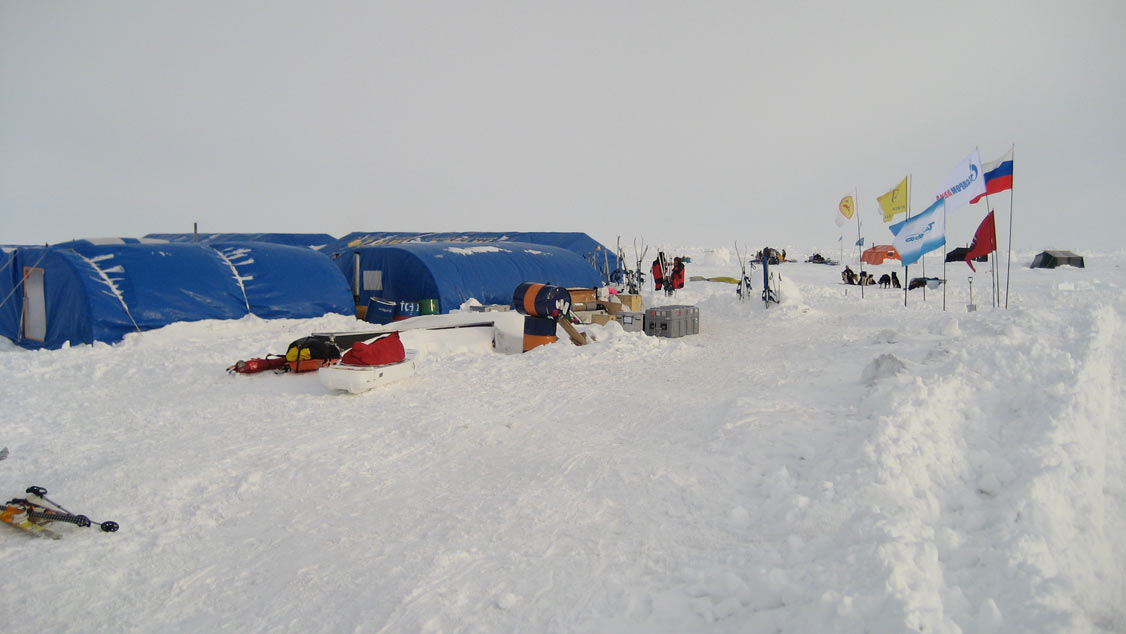 Image from Ice Axe Expeditions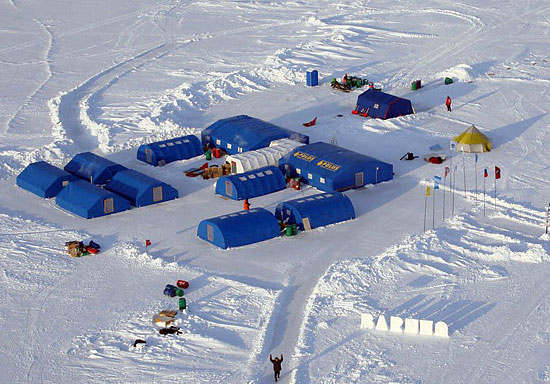 Image from The Adventure Blog

Image from Børge Ousland Polar Exploration

These seem to be the same set of eight flags as previously reported, only from a different angles.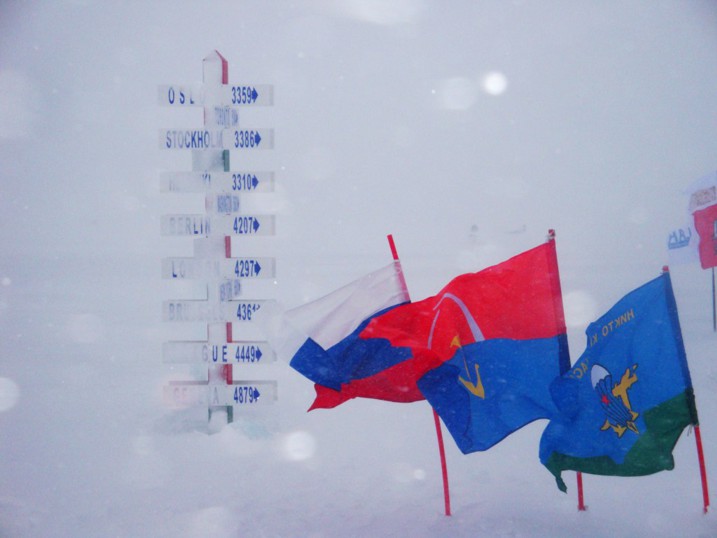 Image from Polar Expeditions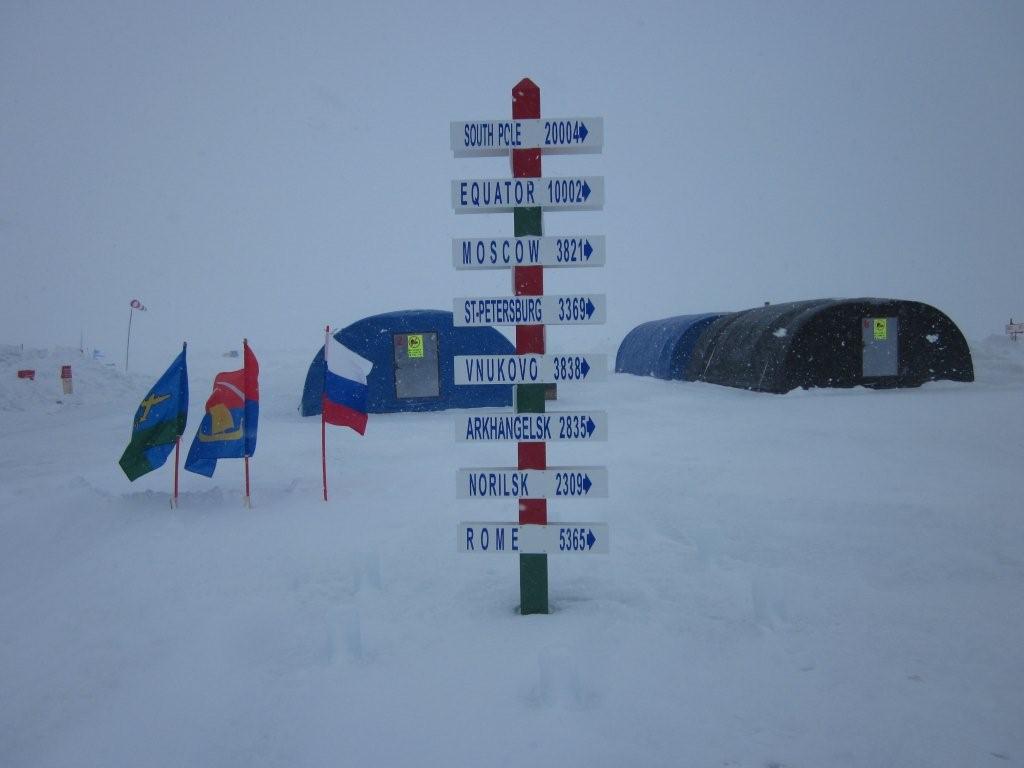 Image from North Pole and Beyond

There are three flags in these pictures, and from left to right they are:
UFE
HNKTO UFE (Probably combined troops' flag, or airborne troops flag, since the flag bears a parachute and an aircraft as images on the middle)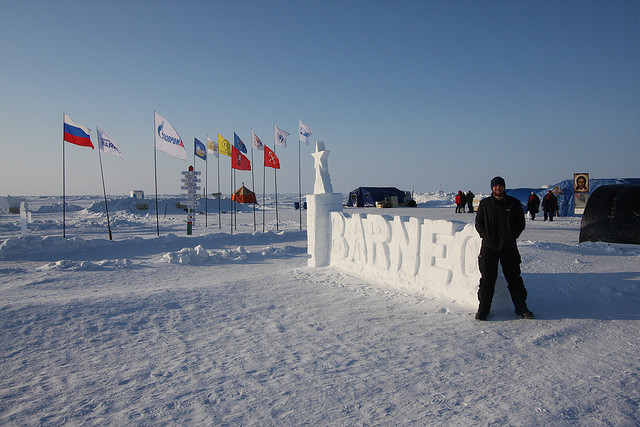 Image from Camp Barneo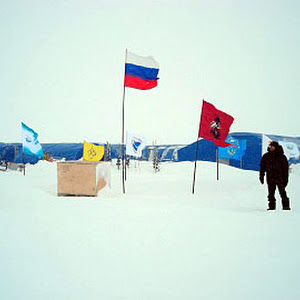 Image from The Explorers Web

There are 12 flags in these pictures (since the flags are most likely the same as the previously reported, I will not count them one by one to avoid any misunderstandings). Instead, we can try and identify them (in no particular order) and mention them.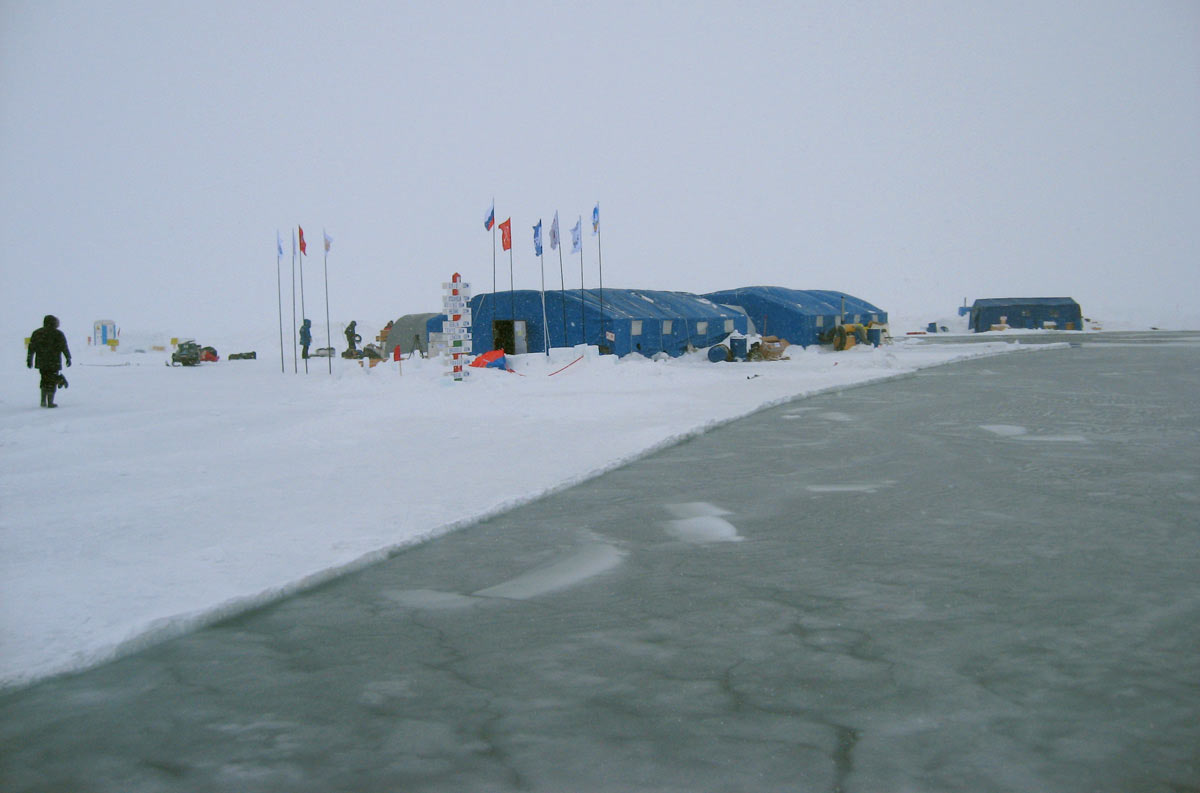 Image from North Pole and Beyond

Since there are 10 flags in this picture, it leads me to think that the total flags in this camp may well be twelve (putting together these various pictures.
The "Barneo station has been established annually since 2000, at 89 degrees north latitude, becoming the center of research, sports and tourism in the Arctic. The base (is) sponsored by the Russian Geographical Society, is operational for only around a month. The Barneo complex consist of an ice camp and a runway – and has to be built from scratch every year as it's impossible to keep a landing field on drifting ice for more than one season.
The month of April provides the perfect conditions and timing for erecting the base as the polar night ends by then, but the sun is not yet strong enough to start melting the ice. This period of the year is also characterized by the absence of strong winds and moderate temperatures, which rarely fall lower than minus 30 Celsius.
The station's name - Barneo – is nothing, but a joke by the Russian polar explorers as the weather conditions at the base are the complete opposite of the ones at the tropical island of Borneo in South East Asia." (Source: RT: Question More)
Esteban Rivera, 20 April 2014

[Please Note: the following remarks from Peter were edited down from a much more detailed reply] "They [referring to the different flag display photos] are probably not from the same year. Each year the organisations involved in the Barneo Ice Camp seem to set up a flag display. How many flags are in the camp would depend on who are in the camp [at the time], as the various expeditions bring their own flags. Also, as you can see in some of the photographs, there can be other flags raised apart from the big display, like an extra Russian flag, for example. ...[Thus] the number of flags in the camp depends on ...[the time, when, and who is present], causing additional flags to be flown outside the big display..."
Peter Hans van den Muijzenberg, 20 April 2014
---
More Russian Flags at Barneo Base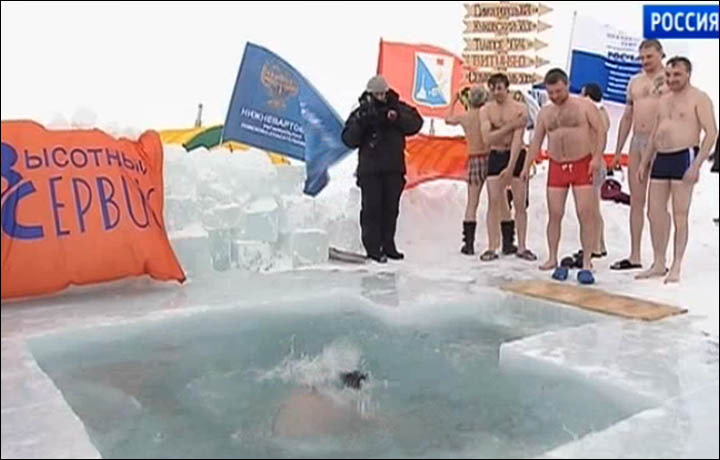 Image from Esteban Rivera, 20 April 2014
This picture from the Siberian Times newspaper shows a set of four flags, and they are (from left to right):
Orange UFE
Blue UFE
White-Blue UFE
Any help identifying them is greatly appreciated.
Esteban Rivera, 20 April 2014

I think the UFE Flag #1 is that of a commercial enterprise called "Highrise Service". They may be a sponsor of expedition? To me, this orange item looks like a big air bag with logo.
On Flag #2, a bad photo, but I think I read letters "Nizhnevartovsk..." (a city in Siberia), maybe a flag of some regional organization?
Victor Lomantsov, 20 April 2014
---