This page is part of © FOTW Flags Of The World website
Nord (Department, France)
Last modified: 2022-07-30 by ivan sache
Keywords: nord |
Links: FOTW homepage | search | disclaimer and copyright | write us | mirrors

---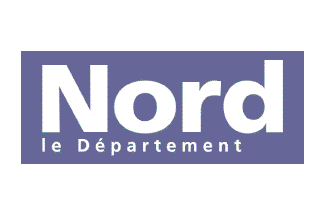 Flag of Nord - Image by Ivan Sache, 18 May 2014
---
Municipalities
Former municipalities
Sport flags
See also:
---
Administrative data
Code: 59
Region: Hauts-de-France (Nord-Pas de Calais until 2014)
Traditional province: Flanders
Bordering departments: Aisne, Pas-de-Calais, Somme
Area: 5,742 km2
Population (2016): 2,603,723 inhabitants
Préfecture: Lille
Sous-préfectures: Avesnes-sur-Helpe, Cambrai, Douai, Dunkirk, Valenciennes
Subdivisions: 6 arrondissements, 41 cantons, 648 municipalities.
The department is named ("North") after its geographical situation.
On 1 September 1973, the municipality of Escaufourt, formerly enclaved in the department of Nord, was merged with the municipality of Saint-Souplet (Nord).
Ivan Sache, 14 April 2019
---
Flag of Nord
The General Council of Nord adopted a new logo in 2011 (official leaflet), and the flag was changed accordingly (photo).
The new logo is made of a rectangular block, in "Nord gray" colour, including the writing "Nord / le Département" in white letters. The position of the text within the block should not be changed. The text is written using the Frutiger font".
The colour specification for "Nord gray" is:


CMYK  	     64 47 25 5
Pantone 	5415

There is little information about the new logo, except in an interview (L'Observateur du Douaisis; 25 September 2011), of Patrick Kanner, President of the General Council since 31 March 2011. Kanner argues that the former logo of the General Council was not understandable to anybody, while the world "département" is meaningful for the inhabitants. He further added that the new logo is "home made" (I understand, designed by the services of the General Council rather than by a private agency).
Ivan Sache, 18 May 2014
---
Flag of the former General Council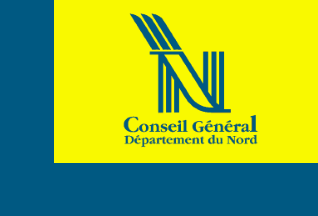 Flag of the former General Council of Nord - Image by Olivier Touzeau, 29 April 2019
The flag of the former General Council of Nord was yellow with a blue stripe placed vertically along the hoist and another placed horizontally along the bottom of the flag. The yellow rectangle is charged with the Council's logo in blue.
The logo is made of a stylized "N" surmounting "Conseil Général / Département du Nord"; the elements are white on a blue background - while blue on yellow on the flag.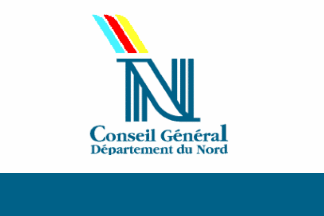 Older flag of he General Council of Nord - Image by Olivier Touzeau, 29 April 2019
Before 2000, the General Council used a flag horizontally divided white and blue (4:1) with the Council's logo in the center of the white part.
Ivan Sache & Pascal Vagnat, 25 July 2010
---
Armorial des communes du département du Nord
Canon Théodore Leuridan (1860-1933), born in Roubaix as the son of the Municipal Archivist, was ordained priest in Lille on 19 May 1882. He served as vicar of Wattignies (1884-1890) and librarian at the Catholic University of Lille (1890-1907).
Upon request of Étienne-Marie-Alphonse Sonnois (1828-1913), Archbishop of Cambrai (1893-1913), who wanted to collect historical data on the parishes of the diocese, Leuridan established in 1899 the Société d'Études de la Province de Cambrai, a learned society he would preside until his death.
Under Leuridan's presidency, the society published 107 volumes as Bulletin (32 issues), Mémoires (25 volumes), Annales (10 volumes) and Recueil (40 volumes), as well as a bibliography record and the bulletin of the Fédération d'Art et d'Histoire régionale.
The archbishop elevated Leuridan in 1907 Canon at the Cathedral of Cambrai and named him Diocese Archivist, which allowed the canon to "retire" and to spend all his time to historical research.
A very thorough scholar, Leuridan kept a detailed record of his bibliography, which counted 242 entries in 1907.
The definitive list of his published works is composed of 544 entries scattered over 15 sections:
- Records and tables of municipal and parish archives (42);
- Monographs (14), with special emphasis on Roubaix and Seclin;
- Epigraphy (12): epigraphs systematically recorded in the churches of the diocese are of great significance, since several of these buildings were destroyed during the First or Second World Wars;
- Art and heraldry (24) This includes Armorial des communes du département du Nord (1909, see below), Armorial de la basilique Notre-Dame de la Treille à Lille (1909), which records 695 coats of arms represented on mosaics, paintings and windows, Armorial des familles lilloises et de leurs alliées (1906-1909, 396 coats of arms), Armorial du Nord. Familles et institutions (Vol.1, 1926, 2,110 coats of arms; Vol. 2, 1930, 2,902 coats of arms);
- Genealogy (7);
- Miscellaneous historical studies (202);
- Miscellaneous studies on the French Revolution (36);
- Biographies (11);
- Theologians in Douai (11);
- Miscellany (21);
- Free Faculties in Lille (25);
- Art and History Congresses (19);
- Société d'Émulation de Roubaix (5);
- Learned societies and Federations (33);
- Bibliography (60).
Several other works were destroyed during the First World War or kept as manuscripts, for instance, Armorial des communes du Pas-de-Calais.
[Recueil de la Société d'Études de la Province de Cambrai, 41, 1933]
Armorial des communes du département du Nord was published in 1909 as Vol. 1 of Annales de la Société d'Études de la Province de Cambrai.
A few towns and villages have historical arms, mostly registered in the Armorial général (1696-1710); Leuridan used for sources the "regional" sections of the Armorial published by Borel d'Hauterive as Armorial de Flandre, du Hainaut et du Cambrésis (1856) and Armorial d'Artois et de Picardie (1866). Leuridan points out that several arms assigned by d'Hozier and his assistants should not be considered as genuine, historical arms. Another "official" source is composed is seals kept in different archives and recorded by several scholars.
For towns and villages lacking any heraldic reference, Leuridan relied on "sufficiently established tradition", heraldic and genealogical manuscripts, and heraldic maps. He insists that such sources have to be handled with care.
In the total absence of heraldic sources, Leuridan assigned the arms of religious institutions or feudal lords that once ruled the towns and villages. Here again, he insists that such records have to be handled with great care.
Leuridan's Armorial features black and white reproductions of three heraldic maps.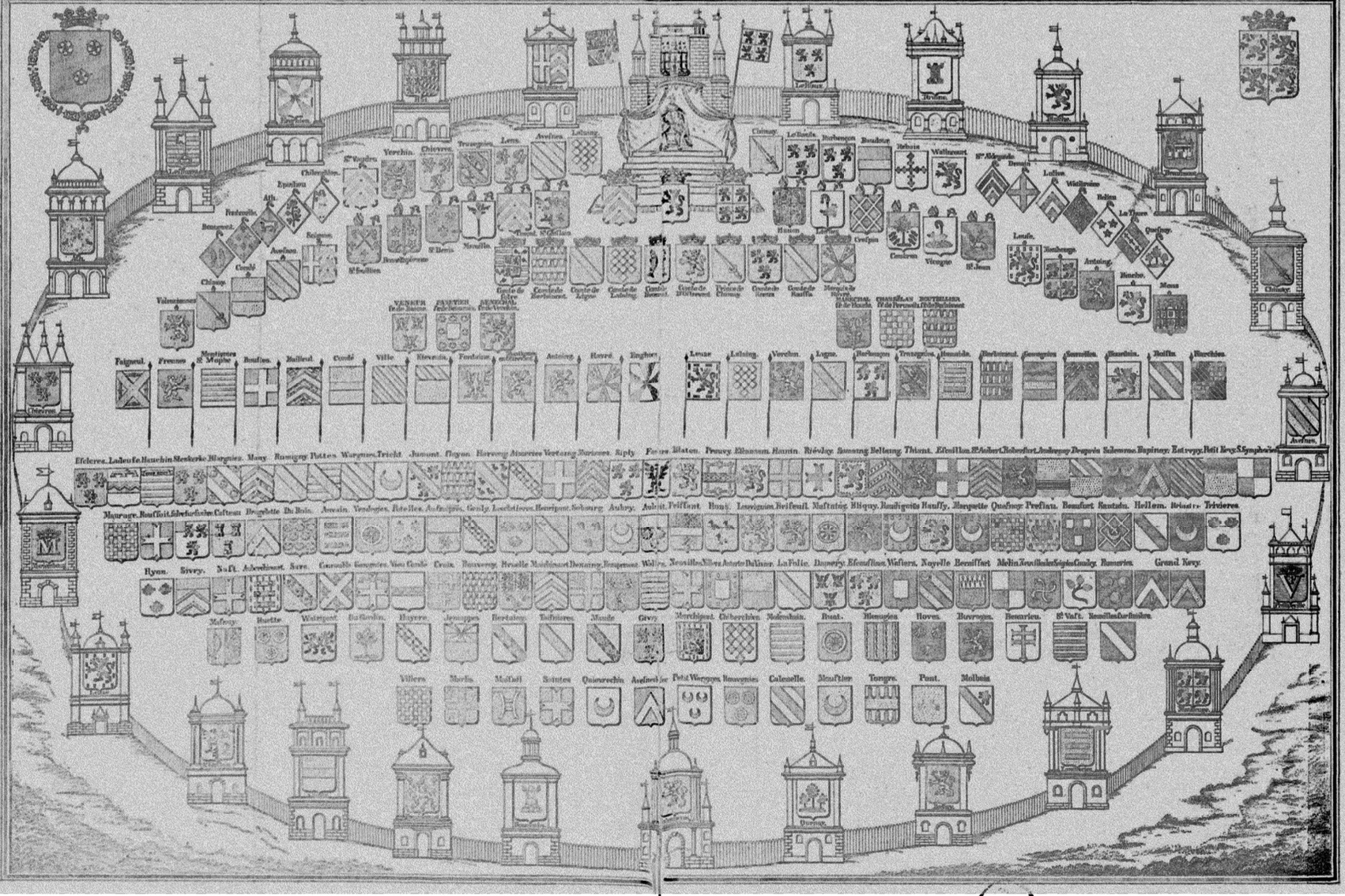 Heraldic map of Hainaut (color version) designed in 1774 by the archivist Jean-Baptiste Dumont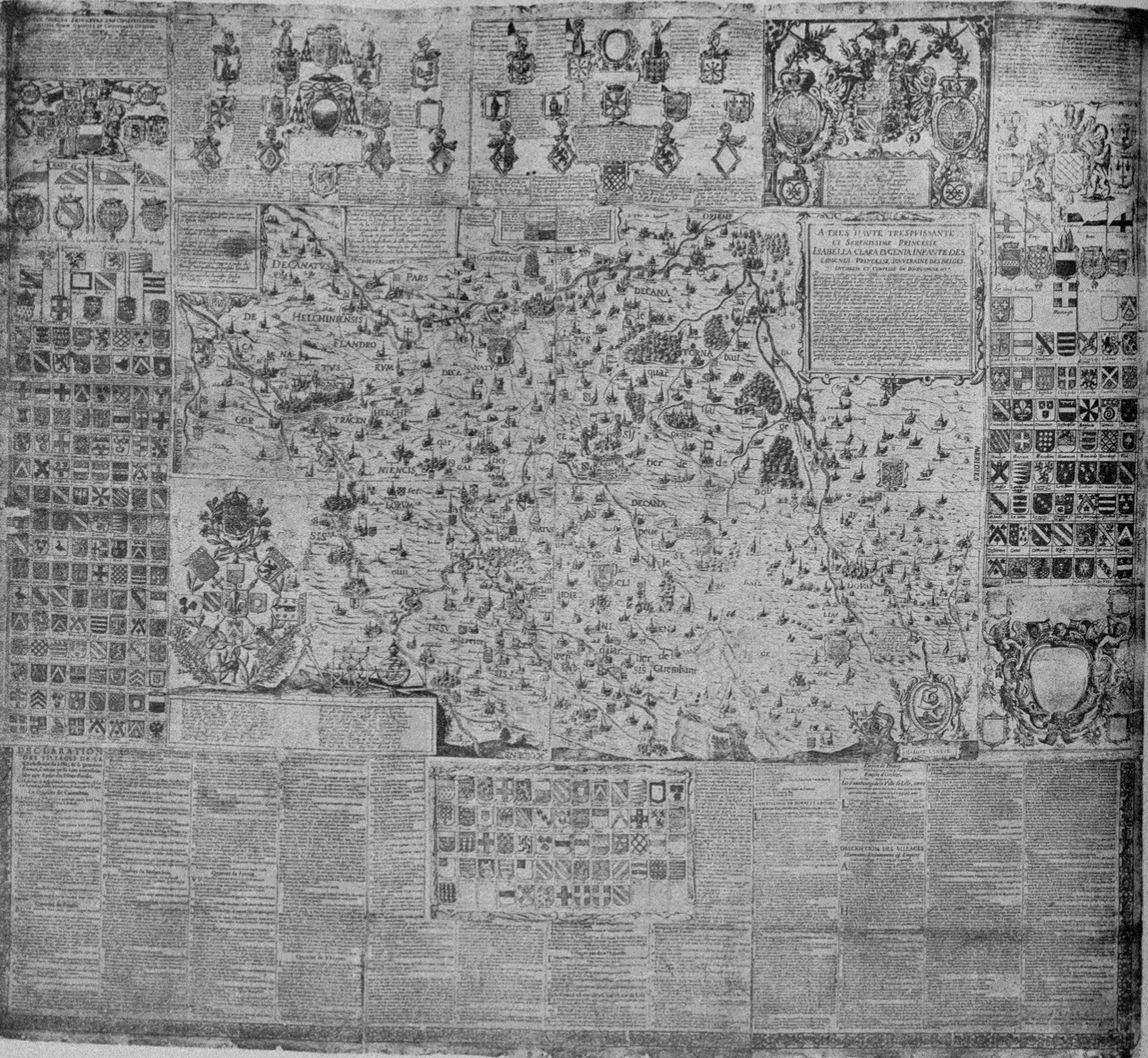 Heraldic map of the domain of Lille designed in 1623 by Martin Doué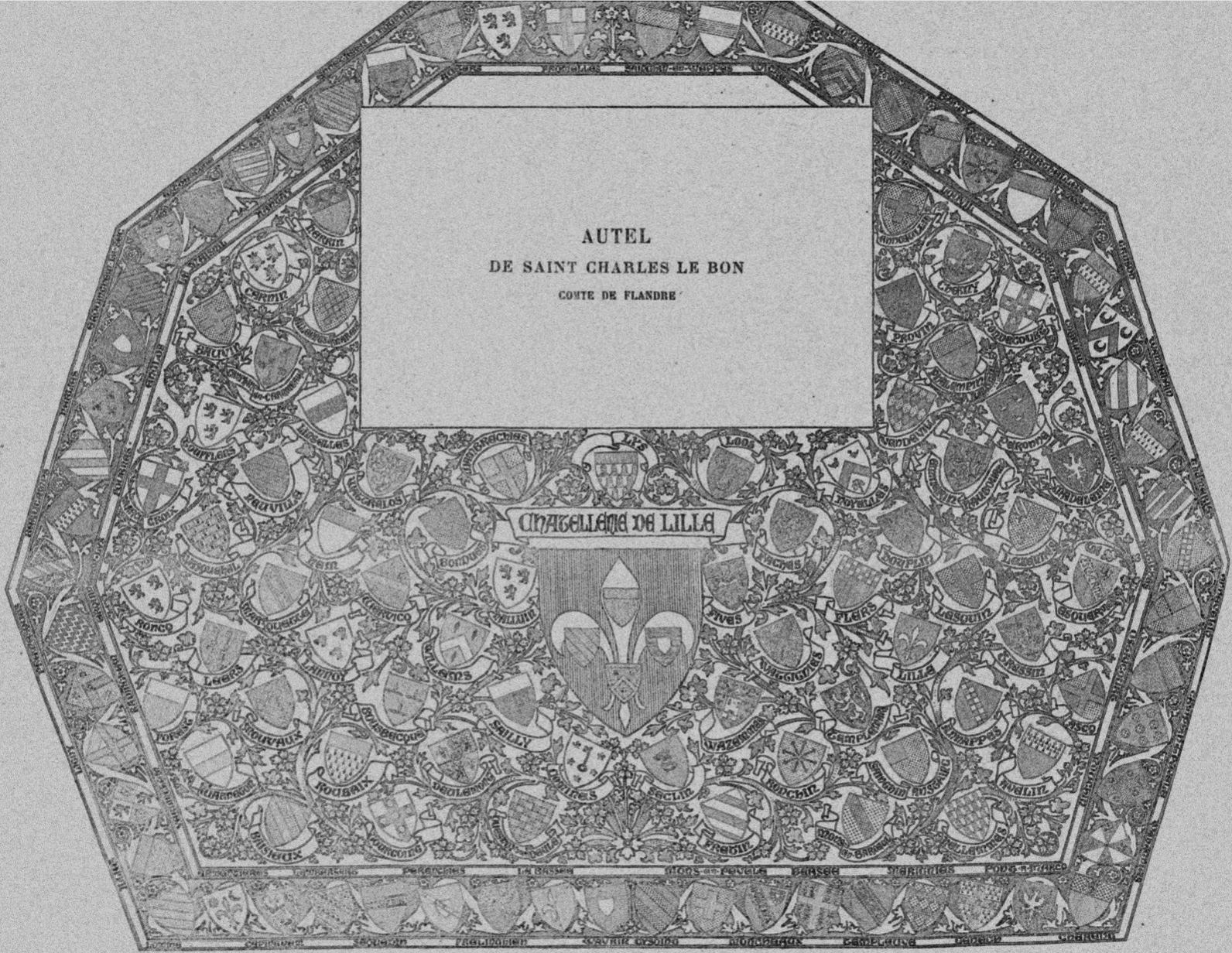 Modern "heraldic map" of the domain of Lille designed by Th. Leuridan for the mosaic of Charles the Good's altar in the basilica Notre-Dame de la Treille
Ivan Sache, 22 November 2020