This page is part of © FOTW Flags Of The World website
Unidentified Flags or Ensigns (2012) - Page 3
Flags submitted in 2012 - 3 of 5 pages
Last modified: 2023-01-14 by

zachary harden
Keywords: ufe | unidentified flags |
Links: FOTW homepage | search | disclaimer and copyright | write us | mirrors

---
Please note our Policy for Submissions and Enquiries.
Below is a series of images of flags that have been provided to FOTW; some we have recognized, and some we have been unable to recognize. If you can help us identify any of these flags, please let us know! Contact the: UFE Editor.
Identification Key:
= Positive ID (Positive Identification)
= Tentative ID (Tentative Identification)
= Some Speculation
Unidentified Flags on Page 1

Unidentified Flags on Page 2:

Unidentified Flags on This Page:

Unidentified Flags on Page 4:

Unidentified Flags on Page 5:

Unidentified Flags on other pages
---
12-32. Strange Symbol on flag Positive ID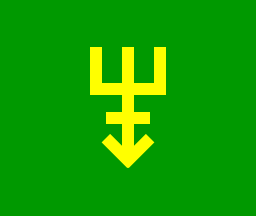 Original image redrawn to standard by António Martins-Tuválkin, 21 February 2016
Does anyone know what this symbol is? It might be an alchemical or astrological symbol
Antonio Nieto Carnicer, 25 May 2012
I don't say that it is, but it looks rather like the Middle European symbol "Rogacina" - which is defined by the DoV as: "the Polish term for a charge in the form of a stylized arrowhead or spear point, often with a decorated shaft and generally (but not invariably) pointing upward." The etymology of the flag might help?
Christopher Southworth, 26 May 2012
It shows on a green field (ratio about 5:6 or 27:32) a vertically symmetrical yellow symbol consisting of a three-pronged upper end, like a stylized fork with right angles on each side, like a "Ш", connecting through a central axis that ends at the bottom in an arrow, this lower stem crossed by an orthogonal segment, like this "⇟". I agree that it looked like an alchemical or astrological symbol, but I could not find an exact match. It looks like Neptune ("♆"), but with the arrow(s) at the other end.
It's almost impossible to say anything useful to identify the flag without more information: Where was it acquired?, where from?, how big is it?, what is it made of?
António Martins-Tuválkin , 21 February 2016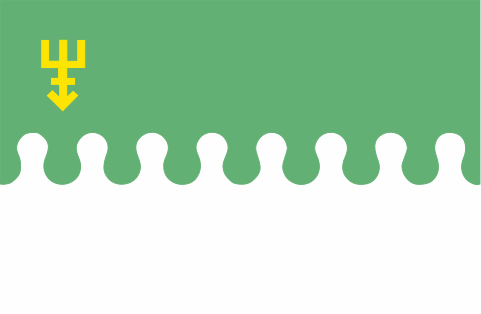 Image from Marc Pasquin, 26 February 2016
Flag of the raion Edinet (Edinet District) in Moldova.
Possibly a flag of supporters of FC Edinet (Moldova), right symbol, but the wrong team colours. Maybe of the city itself, or a Edinet District variant?
Marc Pasquin, 21 February 2016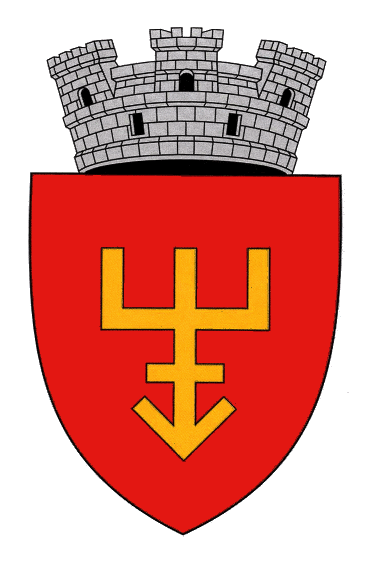 Town of Cupcini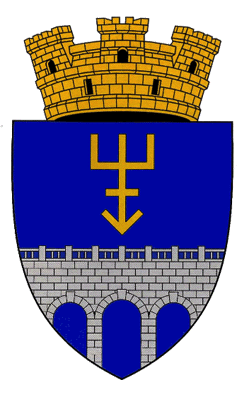 Town of Edinet
Images from Victor Lomantsov, 22 February 2016
This composition (trident with the arrow below) was the emblem of Ioan Cupcici, Moldavian politician of XV Century (custodian of the state seal) and landowner. The Cupcici Trident is used in municipal symbols of several Moldavian towns: Cupcini and Edinet.
Victor Lomantsov, 22 February 2016
Is it possible to ask Antonio Nieto Carnicer for context?
Peter Hans van den Muijzenberg, 2 March 2017
---
12-33. Unidentified Flags of the Ethiopian Liberation Movement Positive IDs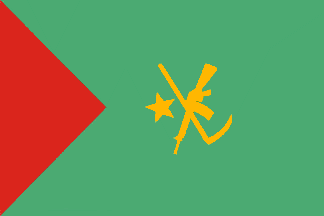 #33a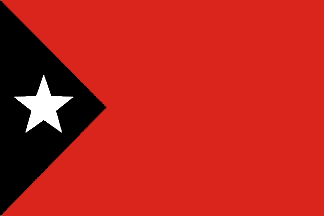 #33b
Images by Jaume Ollé Casals, 25 May 2012
Two flags of the Ethiopian Liberation Movement that I can't identify. Any ideas?
Jaume Ollé Casals, 25 May 2012
I just noticed that #33a resembles the Revolutionary People's Army (EPR - Ejército Popular Revolucionario) of Mexico. Not sure what it would have to do with the Ethiopian Liberation Movement, but it is very similar in design and coloration. The other flag (#33b) also shares design elements and colors with other EPR variants. Quite curious.
Pete Loeser, 7 February 2013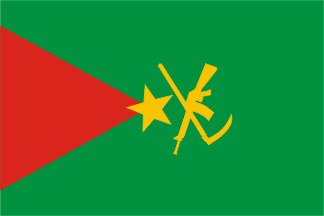 #33c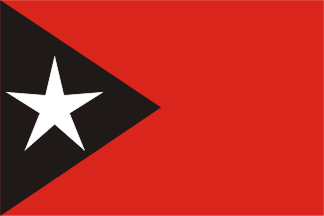 #33d
Images by Jaume Ollé Casals, 11 February 2013
I'm afraid that they are not related with Mexico or the ERP. In Issue 68 of the Flag Report these two flags are identified, together with some others flags of Ethiopia armed opposition. The green flag with red triangle at its hoist (#33c) is the flag of the Southern Ethiopia People´s Front for Justice and Equality (SEPFJE), today renamed the Ethiopian People´s Front for Equality and Justice (EPFEJ). With better photos I slightly corrected the design.
The red flag with black triangle at hoist (#33d) is from the Benishangul People´s Movement (BPM); from photos I also slightly corrected it (greater triangle, and slightly different star). In the same issue there's three or four others flags of armed Ethiopian opposition movements.
Jaume Ollé Casals, 11 February 2013
Is the Ethiopian People's Front for Equality and Justice (EPFEJ) the same as the the Alliance for Liberty, Equality and Justice in Ethiopia (ALEJE)?
Esteban Rivera, 21 December 2013
---
12-34. Unknown Shipping Company Flag. Some Speculation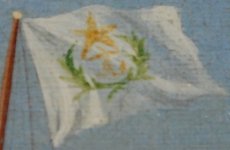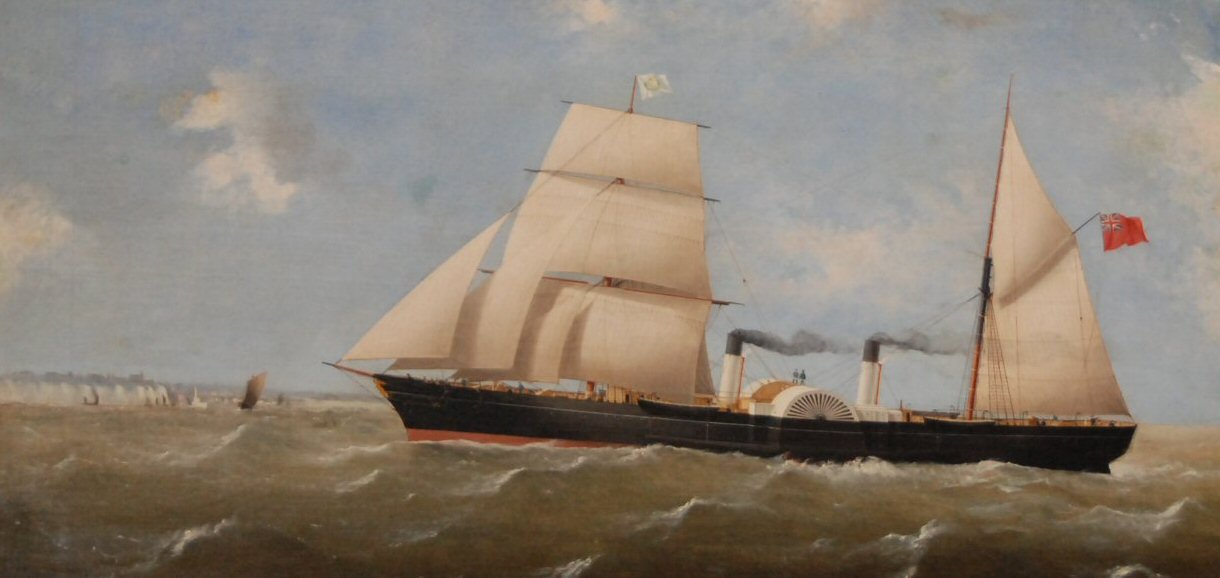 Images from Scott Olsen, 5-6 June 2012
I found your website and was wondering if you could help me identify the flag in the attached photo? I believe it has something to do with a company in the United Kingdom.
Scott Olsen, 5 June 2012
I received a photo of the entire painting - some further details may help in the identification:
- In the distance, are the White Cliffs of Dover, so the location is the English Channel.
- The ship is flying the British merchant ensign, design post-1801.
- The ship is a combination sailing ship/paddle wheel steamer and according to Wikipedia the first such ship to cross the
Atlantic was in 1819. However, Wikipedia also reports that no ship "repeated" the journey until the 1840s.
- Assuming the view is to the east (to match the position of the chalk cliffs), the painting shows sails billowing from a
southerly or southeasterly wind, but the smoke and flags blowing as if in a northerly wind, so the painting may not be
one by a seasoned sailing ship painter.
Rob Raeside, 6 June 2012
I've nothing to say about the flag, but the White Cliffs of Dover are also the White Cliffs of Cap Gris Nez, Cap Blanc Nez, etc. In other words, we could be looking beyond the ship to the "French" coast and the compass points are reversed.
André Coutanche, 7 June 2012
---
12-35. White Flag with a Red Eagle Positive ID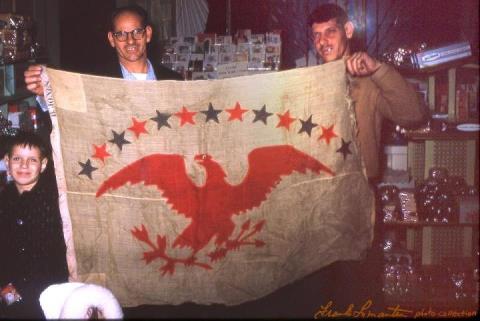 Image from Michael Wilson, 17 June 2012
I came across your wonderful website when trying to find out information about the flag in the enclosed picture. Do you have any information about this White Flag with a Red Eagle and Alternating Color Stars?
Michael Wilson, USN Retired, 17 June 2012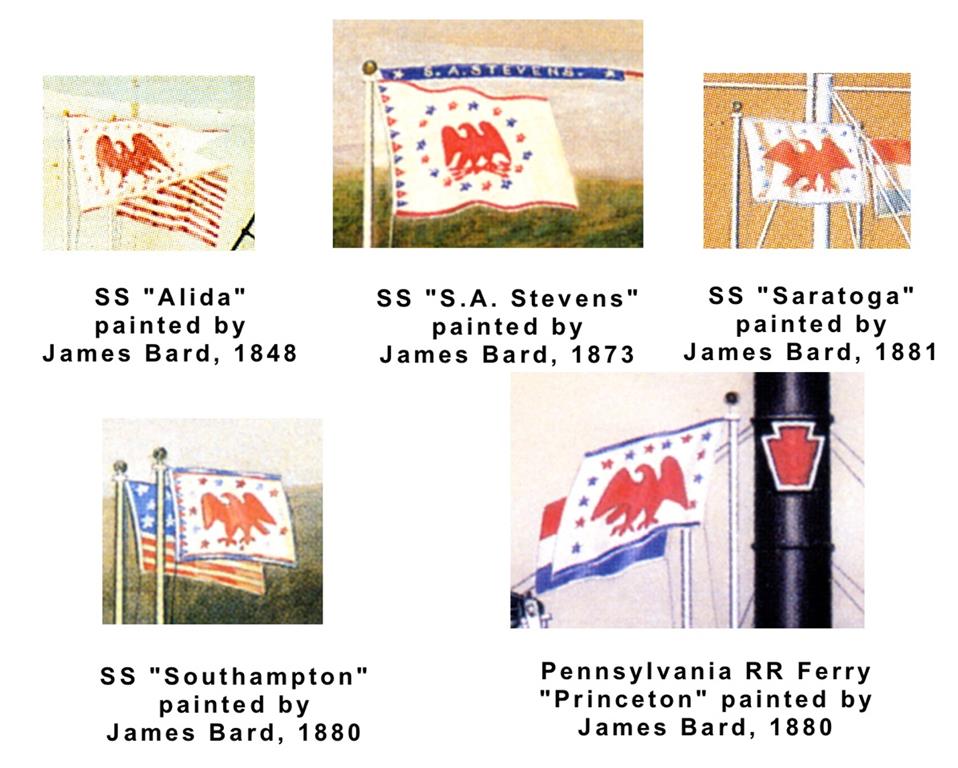 Image from David Martucci, 3 January 2015
This is likely a decorative flag from the late 19th or early 20th century made for the Excursion Steam Boat trade. Such flags were made by the hundreds (if not thousands) in many different, often patriotic, patterns to dress these ships and create an atmosphere of excitement. Attached are details from five James Bard paintings showing flags that more-or-less match the flag shown. (SS = Steam Ship). Bard (and his twin brother John) was one of dozens of artists that painted these ships for the owners, etc. as a kind of advertising piece for display in the offices of the Steam Ship companies. The Bards alone are known to have painted more than 300 ships, which they painted mostly in New York City. Every city on the oceans and major rivers of the United States had many such excursion Steam Boats after the Civil War, so I estimate there were thousands of decorative flags made for these purposes.
Sources: The scans attached are all taken from "The Bard Brothers—Painting America Under Steam and Sail" edited by Robert Morton for the Mariners' Museum in collaboration with Anthony J. Peluso, Jr. (Newport News, VA, Harry N. Abrams, Inc.; 1997).
David Martucci, 3 January 2015
---
12-36. Black Circle on Red Pennant Positive ID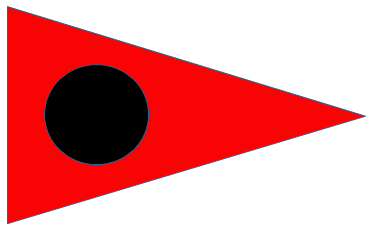 Speculative Image by Pete Loeser, 21 June 2012
I have recently come into possession of a flag from the World War II era. It was found in the personal property of a great uncle who flew hellcats off aircraft carriers during the war and was later a Blue Angel. He had a triangular flag, so probably its a naval flag. It has a singular black circle on a field of solid red. I would guess it is some sort of Japanese flag, but I do not know.
Jason Henderson, 21 June 2012
Sounds like the Navy Battle E pennant
Rick Wyatt, 21 June 2012
That is the "Meatball" pennant, awarded in the US Navy for best performance in gunnery, engineering and combat efficiency.
Ned Smith, 21 June 2012
See Sea Flags for more.
Joe McMillan, 23 June 2012
Actually, the speculative rendering is closer the flag I have than the other drawings.
Jason Henderson, 23 June 2012
The short triangle is how it's shown in the construction sheet in NTP-3(B). I think ships manufacture their own pennants, and that they're not carried in the supply system, so I'm sure there's variation.
Joe McMillan, 23 June 2012
We haven't (despite our most valiant efforts) quite caught up with this yet, but when we do the DoV will define a Battle Efficiency and Special Battle Efficiency Pennant as: "BATTLE EFFICIENCY PENNANT - In US naval usage, a triangular pennant that is flown (from the foremast) to indicate that the vessel has achieved superior performance in an operational environment – an E pennant or meatball (see also 'award flag')."
Christopher Southworth, 23 June 2012
---
12-37. States-General Crest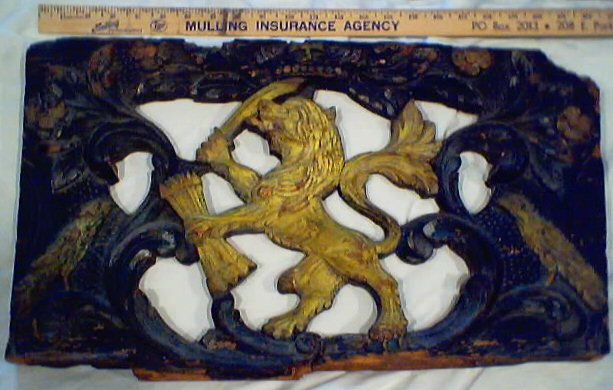 Image by Bob Strouse, 23 June 2013
I have what I believe to be a crest. I have researched and think it's the lion on the states-general flag. I hope you can help with any information about it or guide me to anyone that may help. It measures approximately 16 inches by 13 inches and is very old wood.
Bob Strouse, 23 June 2012
Although the animal looks a little wolf-like, I am pretty sure this is intended to be the States General emblem, although our representation could do with some updating.
Rob Raeside, 23 June 2012
12-38. S. Stein (Jelø-Linien) House Flag? Positive ID

This flag has been identified as that of the houseflag of Norwegian maritime company S. Stein (Jelø-Linien).
---
12-39. Four Flag Pins 1 Positive ID 1 Tentative ID Some Speculation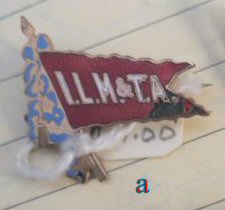 #39a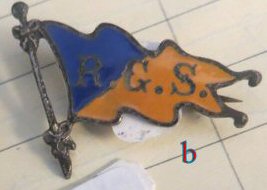 #39b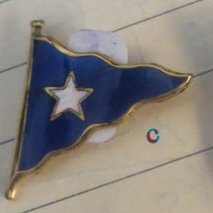 #39c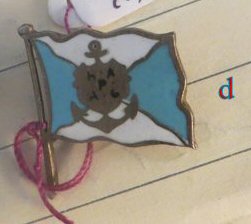 #39d
Images from Paul Van Vactor, 28 June 2012
Do you know or have you seen any of these? I know there are thousands.
- #39a: white lettering: I.L.M. & T.A. on a red background.
- #39b: lettering R.G.S. on a blue/orange background.
- #39c: white star/blue background
- #39d: royal blue (almost looks green) with anchor.
I checked another site with groups and did not see any, but some were close. Thanks for any help.
Paul Van Vactor, 28 June 2012
The #39d ensign is that of the Hamburg-Amerika Linie (HAPAG = Hamburg Amerikanische Packetfahrt Actien Gesellschaft). Although the pennant [bottom left - #39c] has the same pattern and resembles that of the Zillmann Tegeler (Deutsch-Österreichische Dampfschiffahrtsgesellschaft) flag, it is not an exact match.
Klaus-Michael Schneider, 30 June 2012
The top left [#39a]: white lettering: I.L.M. & T.A. on a red background most likely represents a labor union - the International Longshoremen's, Marine and Transport Workers' Association, now known simply as the International Longshoremen's Association. The union was known by the longer form during the early years of the 20th century, and that was customarily abbreviated as ILM & TA.
I'm not 100% sure of this identification, but think it very probable. Also, I don't know if they actually used a flag like this, or simply designed one for their pins (something we on the FOTW mailing list would call a "Flagoid").
Ned Smith, 30 June 2012
---
12-40. S and G Funnel Flag Positive ID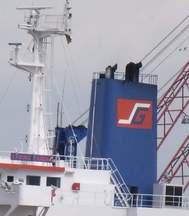 Image from Klaus-Michael Schneider, 30 June 2012
On 9 May 2012, in HH-Veddel I spotted a ship I couldn't approach. It had a blue funnel with a red flag on it. On the flag there is probably a white "S" and a blue "G". Part of the name is readable as "SPRING PANDA_" except last letter. The company's name probably begins with "GO..", because a crane(?) can be seen behind bearing the inscription? Can anybody identify?
Klaus-Michael Schneider, 30 June 2012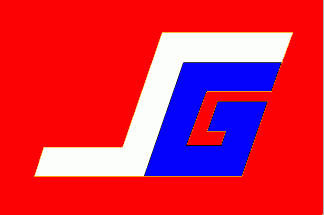 Image by Klaus-Michael Schneider, 9 July 2012
The "Spring Panda" belongs to the Seatrade Groningen ship manager. Sources: Cargo Vessels International and the Seatrade website.
Dirk Schönberger, 30 June 2012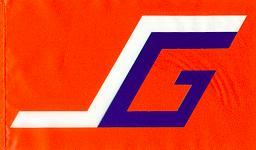 #40a

#40b Images from Neale Rosanoski, 30 July 2012
The positive ID is right and wrong. The company is right – Seatrade Groningen B.V. of Groningen, Netherlands. Panels on funnels do not always equate to the houseflag. In this case it does, but not colourwise. As Klaus-Michael says the funnel panel is red, well maybe red and maybe orangy red - air sea rescue style. It depends partly on what paint pot they use and also how the camera treats the colours. I found cameras, film or digital could not be relied upon to correctly show the exact shade at times when you got into this colour range though not having done any ship photography for a while this may no longer apply.
Whatever the colour of the funnel panel that of the flag field is definitely orange. I have a photo of "Spring Bear" in 1994 with there being no doubt about the orange of the flag and the question of the funnel panel and it is backed up by the Josef Nüsse table flag, although the scanning shades in his old and new websites show the problems involved in getting pictures of the right shade. I enclose images from both of Josef's sites, the darker (#40a) being from his old site and the lighter (#40b) from his current site. Depending on your monitor the older one can look more reddish [I have tried them on two monitors with differing results]. Also looking at website link provided by Dirk, their logo panel is definitely orange.
Now the flag is currently on FOTW under "Dutch Houseflags of Shipping Companies[s]" under Seatrade Groningen correctly showing an orange field in Jarig's image, but with a black "G" instead of dark blue. This is a source fault as Brown 1995 shows black in error, as does Brown 1982, For Brown 1982 I would say "perhaps" because this is under the name of N.V. Scheepvaartkantoor "Groningen" which is the name under which the company was formed in 1951 with it changing name in 1973. I have nothing on the flag under the original name so there is a possibililty that the "G" started out black and changed to blue whilst the dark shade currently used could easily have been mistaken for black at the time of the original reports if they were from ship sightings rather than company information.
Neale Rosanoski, July 2012
---
12-41. Lingegas Shipping Pennant Positive ID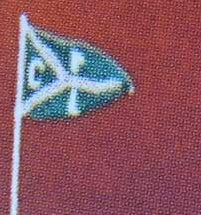 #41a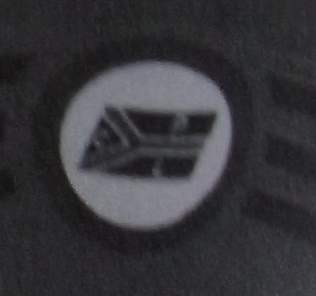 #41b
Image from Klaus-Michael Schneider, 9 Jul 2012
The unkown German shipping pennant (#41a) can be seen during baptizing the LINGEGAS on 27 February 1981. The B/W flag version (#41b) is painted upon the prow of MERWEGAS also in 1981.
Source: Reinhold Thiel: Dampfschifffahrtsgesellschaft "Neptun" – SLOMAN NEPTUN Schiffahrts Aktiengesellschaft (1873–1998)", Bremen 1998 ISBN 3-931-785-72-6
Klaus-Michael Schneider, 9 Jul 2012
With such names, it's obviously a Dutch company. That makes it fairly easy to find Lusitania Lijn. Or rather, Lusitania Lijn CPL, as all sources seem to use the combined name. They were listed as a Rotterdam company, but I don't know whether they still exist.
The "CPL" may refer to a cooperation between the Cornelder Lijn, Van Nievelt Goudriaan´s Portugal Lijn (VNG), and the Lusitania Lijn. The Portugal Lijn apparently left the coop in 1962, but I don't know whether the remaining partners kept the co-operation going or whether all that was left were three capitals in the name of one of them.
Peter Hans van den Muijzenberg, 15 January 2012
---
12-42. Tomb Stone of Ehlers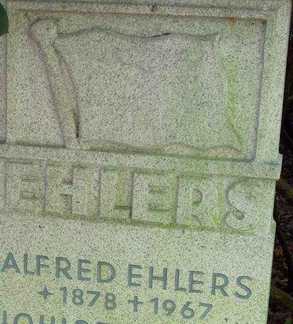 Images from Klaus-Michael Schneider, 9 Jul 2012

The tomb stone of Ehlers, which is the name of some Hamburg shipowners, in the second half of the 19th century, stands in Ohlsdorf cemetary. The flag is divided by a saltire. There are also initials, but hard to read. I spotted this image there on 10 May 2012
Klaus-Michael Schneider, 9 Jul 2012
---
12-43. Mysterious German Shipping Company Flag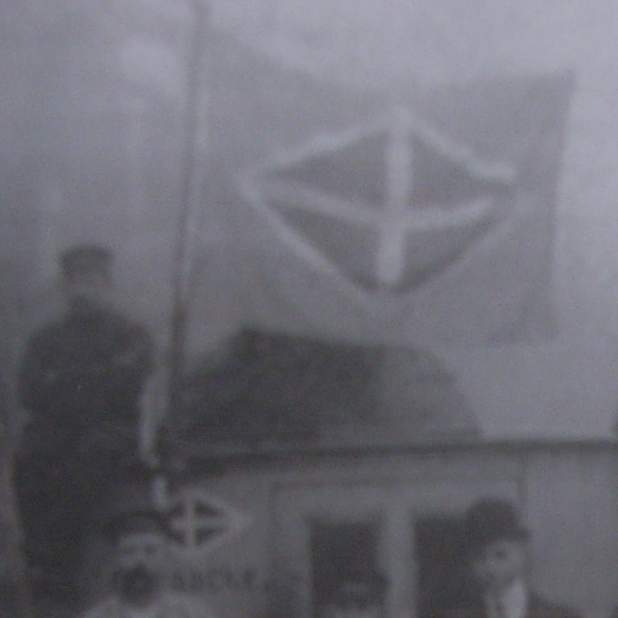 Image from Klaus-Michael Schneider, 9 Jul 2012
This flag belongs to an Everführerei in Hamburg. The picture was taken on 1 January 1909. The name of the company is "C. Haacke." The colours of the flag are unknown. I found this image on 22 June 2010, in Hamburg's Sandtorhafen.
Klaus-Michael Schneider, 9 Jul 2012
---
12-44. German Yellow Saltire on Celestial Blue Positive ID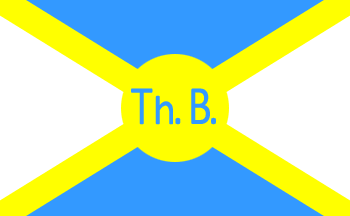 Image by António Martins-Tuválkin, 5 March 2016
This unidentified flag is divided by a yellow saltire on celestial blue (top and bottom) and white (hoist and fly). In the centre is a yellow disc with a celestial blue inscription "Th.B." I spotted this flag on 22 June 2010 in Hamburg's Sandtorhafen.
Klaus-Michael Schneider, 9 Jul 2012
Here's a standard image for FOTW. I can only add that the "h" is oddly shaped with its stem at t-height, as if wanting to shrink it down to be an "n".
António Martins-Tuválkin, 5 March 2016
The flag in question is the company flag of the Th. Buschmann & Co. Schiffwerft in Hamburg, a dockyard, now belonging to Fairplay Tugboats in Hamburg.
Klaus-Peter Bühne, 15 July 2019
---
12-45. Unidentified German Company Flag (since 2008) Some Speculation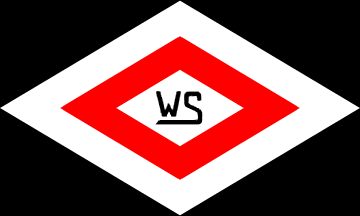 Image by António Martins-Tuválkin, 3 March 2016
It is a black flag with lozenge, in lozenge, in lozenge (red–white–red) in the centre. In the inner lozenge is a black inscription, either "WS" or "2W", depending if we see the obverse or reverse. It has remained unidentified since 2008 on flaggenserver.
Klaus-Michael Schneider, 9 July 2012
Digital manipulation of the photo, assuming that the flag is symmetrical, suggests that the overall ratio is 3:5, identical to the German national flag. I have nothing to add about this flag, about which I know nothing, but I'd like to commend Klaus-Michael's insight that the logo/monogram on this flag reads "WS" or "2W" according to the side the observer is facing.
António Martins-Tuválkin, 3 March 2016
---
12-46. Syrian Military UFEs Positive IDs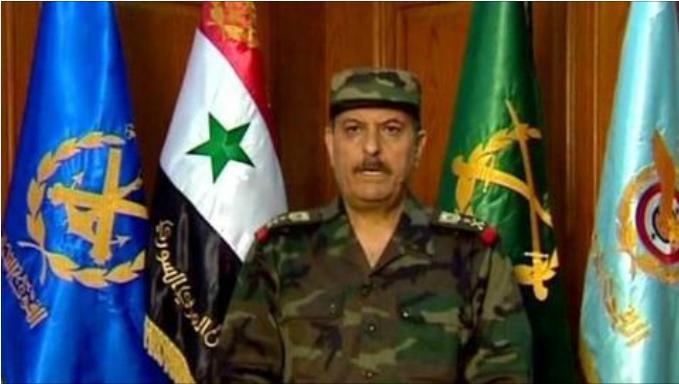 These flags are identified on the Syrian Military Flag page.
---
12-47. RAF White Ensign (UK) Tentative ID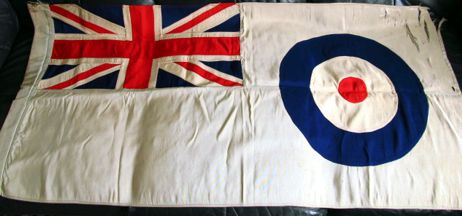 This flag has been tentatively identified as one of the Edgington Company's trial RAF prototype designs.
---
12-48. Mali UFE (possibly military) Positive ID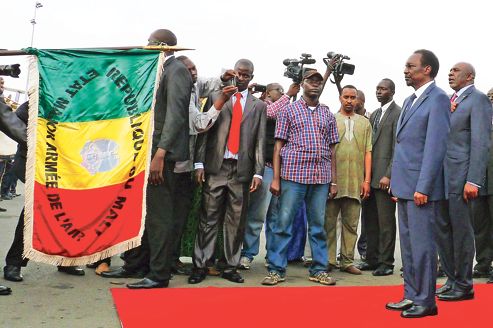 This flag is identified as Colours of the Mali Air Force Staff flag.
---
12-49. Orbis Catholicvs SPQR flag Tentative ID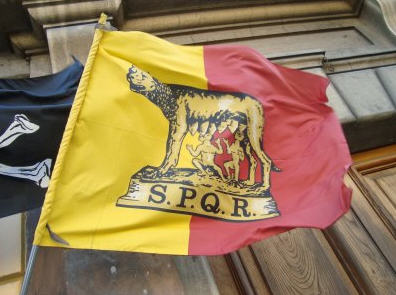 Image from Pete Loeser, 17 Aug 2012
Not quite sure what I've run across here. I discovered the Orbis Catholicvs SPQR flag while researching SPQR flags being used by extremist groups. According to the website: "The red and yellow flag was that of the Papal States before the late 1700s, when the red was changed for white." Strangely enough there appears to be a black pirate flag (?) behind it. I was unable to locate it on FOTW, but may just have missed it. Does anybody know anything about it?
Pete Loeser, 17 Aug 2012
Perhaps it is an unofficial flag of the municipality of Rome. The field is the same, for sure, and the central emblem does suggest that as well. The pirate flag might suggest that the photo was taken at some of the anti-establishment protests - Italian counterpart of the Occupy Wall Street - and the presence of members of the Italian Pirate Party, for such flags are carried at their rallies, in Italy and elsewhere.
Tomislav Todorovic, 18 August 2012
I have the same flag and have been theorising about the use. I was recently in Rome, and found this flag in a good flag shop near Piazza Navona, but in a full 5x3 foot size. It was sold to me as the "Roman Flag". The bicolour is definitely the colours of Rome, and has been for years, and the wolf is simply a popular image around the place. My guess is that it is an Artist's impression of a Roman flag, but it doesn't quite tick the boxes for elegance and beauty.
Ben Felix, 16 November 2012
---
12-50. African UFE Positive ID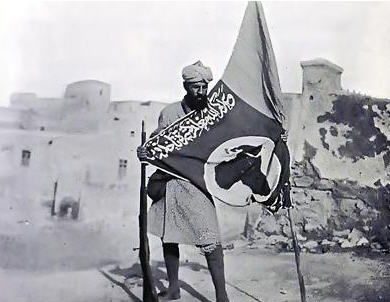 Image from Aleksandar Nemet, 23 August 2012
Does anyone know what flag is this, I was not able to find it?
Aleksandar Nemet, 23 August 2012
The photograph is from the book "Adventures in Tripoli" by Dr. Ernest H. Griffin, a doctor who worked in Tripoltania for the British Red Cross. After the Italo-Turkish War ended with the Treaty of Ouchy in 1912, Sulaiman al-Barouni founded an independent country in Tripoltania. This appears to be the flag of that country. More information can be found in English (here) and in Arabic (here).
Andy Shelton, 23 August 2012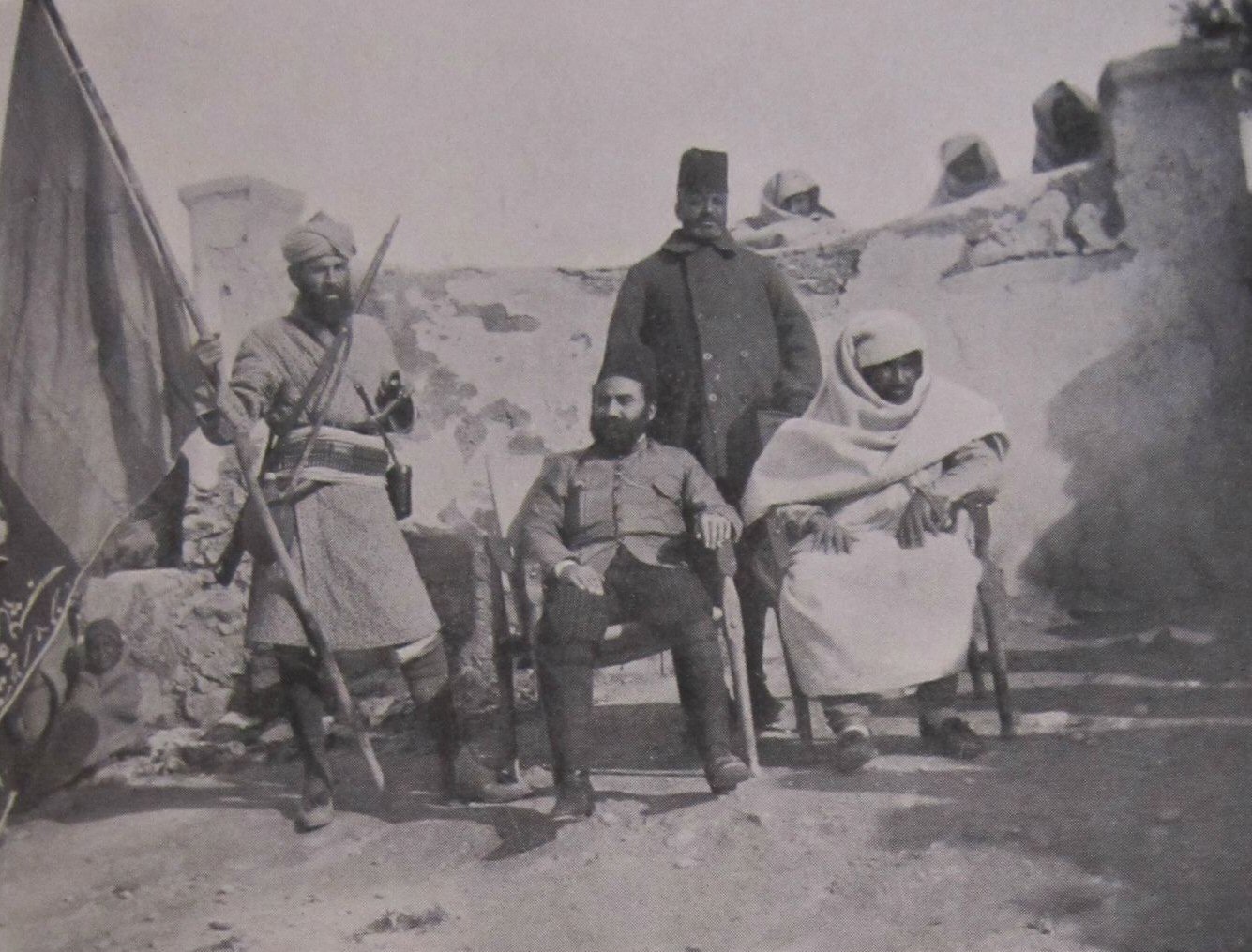 Image from Andy Shelton, 27 September 2012
I managed to borrow a copy of "Adventures in Tripoli" through inter-library loan. I actually got a first edition from the library at Washington and Lee University. I've been reading it, and it's quite interesting. I took a picture of two photos from the book [on the same page]. The bottom photo is the one we have already seen. The caption states that it is "El Khani", standard bearer for Sulaiman al-Barouni and his resistance force in Tripolitania. The top photo is El Khani holding the flag with Sulaiman al-Barouni himself, and two others. The images can be found in the Libya (LY) Files section.
Andy Shelton, 27 September 2012
---
12-51. UFE from the State of Maryland (1861) Positive ID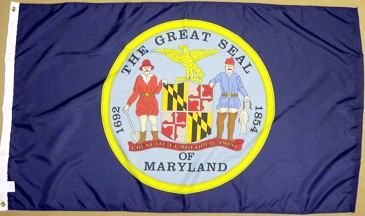 Image from Vanja Poposki, 8 August 2012

Former variant flag of the State of Maryland posted on "I Love Flags." (Source not provided.)
Vanja Poposki, 8 August 2012

This flag was certainly never official, and the white fimbriation on the quarters of the arms makes me think it was an amateur attempt, just to have the state represented in some parade or display of states. The current flag was adopted by the General Assembly in 1904, and this flag doesn't look like it dates from the 19th Century. It could have been carried by a state militia - a dark blue field with a state seal is standard practice for militias in the U.S.
Steve Kramer, 8 August 2012

Though it's not the image on American Flag & Gift, it does seem to represent the same flag. I take it this is an imitation of one of the Maryland Confederate flags. Does it match #2 well enough to be considered that design?
Peter Hans van den Muijzenberg, 15 January 2012
---
12-52. Bulgarian Flag with symbol Positive ID

Reduced Image from Nachum Lamm, 28 August 2012
(Image cropped by UFE Editor - Click on picture to see full image)
Yesterday, there was a memorial service for the victims of the recent terror attack in Bulgaria. Some candles had small Israeli flags around their holders, but at least one had small Bulgarian flags. There is clearly a symbol on the upper stripe, at the hoist, but the picture is too small to make out what it might be.
Nachum Lamm, 28 August 2012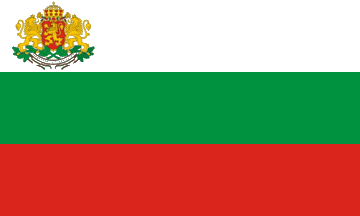 Drawn by Mihail Shcherbak
The symbol, even it is small, looks clearly like the actual Bulgarian Coat of Arms. Even though not official, it is quite often a practice to add a coat-of-arms to the flag.
Dieter Mayr, 2 September 2012

Photo from Nikolai Tihov, 27 June 2013
This is an unofficial version of the Bulgarian flag that is extremely popular, but has zero official status - It features the full CoA on the left of the flag, but across the white and green fields. I think it became popular because people were used to having the CoA at the top-left during communist times, and so they started making this flag, but with a larger CoA because it is more colourful.
Nikolai Tihov, 27 June 2013
It is the same case with Spain; the public there prefers the national flag with the CoA because it is more bonita (pretty). Behold the Discreet Charm of Heraldry!
Rob Raeside, 28 June 2013
[Editorial Comment: See A State Flag?. Apparently there are slightly different variants in use, and although unofficial, it seems to exist and be commonly in use.]
---
12-53. Shipping Company Flag (Hamburg)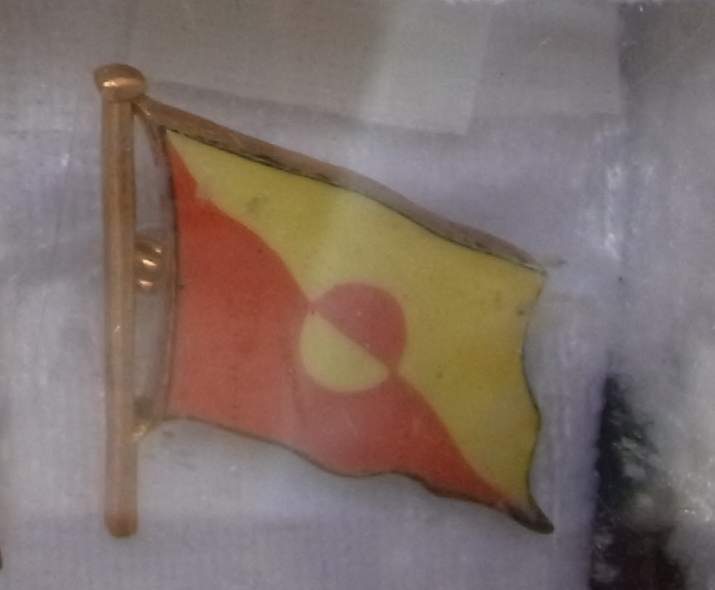 Image from Klaus-Michael Schneider, 9 September 2012
The flag on the pin is divided per bend into white (not yellow) and red. In the centre is a disc in counter changed colours. It's probably the flag of a shipping company, perhaps not German. The owner himself has no idea. Source: Pin collection of Walter Bock, spotted in Hamburg Downtown on 1 September 2012.
Klaus-Michael Schneider, 9 September 2012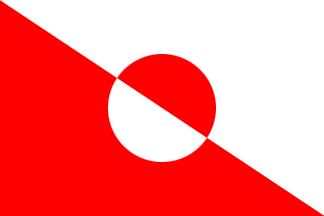 Image by António Martins-Tuválkin, 11 May 2016
Attached is a standard image to illustrate that the lighter color of this design is white, not yellow as the photograph seems to show (now that's a weird color artifact: what color is the background, then? light blue?). I made the disc's diameter equal to half the flag's height, but it could be (even) smaller.
My not-so-serious identification proposal: Greenlandic Storm Ensign?
António Martins-Tuválkin, 11 May 2016
Is Greenland going down by the bow (a la Titanic) or by the stern do you think?
Christopher Southworth, 12 May 2016
Ah, by the bow, for it is the ensign - for going down by the stern use the mirror image of this design and call it the Greenlandic storm jack.
António Martins-Tuválkin, 12 May 2016
The flag now has a remarkably light shade of yellow!
Klaus-Michael Schneider, 12 May 2016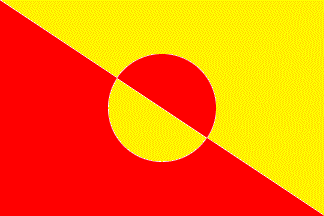 Image by António Martins-Tuválkin, 11 May 2016
Re-colored by Pete Loeser, 18 May 2016
Or perhaps, after slightly tinkering with the colors on António's excellent drawing, moving them from white to yellow, perhaps the ship originally went down on the Spanish main, not Greenlandic waters?
Pete Loeser, 18 May 2016
---
12-54. Thai UFE during Demonstration (BBC Video) Positive ID
Image from Esteban Rivera, 21 September 2012
UFE flag spotted in Bangkok, Thailand, possible of religious origin. Plain green horizontal flag with white disc in the middle. Source was BBC online news video, 2:00, broadcasted on September 21, 2012.
Esteban Rivera, 21 September 2012
After reviewing again the video source of the flag I've come to the conclusion that there are two flags (at 2:03 onwards):
- One is a green horizontal flag with a white disc in the middle. That is the flag of the Pan Malaysian Islamic Party, also known as Dewan (Dewan being a powerful government official - Pemuda Pas Malaysia in Malaya). (Official website). A variant of the flag is also seen on their official Facebook page. (source)
- The second flag spotted in the video is a green horizontal flag featuring the Shahada (green background), similar to that of Hamas, this version (image) and Saudi Arabia (but without the sword).
Esteban Rivera, 21 May 2016
---