This page is part of © FOTW Flags Of The World website
Unidentified Flags or Ensigns (2012) - Page 4
Flags submitted in 2012 - 4 of 5 pages
Last modified: 2023-04-15 by pete loeser
Keywords: ufe | unidentified flags |
Links: FOTW homepage | search | disclaimer and copyright | write us | mirrors

---
Please note our Policy for Submissions and Enquiries.
Below is a series of images of flags that have been provided to FOTW; some we have recognized, and some we have been unable to recognize. If you can help us identify any of these flags, please let us know! Contact the:

UFE Editor.
Identification Key:
= Positive ID (Positive Identification)
= Tentative ID (Tentative Identification)
= Some Speculation
Unidentified Flags on Page 1

Unidentified Flags on Page 2:

Unidentified Flags on Page 3:

Unidentified Flags on This Page:

Unidentified Flags on Page 5:

Unidentified Flags on other pages
---
12-55. Possible D-Day Omaha Beach Flag Some Speculation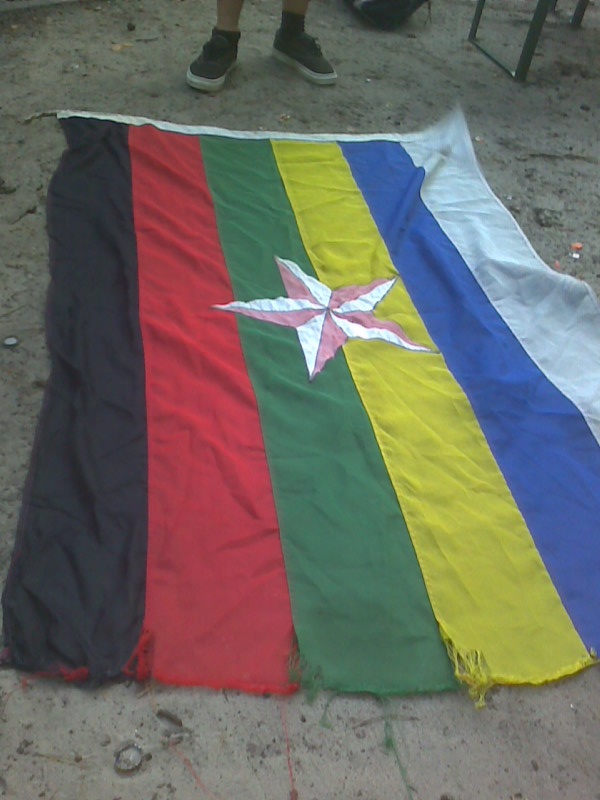 Image from Michael Faul, 26 September 2012
We have received the picture of a flag which none of us can identify. It comes from a house (or hotel) in the area of the D-Day Omaha Beach. Although it comes from there, there is no actual suggestion that it definitely dates from 1944. Would you please include this in the "Unidentified Flags" section of the FOTW update? This seems to be our best possibility at getting it identified. It will also be published in Flagmaster, but that has a far smaller circulation.
Michael Faul, 26 September 2012
In the remarks by Michael Faul, he mentioned that this flag was going to be published in Flagmaster. Does anybody have the edition where this flag was published so we can look for further information?
Esteban Rivera, 17 January 2015
Nothing about it has ever been published in Flagmaster, as far as I can see.
David Prothero, 17 January 2015
The short answer is that we forgot about it. Sorry about that. This was unusual. Normally it would have been entered in the folio of topics to be covered in "Flags in the News". For some reason this was not done. Please accept my apologies for this omission.
Michael Faul, 18 January 2015
Do we know where this flag appeared for the first time? Any context?
Esteban Rivera, 18 January 2015
Only what is in the original posting of 2012. It seems to have been forgotten by both Flagmaster and ourselves, so it appears it is up to us. Any ideas?
Pete Loeser, 19 January 2015
Looking further at the picture, I can make these observations. The flag has been flown for some time. Notice the fraying on the fly. Also assuming the star points upwards, our stripe pattern is black, red, green, yellow, blue, and white, but we are looking at the reverse side according to the hoist. Both sides of the flag would probably have the same pattern based on the stitching (looks like modern Nylon, so not particularly old), and the star is embroidered and would thus appear to be repeated on both sides. Since it appears to be just lying on the sand, it is possibly on a beach (rather dirty with bottle caps, etc.), perhaps Omaha Beach? That's all I got.
Pete Loeser, 19 January 2015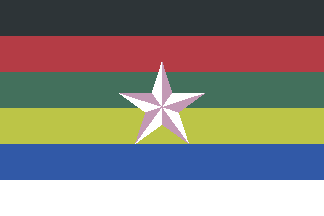 #55a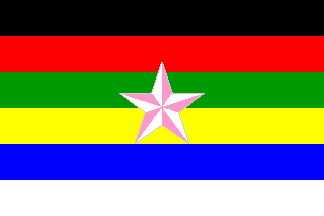 #55c
Approximations by Peter Hans van den Muijzenberg, 1 February 2015
Yes, that's how it came out for me as well. This is again a demonstration of how colours in photographs can be off, as with those colours used for the drawing, the impression is somehow different. On Image #55a the approximation uses shades taken from photograph, and Image #55 is an approximation with interpreted shades.
Peter Hans van den Muijzenberg, 1 February 2015
So I was wondering, how did you come up with the guess of this flag being a possible Omaha Beach flag? Is it because of the color scheme (resembling the patch of the SHAFE (Supreme Headquarters Allied Expeditionary Force)? Could it be a rank flag of this military formation? Or is it just by plain guessing because the flag is seen on the beach? Or, could it be a variant of the already featured UFE14-61 and UFE15-06? Notice the resemblance of the five pointed star and the colors of all these three flags.
Esteban Rivera, 16 February 2015
It's not so much an Omaha Beach flag, as a flag that "comes from ... the area of the D-Day Omaha Beach." That's from Michael Faul's initial comments, and since Flagmaster received that picture, it was probably the description accompanying the picture. But I agree that we're getting a bit far removed from that original description: I'll copy to Michael, in the hope that he still has the original correspondence, and may share it with us, just in case some details got lost in the re-quoting. (Though, I guess most questions we run into, like material, orientation, and time frame, could only be solved by contacting the owners of the flag to ask them about it.)
Observe the order of the stripes is different on this flag from that used on the SHAFE patch. They have a rainbow pattern, and the UFE doesn't. While there's always a chance there is a connection, I doubt that this is the case. Not only are the stripes not in the same order, the star is a different size and is all white; not faceted as on the Omaha Beach area flag.
Peter Hans van den Muijzenberg, 8 May 2015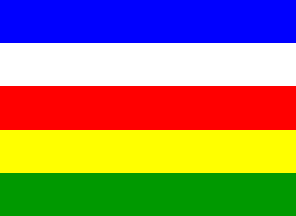 redraw #1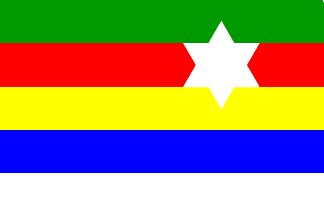 redraw #2
Images by António Martins-Tuválkin, 12 April 2018
I think this could be one of the Druze flags, with the faceted star on a multicolor stripped background. It's six colors, not five, but here one more speculation to add to the pile up. (This page section covers a 1999 report but includes a much later 2015 reference more or less validating the original report, but the ToC link still reads "probably non-existent")
Speaking of Druze flags, we have four separate pages covering them:
- Druze People (Israel)
- Druze People (Syria)
- Jebel Druze 1921-1932 (Syria)
- Druze (Lebanon)
This is not a case of a border-cross community with different flag use in each of the countries (as is the case of, say, Uyghuristan, Lapland, or, to some extent, Kurdistan), but it the same flag(s) everywhere. I believe these pages should be joined together in a new page (or rather, set of pages); short of its own two-letter code, the pseudo-country code XO seems to be the best choice, akin to what was done with the Assyrians.
Under Druze People (Syria) (but lacking its own heading and anchor), one of the images of two flags credited to Jorge Candeias is forced to 215 px high, not 216 px, causing some distortion. The other image is authentically 215 px and I'm sending a replacement (re-draw #1) made from cropping Jorge's image off to 8:11 (original here). It is posted in FOTW (here) When IL images are included in a SY page (or whatever such overlapping) we know we need a pseudo-country code to address the common cross-border flag use. (Of course, things like Israeli municipal flags mostly inhabited by Druze, as listed in the ToC of Druze People (Israel), should still be file-named under IL, etc.)
I take the opportunity to send a redrawn version of another Druze flag (redraw #2), the one shown in the "Flags of Aspirant Peoples chart [eba94]", as reported in 1999 by Ivan Sache at "Druze (Lebanon)".
António Martins-Tuválkin, 12 April 2018
---
12-56. Unidentified flag seen in Syria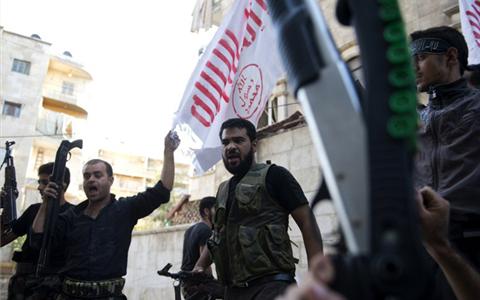 Image from Esteban Rivera, 28 September 2012
Al-Jazeera shows today in its online edition a picture of a white horizontal flag, displaying a red circle in the middle, with an inscription most likely in Arabic. My best guess is that it resembles pretty much UFE11-32, but in red. Any other guesses?
Esteban Rivera, 28 September 2012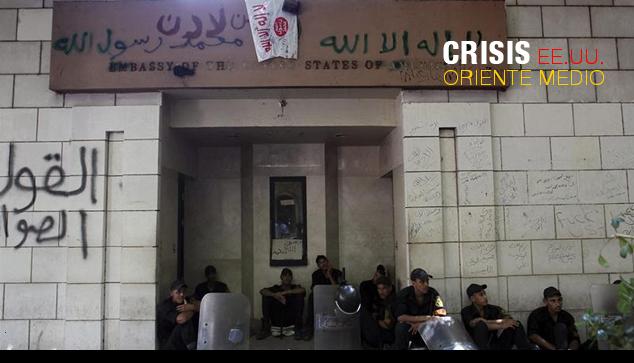 Image from Esteban Rivera, 21 September 2012
[Editorial Comment: Photo posted with message: "Flag in white background with red inscription, seen at an unidentified US Embassy in the Middle East."]
Yes, you posted a news photo of a similar flag a little while ago. [see editorial comment above]
Andy Shelton, 29 September 2012
---
12-57. Red-Blue-White Ensign Positive ID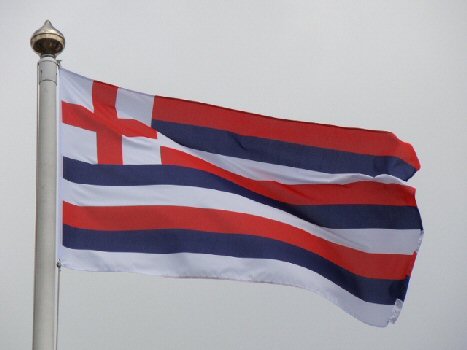 This flag has been identified as a modern replica of a Tudor naval squadron ensign. See Ensigns and Streamers of the Tudor Navy page for more Information.
---
12-58. Possible WWII Transportation Corps flag Positive ID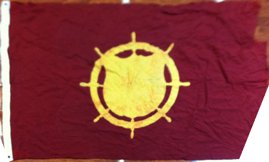 Image from Blake Heinrich, 23 September 2012
I came across this flag in Bastogne Belgium. I bought it at a military flee market. I believe it is an transportation corps flag from WWII. I was hoping you could help verify this for me.
Blake Heinrich, 23 September 2012
This is the post-World War II flag of the US Army Transportation Service (1949-Present).
Jim Ferrigan, 27 October 2012
---
12-59. Football flag at Argentine Stadium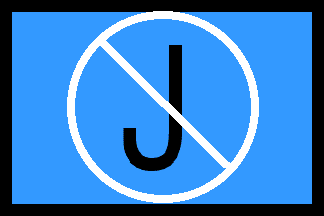 Image from Ivan Sache, 29 September 2012
A mysterious flag was shown by a supporter during the Arsenal-Belgrano match of the Argentine Premier League, played in Sarandi on 16 September 2012. The flag is celeste blue with a thin black border and a black "J" inscribed in a white "prohibition" sign. Nobody seems to have been able yet to explain the meaning of this flag.
Ivan Sache, 29 September 2012
---
12-60. Colombian Indigenous People flag Some Speculation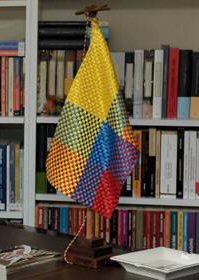 This flag and the discussion about it have been moved to the Colombia - Indigenous Peoples page.
---
12-61. Old Tack Pin Flag Positive ID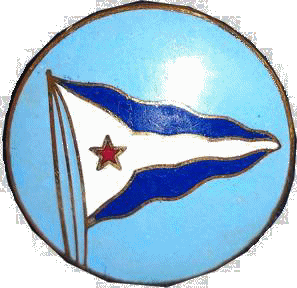 This flag was identified and placed in its permanent location as that of the Chicago Yacht Club.
---
12-62. WW2 Japanese ship pennant? Positive ID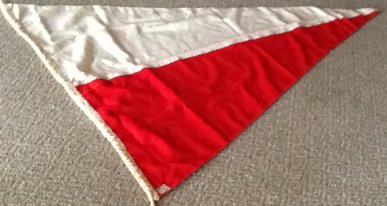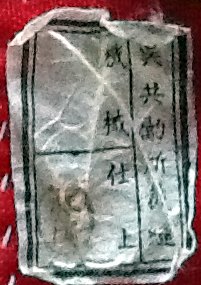 Images from Lucie, 21 October 2012
My father-in-law served in the US Navy during World War II. He brought this pennant. It measures approximately 40 inches wide by 5 feet long. It is made of wool with the rim that holds the rope tie made of canvas material. It has a paper label in Japanese in the corner. Any clue what it is?
Lucie, 21 October 2012
It looks like a Imperial Japanese Navy Naval Maneuver Pennant for Formation. See Japanese Naval Signal Flags by David Dickson, Page 15.
Jim Ferrigan, 21 October 2012
---
12-63. Possible Abraham Lincoln Brigade flag? Positive ID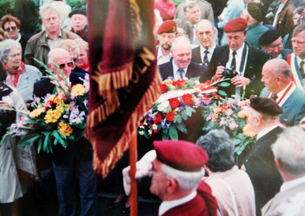 Image from Bill Amatneek, 27 October 2012

I attach a photo took at Ranville, France, on the 50th anniversary of D-Day, June 6, 1994. This is a wreath laying ceremony, but who is laying the wreath, and whose flag it is, I am uncertain. On the red flag, the letters "OLN" are visible and a few men and the flag bearer are wearing red berets. From this I concluded that they are veterans of the Abraham Lincoln Brigade (or Battalion) laying a wreath in memory of their comrades-in-arms who gave their lives fighting in World War II, but I may be incorrect in this, and any help in positively identifying this flag would be greatly appreciated.
Bill Amatneek, 27 October 2012

Plus, one could guess at a further "NC" before it, and on the obverse seems to be a word ending in "ON". The flag institute have a publication on the international brigades. I don't see this one mentioned, though. I wonder if it's a flag of the veterans organisation, rather than the Battalion.
Peter Hans van den Muijzenberg, 28 January 2013

Thank you for this post, Peter, for the link to the International Brigades publication, and for your insight into just whose flag this may or may not be. I've been pursuing the thought that it is a Lincoln Brigade flag so obsessively that I've overlooked the possibility that it might be a flag of a veterans' organizations, as you suggest. Certainly the flags in the Sebastia Herreros document seem mostly handmade, whereas the one in my photo seems professionally done. I shall do more homework on your proposal that it is a vets' organization flag. Many thanks for writing, and for pointing me to this publication, Peter. I appreciate your time and expertise very much. Does anyone else on the list recognize this flag as a veterans' organization flag?
Bill Amatneek, 28 January 2013

The flag is at Ranville, (Calvados Department), France, during the 50th annviersary of the invasion of Normandy codenamed Operation Overlord (6 June 1944 –mid-July 1944) and the Normandy landings (Operation Neptune, commonly known as D-Day).
So we are being mislead here. It is in no way possible that the Lincoln Brigade (or Batallion) ever took part in this military campaign, since the Lincoln Brigade took part inthe Spanish Civil War (1936-1939) and then it was disbaneded. The name Brigade "is often a misnomer when refering to this unit because during the Spanish Civil War, a brigade consisted of four to six battalions. American volunteers mostly joined the two battalions (the Lincoln Battalion and the Washington Battalion within XV International Brigade. The XV International Brigade was made up of six battalions of volunteers from nations around the globe (British Battalion, Lincoln Battalion, Dimitrov Battalion, Sixth February Battalion, Volontario 24, Mackenzie-Papineau Battalion and Washington Battalion), topped up with Spanish conscripts. Irish volunteers formed the Connolly Column of the (Linconln) battalion under the command of Frank Ryan. In late 1936 this column joined the American rather than the British battalion on nationalist grounds." (source)
Aside from that, when looking at the flags of the Lincoln Batallion and the Veterans of the Licoln Battalion, there are no matches to this flag:

The Battalion was set up in 1937 and was active until 1938 when the Spanish Republic Republican government pulled out the internationals, members of the International Brigades in Spetember of that year. Approximately 2,800 Americans served the Republic during the Spanish Civil War. In excess of 700 were killed in action or died of wounds or sickness. Most American volunteers returned in December and January 1938, though the last POWs did not arrive until September 1939". (source)
So going back to the topic, the unidentified military flag at a 1994 parade, is actually a flag of British Paratroopers, "since the British Paratroopers were the first to liberate Ranville, the first village to be liberated during the operation. The village was liberated by the British 13th Parachute Battalion (which was part of the 5th Parachute Brigade, British 6th Airborne Division). Later, Ranville served as the Headquarters of the British 6th Ariborne Division." (source)
The 13th Parachute Battalion landed in Normandy on June 6, 1944 and fought to liberate Ranville until relieved by the 1st Canadian Parachute Battalion on June 17. (source)
So when one looks at historical pictures of commemoration acts (source, source, source, source, source and here) one can see that all of these Veterans display their berets and jackets in purple color, the color of the Paratroopers, both the British and the Canadians who later relieved them.
The flag mentioned by Bill Amatneek can also be seen in this picture (source).
So the mystery is solved: this picture (dated January 22, 2010) can explain the flag reported by Bill Amatneek on October 27, 2012: see here - it is the flag of the Standards of the Swindon Branch of the Parachute Regimental Association, a Veterans Association recognized by the British Army ( source).
Other images of the flag can be seen here: image here and image here. Additional flags of the British Parachute Regiment can also be found at this location. For additional information on Ranville please look here. Additional information can be found at: The Parachute Regiment Association (official website), the Parachute Regiment (British Army official website), and The Parachute Regiment Association (British Army official website).
An additional remark: I think we can split this into two topics: 1. The Swindon Branch of the Parachute Regiment Association (we could include them on the UK Army section under a new tittle "Veterans Associations") and 2. The Abraham Lincoln Batallion (to become part of the International Brigades section.
Esteban Rivera, 2 February 2013

Peter Hans van den Muijzenberg made the following points about Estaban's comments:
Bill Amatneek merely suggested they might be honouring comrades that fell at Normandy, not that they had operated there as a unit
The military flag at a 1994 parade doesn't match the British Paratrooper flag
The color purple can be seen fairly often at most memorial occasions.
Examples are not the same flag.
There are several different flags involved in the ceremony, however, and they might be worth a closer look, both to describe the flag of the that is laid up and to check the other flags that aren't related to this particular puzzle. The overview at might be the better starting point.
I agree that the berets are not very strong evidence; they can at best confirm an identification, if we make one. And if there are other para-trooper units with the same shade it indeed turn out to be one of those. It's just not this one, unless it matches text the pictures here don't show.
I believe the International Brigades section needs an overhaul based on the information published by Sebastia Herreos i Agüí of the Associació Catalana de Vexi-lologia during the XIXth International Congress of Vexillology held in York between the 23rd and 27th July, 2001.
Esteban Rivera, 2 February 2013
I have written a note to the Parachute Regimental Association, Swindon Branch at their Facebook page posting the photo and asking for information. Their flag and "mine" seem to be a very close match, though not a perfect one if the "OLN" I see is indeed that and not "DON". I eagerly await their response.
Bill Amatneek, 3 February 2013
I don't usually pay attention to UFEs unless the original posting includes a link to the image and some hint of the subject matter (hint to the UFE editor, although I'm sorry this requires more work on his part), so I missed the posting of UFE12-63 when it was first posted in October, and am just catching up with the current thread after noticing that Bill Amatneek posted in that thread (having just written to him after he queried me privately about the same photo.)
Generally, the men in berets (blue and maroon) are veterans of the British Army. Most were at D-Day, but some appear too young to have been in WW2. They would be more recent veterans who probably belong to the same veterans' units and were at Ranville (1994) in support of their older comrades.
The maroon berets represent The Parachute Regiment and airlanding (glider) units. Airborne units were the first to land in France on D-Day, seizing key points like bridges and holding them until sea-borne units could punch through and catch up with them. Glider units were not part of the Parachute Regiment, but rather regular infantry (like 1st Bn Oxfordshire and Buckinghamshire Light Infantry) who had been trained to crash-land in gliders and therefore got to also wear the cherished elite maroon beret. The gliders were designed for one use and to fall apart upon landing. Some did not land successfully and many men were killed in the attempt, making it a more treacherous venture than parachuting.
The flag is of a branch of The Parachute Regimental Association, a veterans unit of that regiment. The letters we see do seem to be OLN across the base of the flag, which would make it the LINCOLN BRANCH. 13th (Lancashire) Bn The Parachute Regiment was the unit that landed in and liberated Ranville. It is perpetuated in part today by 4th (Volunteer) Bn, the only T.A. (reserves) unit of the regiment, spread across the country. Association units are geographic for the convenience of where veterans live, so the Association branch represented at the Ranville ceremonies need not be a Lancashire one. As with all such commemorations, the participants would be a mixed group of veterans (some of whom fought elsewhere than Ranville) and their families.
The men with the wreaths are almost certainly also veterans of the Ranville operation about to lay them on a monument commemorating veterans of their unit who died during the Normandy invasion. The most likely monument (and you should remember this since you took the photo), would be the 6th Airborne Division memorial at Ranville.
A further note to FOTWers: Please note that there are many branches of The Parachute Regimental Association (PRA) and they all have an identical flag except for the name of the branch written across the base of the flag. The links provided to the Swindon Branch flag are useful for seeing what the rest of the flag looks like, but there is no reason to surmise that Bill's photo is consequently of the Swindon Branch. PRA flags are not to be confused with Colours of Battalions of The Parachute Regiment and regimental camp flags, nor for that matter with airborne division flags. And, of course, the (American) Lincoln Battalion of the Spanish Civil War is completely unrelated (including no cause for its veterans to show up at 1994 D-Day commemorations), except for the coincidence of those letters "OLN".
T.F. Mills, 3 February 2013
By now it is appearing that this standard (as I have been told the British call it), belongs to The Parachute Regimental Association - Lincoln Branch. Indeed someone from the Swindon Branch has gotten back to me to say that it is not theirs. I have an e-mail into the contact for The Parachute Regimental Association, from whom I hope to hear more news. I will update the group when I hear from him.
The location of this wreath-laying was, interestingly enough, outside the Ranville War Cemetery. Across the street from the cemetery, there is an old stone tower with an old mill wheel propped up against its base. This is where it took place. I shot the photo while standing on top of the mill wheel. (One can see this tower on google maps if one pokes around long enough.)
The wreath ceremony happened before the official ceremony took place inside the cemetery (where Princess Margaret presided), as I recall. I also witnessed a vailing of the colours after the main event had ended, inside the cemetery. It was deeply moving ceremony for all who were there.
Bill Amatneek, 3 February 2013
The Ancien Moulin de Ranville, the Old Mill, is the location of a plaque to the memory of the Belgian fighters of the Piron Brigade who fell in August 1944.
Peter Hans van den Muijzenberg, 3 February 2013
---
12-64. Aivazovskii´s "Icebergs" Some Speculation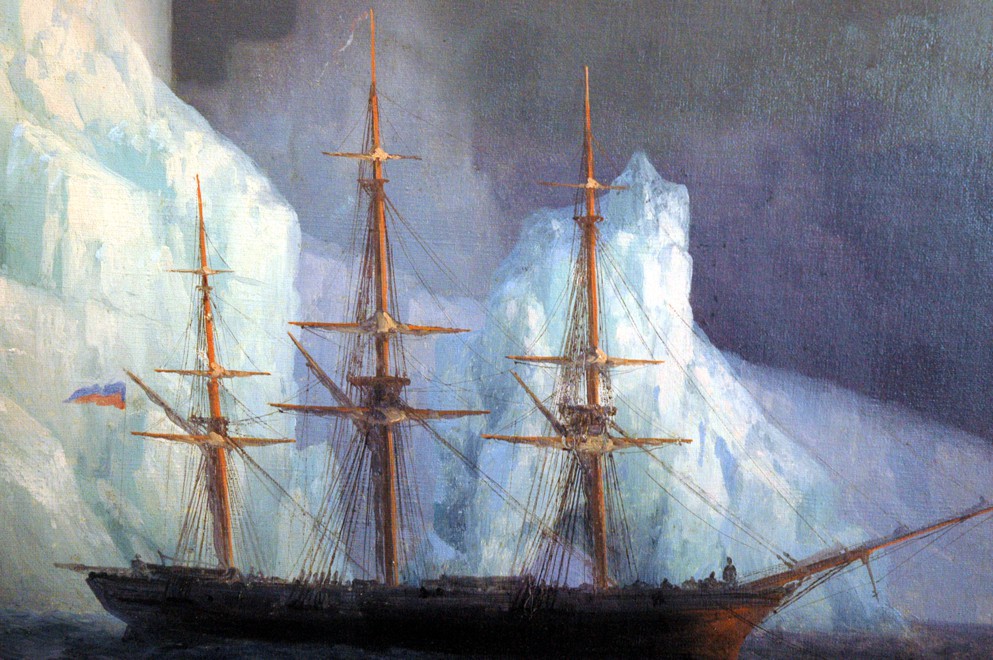 #64a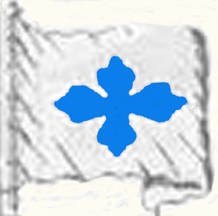 #64b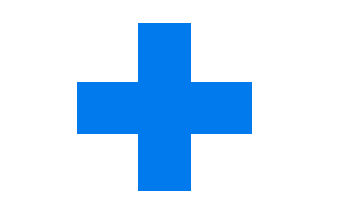 #64c
Images from Rip Bulkeley, 30 October 2021
For several months I have been puzzling, as a historian with little vexillogical knowledge, about what is going on in Aivazovskii´s picture "Icebergs" (#64a). Although painted in 1870 the picture is usually thought to represent HIMS Mirnyi (converted from and then back to naval transport Ladoga) in about 1820, during the Bellingshausen Antarctic expedition. I have at last received some high-definition photographs from the Aivazovskii Museum at Feodosiya, Ukraine, attached, which if anything deepen the mystery. N.B. Aivazovskii would have worked from indirect sources, including conversations with Mirnyi´s captain, Lieutenant Mikhail Lazarev, with whom he was acquainted in his youth. Mirnyi/Ladoga was broken up in 1824 and Lazarev died in 1851.
There are two pennants in the picture, neither of which occurs in the Imperial Russian Navy section of your website, and neither of which incorporates the St Andrew´s saltire. The large one at the mizzen peak resembles your "broad pennant of officer commmanding" but without the saltire, which reinforces the identification as Mirnyi, since Bellingshausen commanded the squadron from Vostok. (The upper, white part of the mizzen pennant is hard to make out againt the background, but its position on the halyard shows that it is indeed there.) The narrow red and white pennant at the mainmast truck is also absent from your website, as far as I can tell. It is relevant that the ships would have aimed for maximum visibility in usually very difficult sailing conditions.
The question of what is going on aboard the ship is also relevant. She is at anchor despite her rather dubious situation, with all sails furled, boats in-board and most of the crew on the foredeck. My hypothesis is that this is a church service, with the chaplain as the standing figure in the bows.
Bellingshausen mentions hoisting "stern flag and prayer flag" on 23 December 1820, for example, for the service of thanksgiving for the Emperor's birthday. And he mentions the prayer flag again elsewhere. But the IRN's prayer flag (also not on your site) was a blue cross on a white field, also a flag rather than a pennant. I attach both the Imperial Navy (#64a) and the modern Russian Navy (#64b) versions, the former from Peter the Great's Naval Orders, the latter from today's chaplaincy website.
Lastly, there is the question of the fore topgallant yard. Unlike any other spar in the picture, this one has about 30% of its port end missing, the part beyond the outer stays. There are also some strange dark splodges scattered about the peak of the iceberg behind it, not repeated elsewhere and distinct from the blue ice shadows throughout the painting. Could all this have resulted from deletion of the prayer flag by the artist (who kept possession of the picture for many decades), or else defacement by unknown persons? Well, the Bolsheviks certainly practiced iconoclasm towards buildings, especially churches, and statues, but I have never heard of anything similar being done to a secular painting. There is also the minor consideration that any such 'lost' flag would usually be hoisted to the starboard yardarm, not the port. But Aivazovskii may have exercised artistic licence.
It would of course be much neater if the two pennants could amount to Bellingshausen´s "stern flag and prayer flag", without having to bring in the mess at the fore topgallant, which may simply be due to natural causes.
Rip Bulkeley, 30 October 2012
I do not believe that is a pennant. It seems to be the rectangular white/blue/red rectangular merchant flag, although with the flag billowing and the iceberg in the background rendering the white outer edges indistinct I can see how it might appear as a pennant. According to the FOTW website the merchant ensign was flown by cargo ships operated by the Navy until 1845. It was also known at one time as the "stern flag".
Ned Smith, 1 November 2010
Those trying to find more information on this might want to use the search terms Ivan Aivazovsky - Icebergs in the Atlantic.
I believe the "mizzen pennant" is actually on the gaff, but I agree that, although the white is hard to see against the iceberg, it is indeed there and actually a tricolour of white, red, and blue. What we list as "Broad-pennant of the first commander" is indeed similar, but in this case there's no saltire.
However, I'd say that the flag's white actually gets wider again, about 3/4 towards the fly, Ahough I'm not entirely sure, I'd say we're seeing a rectangular flag which is moving in the wind and thereby obscuring the lower fly corner, while the upper fly corner has just whipped back and makes it seem larger. This would make it the Russian ensign.
I agree that the pennant you describe existed, but a further point against it, for me, is that I can't make out the split a broad pennant should have. I also have some doubt whether such a broad pennant should indeed fly from the gaff.
As for the narrow red and white pennant at the mainmast truck, by its position, one would expect this to be the mast-head pennant. I fear that even this high resolution is not enough to tell what it looked like. It may be that this was a detail the artist wasn't sure off, and which he therefore did not paint, or it may simply be that his scale doesn't allow him enough identifying detail.
Although you say it is relevant that the ships would have aimed for maximum visibility in usually very difficult sailing conditions, I don't know that they would. Wooden ships are large bulks of dark materials that are hard to miss when you're near them, even when flags have become invisible due to diminished light. Sails are clouds of white that can be seen in the far distance, even when flags have become invisible due to lack of size. In difficult sailing conditions, I expect only the minimum of flags would fly, so they would require no hands at times when those couldn't be missed.
Indeed, she is at anchor. However I don't think that in the image she is drawn down as in your image, though. I'd say that the photographer accidentally tilted the camera.
As for her rather "dubious situation", I wonder is her situation dubious? I don't know about that. As far as we can see to the windward in the painting, the sea is free. Whatever lies to the left, lies leeward, and is not likely to threaten her. She is also in water shallow enough to go to anchor, so I doubt giant ice bergs will topple from under her. (I have my doubts about the English title, but then I've never sailed between actual icebergs.)
Regarding your hypothesis that this is a church service, with the chaplain as the standing figure in the bows. There is a matter of size. Does the size of the HIMS Mirnyi allow for people being that visible on this scale, and is the scale of the crew known to be that small? I'm not sure I'd want to use the bow for a church service in such weather, though. Interesting in this respect might also be the time this picture depicts, especially if this is to be a polar expedition in the local summer.
As to your question about the fore topgallant yard and it being different than any other spar in the picture (missing about 30% of its port end, etc.), did you take a look at the same position on the mizzen mast?
I also comment on the possibility of the strange dark splodges indicating a deletion of the prayer flag, I point out that darkness isn't painted in a uniform way in the whole painting, and there's no need to. But anyway, I'm not sure that wind and gravity allow positioning a flag in that particular spot.
Peter Hans van den Muijzenberg, 24 November 2012
May I reprise on this unidentified flags question. Polar Record is about publish an article about the painting by myself, initially on-line.
First, I quite accept that the large flag at the stern is indeed a flag and not a pennant. Second, there is no prayer flag present so that was a complete red herring, and whatever the party on the foredeck are doing it can't be a church service. Not enough people present anyway, given that the ship is at anchor (!) with all sails furled and nothing much happening.
The flag at the stern was the ensign of the modest Russian merchant navy at that date, and was also flown by naval transports according to your website. But although Ladoga was a transport, when converted to Mirnyi for the Bellingshausen voyage she became a warship and must have flown the naval ensign (St Andrew's Cross). And she is indeed shown with that ensign by the expedition's artist, never with this one.
Another clue that this is not Mirnyi are the shortened topmasts. That was done to Bellingshausen's other ship, Vostok, but not to Mirnyi, which kept her long topmasts with corresponding sail area because she was so much slower than Vostok.
But is this Vostok? Probably not, because the ensign is wrong, and the "Turkish" pennant at her mainmast truck is even "wronger". In my article I conclude that Aivazovsky is trying to signal that this is not a real ship so much as an abstract representation of the triumph of reason over nature. The title of the painting tells it plainly - the icebergs are the subject.
In other words this is not intended as a historical picture, for which Aivazovsky probably did not have sufficiently detailed accounts, but it may refer rather vaguely to aspects of the Bellingshausen expedition.
Rip Bulkeley, 26 January 2014
---