This page is part of © FOTW Flags Of The World website
Unidentified Flags or Ensigns (2012) - Page 5
Flags submitted in 2012 - 5 of 5 pages
Last modified: 2023-11-25 by

zachary harden
Keywords: ufe | unidentified flags |
Links: FOTW homepage | search | disclaimer and copyright | write us | mirrors

---
Please note our Policy for Submissions and Enquiries.
Below is a series of images of flags that have been provided to FOTW; some we have recognized, and some we have been unable to recognize. If you can help us identify any of these flags, please let us know! Contact the: UFE Editor.
Identification Key:
= Positive ID (Positive Identification)
= Tentative ID (Tentative Identification)
= Some Speculation
Unidentified Flags on Page 1

Unidentified Flags on Page 2:

Unidentified Flags on Page 3:

Unidentified Flags on Page 4

Unidentified Flags on This Page:

Unidentified Flags on other pages
---
12-65. Boat Sailing on the Thames Some Speculation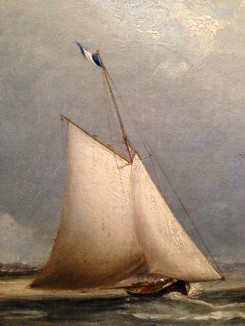 Image from Charlie Brougham, 11 November 2012
I have a painting at home of a boat sailing on the Thames in London circa 1820 and I was wondering what the blue and white flag being displayed on the top of the mast was. If you can help I would be very appreciative.
Charlie Brougham, 11 November 2012
The flag is similar one used by the Royal Navy for signalling, between 1790 and 1812.
David Prothero, 13 November 2012
There appear to be some details in the white. I'm not sure whether they're supposed to a charge or folds, though. Maybe the owner can tell from the original.
Peter Hans van den Muijzenberg, 13 February 2013
---
12-66. Blue Afghan Flag Positive ID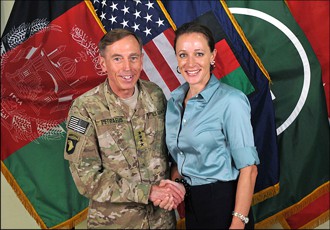 Image fromNachum Lamm, 14 November 2012
As you may know, the United States is currently embroiled in a major, and frankly somewhat bizarre, sex scandal. Naturally, my attention is drawn to flags. Here is General Petraeus with his, ahem, biographer. Behind them I see the Afghan and U.S. flags on the left and the NATO Afghan force and U.S. Army General flag on the right. In the middle is what appears to be a blue flag with a small, black-bordered, seal-less Afghan flag at the top center. Can anyone identify it?
Nachum Lamm, 14 November 2012
That would be the flag of his "unit". Namely, General Petraeus was "dual-hatted": being both the Commander of ISAF, as well as the Commander of US national contingent in Afganistan - USFOR-A (U.S. Forces - Afganistan). The flag appears to bear the emblem of USFOR-A. The emblem may be seen at Military Insignia 3D and directly here.
Željko Heimer, 18 November 2012
The "affair" gives a rather orchestrated impression, from the bits I encountered. Then again, it just says: "This July 13, 2011, photo made available on the International Security Assistance Force's Flickr website shows Gen. Davis Petraeus, left, shaking hands with Paula Broadwell."
After that, it gets easier for a while, though ISAF does publish quite a few photographs. On 11 July 2011, there was a Change of Command at the Kabul ISAF Joint Command. After that, the general just had a few pictures taken of himself with some of the people he worked with.
Of those 1170 photographs, the first 623 are with a background that appears to have the NATO flag in the middle. The rest all have our UFE there. Of those, I would like to draw attention to this one here.
See how the gentleman whose hand is shaken keeps his composure; see how the gentleman keeps his distance, see how he keeps the flag behind them in the picture
Well, that's as far as I can bring it. Over to our military members for the actual identification.
Peter Hans van den Muijzenberg, 24 November 2012
It is the unit flag of the US Forces in Afghanistan (USAE). The central emblem, along with its description, is found on The Institute of Heraldry website.
Zachary Harden, 26 November 2012
---
12-67. Federal Grand Procession Flag

Positive ID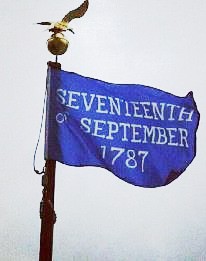 Image by John Switzer, 17 September 2012
[Editorial comment: This discussion was started last month, but we added it now.]
Is this flag on your database? I have seen a picture of it at the Indiana state house, and researched it. After the ratification of the Constitution, evidently, it was carried in a procession in Philadelphia. But I can discover little more about it, and no place to purchase one!
Here is the story from the President Nixon Library. I contacted the library. They referred me to the DAR. The DAR had none available who knew anything!
John Switzer, 17 September 2012
I don't think we have this flag. is it a 20th Century invention, or something older?
Rob Raeside, 15 September 2012
Apart from having a flag maker make such a flag according to your specification, I'd say your best bet probably would still be the DAR. However, it might be wise to contact specifically one of those chapters who mentioned in the media as being involved with this flag.
Peter Hans van den Muijzenberg, 15 November 2012
According to the article it's a 1788 invention, rather than a 1878 one or a 20th century one. It says:
"The Daughters of the American Revolution will commemorate America's nationwide Constitution Week by flying the Constitution flag at the Richard Nixon Library beginning Monday, September 17 through Friday September, 21. The week long tribute celebrates the Constitution's stand as America's defining document of liberty. The Constitution flag reads "SEVENTEENTH of SEPTEMBER 1787," to honor the day that the Constitution was adopted by the Constitutional Convention in Philadelphia, Pennsylvania. The original Constitution flag was carried through the streets of Philadelphia in the Grand Federal Procession parade, a celebration on the adoption and ratification of the Constitution, on July 4, 1788."
Nothing on what the original looked like, However, a version with what looks like a lighter shade of blue, can be seen in this article about the DAR active in Little Rock.
Peter Hans van den Muijzenberg, 15 September 2012

This is a reference to one of several flags carried in the 4 July 1788, Federal Grand Procession in Philadelphia.
"AN ACCOUNT OF THE GRAND FEDERAL PROCESSION PERFORMED AT PHILADELPHIA ON FRIDAY THE 4TH OF JULY 1788. by Francis Hopkinson; …Page 3, Section , XI. CONVENTION OF THE STATES. The honourable Peter Muhlenburg, esq. on horseback, carrying a blue flag, with the words -- 'SEVENTEENTH OF SEPTEMBER, 1787,' in silver letters."
Source: Hopkinson, Francis, Account of the Grand Federal Procession, Philadelphia, July 4, 1788, Philadelphia, M. Carey, Printer, 1788.
This flag, and others from the described by Hopkinson as being in the procession, were reproduced by Annin & Co. at the request of the National Flag Foundation in the 1980s for sale to the general public as a fund raiser.
Jim Ferrigan, 15 November 2012

Francis Hopkinson, who was one of the main organizers of the Philadelphia procession, left a detailed description of the flags carried by various groups. (He was also reputedly involved in the design of the S&S.)
From Hopkinson's Account of the Grand Federal Procession:
- "The honourable Peter Muhlenberg, esq. on horseback carrying a blue flag, with the words - 'Seventeenth of September, 1787,' in silver letters."
- This was one of several flags commemorating key dates along the way from the declaration of independence to the Constitution, such as:
- For the Declaration of Independence: "John Nixon, esq. on horseback, bearing the staff and cap of liberty; under the cap a white silk flag, with these words, 'Fourth of July, 1776' in large gold letters."
- For the French alliance: "Thomas Fitzsimons, esq. on horseback, carrying a flag of white silk, bearing three fleurs de lys, and thirteen stars in union, over the words, 'Sixth of February, 1778,' in gold characters."
- Hopkinson also mentions a number of other flags carried by craft guilds and other civic groups, as well as flags honoring General Washington, the various allies of the U.S. during the war, etc.
Joe McMillan, 17 November 2012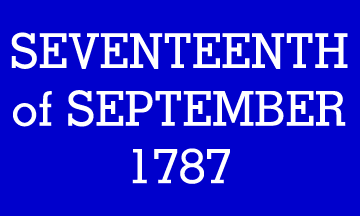 Image from António Martins, 27 February 2016
As reported, in the 1980s reproductions of these historical US flags were produced. I submit a standard image to be used when this is moved to our US pages.
António Martins, 27 February 2016
---
12-68. Mysterious Flag on Brass

Positive ID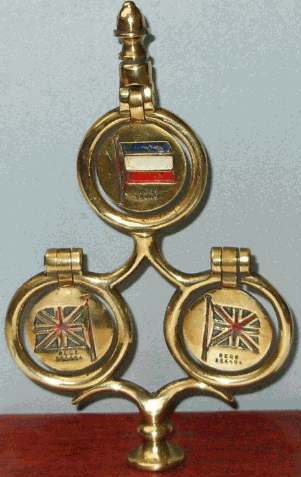 Image from Jan Thompson, 20 November 2012
I am mystified about a flag with three horizontal lines of blue/white/red (top to bottom). I cannot locate information on it anywhere. It appears with the Union Jack from about 1899 - 1902 on commemorative brasswork. Whose flag is it, do you know, please?
Jan Thompson, 15 November 2012
It sounds like you have the colours of Yugoslavia there, but the date is a little too old.
Rob Raeside, 15 November 2012
Is it perhaps black/white/red? If so; Imperial Germany .
David Prothero, 15 November 2012
Thanks all for suggestions of Yugoslavia and Germany. The flag is definitely blue/white/red horizontal stripes.
The flag was registered in England just before the supposed end of the Boer War (i.e. 1899 for 1900 distribution). This same flag was used for King Edward VII's coronation tog. with a Union Jack.
There is a line of thought that the commemorative brasses were hurriedly repainted when the Boer War continued for another two years until 1902. The flag appears in all cases with a Union Jack. Perhaps there was a S.A. flag of 3 horizontal (no vertical) stripes that was redone as blue/white/red? Perhaps the flag has no grounding in real history?
Jan Thompson, 19 November 2012
It would be nice to have just a bit more information; specifics tend to make things easier. The Union Jack would suggest we're talking about the United Kingdom, though it might still be elsewhere. And in that line of thought: Is that also the origin of the items so decorated, or are they foreign? Also, what kind of commemorations are we talking about, and is the 1899-1902 a close interval, with similar 1898 and 1903 items showing different patterns?
And, of course, what do the actual illustrations look like. Brass in itself doesn't usually colour blue white and red, so are the colours merely indicated, or have colours been added?
Peter Hans van den Muijzenberg, 19 November 2012
Just a faint thought here... could it be meant to symbolize the surrender of Boer forces, by the inverted hoisting of the red-white-blue flag used by many of the Boer republics?
James Dignan, 20 November 2012
Peter, I have checked out U.K./Germany history timeline and can see no reason for any commemorative piece of about 1900. The origin of this piece is the Wm. Overton brass foundry in Walsall, Staffordshire, England (Reg.No.354494-1899-1900), but the exact date and places of distribution is unknown. This brass flags pattern was made in very small numbers.
The enamel paint on the piece is genuine to the period, i.e. early 1900s. There is a companion piece with the date '1900' cast intaglio which shows the Union Jack and this same unknown Blue/White Red flag together above crossed flagpoles. There is a further brass piece with the same Reg. No. that shows only the Union Jack. The commemoration is unknown to date.
Jan Thompson, 20 November 2012
James, you may have hit the nail on the head! The Editor of the National Horse Brass Society here in the U.K., Dick Bradshaw, suggests: "Relating the brass with history... I think it's a question of the simplest explanation being the truth....We have just signed a peace treaty with the Boers, with a huge sigh of relief (1900) which then descended into another two years of vicious guerilla warfare...."
It may well be that the brass, though made to originally commemorate the end of the first Boer War in 1900, had to be retained then released on the market in 1902 when a final peace treaty was signed. Would be interesting to hear further comments once the picture of the piece is posted.
Jan Thompson, 20 November 2012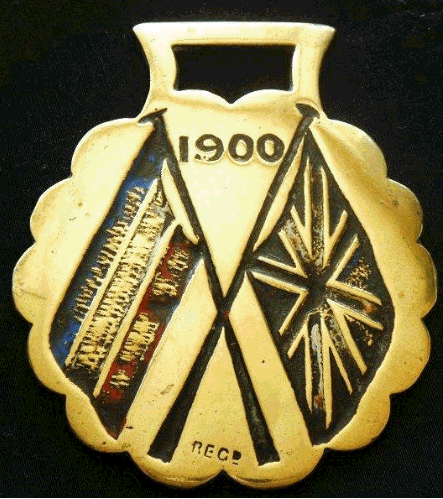 #62b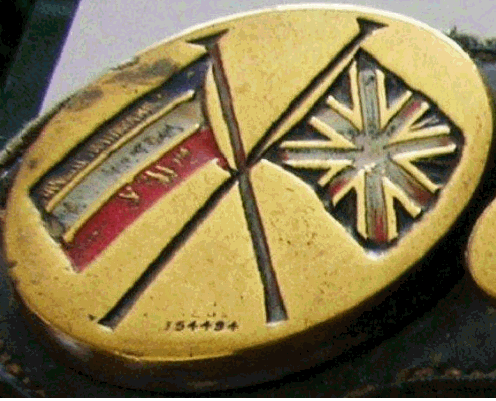 #62c
Images from Jan Thompson, 21 November 2012
I have located another two commemorative brasses (#68b and #68c) which show the b/w/r unidentified flag under discussion. Reg. No. unknown, but clearly cast intaglio '1900' for which commoration? This second rare example (#63) matches the triple flag swinger as it's Reg. Mark is the same, i.e. 354494, which is 1899-1900. The question is, whose is the b/w/r flag and to celebrate what occasion?
I'm optimistic that FOTW friends will help me to discover the answer to this mystery.
Jan Thompson, 21 November 2012
The answer is the flag of Schleswig-Holstein in honour of the King Edward VII and his wife Alexandra of Denmark, then Her Serene Highness Princess Alexandra of Schleswig-Holstein-Sonderburg-Glücksburg. Probably in 1901 when they were introduced as King Edward VII and the Queen Alexandra.
Valentin Poposki, 21 November 2012
It's exciting to have this information and I am overwhelmed by the FOTW's knowledge and enthusiasm. Thank you for all your efforts.
Jan Thompson, 22 November 2012
Well, it really is blue. Assuming that that's its original colour (Jan, why does it look so much more damaged than the rest?), it must have been a really dark colour to be so much darker than the octocrosses, which one would assume to be Union Jacks. Then again, they may not have been produced at the same time, with no difference intended.
If the whole piece was created as it is now, then the unknown flag has the position of honour, over the two octocrosses. (Why two?) It's unlikely it would thus represent the domination over the Boer Republics, and it doesn't seem to represent the spoils of war either. (I also don't know a Boer flag of three stripes only.)
Likewise, it seems unlikely that a piece commemorating the we don't know what of the Prince and Princess of Wales would place a flag representing the Princess above those representing the future King.
Then, if this is a rare pattern, it need not be an enormous(ly) monumental event. It might indeed be Schleswig Holstein, even if that was not official at the time, but it might not be for an immediately recognisable reason. Then again, if other similar patterns exist, that would suggest it was at the very least a rather public event.
One thing, though: Would the registration have included the colours, or would it merely have referred to the three-striped brass pattern?
Peter Hans van den Muijzenberg, 22 November 2012
Peter, Some very astute observations here, thank you. As far as can be seen, the enamel colours are original and were I believe painted at the same time as the distinct deep shade of red is a good match. Cleaned, the blues would become a brighter royal blue. The wear on the horizontal b/w/r came about when the horsemen on ceremonial parade polished the brasswork which was then left it in the open air to the elements; subsequent polishing adds to the degeneration. From the reverse patine, the piece was barely used.
As you say, the unknown flag has the position of honour. If it is, as Valentin Poposki suggests, the Schleswig-Holstein, this would fit the historical fact that Albert Edward, the then Prince of Wales, visited Denmark in 1900 with Princess Alexandra. Could the top flag be for the Princess's father, King Christian IX (1818-1906) with a Union Jack for the Prince and Princess? This brass could have been made for home and export. The Prince became King in early 1901 and was crowned belatedly in mid-1902, major events which linked the United Kingdom with Denmark though I cannot understand why the unknown flag takes precedence.
To date, sadly, no registration has been traced of this brasswork of c.1900, though we have the maker's catalogue of 1902 and it is not included therein. Had we the reg. details, they could well name the flags and their relative colours.
I see you do not know of a Boer Flag b/w/r. James suggests that a r/w/b flag was used by many of the Boer republics and this inversion of it could symbolise the surrender of the Boer forces. This would then date the piece to 1902 and the makers could have withheld the brass until that date. However, this still does not account for a Danish flag taking precedence as far as I know.
I would be interested to see your comments on his theory.
Jan Thompson, 22 November 2012
Well, that clearly exclude the possibility that it refers to the new royal couple. Now, not only would queen consort Alexandra's flag have had precedence over the flag of Edward, King in his own right, but also the year is wrong.
Ah, your comment that the wear came about when the horsemen on ceremonial parade polished the brasswork which was then left it in the open air to the elements, and basically that the wide horizontal lines lent themselves more to damaging when polishing seems OK.
Best one yet. Still: Why would it not have the flag of Denmark, then? (It's not that I disagree that it could be the then unofficial flag of Schleswig-Holstein; it's just that AFAIC it might equally well be the arch-ducal colours of Mecklenburg, and probably several others as well. I would like a solid reason to select a specific meaning for it.)
If the flag were to represent Princess Alexandra's father, it would represent a King visited by a mere princely pair. In that case giving it the position of honour would seems quite appropriate, even if it would be foreign to the manufacturer.
Well, yes, but none of those flag is r/w/b only. They have a charge, or they have an extra stripe or column, or maybe they use orange rather than red. And the same position of honour problem plays here as well: You don't symbolise the defeat of your enemy by giving their upside-down flag precedence over your own.
(It would still be worth knowing, though, whether political drawings of that era used such a single flag to represent the Boers.)
What happened to/in the United Kingdom or Hanover in 1900?? The century changed, but apart from that? Are there similar items that have a known commemoration attached, that might give us an idea of the category we're looking for? If not, I fear we'll never get beyond a "possibly the flag of ...".
Peter Hans van den Muijzenberg, 24 November 2012
---
12-69. Flags on World War I Prison Postcard Positive ID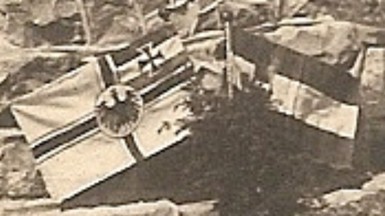 #69a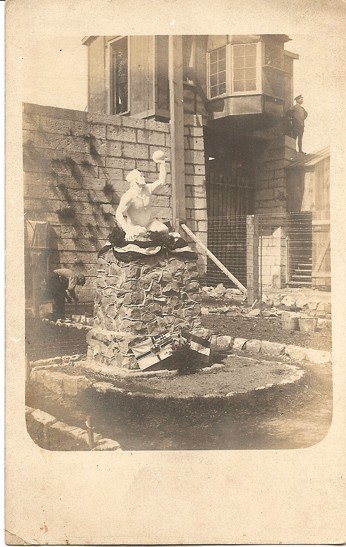 #69b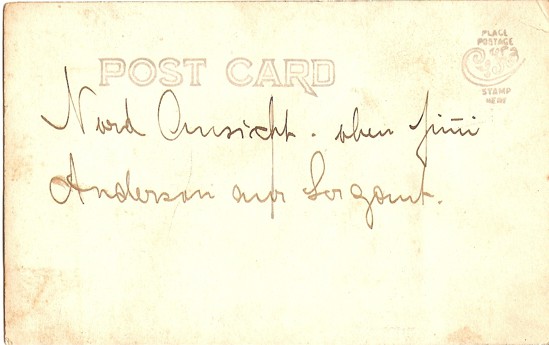 #69c
Images from Charles Wilson, 30 December 2012
Would you by any chance know where this picture was taken. I believe it's at a German prison during Word War I.
Charles Wilson, 30 December 2012
I find it odd that if the post card originated in Germany, it contains English printed text (Place Postage Stamp here) on the reverse.
Rob Raeside, 31 December 2012
Could this picture be of the German Empire Naval Ensign 1871-1919 on the left, and the Austro-Hungarian Empire flag on the right? Since these two nations were alligned during World War I, it could be possible.
Esteban Rivera, 26 January 2013
Since the flags are identified, we could try to do a little more research by looking at the handwriting of the postcard in the back. Reading the text, it says something like: Nord Omsicht (or Amsicht) when Jimi Anderson was Lorgant. I know that does not make much sense, but maybe someone else could try and unravel the mystery of the handwriting. Plus, even if we can't identify the location (which is a white statue of maybe German and Austro-Hungarian friendship, possibly outside a castle, a prison or army barracks), this definitely be labeled as identified.
Esteban Rivera, 2 February 2013
Well, I hadn't gotten around to this one, but let's see: It has a CyKo stamp box, the one with the outlines and the "Place postage stamp here". Playle°s gives it a 1904-1920's time frame. This is not a postcard brand, however, but a brand of photographic paper; we're looking at a real photo post card: exposed photographic paper that had a postcard already printed on it. That might mean that we're not looking at a post card for the general public, but a private photograph, probably taken, printed, and sent by the same person. The presence of three people in the photograph, none of them in typically posing would agree with that. (I'm not saying that they aren't there specifically for the photograph, just that they don't look into the camera while wearing their Sunday Best, even though they probably are aware of the photograph being taken.)
Commercial photograph started getting divided backs from something like 1907-1908, but I don't know whether all reverses were printed that way, or whether unified back was still available for those cases where people didn't use the reverse to send the photograph, as in this case.
What else do we have? Well, if this is a prison camp, our biggest decider would be the side of the fence the writer was on. He is obviously German: He writes: Nord Ansicht - oben Jim¯i Anderson ??? Sergant, or something similar. That is, he writes an "m" with a macron to represent a double m, which is something I've only read Germans do. (He also writes "Jimmi", which would be a rather uncommon first name if correct, and seems to misspell Sergeant.)
Since J. Anderson is a Sergeant, rather than a Wachtmeister, and on the wall, it would appear the camp, whatever the purpose, is in Anglo-Saxon hands, and the writer might have a place inside. The photograph might not have been taken in German-speaking lands, then; the flags might merely indicate the homelands of those inside. On the other hand, the relations are good enough that one could take a photograph and write an explanation on it. (I wonder whether Charles Wilson knowns whether it was indeed send as mail, if in an envelope. And if so, whether there's any more information.)
It may be there's information to find in the clothes to. But other than that. if the Great War prison camp part is accurate: Where would the German and Austrian prisoners have been guarded by Anglo-Saxons guards, with a statue showing a man raising a cannon ball (or a shot) on its North Side? (Sounds a bit like an athlete, but I'm not sure about the pose, or his head gear.)
Peter Hans van den Muijzenberg, 2 February 2013
---
12-70. Possible Singapore flag Some Speculation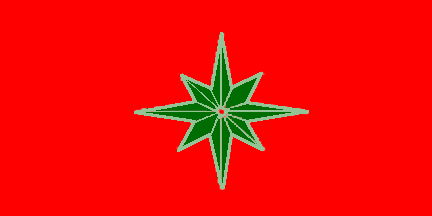 Image by Ben Felix, 15 November 2012
I have just been on a cruise around the harbour in our city looking at developments in a few LNG plants being built, and while I was there I decided to look at ships. (Flags, international stuff, how much better could it get?) I came upon a coal ship known as the Stella Ada, a ship which does not say the country of origin, but does say the country which it was registered in - Singapore. I was all pumped for seeing a Singaporean civil ensign or a house flag or something, but the flag I saw surprised me to say the least. It consisted of a red field, with what I believe to be a green cardinal points device. Attached is a reconstruction. I was a good few metres away, so the flag could be a little off, but I remember thinking that it sort of looked like a Moroccan flag, but with too many points on the star. If you or anyone else could help, that would be much appreciated.
Ben Felix, 15 November 2012
Apparently the Stella Ada is owned and managed by Cara Shipping, Singapore. There appear to be several Cara Shippings around the world that may or may not be related, but I haven't seen a web site so far. You may have to contact them in a more old-fashioned way to find out more.
Peter Hans van den Muijzenberg, 15 November 2012
---