This page is part of © FOTW Flags Of The World website
Unidentified Flags or Ensigns (2012) - Page 2
Flags submitted in 2012 - 2 of 5 pages
Last modified: 2023-04-15 by pete loeser
Keywords: ufe | unidentified flags |
Links: FOTW homepage | search | disclaimer and copyright | write us | mirrors

---
Please note our Policy for Submissions and Enquiries.
Below is a series of images of flags that have been provided to FOTW; some we have recognized, and some we have been unable to recognize. If you can help us identify any of these flags, please let us know! Contact the:

UFE Editor

.

Identification Key:
= Positive ID (Positive Identification)
= Tentative ID (Tentative Identification)
= Some Speculation
Unidentified Flags on Page 1

Unidentified Flags on this Page:

Unidentified Flags on Page 3:

Unidentified Flags on Page 4 :

Unidentified Flags on Page 5:

Unidentified Flags on other pages
---
12-17. Custer's HQ flag? Some Speculation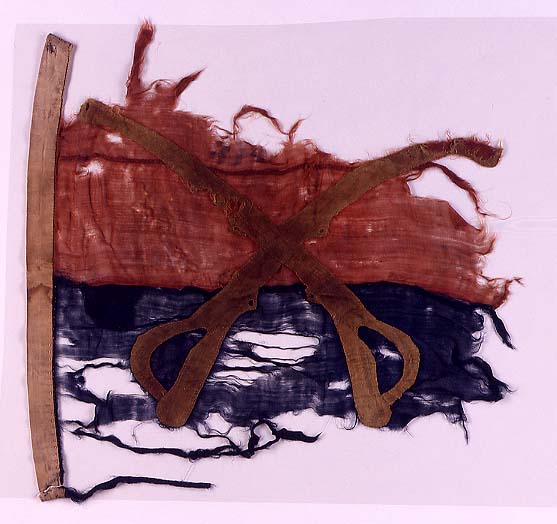 Image from Cathy Wright, 3 April 2012

[Editor's Note: At Cathy's request: this discussion which began on the FFF, is being added here, as she would like to compile the responses to this inquiry, as she want to accurately identify (even if tentatively) this flag.]

The MOC has a flag in its collection with which I'd appreciate your assistance. It has been tentatively identified (before I came here, so I'm not sure by whom) as Custer's HQ flag. I assume this tentative identification is based on its appearance.
It is listed in the "Record of Rebel Flags Captured by Union Troops" as a "Rebel Battle Flag capture in Battle of Sailor's Creek April 6th 1865 by Major John Allestron 3rd N.Y. Cav. Vols. 1st Brigade 3rd Cavalry Division Genl. Custar Commdg." The MOC has it tentatively identified as, "Believed captured by Confederate troops and later recaptured at the battle of Sayler's Creek, Virginia..."
My questions are:
1) Is this flag pattern definitively Custer's HQ, or could this flag have been used by some other U.S. unit?
2) Is Custer ever known to have lost a flag during the war?
Cathy Wright, Curator, The Museum of the Confederacy, 3 April 2012

Howie Madaus did an article on Custer's flags some years ago and did not find reference to any "extras" that were not otherwise accounted for. This would be one of those extras. Based on his research, he was puzzled by this one, as was I. Still, it is indeed the pattern of Custer's personal flag. Whether it was one adopted by someone else that just happened to be the same, whether it was some sort of Confederate "decoy" (without any supporting documentation) or whether it was indeed one of Custer's, captured and then recaptured is a mystery. Some things aren't clear. Interestingly, Custer's own division captured it; and nobody commented on it? Then again, you have two of the battleflags captured by Tom Custer for which he received medals of honor. But Appomattox has one, too. That's three. What gives?.
Les Jensen, 3 April 2011

I have a copy of Howard Madaus' essay on "The Personal and Designating Flags of General George A. Custer, 1863-1865" that ran in Military Collector & Historian in 1968, it does not show the attached flag. That may be due to him not knowing about the flag when he wrote the article (I do not know when he first visited the MOC). The last two flags depicted in his essay are red over blue swallow tailed flags with the crossed sabers. These two flags are 72 inches (made of bunting) and 78 inches (made of silk) in length however, and the flag you have sent does not seem to be in that ballpark. This flag does resemble the first two flags above, so I am not sure what to think. Hopefully one of our members can add much more.
Does anyone have a copy of the 1952 article on "The Flags of the 7th Cavalry at the Little Big Horn" by Colonel WA Graham? if so would it be possible to copy it for me?
Greg Biggs, 3 April 2011

I believe you are looking for "Custer's Battle Flags" by WA Graham first published in 1950 in Los Angeles Westerners "Brand Book". It was reprinted as a pirate pamphlet, signed by him in 1952 and presented to the NY Public Library for insertion into the appropriate volume of the "Brand Book". I have some notes from an article not the pamphlet. You may wish to contact the NY Public Library to see if they have info for you.
If your interested, The Century Illustrated Monthly Magazine, Nov. 1891 - April 1892, (google books) published an article "Custer's Last Battle" by E. S. Godfrey, he mentioned the flags carried by Custer at the battle of Little Bighorn.
Tom Martin, 4 April 2011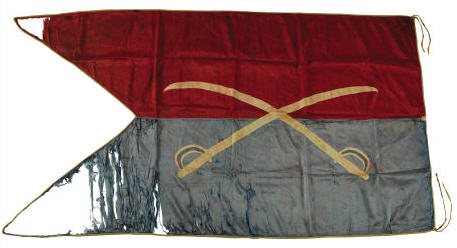 Image from Tom Martin, 4 April 2011
According to family history, Libby Custer made his personal battle flag in 1865, it was delivered to him at Dinwiddie Court House, VA on March 31,1865. An open question would be, was it a replacement for the one lost, I do not know. If it was captured and recaptured, yours is not the same one reported to have been made by Libby, it was sold at auction some years back. The U. S. Cavalry Corps, Military Division of the Mississippi, 2nd Brigade carried similar pattern flags. red over blue with crossed sabers. A large number of Union commanders did not list the capture of their units flags in official reports, if Custer did lose the flag, I have yet to find an official report on it.
Tom Martin, 4 April 2011
To my mind, this seems as likely as that the flag [Tom's] is actually Custer's HQ flag. I will strongly consider removing the info about Custer's HQ flag.
Cathy Wright, 4 April 2012
I am wondering if the flag at the MOC is some brigade or division flag sans numbers as with earlier flags of the cavalry? It is not as large as the flag Tom sent us below. The MOC flag is more crudely made than the flag [above] and from Howie's article one of the flags was made from a captured CS hospital flag and is not as fine as that below either.
Greg Biggs, 4 April 2012
I find myself wanting to be able to tell you yes, this could be a Custer HQ flag, but alas I cannot. Not only are all four personal Civil War Custer guidons accounted for, but none were ever captured or lost to my knowledge. I direct you to the Personal Guidons Chart of General George Armstrong Custer, all four of his personal guidons are there, present and accounted for.
Unfortunately, from what remains there is also not any positive indication that your flag was even a guidon. For example, I could not see any indication that it was swallow-tailed at all, and the size seems a bit wrong. I should also mention, as a point of information, these were not officially his headquarter guidons, but rather his personal command flags (one reportably made by his wife), and I'm afraid none of this helps identify your particular flag, which remains open to speculation.
Pete Loeser, 9 April 2011
A belated "thank you" for your insights on this curious little flag. I'm with you - I would like it to be "the real deal," but the evidence doesn't come down on that side. In any case, I have compiled everyone's responses to add to the file, in hopes it will at least show we tried our due diligence in researching its identity. Sincere thanks for your assistance.
Cathy Wright, 23 April 2012
---
12-18. Mysterious Okinawan Flag Positive ID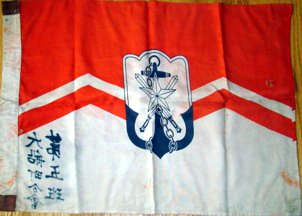 Image from Barney Sievers, 5 April 2012

The attached pics of a war souvienor Japanese flag my father (US Army) picked up in Okinowa in the early 1960's seems to be quite a mystery. Any ideas?
Barney Sievers, 5 April 2012

I can provide larger images to anyone off-list if you need them to see finer details. Note: it is not a flag of Okinawa (that was merely where it was acquired).
Rob Raeside, 5 April 2012

[Editorial Note: The first two replies below were received off-list by Barney prior to his posting here.]

I am Toru Fukubayashi, the co-president of POW Research Network Japan. The flag is not the Japanese Naval Flag. Though I am not sure, as the star is a symbol for the Japanese Army and the anchor is for the Japanese Navy, it may be a flag for the local veteran soldier society (both army and navy) of Ofuna Town area, Kanagawa Prefecture. I guess the owner of this flag and the samurai sword was a veteran officer who lived in Ofuna.
Toru Fukubayashi, 2 April 2011

My friend provided me an answer to your flag question. Her father was born in Kyoto in 1948 and has responded. Sorry I could not provide further information, since I don't specialize in flags per se. Here is his quote:
"Just received a reply from my dad regarding the flag. His translation is: 'Community group: OFUNA (community block) branch, group of 5.'"
I hope that helps. Maybe, a group of sea scouts?
Alan Cagle, 3 April 2011

This was the flag of the Fifth Group, Ofuna Combined Branch (now in the city of Kamakura) of the Imperial Veterans Association (Teikoku Zaigo Gunjinkai). That's much closer to Yokohama than Okinawa!!
Miles Li, 20 October 2012

I'll accept that it would translate that way, if mirrored. The text looks to me to be the wrong way round, though. The emblem, I've seen somewhere on a veterans' pin, I think, and if so the anchor chain is supposed to start sinister. So, it's not just the writing that's on the reverse, but rather I think we're seeing the reverse of the flag. "Veteran", BTW, as from the time that Japan still had offence forces.
Peter Hans van den Muijzenberg, 17 November 2012
---
12-19. Egyptian political UFE Positive ID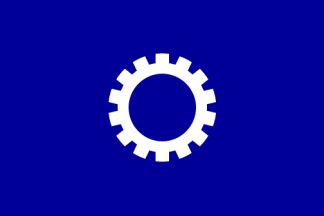 Image by Eugene Ipavec, 5 April 2012
In a TV news story on Egyptian politics, I noticed a flag at a rally of the Muslim Brotherhood (along with MB flags): blue with a white gear centered (number of teeth not certain).
Eugene Ipavec, 5 April 2012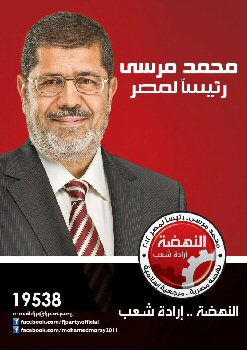 #19a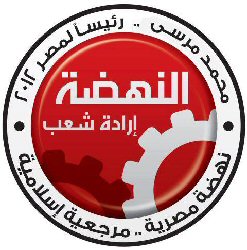 #19b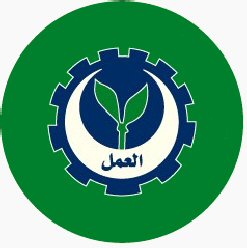 #19c Images from Andy Shelton, 7/17/2012

I am writing to you in reference to UFE 2012-19, an Egyptian political flag with a white gear on a blue field. I have included an image of a Egyptian campaign poster (#19a) used by Mohamed Morsi which feature a seal with a gear (#19b). I'm not sure what the seal represents since I don't know how to read Arabic. The seal, like the poster, uses the red, white and black color scheme of the Egyptian flag. I have also included the logo of the "Egyptian Islamic Labour Party" (#19c) which features a gear. The party is part of the "Democratic Alliance for Egypt¸" a coalition which includes the "Muslim Brotherhood's Freedom and Justice Party."
Andy Shelton, 7/17/2012

Just an observation, but the colors used on the seal of the "Egyptian Islamic Labour Party" (#19c) could very well have generated, or been generated by, the blue flag Eugene observed.
Pete Loeser, 17 July 2012
#19d - Image from Andy Shelton, 17 July 2012
[cropped by editor - click to inlarge]
I add a press photo taken during a rally in Cairo on June 22nd. In the lower right corner you can see the UFE.
Andy Shelton, 17 July 2012
With this actual picture of the mystery flag, can we positively identify this particular one? Can anybody read the Arabic?
Pete Loeser, 20 July 2012
The flag is that of Suez, but while I can't read the text, I would say the hoist-most characters don't exist this way, though. Could we be looking at the reverse?
Peter Hans van den Muijzenberg, 21 December 2012
It's certainly the Suez Governorate flag, with writings added.
Leonardo Piccioni de Almeida, 24 December 2012
---
12-20. EAC unidentified flag (possibly British) Some Speculation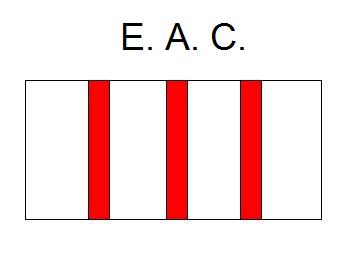 Image by Gerard vanE, 21 April 2012
As a collector of maritime uniform buttons I have been using the FOTW website for a long time. To help me identify buttons I have acquired many books on house flags. I do have a few unidentified flags on buttons. Most of these predate flag books.
Please find the first unidentified of many [unidentified flags on buttons]. I have made a sketch from a button design. The flag is white, with 3 narrow, vertical red bars. It is much wider than the usual flag. Its height x width ratio is 1:2.5 The letters on the button are E.A.C. An anchor and a roped rim indicate a shipping line. The button was made for a London tailor, Maynard & Harris. They were in business 1845-1868. I hope someone is able to identify it.
Gerard vanE, 20-21 April 2012
Red stripes on white make me think of East India Company - could this be of that ilk (obviously for some other place beginning with A)?
Rob Raeside, 21 April 2012
Last night I did another search, using the outfitter's period of existence and (rather brute force) E.A.C. + 1860 etc. You are right about the East India Company. The height x width ratio is similar and so are the red stripes. The HEIC's are horizontal, this EAC flag has them vertical. I presume the company name is "Eastern Archipelago Company (1847-1858)" The outfitter's data is: Maynard & Harris, London, 1845-1868. Note that I have a presumed identity. It is a decent fit, but I have NO EVIDENCE at all.
Gerard vanE, 21 April 2012
---
12-21. North Korean flag on parade Positive ID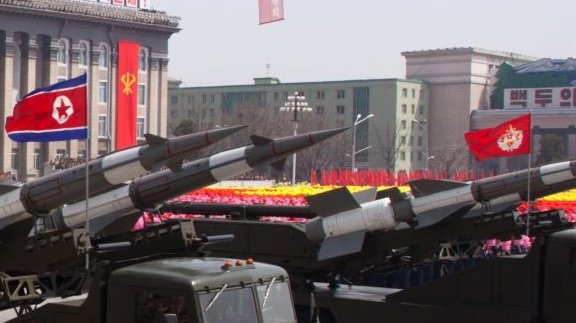 This flag has been identified as the North Korean Supreme Commander's flag.
---
22. UFEs from Portugal Positive ID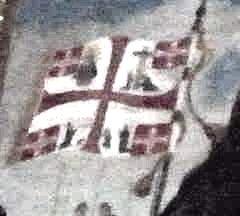 #22a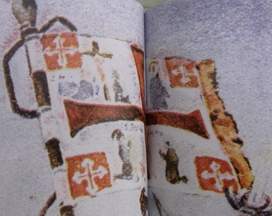 #22b
Image from Klaus-Michael Schneider, 28 April 2012

I believe both images refer to the same flag.
The context of flag #22b is known, it is the battle of Albujarota. After the death of king Fernando Portugals throne had no heir. Although Joao I was crowned in 1385, Juan I, king of Castilia, took advantage of Portugal's instability and invaded the country. The armies met on 14 August 1385 near Albujarota. Though stronger by number the Castilians, led by Juan I himself, were defeated by the better led Potuguese forces, commanded by Joao I, councelled by strategist Nuno Alvarez Pereira. As a result Portugal kept his independence from Castilia. Source: flight magazine of TAP Portugal
About the context of flag #22a, I know nothing. It is part of an oil painting in the parish church of Sao Vicente (Madeira). The flag is on the left side of the painting carried by armed men. In the middle a nimbed warrior dressed in a white robe is kneeling at the foot of a green hill. His horse is standing on the right side with a quina shield fixed at the saddle. I believe, the kneeling knight is Dom Joao, but I am not sure.
Can anybody assist, what is the context and whether it is the same flag in both images?
Klaus-Michael Schneider, 28 April 2012

Yes, they do [refer to the same flag]. It is the (classic representation of) the personal flag of Nuno Álvares Pereira. I sent it to the list a while back, although a more in-depth description and discussion needs to be done. Thanks for the write up. All this should be soon at the Portugal pages.
António MARTINS-Tuválkin, 29 April 2012
---
12-23. UFE flag in Madrid during protests Positive ID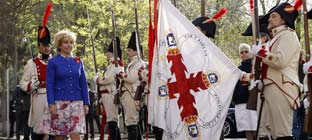 Image from Esteban Rivera, 2 May 2012
The Spanish newspaper Público (Public), shows today in its online edition a picture of a flag which I cannot recognize. Any comments are welcome.
Esteban Rivera, 2 May 2012
Not my area, but the red cross raguly is typically Spanish, and judging by the uniforms (and other accoutrements) this is meant to represent a military colour of the (late-)18th Century? Given the care with which the era appears to nave been re-created, then (even if not specifically accurate) the colour itself will be (at least) typical of the type.
Christopher Southworth, 2 May 2012
As you mention, it is indeed a Spanish flag. Some might even say a Carlist flag. My best guess is that this flag is some sort of Honor Guard for the Mayor of Madrid (since in the picture the current Mayor appears flanked by guards in what seems to be an official protocol entrance).
Esteban Rivera, 3 May 2012
I would even say a Madrid flag, considering the cross includes the Madrid arms. Does the style of the uniform suggest a certain period or type of force?
Peter Hans van den Muijzenberg, 5 May 2012
I am fairly sure that the flag is an 18th century Spanish regimental colour. The uniforms and the size match my hypothesis. Due to size it is probably an infantry flag.
Klaus-Michael Schneider, 3 May 2012
They appear to be wearing parade dress in a style of uniform which suggests a period of about 1800 (perhaps a quarter-century before or after), and the fact that the men are presenting arms using full length muskets with fixed bayonets (rather than shorter, cavalry carbines which were not so fitted) means that they are meant to represent an infantry company/battalion. However, not knowing anything specific about Spanish military uniform regulations of the period I cannot, of course, be absolutely certain?
Christopher Southworth, 3 May 2011
I just received an answer from Antonio Prieto Barrio, a person with whom I keep periodical correspondence regarding Military Medals and he works with the Spanish Ministry of Defence, and he tells me the following: "..se trata de la bandera del Batallón de Voluntarios de Madrid (recreación histórica)" (It's the flag of the Madrid Volunteers Battalion (historical reenactment)
Thus, it is indeed a historical flag and the full name is 20 Regimiento de Infantería de Línea Voluntarios de Madrid (2nd Infantry Line Regiment Madrid Volunteers" and it was established on August 15, 1808 , during the Guerra de Independencia de España (Spain's Independence War, also known as the Peninsular War, which in turn was part of the Napoleonic Wars).
Sources: http://www.voluntariosdemadrid.es/2VdM and http://en.wikipedia..org/wiki/Peninsular_War
Esteban Rivera, 4 May 2012
According to "Calvo-Per?z" and "Gravalos-Gonz?lez" it is the flag of the 2nd batallion of Infantry Regiment Voluntarios de Madrid (Madrid volunteers) (1808-1814). The flag is depicted in "Banderas de Espa?a", p.150, image no.377
The comment there is (my translation): "This banner, showing the very own characteristics of provincial corporate bodies (might also be translated as corps of an army), is property of Mrs. F. Stadler in Munich (Germany), who inherited the banner from one of her ancestors coming to Spain with the armies of General Bonaparte. The unit was established in 1808 and is mentioned in Estados Miltares [a yearbook(?)] 1814 and 1815. The localization of this piece had been made possible by the Spanish Vexillological Society and Dr. Ottfried Neubecker, [then] president of the German Heraldical Society."
In the scroll is said: Por el Rey D[o]n. Fernando el VII, Religi?n y Patria, Vencer o Morir, 2.o [batallon]de V[olumtario]s. de M[ad]R[id] (/For King Fernando VII, religion y homeland, win or die, 2nd battallion of Madrid volunteers/), text in [ ] was added by me.
Klaus-Michael Schneider, 27 May 2012
---
12-24. Unidentified Nazi Sports (?) flag Some Speculation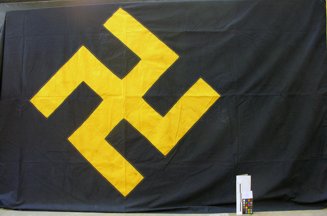 Image from Charles Debono, 3 May 2012
In our museum's collection we have this unidentified Nazi flag. It is thought that this flag is actually a Nazi Sport's flag. Do you know what flag this is?
Charles Debono, Curator, National War Museum, Malta, 3 May 2012
Other than the obvious, that this is the reverse side of the flag (based on the backwards swastika), it is hard to determine if this is even a NSDAP flag. The black field with a gold swastika might indicate a neo-Nazi group for these are not a normal color combination. Is there any way for the museum to date the flag, was there any writing or other identification on the hoist. Where did the museum acquire the flag from? What is the actual size of the flag, are both sides identical, what material (cloth) was it made from, is the swastika sewn on, does it have grommets or loops for hoisting, etc? We need more information.
Pete Loeser, 14 June 2012
The background of the flag is Black and both observe and reverse are the same. It was donated to this museum more than 30 years ago. The size of the flag is 230cm x 170cm (approximately). It is made of textile. The swastika is sewn on the background and the flag has grommets to be hoisted.
Charles Debono, Curator - National War Museum, 14 June 2012
If the colours are Yellow and blue it looks like the reverse side of the Nazi Party of Sweden (or NSAP, National Socialist Workers Party) flag from about 1933/34.
Rolf Nilsson, 14 December 2012
Also looks similar to the flag used by the National Socialist Front (1994-2008) of Sweden. However, if the black field doesn't look to be the result of fading from a dark blue and the flag retains its original colors, it also eliminates the NSF as a possibility.
Pete Loeser, 14 December 2012
---
12-25. Native American UFE seen in music video Some Speculation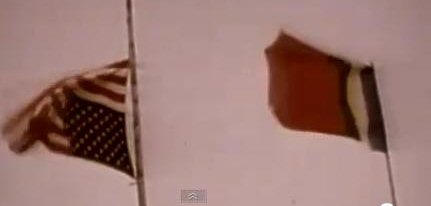 Image by Esteban Rivera, 24 April 2012
[screenshot taken from video at 4:41]

The American rock band Rage Against the Machine released "Freedom", a song about Leonard Peltier on their 1992 album "Rage Against the Machine". Leonard Peltier is a Native American activist and member of the American Indian Movement.
During the video one can see a US flag upside down, together with another flag (horizontal in disposition, having a black vertical stripe to the hoist, then a white stripe, then black again, and then the rest is plain red).
After looking at all the flags relating North American (continent) Tribes and Nations, the US Heritage flags, and the Canadian Indians, I come to the conclusion that this flag has not been reported to FOTW yet. Now, Peltier being from Grand Forks, North Dakota, (United States), one could say that this flag is from that State or at least a Tribe/Nation with roots there.
Any guesses on this flag are welcome.
Esteban Rivera, 24 April 2012

Looks like flag of "Republic of the South Moluccas"
Viktor Lomantsov, 24 April 2012

The general design is like the South Moluccas flag, but two of the colors seem wrong. The color quality of the clip showing the UFE is extremely poor, but the flag does not seem to have blue or green stripes. I am not sure that the first stripe is black, however. It is hard to say what color it is. If it were a dark yellow this might be another of the "4 Directions" flags, but the stripe could just as well be red imho.
Ned Smith, 25 April 2011

When you correct for the overall red, the hoist stripe takes on a greenish, or maybe greyish blue, hue. Not really remarkable considering that you're correcting for red, of course, but still something to keep in mind.
Peter Hans van den Muijzenberg, 5 May 2012
---
12-26. Question about flag logo Tentative ID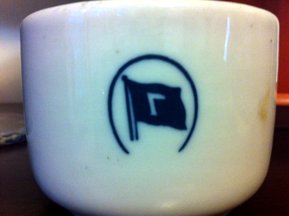 Image from Harry Bakker, 19 May 2012
I have a question about a flag logo that was found on a shipwreck. The wreck sunk in April 1943 and was the Atlas Levante Linie with a port of registry of Bremen. Do you have any idea which company used this Logo?
Harry Bakker, 19 May 2012
This looks like the house flag of a company owned/managed by the Goulandris dynasty.
Ivan Sache, 19 May 2012
I agree, probably the flag of Greek company Goulandris.
Klaus-Michael Schneider, 19 May 2012
At first sight this wouldn't seem to make sense, as the flag of the Atlas Levante Linie is known, and a ship of theirs would have flown that flag. However, when ships are sold they don't always, not immediately, remove all traces of the previous owner. So, the simplest (but, not the only possible) explanation would seem to be that this was the flag of a previous owner. To direct the search this way, however, it would be helpful to know what ship we're talking about.
Harry: Is this the Arkadia? Is this a different ship known by name, or is this an unknown wreck that you hope to identify from the cup? If the latter, how did you come to know the information you give here?
Peter Hans van den Muijzenberg, 20 May 2012
As Ivan and Klaus-Michael state this is flag of Goulandris Brothers bearing the Greek Gamma which was used for Greek registered ships with foreign vessels showing the ordinary "G".
The "Arkadia" of Atlas Levante Linie of Bremen which was sunk 29.4.1943 was built in 1927 for Norddeutscher Lloyd and was transferred to Atlas Levante Linie in 1936 as part of the German Governments policy of decentralisation [as described by Talbot-Booth]. There is thus no connection with Goulandris, but as this is apparently a piece of crockery the simple answer would seem to be that it "walked" from its original home, presumably in the kit bag of a crew member or as a souvenir by a visitor. Apart from revealing the happening of a crime, trying to find a relationship between its watery grave and the rightful owner would seem to be an exercise in futility.
I suggest identify it as Goulandris and put it to rest.
Neale Rosanoski, 12 July 2012
---
12-27. Two UFEs from Turmweg fleemarket 1 Positive ID


#27a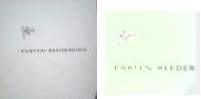 #27b
Images from Klaus-Michael Schneider, 17 May 2012

UFE #27a is the flag from a company named Schürenberg, and UFE #27b is the flag of Parten Reederei, but which one? I spotted both images at the Turmweg fleemarket in Hamburg on 28 April 2007. Unfortunately, I had no camera, so I've just got these low resolution mobile photos. (We need a better image of both)
Klaus-Michael Schneider, 17 May 2012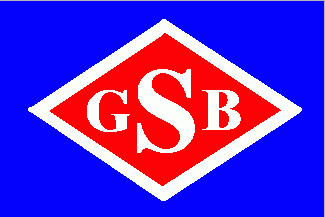 Image by Klaus-Michael Schneider; 2 Jul 2012
The left flag (#27a) belongs to: Gebrüder Schürenstedt in Bahrenfleth (GSB). It is a German dockyard. The flag is shown in Josef Nüsse's webpage.
Klaus-Michael Schneider; 2 Jul 2012
---
12-28. UFE from Ballindamm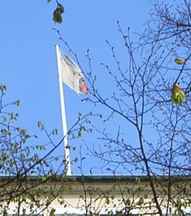 (#28a) 2009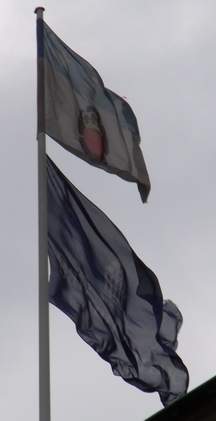 (#28b) 2010
Images from Klaus-Michael Schneider, 17 May and 9 July 2012

There is unfortunately just half of this flag showing (#28a). The flag was white with a light blue, horizontal stripe at the top edge. In the centre is a black rose seeded red. Maybe, the red seed contains some other symbol. I spotted this flag at Alster Lake in Hamburg on top of a building on 24 April 2009.
Klaus-Michael Schneider, 17 May 2012

In #28b the top flag is a better image of ufe12-28, showing at least the complete flag. The lower flag is known to belong to Lampe, a German private bank. I spotted this flag on 22 June 2010, in Ballindamm (Hamburg)
Klaus-Michael Schneider, 9 Jul 2012
---
12-29. Unknown Gläfcke & Hennings line Ensign Positive ID

Image from Klaus-Michael Schneider, 20 May 2012

This unknown Gläfcke & Hennings line Ensign is a red flag with a blue object having a white caption in the centre. The name might be "K(?)P(?) Linie." Source: Gratis Beilage zu Deicken und Behrmann's Neuen Monatsheften Neue Ausgabe - Sommer 1897.
Klaus-Michael Schneider, 20 May 2012

Could this not be the flag of Gläfcke & Hennings themselves, with an inker who did not quite get the division right?
Peter Hans van den Muijzenberg, 20 May 2012

That one is also in Deicken & Behrmann 1897, the one I posted is different, but it might be just a special line of G&H. Looks for me like a blue shield with a white caption. Klaus-Michael Schneider, 20 May 2012

This has now been positively identified, it is the flag of the Knotts Prince line, a British company. G&H was the agent in Hamburg.
Klaus-Michael Schneider, 9 Jul 2012

[Editorial Comment: See further speculation on this flag made by Neale Rosanoski, 13 July 2012, posted under UFE12-31]
---
12-30. Unknown Canadian Ensign Some Speculation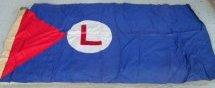 Image from Gary, 22 May 2012
The label on this UFE shows it was made by Dominion Regalia, Toronto. If anyone there can assist...
Gary, 22 May 2012
Looking at the design, my notion is that it is likely connected with a yacht club.
Rob Raeside, 22 May 2012
I would suggest looking also for a shipping company.
Ivan Sache, 27 May 2012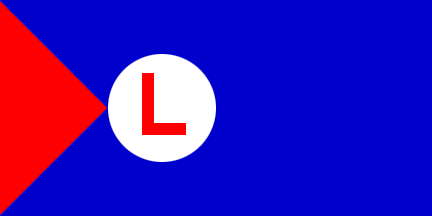 Image by António Martins-Tuválkin, 23 February 2016
I thought I could help with a standard FOTW image. It is a dark blue flag with a red hoist triangle, its stipe extending to the 1st quarter off the hoist (orthogonal triangle) where it touches a white disc (diameter approximately half the flag's height) on which there's a red sans-serif capital "L".
António Martins-Tuválkin, 23 February 2016
---
12-31. Batch of Unidentified Shipping Companies c1897 Positive IDs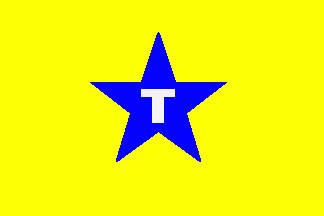 #31a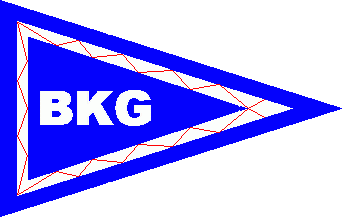 #31b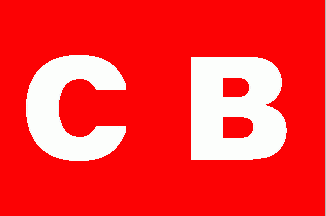 #31c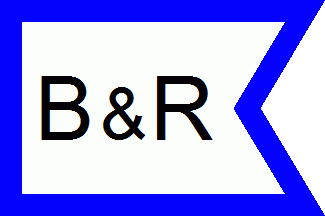 #31d




#31e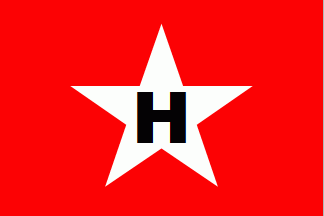 #31f


#31g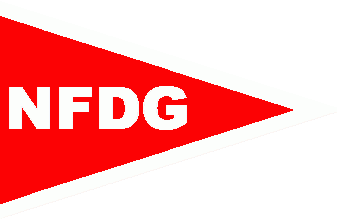 #31h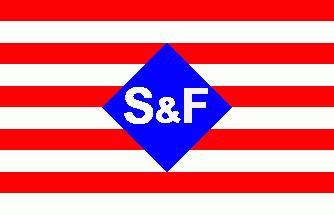 #31i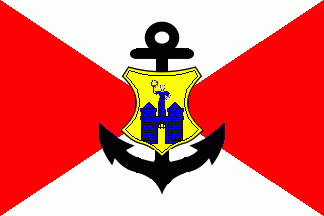 #31j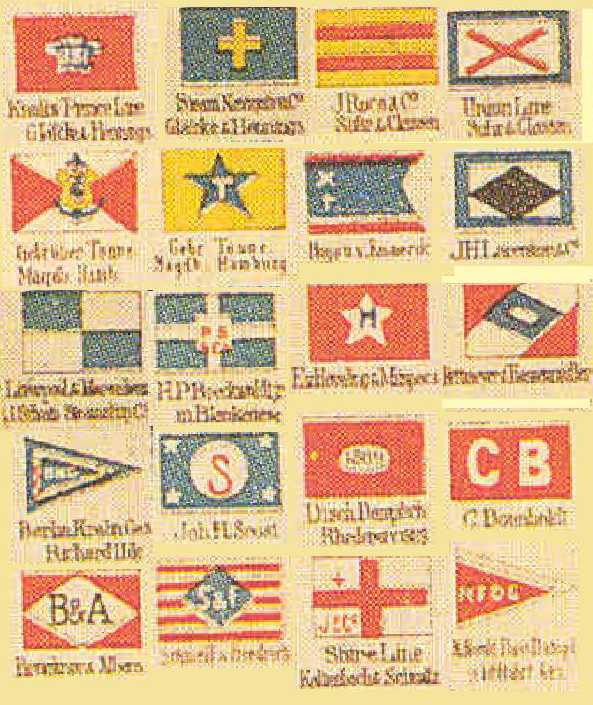 Source Chart
All images from Klaus-Michael Schneider
[Click on images to enlarge] [Editor's Note: A request from Claus-Michael Schneider for information and help identifying the German Shipping Company names and flags from an image of a 1897 Flag Chart ("Source Chart" above). The names are too blurred to read company names, etc. Any Information on the company would also be appreciated. One flag from the chart is already currently under discussion as UFE12-29 above.]

These flags were identified by Jörg Karaschewski, whose identifications are dependable. He has a flag chart from the same time. I wasn't aware, that it would be so easy. He wrote me OFF LIST, because his messages tend to disappear on the way. He only identified those flags that I drew, not all those included in the source scan, but with a little luck, perhaps we can manage to identify them all.

Flag #31a - Gebr. Tonne, Magdeburg & Hamburg


Flag #31b - BERI. KRAHN GES. RICHARD IHLE [Berl.(iner) Krahn]


Flag #31c - C. Bornholdt


Flag #31d - E. v. Höveling


Flag #31e - Steamnavigation Co. Gläfcke & Hennings


Flag #31f - Brasch + Rothenstein


Flag #31g - Liverpool & Maranham Silvain Steams. Co.


Flag #31h - Norddeutsche Fluss Dampfschiffahrts Ges.


Flag #31i - Schmeil & Friedrich


Flag #31j - Gebr. Tonne, Magdeburg & Hamburg


He says: Meine Quelle ist eine Flaggenkarte der Firma H. Carly aus Hamburg. Leider ohne Druckdatum. Muss jedoch nach März 1889 und vor April 1899 erschienen sein - His source is a flag chart of the H. Carly company from Hamburg. Unfortunately it has no print date, but was released after March 1889 and before April 1899.
Claus-Michael Schneider, 4 June 2012

I suggest a review is needed for some of speculation and positive Ids made in respect of No. 29 and 31 and to the subsequently allocations to German and UK pages. The source scans are unfortunately very poor so it is not possible to be as definite as one could be perusing the actual.
I have a Cary Flaggenkarte der Ostseehäfen [Flag Map of the Baltic Seaports] which differs from the one Klaus-Michael has been trying to work from. It also is undated, but as it shows the standard of the Kaiser I take it as being pre-World War I, but probably after the one Klaus-Michael is using. Mine gives the company names and home ports where space allows and covers only the nations surrounding the Baltic and shows both funnels and flags.
From the Klaus-Michael source example posted to FOTW in connection to No. 31 the format is different with only flags being shown and evidently "outside" companies being included as evidenced by the identification of the Liverpool & Maranham Steamship Co. This suggests that the earlier chart[s] covered companies which were trading into the area and thus included British, plus maybe other countries, companies but in these cases a second name appears underneath which is probably the local German agent.
This would then be similar to the flag charts issued by The Liverpool Chamber of Commerce around these dates as I found with their 1885 chart that they were prone also to giving a second name, sometimes turning out to be the owners or managers but also in cases, the agents. Possibly this was an acknowledgement of the source of their information but it could result these many years later in the flag shown being incorrectly allocated.
And that it was what I think we partly have here. The source chart shows 4 flags which I can allocate to British Shipping companies and all have a second name underneath which I take to be the German agent with no mention of any such firms found elsewhere in connection with the said British companies.
So, for No. 29 shown as "Unknown Gläfke & Hennings line Ensign" with some speculation, the guess of "The name might be 'K(?)P(?) Linie..' by Klaus-Michael is probably [I am reasonably sure but as it cannot be clearly read some doubt has to be allowed] "Knotts Prince Line" for the British company formed by James Knott being red with the white "Prince of Wales" plumes. The flag is shown as a rectangle in Lloyds 1882 and Griffin 1891 and 1895, but by Lloyds 1904 had become a tapered swallowtail. The emblem in the source chart may not look much like the Prince of Wales Plume, but does anyone really expect intricate work in images of this size and type of publication. Come to that the version in Lloyds 1882 needs a good imagination to make the connection too so maybe it did alter in the early days. The only point I find against this company conclusion is that Prince Line are not recorded as trading regularly to the Baltic but it may have been done through general tramping or it could relate to their sailing ships which operated up to 1886. The image has now been placed on the page "Gläfcke & Hennings (German Shipping Company)," but bears no relation to Eugene's flag from Massary.
Then for No. 31 and that shown as 31e for Steamnavigation Co. Gläfcke & Hennings which is No. 2 on the chart and like No 1 shows 2 names, in this case it has not been shifted to the Gläfcke & Hennings page, but has instead been placed under "British Shipping companies (S)" as Steam Navigation Co. (Gläfcke Hennings). No records have been found of any such company and my contention for this one is that lack of space caused Carly to abbreviate the name by dropping the first part and it should have read West Hartlepool Steam Navigation Co. which has a blue field with a yellow cross patonce i.e. with split ends. The quality of the source image is not enough to see whether it shows bumps on the cross ends which would support this theory, but again the image quality is such that omission of such detail does not negate the idea. This company did trade to the Baltic pre-World War I including Hamburg where Gläfcke & Hennings were based.
Also from the chart is No. 4 on the top line though not included in the Unidentified pages but posted to the page "Suhr & Classen (German Shipping Company) where it is shown as one of two flags for that company but again this is a two named flag on the chart and the first name is the British company Union Steamship Co. and the flag is shown on the page "British Shipping Companies (U,V)." Don't be mislead by the size of the "X" of couped saltire shown there as other sources show it as a saltire extending throughout the white field. Suhr & Classen are recorded as being agents but there is a record of them buying a ship in 1908. UnIon Steamship Co. operated a Hamburg service from 1881 to 1900. The 2nd flag shown on the Suhr & Classen page is not on the Carly page shown but presumably it could be a similar agency The flag is very similar to Union Castle but as that was not formed until 1900 can hardly be so. Cannot say without being able to have a look at the original source.
The final flag is No. 7 on the chart shown as #31g. Correctly identified as Liverpool & Maranham Steamship Co. being formed in 1870 and acquired 1903 by The Booth Streamship Co. Again two companies are shown by the source so the 2nd should be the agent which apparently reads something like "Silvain Steamship Co." and has been posted to "British Shipping companies [L]" where it is shown under both names. Silvain Steamship is not known and it needs a better look at the source image to clarify the name. If it is a German agent then "Steamship" seems wrong as I would expect Dampfer.
This is all somewhat circumstantial so if anyone is able to prove me wrong that is fine.
Neale Rosanoski, 13 July 2012
---