This page is part of © FOTW Flags Of The World website
Unidentified Flags or Ensigns - Page 2 (2020)
flags submitted in 2020 - Page 2 of 3
Last modified: 2023-06-03 by

zachary harden
Keywords: ufe | unidentified flags | 2020 |
Links: FOTW homepage | search | disclaimer and copyright | write us | mirrors

---
Please note our Policy for Submissions and Enquiries.
Below is a series of images of flags that have been provided to FOTW; some we have recognized, and some we have been unable to recognize. If you can help us identify any of these flags, please let us know! Contact the: UFE Editor.
Identification Key:
= Positive ID (Positive Identification)
= Tentative ID (Tentative Identification)
= Some Speculation
Unidentified Flags on Page 1:

Unidentified Flags on this Page:

Unidentified Flags on Page 3:

Unidentified Flags on other pages:
---
20-18. German Shipping Company Flag? Some Speculation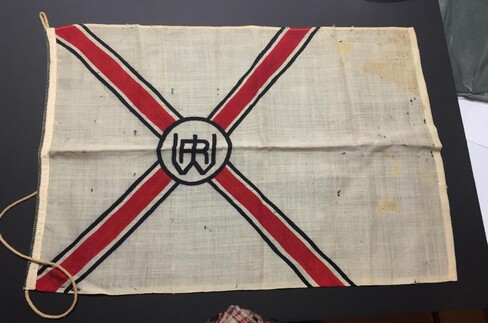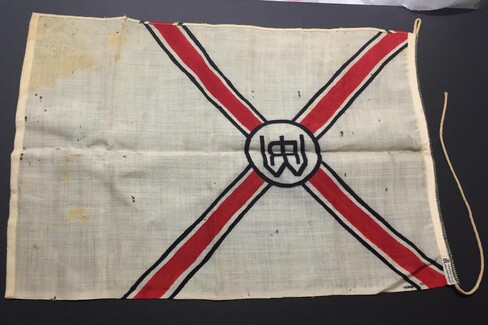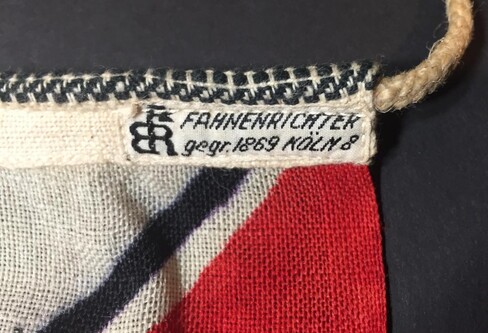 Images from Matt Garczynski, 23 June 2020
I recently came across this flag, and while looking into shipping company flags I came upon your name. Any idea what this flag represents? I know it's German and I believe either World War II or pre-World War II.
Matt Garczynski, 23 June 2020
Just "spit balling" here (speculating). Using a translator, I get the text on the hoist to mean the following:

FAHMENRICHTEK
founded 1869 Cologne 8

Perhaps the "8&quot refers to a district of Cologne and Fahmenrichtek might, therefore, (besides being a shipping company) be the name of the flag manufacturer, a yacht club, or even a sport's club started in Cologne in 1869?
Pete Loeser, 27 June 2020
FahnenRichter (lit. Flag Judge/Referee), a company founded in 1869 and still in business, is the flag manufacturer.
Ivan Sache, 27 June 2020
---
20-19. Unusual Mexican Flag Positive ID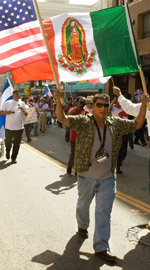 Image from Pete Loeser, 16 July 2020
I found this picture in a folder I had cleverly named "photos" on my computer. The original source is unremembered, but the unusual Mexican flag looks religious in nature and possibly from a celebration in the United States? Does anybody recognize the flag or the event?
Pete Loeser, 16 July 2020
It looks like a Cristero flag.
Jean-Marc Merklin, 17 July 2020
Not so unusual, I think. I guess in the centre is a replica of the image of Our Lady of Guadelupe (Virgen de Guadelupe). According to Whitney Smith (German edition p.74) her image had been the 1st national flag of Mexico, according to our page for just some eight weeks in 1810.
The Virgin is a replacement of the Actek Goddess Tonantzin. The Spanish conquerors removed all Actek symbols by Christian ones. Though having been abolished very quickly, the white flag with the image had never been forgotten. Pope Benedict XIV said about the Virgin, that God never acted in this way to any other nation. The Virgin, talking Nahuatl, appeard to a indigene peasant named Juan Diego in 1531 on top of a hill north of Ciudad de Mexico. Her image was wondrously stamped on his coat, which is already kept in the basilica of Dolores Hidalgo. Beneath the Virgin is a little angel. The colours of its wings are the current national colours of Mexico. The words are not reported, who talks Nahuatl?
Klaus-Michael Schneider, 18 July 2020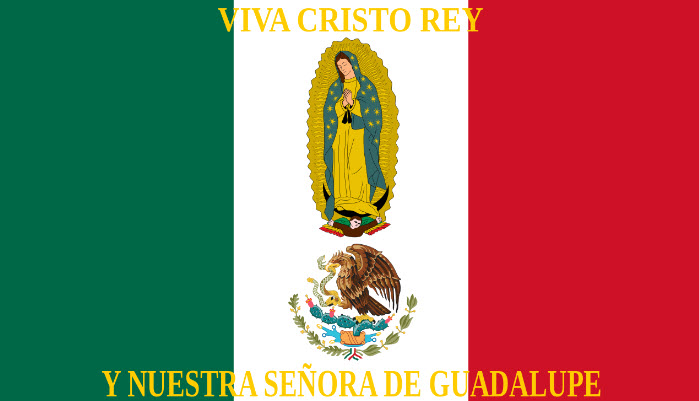 (#19b)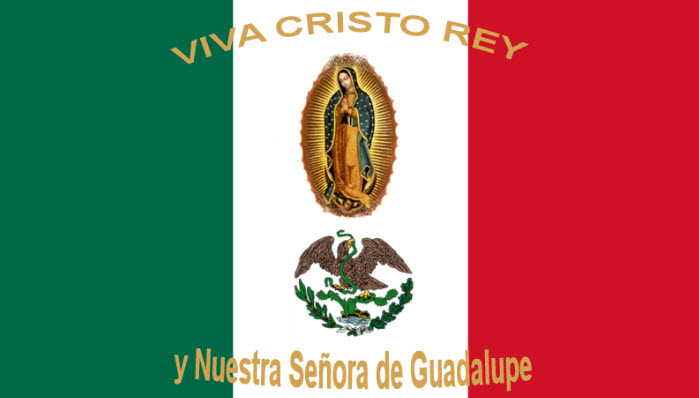 (#19c) Cristero Rebellion Flags
Images from Pete Loeser, 18 July 2020
Very similar to the Cristero flags indeed, but missing the text Viva Cristo Ray (Live Christ Our King) and y Nuestra Señora de Guadalupe (and Our Lady of Guadalupe), and the Mexico Coat of Arms below the lady, that are normally associated with those revolutionary flags.
Notice the first (#19b) shows the Mexican Shield/Coat-of-Arms 1968 to present while the second (#19c) shows the Mexican Shield/Coat-of-Arms 1823-1864 (readopted 1867-1881), making it much more accurate because it was drawn by Juan Manuel Gabino Villascán.
I'm thinking that this current flag is not meant to be revolutionary in character at all, as the short-lived Cristero Rebellion Flags of 1926-1929 versions were, but was made for religious celebrations and parades instead.
Pete Loeser, 18 July 2020
It is a Mexican religious flag and can be used by citizens as a devotion to both God and Country. These are also sold as tourist flags, as I found one in San Antonio a few years ago. It does have the Our Lady of Guadalupe (Nuestra Señora de Guadalupe) in the center in the colors of the Mexican flag (with some accents) and it does not contain any text. As for when this flag can be flown, from what I have seen here in the USA, it is used during demonstrations or during cultural events. As for this specific photo, I could not find a source of it but this flag is very much real and very much common.
Zachary Harden, 18 July 2020
My guess is that it is a flag made to represent Mexican heritage. It has the colored stripes of the Mexico flag and the Virgin of Guadalupe that was on the banner carried by Father Hidalgo. I have seen numerous variations of this - made in China.
Rick Wyatt, 18 July 2020
It is interesting that the Cristeros flag is not currently featured on FOTW-ws (yet) and hopefully it will after this thread is uploaded, but the flag query that started this conversation is IMHO, a religious parade flag (very common in catholic countries), which are used when special religious occasions occur, such as Easter (Holy Week) or even the commemoration of any festivity for that matter (i.e. a Saint's Day, or even the Virgin of Guadalupe festivity, which is celebrated on December 12).
Esteban Rivera, 18 July 2020
Just as I suspected, the flag submitted by Pete is indeed a commemorative flag. The original image is located here. (source)
The news article is titled "MEXICANOS DE LOS ÁNGELES CELEBRAN INDEPENDENCIA DE SU PAÍS" (LA Mexicans celebrate their country's independence) and it was uploaded on September 6, 2008. Mexico's independence day is observed on the 16th of September of every year. This festivity is known to Mexicans as the Grito de Dolores (Cry of Dolores), back when local Roman Catholic priest Miguel Hidalgo y Costilla rang his church bell in the ciy of Dolores (now Dolores Hidalgo honoring the priest), Guanajuato and gave the call to arms that triggered the Mexican War of Independence, on September 16, 1810.
Esteban Rivera, 18 July 2020
---
20-20. Cryptic UFE located in Akron Garage Some Speculation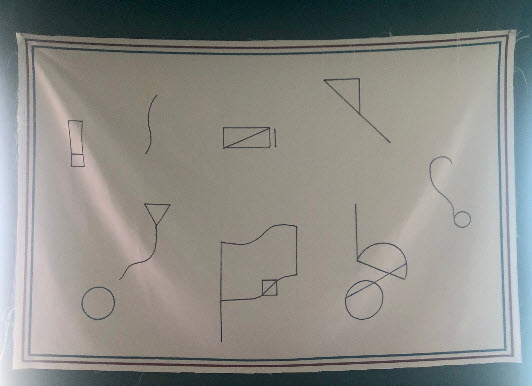 Image from Corey Farrow, 16 June 2020
This flag was found at a garage sale in 2019 located in Akron, Ohio. The purveyor did not have any more information regarding the flag. I am unsure of the correct orientation.
Corey Farrow, 16 June 2020
I'm not sure this is even a flag, but a puzzle it is...
Pete Loeser, 18 July 2020
I can't recall when we've seen this one before, but I doubt that it's a flag. Since it's pinned on one side only, maybe Corey can look at the reverse for any information on its "flaginess". It doesn't seem to be hemmed, but maybe there is something else to redeem it.
Peter Hans van den Muijzenberg, 19 July 2020
---
20-21. Unidentified Shipping Line Crockery Some Speculation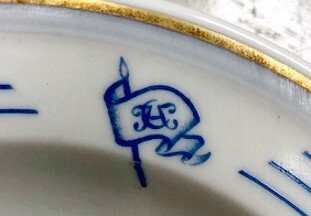 #21d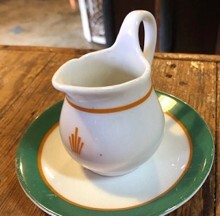 #21e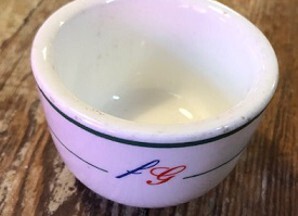 #21f
Images from Adrienne, 19 July 2020
I wonder if you'd be able to identify these funnels or logos of (what I think could be) shipping lines or ship management companies?
These are all found on various pieces of crockery (mugs, plates, bowls) that we salvage off of ships that have been scrapped.
Adrienne, Nautical Antiques & Tropical Decor, 18 July 2020
I agree that these pieces are probably shipping line crockery, but I cannot identify any of them myself. I did check an extensive collection of shipping line funnels and flags that I have looking through the C, H, F and G areas for the two pieces with letters, and found nothing in over 3600 shipping lines beginning with these four letters, so I can say that these are not well-known shipping lines!
Rob Raeside, 19 July 2020
We're talking about ships that have been scrapped. At that point it's quite likely that the entire history of the ship was known. Taken from these ships are pieces of crockery, the purpose of which pieces are most likely known as well. Yet, somehow, these pieces end up with no documentation at all, and not even the magic word and the promise of trying to do better.
In fact, in the shop the pieces seem to have countries of origin, whereas here they don't. It would be nice to get all available information. It would also be nice to have a saucers with the emblem in full view rather than one creamer with the emblem disappearing around the bend; if there is a reason to name one piece a "sake cup", that would also be information. Sure, it may be that all that eventually leads to nothing. But why slim down the odds?
Peter Hans van den Muijzenberg, 18 July 2020
---
20-22. United Kingdom UFE Some Speculation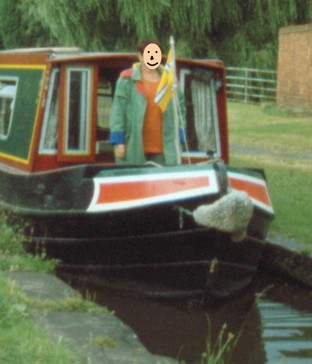 Image from Klaus-Michael Schneider, 31 July 2020
I took this snapshot in Kidderminster in Summer 1999. The flag looks similar to the county flag of Dorset, but the fimbriation of the cross is "not perfectly red". Can anybody assist
Klaus-Michael Schneider, 31 July 2020
With regards to the flag on this boat I have two suggestions. If the fimbriation is not red but blue, it could be Vastergotland area of Sweden. Alternatively a green fimbriation would give one of four suggestions as a flag for the island of Eriskay in the Western Isles of Scotland. I don't know if it won the competition for flag though.
Hamish Grant, 15 March 2021
---
20-23. Identifying a Coat of Arms Some Speculation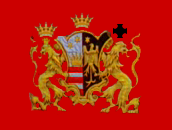 Image from Eugene Ipavec, 31 July 2020
So I have a question regarding a fictional coat of arms from the 1953 romantic-comedy musical "Call Me Madam," which is set mainly in a small European duchy called Lichtenburg. (presumably a portmanteau of Liechtenstein and Luxembourg.) The duchy's arms appear in a number of scenes; they are featured on a flag in one scene, though that particular flag is defaced with a text (in English, clearly meant for the movie's domestic audience.) But a graphic of this flag without text also appears on the door of the royal limousine in a later scene, which seems pretty official.
The flag is red with the coat of arms. These are presumably fictional, but they seem to be authentically heraldic enough that they might have been adapted from some real model. I'm curious if anyone recognizes them? They are divided per pale: azure two golden stars above a crown above three red and two azure stripes, and burgundy a golden eagle displayed under one golden star. The baroque shield is ornate and supported by two lions rampant regardant, the left doubly crowned and the right with a black "fat" cross pattée hovering above its head. Another crown surmounts the shield. (All four crowns are of an identical "antique" type.)
This is the best graphic I could extract from the movie.
Eugene Ipavec31 July 2020
Dexter base displays the lesser arms of Öldenburg, if the sinister half displays an harpye with a mullet, it is a modification of an Eastern Frisian chieftain, I guess Cirksena. But as it is fictitious, it doesn't really matter.
Klaus-Michael Schneider, 31 July 2020
---
20-24. Old German Commemorative Flag Tentative ID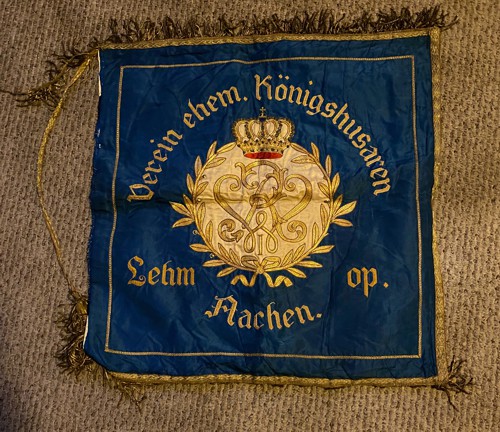 Image from Dave Oberholtzer, 19 August 2020
I would love to see if you could help me ID a flag my great uncle, who had Purple Heart, earned after storming Normandy and brought home with him. He told me to always keep it and told me a crazy story on how he got it. But I can't seem to find the exact flag anywhere. If I remember right I want to say it was Nazi military police flag, but I could be way off. He has been gone for well over 20 years and I'm getting older and forgetful too.
Dave Oberholtzer, 19 August 2020
Not every flag from Germany is affiliated with National Socialism. If the contributor had read the inscription, it would be obvious, that it is a bannerette of a veteran's association, in this case of the King's Own Hussars, thus probably Prussian due to the cypher, which might be FWI, i.e. Friedrich Wilhelm I. It probably is the Aachen branch of a greater nationwide organisation.
Klaus-Michael Schneider, 22 August 2020
Natürlich! To complement Klaus-Michael's answer: The text reads "Association of ex- Royal Hussars". The monogram of the flag allows the identification with the Hussars Regiment King Wilhelm I (1. Rheinisches) No. 7. (Proof #1) and (Proof #2) and (Proof #3)
The flag is most probably a commemorative flag used by veterans from this Prussian regiment. It has absolutely nothing to to with military police, the Third Reich, the Second World War or the Normandy campaign.
Ivan Sache, 22 August 2020
It is clear that your Uncle's flag is the commemorative flag of a group of World War I veterans from the city of Aachen. They served in the Prussian 7th Hussars "King Wilhelm I" division (Husaren-Regiment König Wilhelm I [1. Rheinisches] Nr.7) which was formed in March of 1815, in Bonn, Germany, first as part of the VIII Army Corps, but later redeployed to the IV Army. Historically the Hussars were light cavalry of the Austro-Hungarian Army from 1867 to 1918, and in World War I, they were part of the Central Powers army that marched through Luxembourg, Belgium and into France before being stopped outside Paris (the Miracle of the Marne) and then backed into the infamous trench lines of the Great War. There everybody stayed for the rest of the war until the armistice in 1918 ended the bloody stalemate. The Hussar regiment itself was disbanded with the demobilization of the German Army after World War I, but there were obviously veteran's organizations formed and one such was located in Aachen after the war.
Now in 1944 there was a major battle fought by American and German forces in and around Aachen, Germany, in October. It was called the Battle of Aachen, and do you know if your uncle was there? If he was, that could possibly connect the veteran's group flag and your uncle. You mentioned a crazy story your uncle shared about how he got the flag, but didn't share it with us, could you do so now?
Pete Loeser, 22 August 2020
---
20-25. Unknown Iraq Flag Positive ID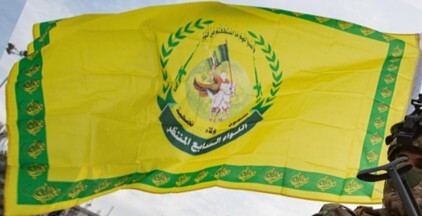 Image located by Bill Garrison, 22 August 2020
The caption on this flag reads: "Iraq's counter-terrorism forces raided the base of Iran-backed militia Kataib Hezbollah and arrested several of its members" dated 6 January 2020. (source)
Bill Garrison, 22 August 2020
Has anyone notice the similarity between this flag and that of UFE19-59? They are both basically the same design, color, and shape. Could they be variants of the same flag?
Pete Loeser, 5 September 2020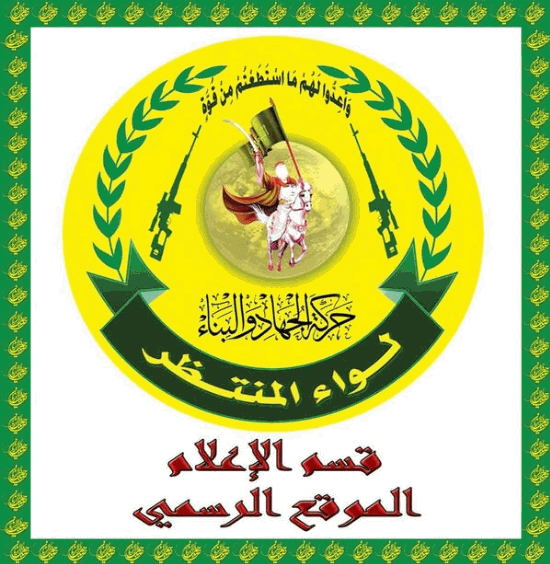 (#25a) detailed emblem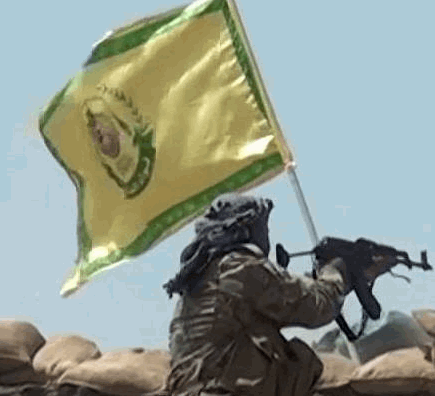 (#25b)
Images from Jaume Ollé, 18 July 2020
These are both flags of the Liwa al-Muntaẓar (Catalan: Les Brigades del Esperat, English: The Expected One's Brigade), also transliterated as Liwa al-Montadhar - لواء المنظر. The Expected One's Brigade' name is for the 12th Shi'a Imam: Imam Mahdi. As Saraya al-Jihad, Liw al-Muntazar is affiliated with Harakat al-Jihad wa al-Bina'. It is operational south of Bagdad and in Babil and Anbar provinces.
I created some good images that will be distributed in next days in The Flag Report, together with dozens of flags of Shiite militias.
Jaume Ollé, 5 September 2020
This flag is part of an umbrella organization of armed military units labeled as الحشد العشائري (Tribal mobilization), the armed component of the Popular Mobilization Forces. (source #1) and (source #2).
As already mentioned by Jaumé, this group, as part of the Popular Mobilization Forces is identified as the 7th Brigade: "Originally part of the Iranian-aligned Jihad and Development Movement, or حركة حزب الله في العراق (Hezbollah Movement) in Iraq (official website) of [a] "Shi'a Islamist, Iraqi political party". The latter is not affiliated with Lebanon's Hezbollah that was a part of the Islamic Supreme Council of Iraq (ISCI) umbrella. Liwa al-Muntadhar has formally split off from the Jihad and Development Movement. Liwa al-Muntadhar has been closely intertwined with سرايا الجهاد (Jihad Companies). (source #3 and (source #4)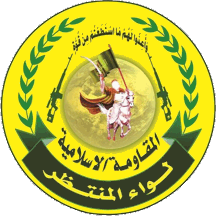 Image from Esteban Rivera, 7 September 2020
Now, regarding the area of operation, the source for Jaumé's comment is this logo featured in the middle of the flag (image) (source #5). The logo is a circular yellow background with the Imam al-Mahdi (without a face), on horseback, waving a green banner with an inscription in Arabic with his left hand and yielding [a] Zulfiqar. The image of the Imam is seen over a globe, featuring an additional inscription on top and an additional inscription on the bottom, featuring two green Dragunov sniper rifle silhouettes, having below a legend/motto in yellow over a black background and featuring two tree branches coming out of the banner featuring the legend/motto. This would be called the first logo version, featuring an abbreviated inscription below the Imam.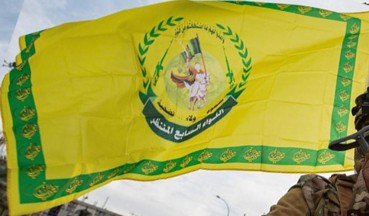 Image from Esteban Rivera, 7 September 2020
This cropped image featuring the flag with the logo as described above was originally located here. (source #6)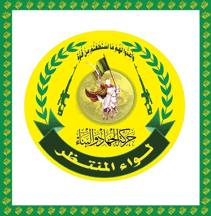 Image from Esteban Rivera, 7 September 2020
This cropped image of the logo featured in the middle of the flag was originally located here. (source#7). This would be called the second logo version, featuring an extended inscription below the Imam, which is most likely the Shahada.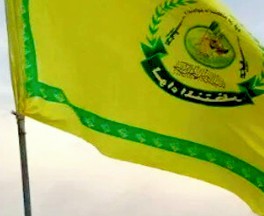 Image from Esteban Rivera, 7 September 2020
This cropped image featuring the flag with the logo as described above, originally located here. A horizontal yellow background flag, featuring the logo in the middle, and displaying a green fringe between the outer edges and the logo, with an inscription in Arabic on it.
As mentioned by Pete, these two entries UFE20-25 "Unknown Iraq Flag" and UFE19-59 "IRGC militia flag in Syria" are exactly the same thing and thus have been positively identified, UFE20-25 displaying the first version (abbreviated inscription below) and UFE19-59 displaying the second version (featuring an extended inscription below).
Esteban Rivera, 7 September 2020
---
20-26. Struggling to Identify Ship House Flag Some Speculation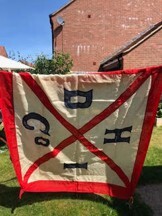 photo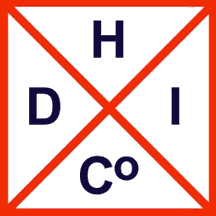 mock-up
Image and mock-up from Chris Launchbury, 24 August 2020
My family (British) has some maritime history and a couple of years ago we discovered an old sack containing three old naval flags. Two of these flags are Royal Navy ensigns, and we are confident they belonged to a relative during the 1910s. However, we also found what appears to be a ship's house flag which we are unable to identify. I have searched online, accessed online museum resources, and even contacted the Royal Maritime Museum Greenwich, but so far the shipping company appears evasive. This flag may be from the same period as the others, but could also be from a relative during the 1920s or 1930s.
Another additional bit of info about the flag is that it could have links with Argentina, as this was one of the possible routes the Merchant Navy relative in the 30s/40s had links with, but we're not sure.
Chris Launchbury, 24 August 2020
This is not a flag I can identify. I have a database of shipping line flags with over 750 starting with H - it's not there. I checked the D and I entries too, no luck.
Rob Raeside, 24 August 2020
---
20-27. Possible Yacht Club Flag Some Speculation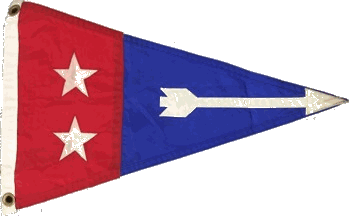 Photo from Michael Stogsdill, 25 August 2020
I recently acquired a pennant style flag that I believe is a yacht club flag. I searched through the yacht club flag list on your site and could not find one like it. It is a very high quality made flag by Seaborn Canvas. This flag was found in Ann Arbor, MI. Maybe someone else may recognize its origins, but I was unable to identify it.
Michael Stogsdill, 25 August 2020
I am afraid I don't recognize this flag either - I checked our entire US yacht club section and did not see it. For the record, printed on the header are the manufacturer's details: SEABORN CANVAS, 1931 N Gaffey (F), San Pedro CA 90731
Rob Raeside, 25 August 2020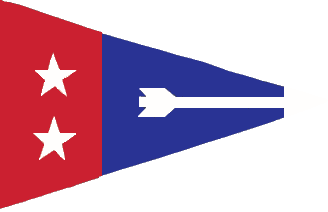 Image by Pete Loeser, 26 August 2020
I did this quick speculated drawing so I could do an image search, but no luck. I post it in case it will be helpful to another flag sleuth.
Pete Loeser, 26 August 2020
Likely a private yachter's signal.
Dave Martucci, 30 August 2020
I contacted Brian Waters at Seaborn Canvas asking him if they had any information about this burgee. He replied saying "Unfortunately I do not recognize that one by name. We have the privilege of making flags for clubs all across the country, so remembering the names of every one is not possible (at least for me). We'll keep an eye out and if anything comes up in the near future (like if they order or if we see the design for some other reason), I'll let you know the name. As a note, I looked through the current power squadron (power boat version of yacht club) flags and did not find it there (South Shore, Lackawanna & Crystal River were the closest I could find, but no match)."
I checked out the three clubs he mentioned and they didn't seem a close enough match to be newer versions of this flag.
Pete Loeser, 4 October 2020
Well, a bit Power Squadron-like. Have the Ann Arbor Power Squadron been asked whether they know more about it? It's not a local, to them, Power Squadron burgee that I know of, but it might be known to them.
Did Brian Waters suggest that it had to be a club burgee of some sort, excluding David's suggestion that it might be private signal?
Anyway, something like: A burgee, approximately 2:3, the hoist-most 1/3rd red bearing two white five-pointed stars one over the other, the rest of the burgee blue, bearing a white flyward arrow, with the last 1/6th forming the arrow head.
Peter Hans van den Muijzenberg, 10 September 2020
---
20-28. Jewish Flag, Possibly WWII, Possibly France? Some Speculation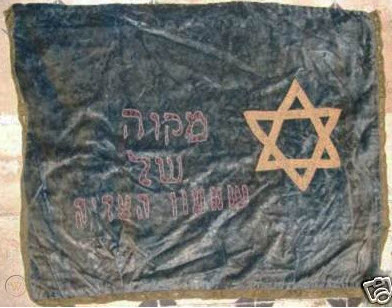 Image from William Garrison, 18 December 2019
[I missed this one; it apparently was first posted last December - Ed.]
Caption reads in part: "Rare Jewish flag with David star from WW2 Ghetto in France Blue flag with embroidery of the Star of David and the words 'Mikve shel Simon Hazadic' - the ritual bath of Simon the pious. On the back there are some rubber rings attached to the flag, probably for hanging. Dimensions : 74 cm (29 inch) x 62.5 cm (24.5 inch) approximate." (complete source)
William Garrison, 18 December 2019
The complete item's notice is more than ambiguous, stating that the flag was acquired at a flea market in Paris. There is no evidence, either, that this piece of cloth was actually used as a flag.
The identification is erroneous since there were no ghettos (in the sense of those established in Central Europe by the Nazis) in France during the Second World War.
The infamous anti-Jewish laws promulgated by the German authorities (in the "occupied zone") and those even more infamous promulgated by the Vichy government (in the "free zone") did not impose special places of residences to the Jews. The German ordinance issued on 7 February 1942 imposed to Jews a curfew from 20 PM to 6 AM and forbid them to change their residence.
Ivan Sache, 22 August 2020
As odd as it may sound, after reading all of the previous comments and doing a little research myself (especially regarding the Mikveh) I'd even consider this to simply be a towel for the special purpose of carrying out such a ritual. The fact that it has some rubber rings in the back may as well indicate it is a piece of cloth for either hanging or covering, being then a towel, a tunic or even a drape of religious origin. I also doubt that it is a flag at all.
Esteban Rivera, 22 August 2020
The page also shows the reverse. It doesn't look very flag like. Has anyone asked the seller what makes him think this is a flag?
Peter Hans van den Muijzenberg, 10 September 2020
---
20-29. Flag in Movie "Casablanca" Positive ID
Watching Casablanca yesterday I noticed another flag, seemingly not mentioned in any flag groups. As Major Strausser's plane taxis to a stop in the opening scenes, there is a tricolor flag with quarter devices and central logo located in the bottom left of the screen. Do you have any information on that or ever noticed it before?
Mike Miller, 12 September 2020
Image from Jean-Marc Merklin, 14 September 2020
Is it this one? Here's a snapshot of the blazon in the 1942 movie. One prospective corresponding flag is marked as incorrect in FOTW. However, I am sure having seen a similar flag on an illustration, a caricature or something like that, showing that tricolore and speaking of the French penetration in Casablanca in 1907 (the province was already under French rule five years before Morocco becomes a protectorate in 1912). Of course, the fact it was once drawn on a paper doesn't guarantee at all that it existed as a real flag at one time and above all in 1942.
Jean-Marc Merklin, 14 September 2020
Image from Luismi Arias, 14 September 2020
I attach a screen shot of the sequence. I think that's the 1933 Air France's flag.
Luismi Arias, 14 September 2020

Images found by Luismi Arias, 14 September 2020
[Here are the pictures of the Air France 1933 flag, a bit closer up.]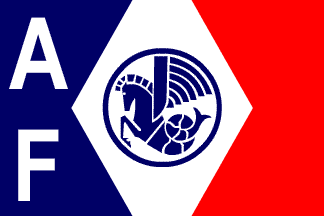 Image by António Martins, 12 April 2006
You will find a variant of the 1933 Air France flag on the FOTW data base, although sadly only identified as a desk flag. Note the logo is circled on the desk flag, is missing the red highlights, and the "AF&quot is in larger block font.
Pete Loeser, 18 September 2020
---
20-30. Unknown US Flag Variant Positive ID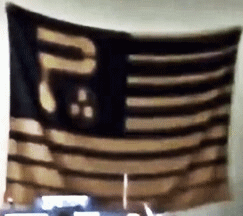 Image from Kyle Harr, 8 October 2020
I came across your flags of the world website trying to find more information about this US flag variant in a video posted by a member of a militia plotting to kidnap or kill Michigan governor Gretchen Whitmer. I haven't been able to find anything about this flag and was hoping you might have some suggestions on how to identify it (if it can be identified).
Kyle Harr, 8 October 2020
That is similar to UFE16-47 first reported to us after the fatal shooting of Alton Sterlingas. It was spotted at a Black Lives Matter Protest in 2016, but we were never able to properly identify it.
Pete Loeser, 8 October 2020
The flag you mention as previously seen as UFE 16-47 is rather different than the one we're shown today. For instance, take a look at the image in the canton, where it seems to portray a capital "P" followed by three white circles in a pyramid (very similar to the arrangement cannon balls) whereas UFE 16-47 features two lynching gallows.
Esteban Rivera, 8 October 2020
You are absolutely correct, I stand corrected. Now I have to look deeper.
Pete Loeser, 8 October 2020
The flag in question is the logo of the band Periphery and their "3 Dot&" Recordings in the canton of a weirdly striped flag.
T.F. Mills, 8 October 2020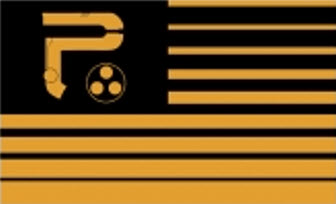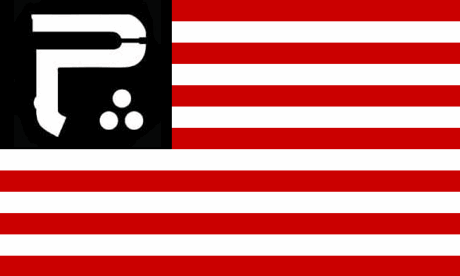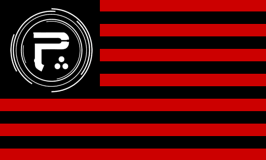 Images from Pete Loeser, 8 October 2020
After a bit of looking I discovered the flag looks like one of the head banger band called Periphery. They are an American heavy metal band from Washington, D.C. They were formed in 2005. They were good enough to receive a Grammy nomination, for those who like their musical style. The band consists of vocalist Spencer Sotelo, guitarists Misha Mansoor, Mark Holcomb, Jake Bowen, and drummer Matt Halpern. They have about five albums out. I attach an image of one of their flags with gold stripes, which looks very similar to the one in question. The other two are variants on the theme.
Pete Loeser, 8 October 2020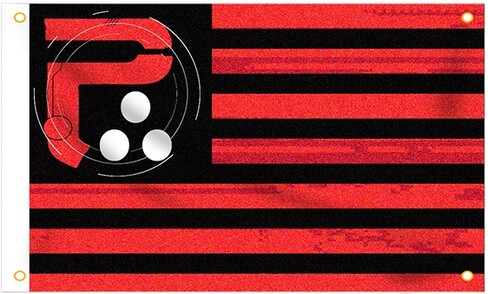 Image from Esteban Rivera, 9 October 2020
I attach another "variant" of the already identified entry. Notice that Kyle's enclosed image features a sort of "fading" stripes. That is: stripes on the top tend to be wider (black) and as one scrolls down, they become narrower, in what seems to be an earlier flag design, not available currently in the only store referenced by Kyle as well. Source: Periphery Flag.
Esteban Rivera, 9 October 2020
---
20-31. Unknown English Burgee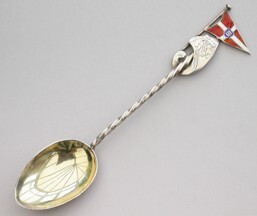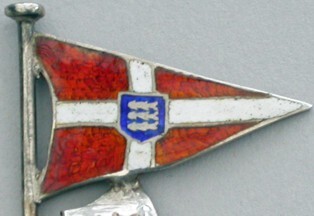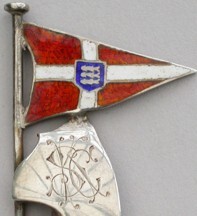 Image from David. W.A.Buck, 16 October 2020
I wondered if you would be able to help me in trying to identify what I think is probably an English Yacht/Sailing Club Burgee. The enameled flag appears on an Edwardian silver Teaspoon made by John Millward Banks in Chester 1903. The red burgee with a symmetrical white cross is defaced with a blue shield with three silver fish. A scrolling cornucopia below the flag is engraved with the initials "KSC". The reverse of the flag is engraved - MADGE 1904 - the recipient of the prize?
David. W.A.Buck, 16 October 2020
---
20-32. Unknown Japanese Flag Some Speculation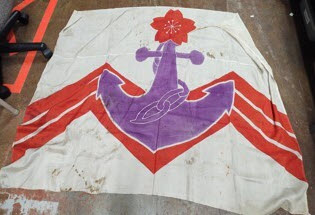 Image from Chase Tennessee, 18 October 2020
Hello, I am trying to figure out what this flag is for... I think it is World War II Japanese, but have never seen this type before. Any help would be greatly appreciated!
Chase Tennessee, 18 October 2020
I can't identify it definitively, but the style is certainly Japanese. The closest I can come is the flag for the Secretary of the Navy, but it only has two zigzag stripes.
Rob Raeside, 18 October 2020
This seems to be an unofficial flag/strange variant of the Minister of the IJN standard. I asked two Japanese colleagues and they seem to be very confused as well.
Zachary Harden, 19 October 2020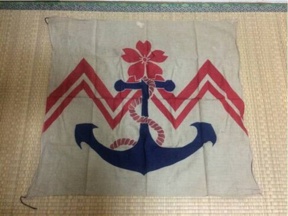 Image located by Esteban Rivera, 19 October 2020
From this source
Do we know the source for the image originally sent by Chase? Also, is there any possibility that the purple anchor may have something to do with an acting Prime Minister designated as Minister of the Navy?
I have found another picture of this flag so we can have an additional reference that may help us identify it.
Notice that in this image the top wavy stripe is a bit wider than the one below, and the anchor is rather blue. Also notice that it is a square flag, rather than horizontal. The picture caption reads: (中古) 日本海軍 海軍大臣旗 検 帝国海軍 軍艦旗 内火艇 旗章 の (Imperial Japanese Navy Minister's Flag Inspection: Imperial Japanese Navy Warship Flag Internal Fireboat Flag).
Important to notice is also the fact that the 海軍省 (Ministry of the Navy) was established in 1872 by 太政官布告第 62 (Daijō-kan No. 62, or Department of State Decree No. 62), "as a means of bureaucratic control over the navy during times of military conflict. The Ministry was in charge of everything from budget management and ship construction to political relations and navy policy implementation. All affairs of the Navy Ministry were ultimately under the control of the Minister of the Navy". The top post is called 海軍大臣 (Kaigun daijin, Minister of the Navy) and not Secretary of the Navy, as we currently have it labeled.
Sources: Ditty Bag: Japanese Navy Minister Flag, Department of the Navy in Japanese, and Dae-Ying in Japanese.
Esteban Rivera, 19 October 2020
---